Dual-cycle economic model to lift future world
August 20 , 2020
---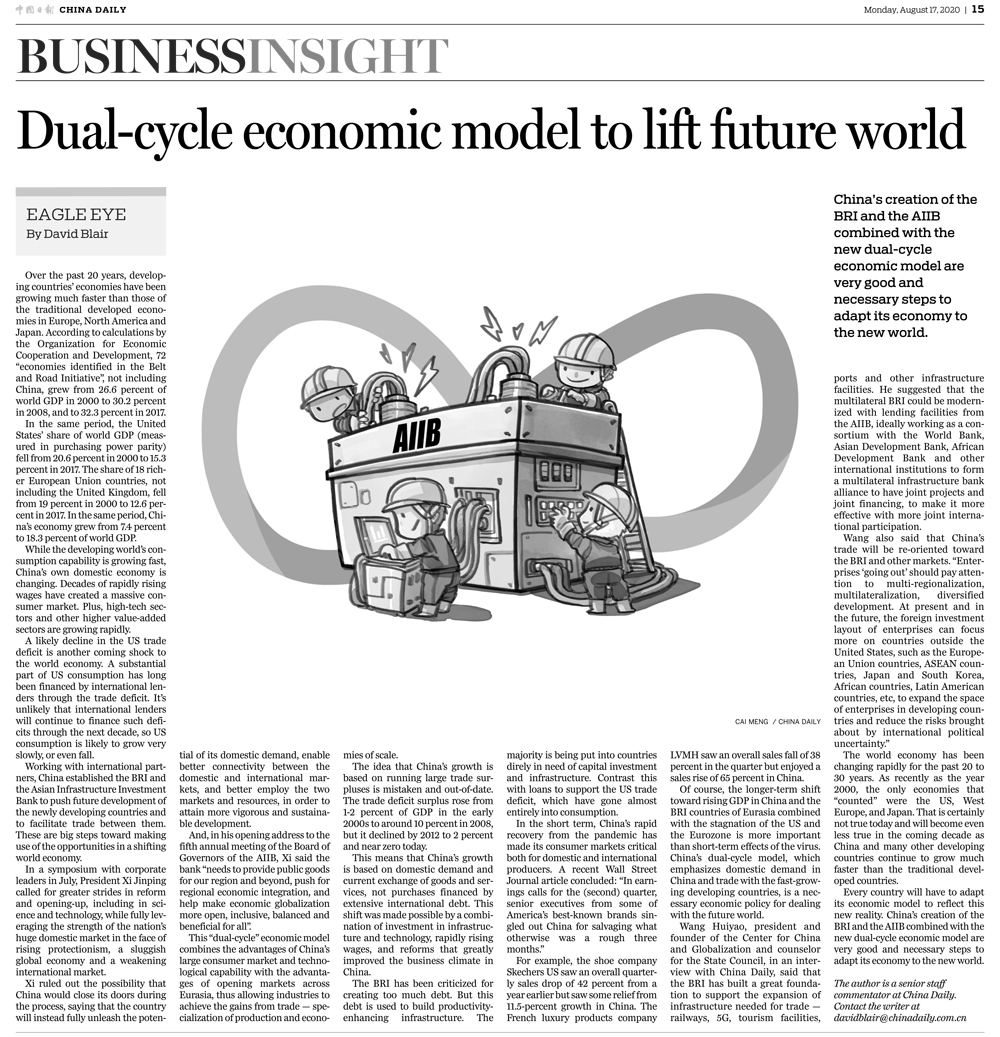 Over the past 20 years, developing countries' economies have been growing much faster than those of the traditional developed economies in Europe, North America and Japan. According to calculations by the Organization for Economic Cooperation and Development, 72 "economies identified in the Belt and Road Initiative", not including China, grew from 26.6 percent of world GDP in 2000 to 30.2 percent in 2008, and to 32.3 percent in 2017.
In the same period, the United States' share of world GDP (measured in purchasing power parity) fell from 20.6 percent in 2000 to 15.3 percent in 2017. The share of 18 richer European Union countries, not including the United Kingdom, fell from 19 percent in 2000 to 12.6 percent in 2017. In the same period, China's economy grew from 7.4 percent to 18.3 percent of world GDP.
While the developing world's consumption capability is growing fast, China's own domestic economy is changing. Decades of rapidly rising wages have created a massive consumer market. Plus, high-tech sectors and other higher value-added sectors are growing rapidly.
A likely decline in the US trade deficit is another coming shock to the world economy. A substantial part of US consumption has long been financed by international lenders through the trade deficit. It's unlikely that international lenders will continue to finance such deficits through the next decade, so US consumption is likely to grow very slowly, or even fall.
Working with international partners, China established the BRI and the Asian Infrastructure Investment Bank to push future development of the newly developing countries and to facilitate trade between them. These are big steps toward making use of the opportunities in a shifting world economy.
In a symposium with corporate leaders in July, President Xi Jinping called for greater strides in reform and opening-up, including in science and technology, while fully leveraging the strength of the nation's huge domestic market in the face of rising protectionism, a sluggish global economy and a weakening international market.
Xi ruled out the possibility that China would close its doors during the process, saying that the country will instead fully unleash the potential of its domestic demand, enable better connectivity between the domestic and international markets, and better employ the two markets and resources, in order to attain more vigorous and sustainable development.
And, in his opening address to the fifth annual meeting of the Board of Governors of the AIIB, Xi said the bank "needs to provide public goods for our region and beyond, push for regional economic integration, and help make economic globalization more open, inclusive, balanced and beneficial for all".
This "dual-cycle" economic model combines the advantages of China's large consumer market and technological capability with the advantages of opening markets across Eurasia, thus allowing industries to achieve the gains from trade-specialization of production and economies of scale.
The idea that China's growth is based on running large trade surpluses is mistaken and out-of-date. The trade deficit surplus rose from 1-2 percent of GDP in the early 2000s to around 10 percent in 2008, but it declined by 2012 to 2 percent and near zero today.
This means that China's growth is based on domestic demand and current exchange of goods and services, not purchases financed by extensive international debt. This shift was made possible by a combination of investment in infrastructure and technology, rapidly rising wages, and reforms that greatly improved the business climate in China.
The BRI has been criticized for creating too much debt. But this debt is used to build productivity-enhancing infrastructure. The majority is being put into countries direly in need of capital investment and infrastructure. Contrast this with loans to support the US trade deficit, which have gone almost entirely into consumption.
In the short term, China's rapid recovery from the pandemic has made its consumer markets critical both for domestic and international producers. A recent Wall Street Journal article concluded: "In earnings calls for the (second) quarter, senior executives from some of America's best-known brands singled out China for salvaging what otherwise was a rough three months."
For example, the shoe company Skechers US saw an overall quarterly sales drop of 42 percent from a year earlier but saw some relief from 11.5-percent growth in China. The French luxury products company LVMH saw an overall sales fall of 38 percent in the quarter but enjoyed a sales rise of 65 percent in China.
Of course, the longer-term shift toward rising GDP in China and the BRI countries of Eurasia combined with the stagnation of the US and the Eurozone is more important than short-term effects of the virus. China's dual-cycle model, which emphasizes domestic demand in China and trade with the fast-growing developing countries, is a necessary economic policy for dealing with the future world.
Wang Huiyao, president and founder of the Center for China and Globalization (CCG) and counselor for the State Council, in an interview with China Daily, said that the BRI has built a great foundation to support the expansion of infrastructure needed for trade-railways, 5G, tourism facilities, ports and other infrastructure facilities. He suggested that the multilateral BRI could be modernized with lending facilities from the AIIB, ideally working as a consortium with the World Bank, Asian Development Bank, African Development Bank and other international institutions to form a multilateral infrastructure bank alliance to have joint projects and joint financing, to make it more effective with more joint international participation.
Wang also said that China's trade will be re-oriented toward the BRI and other markets. "Enterprises 'going out' should pay attention to multi-regionalization, multilateralization, diversified development. At present and in the future, the foreign investment layout of enterprises can focus more on countries outside the United States, such as the European Union countries, ASEAN countries, Japan and South Korea, African countries, Latin American countries, etc, to expand the space of enterprises in developing countries and reduce the risks brought about by international political uncertainty."
The world economy has been changing rapidly for the past 20 to 30 years. As recently as the year 2000, the only economies that "counted" were the US, West Europe, and Japan. That is certainly not true today and will become even less true in the coming decade as China and many other developing countries continue to grow much faster than the traditional developed countries.
Every country will have to adapt its economic model to reflect this new reality. China's creation of the BRI and the AIIB combined with the new dual-cycle economic model are very good and necessary steps to adapt its economy to the new world.
Keyword