Handbook on China and Globalization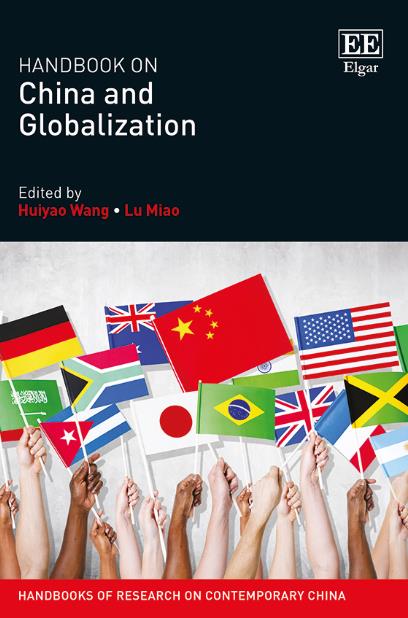 The Center for China and Globalization's (CCG) new book "Handbook on China and Globalization" co-edited by CCG President Dr. Wang Huiyao and Secretary General Dr. Miao Lu has been published by Edward Elgar, the UK-based internationally renowned social science publishing house. This book brings together nearly 40 experts and scholars from all over the world in the field of globalization to reflect on and address the issues surrounding the globalization process and China's global influence. It discusses and forecasts, from various perspectives, China's role in the future of globalization.
2018 marked the 40th anniversary of China's Reform and Opening-Up and the 17th year since China's accession to the WTO. In the past few decades, China has gradually integrated into the modern world economic and trading system. Driven by globalization, capital from all over the world has flowed into the Chinese market, with more and more Chinese companies are expanding their business abroad. However, since the 2008 global economic crisis, globalization has encountered severe setbacks. As trade protectionism, unilateralism and populism have gained traction across developed countries and de-globalization is on the rise, China is faced with mounting challenges and questions from international society regarding its role in globalization.
The Handbook on China and Globalization is one of the few English-language books published by a Chinese think tank with an internationally renowned academic publishing house such as Edward Elgar. It boasts extensive research on the issues surrounding China and globalization, and insightful guidance on the understanding of the key trends, challenges and opportunities for China's globalization process. This publication comes highly recommended by prestigious scholars and experts in this field. Former vice Minister of the Ministry of Commerce, Long nYongtu believes this book can not only serve as an important reference for students, professors and researchers, but also provide practical advice for entrepreneurs, investors and government officials dealing in related economic and trade issues. Professor Liu Hong from Nanyang Technological University recommends this book as it opens a door for readers to delve into the study of China and globalization in the 21st century.
This book consists of four sections, each of which covers a key theme of China's role in globalization.
First section
The first section discusses the process of China's globalization, focusing on the characteristics, trends and challenges of Chinese companies going global.
Highlighting the unprecedented success in globalization Chinese companies have achieved, this chapter also points to the challenges faced by internationalizing Chinese companies. Through their persistent efforts, Chinese entrepreneurs have gradually changed the "Made in China" stereotype, making remarkable achievements in R&D innovation. As the world enters into a new era of globalization, Chinese companies need to more accurately reposition their roles and strategies to be better adapted to new trends and meet new challenges.
Second section
The book's second section looks at China's role in global economic governance from a macro perspective. This section posits that as China's economic power continues to grow rapidly, its role in global economic governance will also change gradually. It states that China is transforming its role from a passive follower of global economic norms to a proactive rule maker and that China's currency, RMB, is also playing a growing role in the world monetary system.
Although there remains some doubt in the international community about the direction of China's economic development, the research shows China still strives to push globalization forward despite global economic slowdowns and uncertain prospects. This section concludes there is enough reason to believe that China can make a bigger contribution to globalization and the world's economic development going forward.
Third section
The third section of the book focuses on China's soft power and the influence of China's diplomatic relations, covering issues including China's traditional npolitical philosophy, Sino-US relations, China-US-Persian Gulf relations, China-Africa cooperation, and China's BRICS relations. It tracks China's cooperation and diplomatic relations in each region, and provides constructive suggestions on how China can enhance its cultural influence.
Fourth section
The last chapter of this book sheds light on the current situation of Chinese immigration and talent development policies. This section presents research results from Chinese and foreign scholars on China's scientific research environment, the current status of overseas Chinese students, economic growth strategy and talent management strategy related to migration. Following China's Reform and Opening-up, as the country further integrated into the global economy, more and more Chinese people have gone abroad to study and work. Meanwhile, China's growing national power has been attracting overseas students to return back to China for employment and entrepreneurship opportunities. Chinese returnees have become an important force in China's innovation and development and have made great contributions to China's globalization. This section provides an in-depth analysis of China's talent management and development strategy that can guide future efforts to improve China's global talent competitiveness.
This new book is part of Edward Elgar's book series on "Contemporary China Studies".  Covering a wide range of the issues that include outbound investment, FDI, innovation and development, global governance, soft power, immigration and talent policies, this publication reflects on China's successes and lessons in globalization, and examines the current status of China's globalization and discusses its role in the new era of globalization. This book provides a solid foundation for future academic research on China and globalization, and serves as an important and practical reference for policy, business and academic communities.
About Edward Elgar
Edward Elgar is a world leading academic and professional publishing house. Specializing in social sciences and law, it boasts a roster of 5,500 published books and is highly praised for its strength in digital publishing and global influence. To have its new book published by Edward Elgar reflects CCG's growing influence in academic research and the global reach of its research.