China and the World in a Changing Context-Perspectives from Ambassadors to China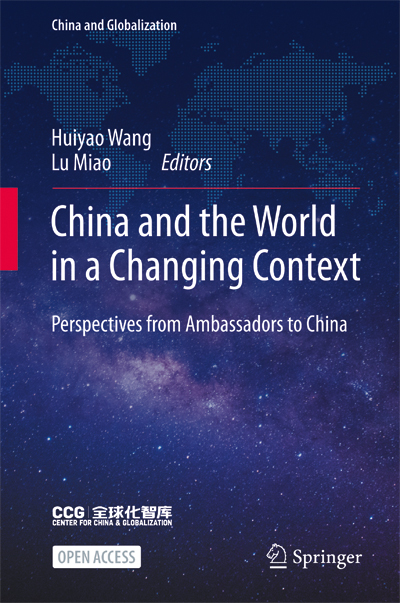 Editors: Huiyao Wang, Lu Miao
Published in March, 2022
ISBN: 978-981-16-8085-4
Publisher: Springer Nature Publishing Group
Download Book at Springer
https://link.springer.com/book/10.1007/978-981-16-8086-1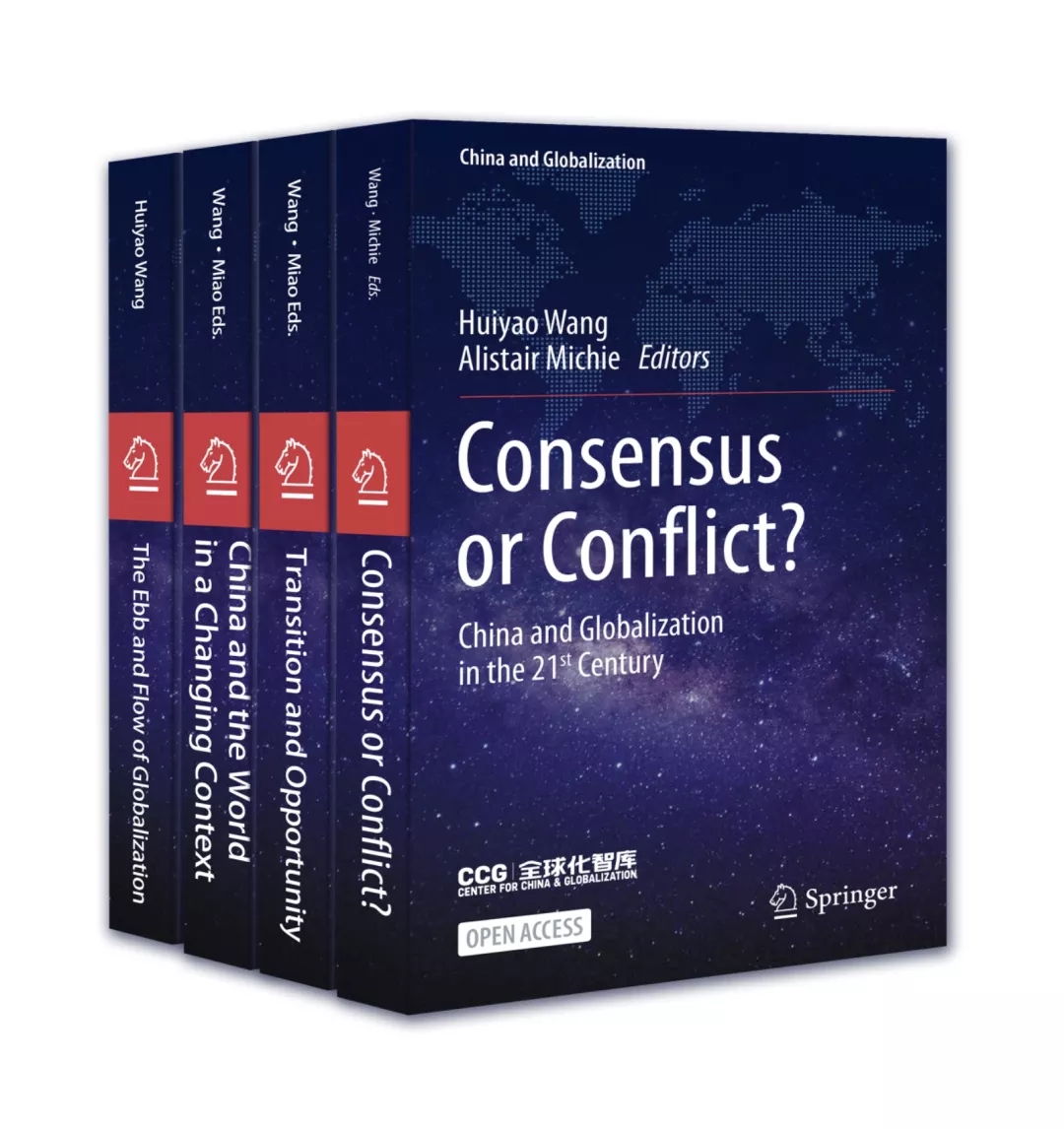 Series Editors: Huiyao Wang Lu Miao
Publisher: Springer Nature Publishing Group
China and the World in a Changing Context-Perspectives from Ambassadors to China is the latest volume in CCG's "China and Globalization" series, which seeks to create a balanced global perspective by gathering the views of highly influential scholars, practitioners, and opinion leaders from around the world on issues of policy and governance.
Ambassadors are a kind of vehicle and bellwether for globalization. These diplomatic envoys serve as pivotal contact points between nations across a wide range of fields, from economics and culture, to health and the environment. The special group of ambassadors in this book – all based in Beijing – are at the forefront of what, for many countries, is one of their most important bilateral relationships and the platform for one of the most striking and consequential developments in global affairs in the 21st century: the rise of China on the world stage.
This book aims to present an overview of China and the world from diverse angles by bringing together essays by ambassadors to China on a range of bilateral and multilateral issues, including trade and investment, regional economic cooperation, sustainable development, technology and innovation, and entrepreneurship. Given their familiarity with China and extensive international experience, we believe that the insights of these ambassadors are useful for policymakers, academics, entrepreneurs, students, and anyone trying to make sense of our rapidly changing world.
The first part, Mutually Beneficial Relations, features essays by ambassadors from Africa, the Americas, Asia, and Europe, who discuss bilateral relations between their respective countries and China, emphasizing how cooperation brings mutual benefits in a variety of fields and sectors. The second part, Facing Challenges Together, looks at the importance of international cooperation to address the most pressing issues of our age such as the COVID-19 pandemic, global economic recovery, and climate change. The third part, Creating a Common Future, features essays by seven ambassadors from very different corners of the globe, looking ahead at how international cooperation in fields such as infrastructure, technology, supply chains, and global governance can bring us closer together and forge a world that is more stable, prosperous, and resilient.
In our globalized world of transnational supply chains, dense people-to-people linkages, and shared threats, the roles that ambassadors and embassies play are more important than ever because countries are so deeply connected and interdependent. As China plays an increasing role in the global economy and global governance, its relations with other countries have become a subject of growing interest—and at times contention.
Plugged into the politics of their home capitals, but also tasked with keeping a finger on the pulse of China and the world at large, ambassadors have a unique perspective on some of the major issues of our times, such as COVID-19, trends in the global economy, ongoing shifts in geopolitics, and the opportunities and challenges facing global governance. Their insights are useful not only for policy-makers, but also for academics, entrepreneurs, students, and anyone trying to make sense of our rapidly changing world.
We hope you will find this book a good read.
---
23 contributors
(in alphabetical order)
H.E. Mr. José Luis Bernal
Ambassador of the United Mexican States to the People's Republic of China
H.E. Mr. Ahcène Boukhelfa
Ambassador of the People's Democratic Republic of Algeria to the People's Republic of China
H.E. Mr. Teshome Toga Chanaka 
Ambassador of the Federal Democratic Republic of Ethiopia to the People's Republic of China
Ambassador of Ireland to the People's Republic of China
H.E. Mr. José Augusto Duarte
Ambassador of the Portuguese Republic to the People's Republic of China
H.E. Mr. Mohamed Abd El-Sattar Elbadri
Ambassador Extraordinary and Plenipotentiary of the Arab Republic of Egypt to the People's Republic of China and Mongolia
H.E. Mr. Rahamtalla M. Osman Elnor
Permanent Representative of the African Union to China
Ambassador of New Zealand to the People's Republic of China and Mongolia
Ambassador of the Kingdom of the Netherlands to the People's Republic of China
H.E. Mr. Carlos Miguel Pereira Hernández
Ambassador of the Republic of Cuba to the People's Republic of China
Ambassador of the United Republic of Tanzania to the People's Republic of China
Ambassador Extraordinary and Plenipotentiary of Georgia to the People's Republic of China
H.E. Mr. Rafael Dezcallar de Mazarredo
Ambassador of the Kingdom of Spain to the People's Republic of China
H.E. Mr. Paulo Estivallet de Mesquita
Ambassador of the Federative Republic of Brazil to the People's Republic of China
H.E. Mr. Luis Diego Monsalve  
Ambassador of the Republic of Colombia to the People's Republic of China
H.E. Mr. Djauhari Oratmangun
Ambassador of the Republic of Indonesia to the People's Republic of China and Mongolia
Ambassador Extraordinary and Plenipotentiary of the Republic of Kenya to the People's Republic of China
H.E. Mr. Arthayudh Srisamoot
Ambassador of the Kingdom of Thailand to the People's Republic of China
H.E. Ms. Alenka Suhadolnik 
Ambassador of the Republic of Slovenia to the People's Republic of China
Ambassador of the Republic of Finland to the People's Republic of China
Ambassador Extraordinary and Plenipotentiary of Japan to the People's Republic of China
H.E. Mr. Wojciech Zajączkowski
Ambassador of the Republic of Poland to the People's Republic of China
Ambassador Extraordinary and Plenipotentiary of the Republic of Azerbaijan to the People's Republic of China