Book Release | CCG Global Dialogues
On December 16, 2022, CCG released the new book CCG Global Dialogues: Understanding Globalization, Global Gaps, and Power Shifts in the 21st Century during the 7th China Global Think Tank Innovation Forum. The book was edited by Wang Huiyao, President of CCG and Miao Lu, Secretary General of CCG, and was published by Palgrave Macmillan, an internationally renowned publisher. The China Global Think Tank Innovation Forum is initiated and hosted by CCG, and focuses on the innovation and development of think tanks and current international issues. There were five panels, a launch event and a dialogue during the Forum this year with nearly a hundred attendees from well-known think tanks around the world.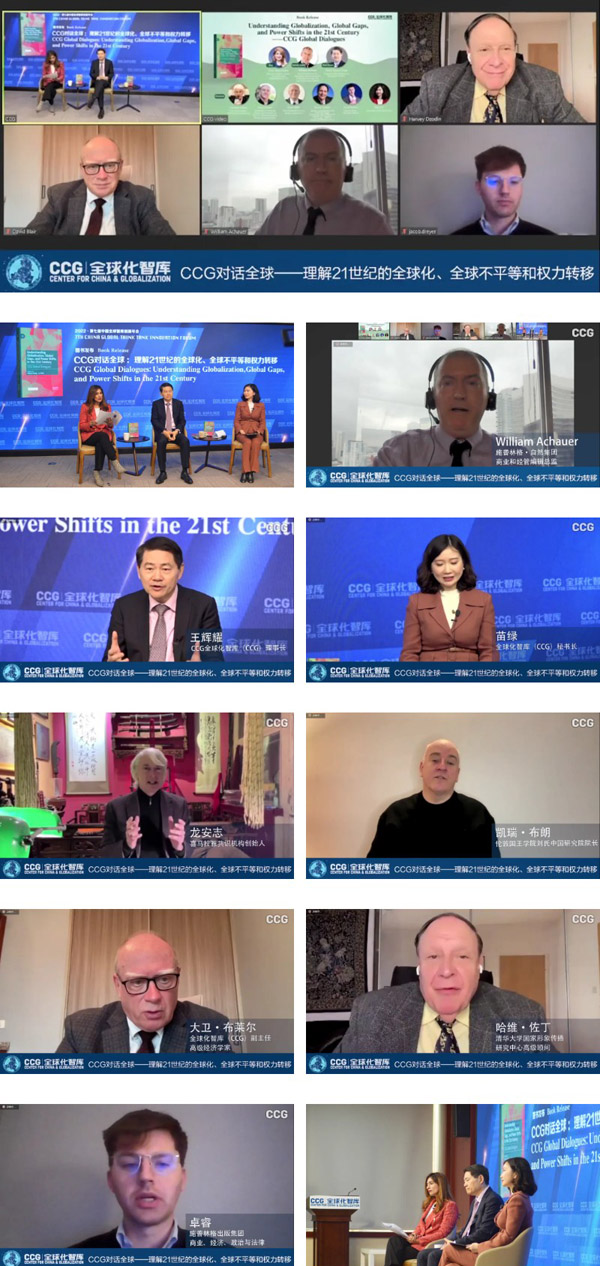 William Achauer, Editorial Director for Business, Economics and Political Sciences and Law at Springer Nature gave a speech during the event, followed by an official release by Wang Huiyao, President of CCG and Miao Lu, Secretary General of CCG. Attendees included Laurence Brahm, Founding Director, Himalayan Consensus Institute, Kerry Brown, Professor of Chinese Studies and Director of the Lau China Institute at King's College, David Blair, Vice President of CCG, Harvey Dzodin, Senior Consultant of the National Image Communication Research Center of Tsinghua University, Senior Research Fellow of CCG, and Jacob Dreyer, Senior Editor of Springer Nature. The subsequent seminar focused the current setbacks and future trends in globalization, as well as eliminating global inequality and deficits. The launch event was moderated by Zoon Ahmed Khan.
During the first half of 2020, countries around the world shut down their borders, causing trade to decline considerably. Many have said that globalization is past its peak, but it soon became apparent during the Forum that globalization was far from coming to an end and what the pandemic signaled is that this multi-dimensional process has entered a new stage. Dialogue and cooperation is essential as the world face health and economic crises, but many conventional channels for international interaction had been disrupted. With the spread of virus and the escalation of the tension of geopolitics, the world needs calm and sane discussion to share views, understand the major changes and find ways too cooperate more now than ever.
CCG initiated "CCG Global Dialogues" in 2021 to foster reasonable, objective and in-depth dialogues with dozens of international opinion leaders. The views shared by the guests in the dialogue is extremely valuable to understanding global development trends as we begin to rebuild. The dialogue also proposed a number of ideas on how to jointly create a peaceful, prosperous and more inclusive world in the post-pandemic era. Therefore, the timeliness and importance of these philosophies is manifested. Just as John Thornton reminds, when looking at the Earth from space, there is no real difference between the people living in China, US, Africa, Europe and other places, and the boundaries between human beings are invisible.
https://link.springer.com/book/10.1007/978-981-19-3846-7
The book records the fruitful thoughts from CCG Founder and President Dr. Henry Huiyao Wang's dialogues with Kerry Brown, Director of the Lau Institute, King's College  London (March 2, 2021); Thomas L. Friedman, author and New York Times Op-Ed columnist (March 29, 2021); Graham Allison, Douglas Dillon Professor of Government at Harvard University and Li Chen, Director of the Center for International Security and Strategy at the School of International Studies, Renmin University of China (April 6, 2021); Joseph S. Nye Jr., Harvard University Distinguished Service Professor, Emeritus (April 28, 2021); Martin Wolf, Chief Economics Commentator at the Financial Times (May 12, 2021); Anne Case, Alexander Stewart 1886 Professor of Economics and Public Affairs, Emeritus at Princeton University and Angus Deaton, Senior Scholar, Princeton School of Public and International Affairs (May 13, 2021); Valerie Hansen, Stanley Woodward Professor of History at Yale University (May 17, 2021); Adam Posen, President of the Peterson Institute for International Economics, J. Stapleton Roy, Founding Director Emeritus, Kissinger Institute on China and the United States, former United States Ambassador to China, John L. Thornton, Chair Emeritus at the Brookings Institution and Co-Chair of the Asia Society, and Zhu Guangyao, CCG Advisor and former Vice Minister of Finance of China (July 30, 2021); Wendy Cutler, Vice President at the Asia Society Policy Institute and former Acting Deputy US Trade Representative and Pascal Lamy, President of the Paris Peace Forum and former Director-General of the World Trade Organization (August 2, 2021); and Kishore Mahbubani, Distinguished Fellow at the Asia Research Institute, National University of Singapore and former Singaporean Ambassador to the UN (October 19, 2021).
Understanding Globalization, Global Gaps, and Power Shifts in the 21st Century is made up of three main parts. The first part traces the various development forms of globalization across time from a macro perspective, and extrapolates long-term structural tendencies and complex changes that have formed our world in recent decades.
The second part focuses on the difference practice and reality that causes deficits in key areas including technology, the global economy and ecology. Current gaps also exist in equality, institutional structures and comprehension, which are especially crucial because they are co-related and influencing each other. For example, domestic inequality can foster populism and anti-global sentiment, hindering the reform of global institutions. The inequality between global north and south may also influence cooperation on common global challenges like climate change.
In the third part of the book, top experts from fields including political science, international relations, trade and business, share their views on the development of China-US relations. China and the US are key global players and relations between the two countries is important not only for their own people, but also to the global community. Whether the two countries can co-exist peacefully and engage in cooperation will be decisive in the future path of the global economy as well as the question of whether the international community can work together to deal with cross-border challenges like climate change and pandemic.
This series of dialogues and the publication of this book have the common goal of understanding the fragility of global inequality, structural factors that cause fragility and ways to rebuild society and the system of global governance with the goal of moving past global crises and create a more united, inclusive and sustainable world. Despite the arduous challenges and uncertainty that abound in the post-pandemic era, there is tremendous room for cooperation that will help us overcome the challenges and take advantage of the many opportunities for mutual benefit that can be found through joint global efforts. CCG firmly believes that frank and open discussion is the key to building mutual trust and promoting deeper cooperation. We expect to continue to use the "CCG Global Dialogue" platform to move beyond disputes, enhance mutual understanding and find ways toward peaceful co-existence so that we can triumph over major challenges together.
Preface
Introduction
Part 1  The Evolution of Globalization
The Year 1000 and the Beginnings of Globalization——Wang Huiyao Dialogue with Valerie Hansen
Transformations in the Global Economy——Wang Huiyao Dialogue with Martin Wolf
The World Isn't Just Flat…It's Also Fast, Fused, Deep, and Fragile——Wang Huiyao Dialogue with Thomas L. Friedman
Part 2  Bridging Gaps and Deficits
Understanding Inequality in a Globalizing World——Wang Huiyao Dialogue with Angus Deaton, Anne Case, and David Blair
The Multilateral Trading System in a Changing Context——Wang Huiyao Dialogue with Wendy Cutler and Pascal Lamy
Bridging Differences Between China and the World——Wang Huiyao Dialogue with Kerry Brown
Part 3  Power Shifts and Great Power Relations
Power Shifts in the Twenty-First Century——Wang Huiyao Dialogue with Joseph S. Nye Jr.
Thucydides's Trap Revisited: Prospects for China–US Relations——Wang Huiyao Dialogue with Graham Allison and Chen Li
Think Tank Dialogue: Balancing Competition and Cooperation in China–US Relations——Wang Huiyao Dialogue with Adam S. Posen, J. Stapleton Roy, John L. Thornton, and Guangyao Zhu
China–US Relations in a Multipolar World——Wang Huiyao Dialogue with Kishore Mahbubani
Index