International Students in China and Career Development
On May 25th, the Center for China and Globalization (CCG) released a new book titled International Students in China and Career Development. The book, co-authored by CCG Secretary-General Dr. MIAO Lu and Associate Research Fellow Dr. QU Mei, was published by the China Social Sciences Press. The book provides an in-depth analysis of international students in China based in solid data using an international comparative perspective. This book also proposes many practical recommendations for how can China create an environment that is more attractive to global talent.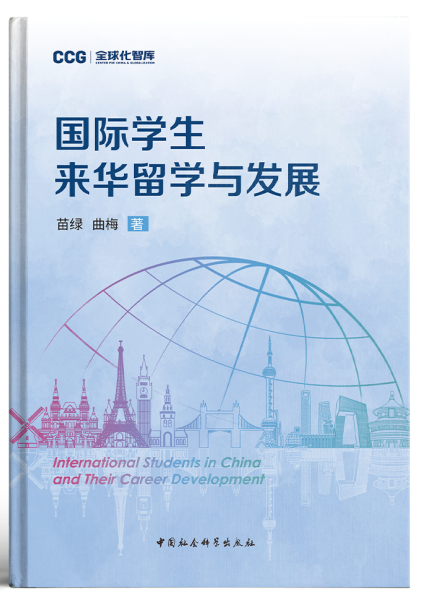 Key concepts in this book:
1. Falling Growth Rates – The annual growth rate of international students coming to China is declining and the proportion of international students in Chinese higher education institutions is far below the world average.
2. Quality vs Quantity – The quality and quantity of international students in China should be given equal importance. To improve quality, more emphasis should be put on the construction of overseas Chinese schools and K-12 curriculum to strengthen the academic ability of overseas students. In terms of quantity, a market-based approach can be appropriately introduced to allow universities to set their own prices, so as to release the potential and enthusiasm of universities to attract self-funded students and make studying in China a driving force of China's economic growth.
3. Student Body Composition – The majority of international students in China come from developing countries, the majority of which are in Asia. In the future, Chinese universities should work to diversify the composition of their international student body.
4. Geographic "Decentralization" – The number of international students in the Yangtze River Delta region is growing rapidly. The "decentralization" of international student distribution in this region is a new trend.
5. International students' employability should be given attention – The situation of international students in China has undergone a transformation. Previously only their study and daily life needs got attention, but now growing importance is being given to their employability.
6. Contributions of International Students – International students in China have very diversified career preferences and they play a significant role in promoting innovation and entrepreneurship in China while also making China more international.
7. Students as a Cultural Bridge – International students in China serve as a bridge between different cultures and people; this should be strengthened. International students contribute greatly to building cultural understanding and trust in the international community.
This book consists of eight chapters.
Chapter 1 presents a picture of global competition for international students.
Chapter 2 provides an overview of the history and current situation of international students in China. Both of these chapters take an international comparative perspective and provide readers with a wealth of information.
Chapter 3 analyses the strengths and weaknesses of the "Study in China" brand.
Chapter 4 presents the local differences in international students studying in China and examines their experiences studying in five different Chinese cities.
Chapter 5 presents the results of a survey on career preferences among international students and the difficulties they face in developing career in China.
Chapter 6 presents an overview of policies on international students working in China, which serves to help international students better understand of China's current policies while also suggesting further policy reform.
Chapter 7 provides a more comprehensive analysis of the current situation and support available for international students looking to improving employability. Chapter 8 provides nine recommendations on how to attract more international students to study in China and help them to achieve their career aspirations.