Ambassador of Singapore to China: Doubling-Down on Globalization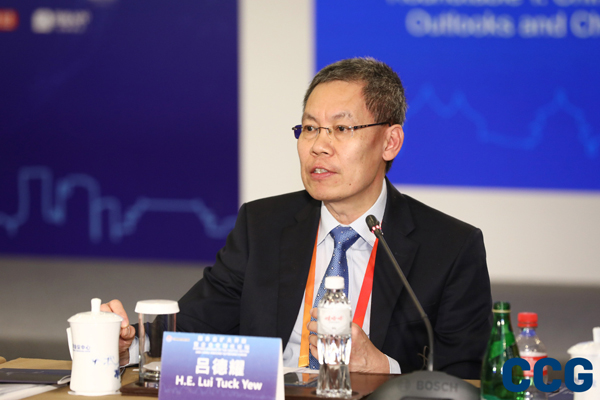 "Singapore is a firm believer that countries need to double down on interdependence and globalization to get out of this."
——H.E. Mr. Lui Tuck Yew, Ambassador of the Republic of Singapore to the People's Republic of China
---
The COVID-19 pandemic has impacted all countries, economies, and sectors, especially businesses that rely on in-person interaction and cross-border travel. Coupled with the impact of the unilateral tendencies and geopolitical tensions that we see today, this dilemma that we face has dangerously expanded.
To overcome this, Singapore is a firm believer that countries need to double down on interdependence and globalization. We are a firm believer in the rules-based international order and the multilateral trading system, which has brought immense benefits, not least of all to China. We believe that upholding trade and supply chain connectivity is crucial. So in March of 2020, Singapore and New Zealand initiated a Joint Ministerial Statement to affirm our shared commitment to maintaining open supply chains. It is heartening to know that in the last six months, a number of countries, including China, has come on board to join this initiative.
Another way to demonstrate our commitment to multilateralism and free trade is by pursuing high quality free trade and investment agreements. This will benefit our economies and raise the standards of our service sectors. Let me give an example of the hunger for good investment destinations and high-quality investment opportunities. In the first four months of 2020, Singapore exceeded our target for inbound investments for the whole year. In those four months the pledged investments into Singapore exceeded annual targets of the six years from 2013 to 2018. This gives us confidence that, as we gradually recover, there will be a slew of good, high value jobs and companies that have and will continue to embed themselves further into the Singapore economy.
We are also heartened that the RCEP, the free trade agreement between the ten ASEAN countries and our six most important dialogue partners in Asia, is on track to be signed by the end of the year. We also welcome Premier Li Keqiang's remarks that China has a positive and open attitude to joining the CPTPP. There will be no clearer signal to demonstrate China's continuing commitment to its reform and opening up journey than taking these concrete steps.
I want to expand on what the Ambassador from Canada had said. He shared about the importance of healthcare, financial education, the service sector, and opening up and reform. I just want to quickly mention insurance, whether it be natural catastrophe insurance, healthcare insurance, or unemployment insurance. And I say this because I think building the right level of social safety nets here in China is crucial. If the plan is to shift towards domestic consumption as a key driver of the economy going forward, people can spend with confidence only when there are sufficient social safety nets. Otherwise, the natural tendency is to save for a rainy day and we know that our natural instinct is to do so. Policymakers will need to look at how the government, employers, businesses, individuals, employees, families, and the wider community can work together to build up social safety nets. We have heard a lot about China's Dual Circulation Strategy and how domestic circulation and international circulation can complement each other. We certainly look forward to exploring how all of us can contribute to as well as benefit from this new strategy.
Finally, I want to say that it is important to rebuild strategic trust between countries and also to strengthen trust between commercial entities and governments. It is not uncommon to hear lingering concerns from foreign companies over whether there is a level playing field in China or whether there is fair market access. We recognize and welcome the fact that China has made huge strides in this regard over the past few decades, but we know that much more can and need to be done in the years to come. When businesses are sure that China is serious about addressing their concerns, and that any policy shifts or rule changes are in the direction of creating a more pro- business operating environment, then I think the investment climate here in China will become even more positive. If you can expand this reservoir of trust between countries and with businesses, it will be a major step forward in expanding economic exchanges, investment and trade flows that will ultimately benefit our peoples. This will help us overcome COVID-19, the most serious economic and social crisis that we have faced in the past 100 years.
Adapted from the transcript of a speech presented at the 7th China Inbound-Outbound Forum (September 2020).
China and the World in a Changing Context: Perspectives from Ambassadors to China is the fourth book in the "China and Globalization" series, and was published in partnership with Springer Nature. With a total of 23 essays and 10 speeches from 27 Beijing-based ambassadors representing Europe, Africa, Asia, the Americas and Oceania, this volume examines a complex and changing world from the perspective of ambassadors, who are frontline participants of globalization and poised to champion more inclusive and more effective global governance. Their insights on China and the world in this book provide a unique and poignant view for anyone trying to make sense of the rapidly evolving global context.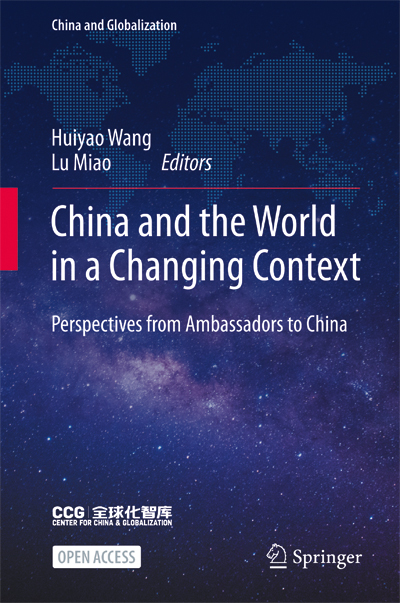 China and the World in a Changing ContextPerspectives from Ambassadors to ChinaEditors: Huiyao Wang, Lu MiaoPublished in March, 2022ISBN: 978-981-16-8085-4

Publisher: Springer Nature Publishing Group

Download Book at Springer

https://link.springer.com/book/10.1007/978-981-16-8086-1

CCG's new book China and the World in a Changing Context: Perspectives from Ambassadors to China has been released online. This open access book presents China and a changing globalized world from the perspective of 23 ambassadors to China, covers key development topics including economic growth, foreign policy, and SDG-related themes.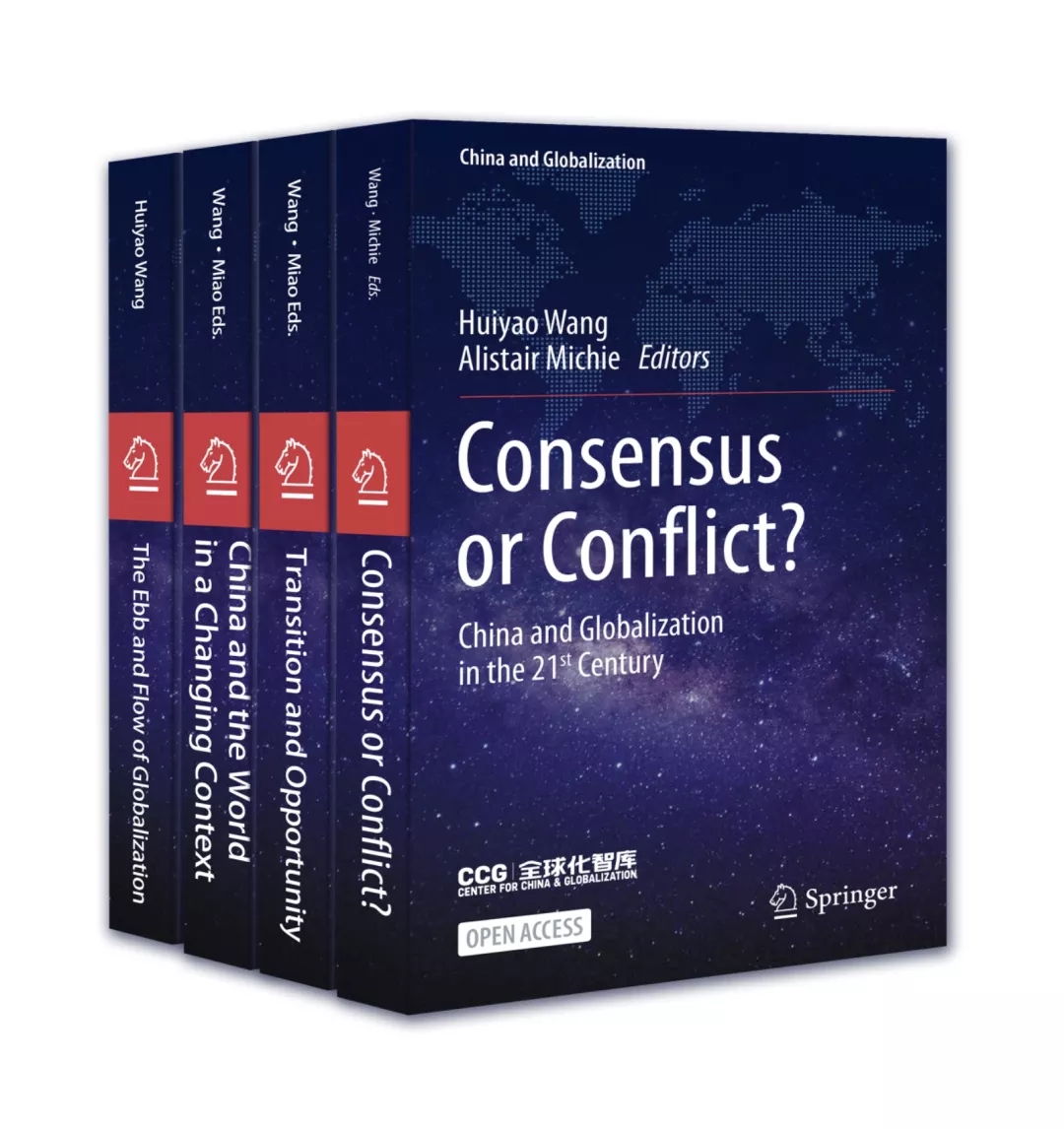 Series Editors: Huiyao Wang Lu Miao
Publisher: Springer Nature Publishing Group