Entrepreneur and Talent Management from a Global Perspective:Global Returnees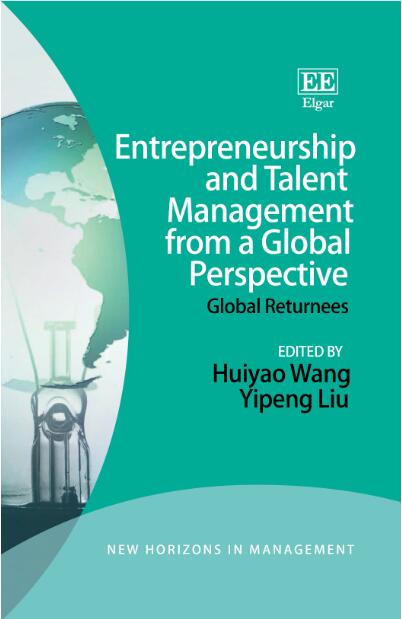 Entrepreneur and Talent Management from a Global Perspective:Global Returnees
Editors:Dr. Wang Huiyao and Dr. Liu Yipeng
Publisher: Edward Elgar Publishing

Brief
Talent has become the most important resource for organizations across a wide range of sectors throughout the world including business, non-profit, and government. These organizations are now engaged in an increasingly fierce competition to acquire the best talent as they seek to gain the upper hand in today's fast changing environment. By combining the body of knowledge on entrepreneurship and talent management from a global perspective, this book provides a synthesized understanding of entrepreneurial mobility and talent management in the entrepreneurship and innovation ecosystem.
The expert contributors combine empirical evidence and case studies to provide a nuanced understanding of global talent management from an international comparative perspective. The topics discussed include China's return migration and its impact on Chinese development, local engagement and transformation of Chinese communities in England, and reverse migration from the US to China. Furthermore, from a comparative perspective, contributors examine global talent and entrepreneurial mobility in the contexts of Silicon Valley, European university spin-off practices and entrepreneurial ecosystems in France, Italy, and South Korea, respectively.
Scholars and students in entrepreneurship and talent management will find the scope for future research useful in their work. Entrepreneurs, managers, and policymakers will benefit from the examination of global perspectives and different national contexts.
Contributors
Assimakopoulos, D.Baglieri, Z. Chen, M.C. Cinici, L. Daily, T. Duan, T. Fang, W. Hou, A. Isaak,R. Isaak, K.W. Jensen, K-.C. Kim, X. Liu, D. Mavridis, M.L. Miao, A. Moore,Y.M. Myint, T. Petrin, F. Qin, S. Rezaei, T. Sch?tt, F. Sussan, M. Tsouri, H.Wang, B. Wu, W. Zhang, J. Zybura
Contents
Introduction
Yipeng Liu and Huiyao Wang
PART I  RETURNEES, TALENT AND PUBLIC POLICY: THE CASE OF CHINA
1.China's Return Migration and its Impact on Chinese Development
Mabel Lu Miao
2.Returnees as Political Elites: A Growing Social Force in China
Wenxian Zhang
3.The Role of Returnees in Business: A Review
Huiyao Wang, Tinghua Duan, Wenxuan Hou, and Xiaohui Liu
4.Talent among Chinese Entrepreneurs at Home and Abroad
Kent Wickstr?m Jensen, Shahamak Rezaei, and Thomas Sch?tt
5.Outward Foreign Direct Investment by Chinese Firms: The Case of Changzhou
Zhao Chen and Tony Fang
6.Chinese Student Mobility, Local Engagement and Transformation of Chinese Communities in England: An Empirical Study
Bin Wu
7.Transnational Space, Networks, and Entrepreneurship: Reverse Migration from the U.S. to China
Fei Qin
PART II  A GLOBAL PERSPECTIVE ON ENTREPRENEURS, TALENT AND ENTREPRENEURSHIP ECOSYSTEMS
8.Replicating Silicon Valley: Talent and Techno-management in a Culture of Serendipity
Robert Isaak, Andrew Isaak and Jan Zybura
9.European Spin-off Practice: A Comparative Study of Four European Universities
Tea Petrin and Yin Mon Myint
10.(Not) Energizing Microelectronics Ecosystems through a Large Firm's Inventor Network. Lessons from Italy.
Maria Cristina Cinici and Daniela Baglieri
11.Don't Lose Sight of the Forest for the Trees: Minalogic and Presto Engineering as a 'New Argonaut' in a French ICT Ecosystem
Dimitris Assimakopoulos, Maria Tsouri, Dimitris Mavridis and Alan Moore
12.The Entrepreneurial Ecosystem in South Korea: A Review
Fiona Sussan, Louis Daily, and Ki-Chan Kim
Index
Buy this book
Learning more about this book and buying it, you can Click on the following link:http://www.e-elgar.com/shop/entrepreneurship-and-talent-management-from-a-global-perspective