Wang Huiyao: Chinese miracle in poverty alleviation worthy of emulation by world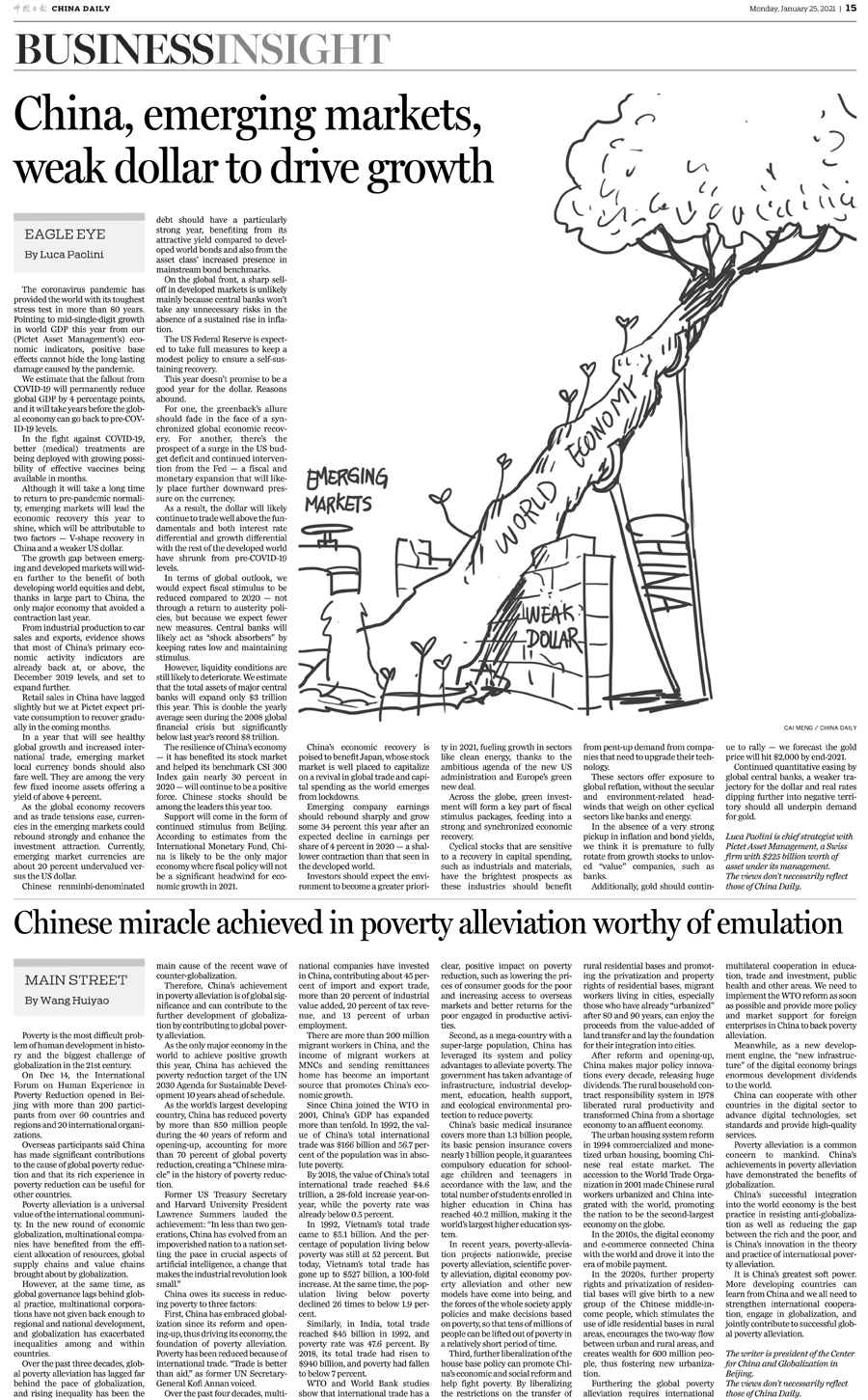 Op-ed of China Daily
By Wang Huiyao | Founder of the Center for China and Globalization(CCG)
Poverty is the most difficult problem of human development in history and the biggest challenge of globalization in the 21st century.
On Dec 14, the International Forum on Human Experience in Poverty Reduction opened in Beijing with more than 200 participants from over 60 countries and regions and 20 international organizations.
Overseas participants said China has made significant contributions to the cause of global poverty reduction and that its rich experience in poverty reduction can be useful for other countries.
Poverty alleviation is a universal value of the international community. In the new round of economic globalization, multinational companies have benefited from the efficient allocation of resources, global supply chains and value chains brought about by globalization.
However, at the same time, as global governance lags behind global practice, multinational corporations have not given back enough to regional and national development, and globalization has exacerbated inequalities among and within countries.
Over the past three decades, global poverty alleviation has lagged far behind the pace of globalization, and rising inequality has been the main cause of the recent wave of counter-globalization.
Therefore, China's achievement in poverty alleviation is of global significance and can contribute to the further development of globalization by contributing to global poverty alleviation.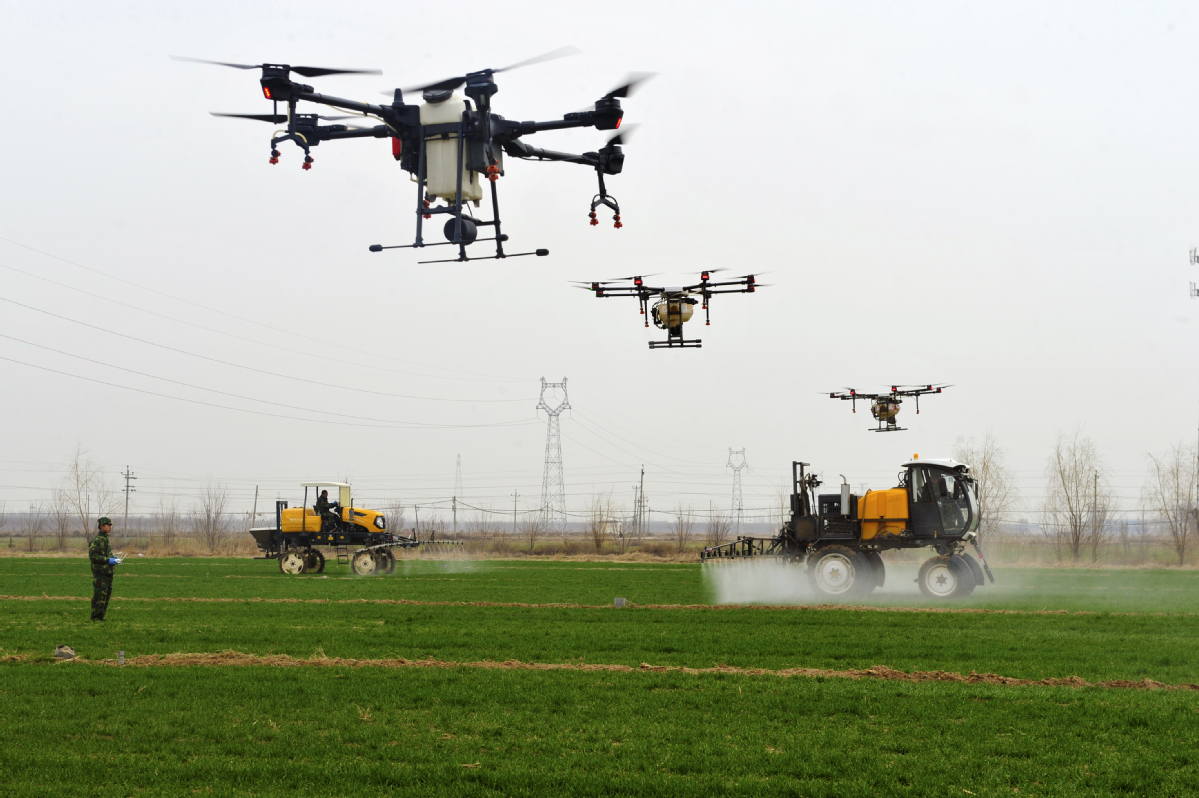 Drones and automatic spraying machines, controlled by technicians, spray pesticides and herbicides in a village in Hebei province in March 2020. [Photo/Xinhua]
As the only major economy in the world to achieve positive growth last year, China has achieved the poverty reduction target of the UN 2030 Agenda for Sustainable Development 10 years ahead of schedule.
As the world's largest developing country, China has reduced poverty by more than 850 million people during the 40 years of reform and opening-up, accounting for more than 70 percent of global poverty reduction, creating a "Chinese miracle" in the history of poverty reduction.
Former US treasury secretary and Harvard University President Lawrence Summers lauded the achievement: "In less than two generations, China has evolved from an impoverished nation to a nation setting the pace in crucial aspects of artificial intelligence, a change that makes the industrial revolution look small."
China owes its success in reducing poverty to three factors:
First, China has embraced globalization since its reform and opening-up, thus driving its economy, the foundation of poverty alleviation. Poverty has been reduced because of international trade. "Trade is better than aid," as former UN secretary-general Kofi Annan voiced.
Over the past four decades, multinational companies have invested in China, contributing about 45 percent of import and export trade, more than 20 percent of industrial value added, 20 percent of tax revenue, and 13 percent of urban employment.
There are more than 200 million migrant workers in China, and the income of migrant workers at MNCs, and their remittances sent home have become an important source that promotes China's economic growth.
Since China joined the WTO in 2001, China's GDP has expanded more than tenfold. In 1992, the value of China's total international trade was $166 billion and 56.7 percent of the population was in absolute poverty.
By 2018, the value of China's total international trade reached $4.6 trillion, while the poverty rate was already below 0.5 percent.
In 1992, Vietnam's total trade came to $5.1 billion. And the percentage of population living below poverty was still at 52 percent. But today, Vietnam's total trade has gone up to $527 billion, a 100-fold increase. At the same time, the population living below poverty declined 26 times to below 1.9 percent.
Similarly, in India, total trade reached $45 billion in 1992, and poverty rate was 47.6 percent. By 2018, its total trade had risen to $940 billion, and poverty had fallen to below 7 percent.
WTO and World Bank studies show that international trade has a clear, positive impact on poverty reduction, such as lowering the prices of consumer goods for the poor and increasing access to overseas markets and better returns for the poor engaged in productive activities.
Second, as a mega-country with a super-large population, China has leveraged its system and policy advantages to alleviate poverty. The government has taken advantage of infrastructure, industrial development, education, health support, and ecological environmental protection to reduce poverty.
China's basic medical insurance covers more than 1.3 billion people, its basic pension insurance covers nearly 1 billion people, it guarantees compulsory education for school-age children and teenagers in accordance with the law, and the total number of students enrolled in higher education in China has reached 40.2 million, making it the world's largest higher education system.
In recent years, poverty-alleviation projects nationwide, precise poverty alleviation, scientific poverty alleviation, digital economy poverty alleviation and other new models have come into being, and the forces of the whole society apply policies and make decisions based on poverty, so that tens of millions of people can be lifted out of poverty in a relatively short period of time.
Third, further liberalization of the house base policy can promote China's economic and social reform and help fight poverty. By liberalizing the restrictions on the transfer of rural residential bases and promoting the reform in property rights of residential bases, migrant workers living in cities, especially those who have already "urbanized" after 80 and 90 years, can enjoy the proceeds from the value-added of land transfer and lay the foundation for their integration into cities.
After reform and opening-up, China has been making major policy innovations every decade, releasing huge dividends. The rural household contract responsibility system in 1978 liberated rural productivity and transformed China from a shortage economy to an affluent economy.
The urban housing system reform in 1994 commercialized and monetized urban housing, booming Chinese real estate market. The accession to the World Trade Organization in 2001 made Chinese rural workers urbanized and China integrated with the world, promoting the nation to be the second-largest economy on the globe.
In the 2010s, the digital economy and e-commerce connected China with the world and drove it into the era of mobile payment.
In the 2020s, further property rights and reform in residential bases will give birth to a new group of the Chinese middle-income people, which stimulates the use of idle residential bases in rural areas, encourages the two-way flow between urban and rural areas, and creates wealth for 600 million people, thus fostering new urbanization.
Furthering the global poverty alleviation requires international multilateral cooperation in education, trade and investment, public health and other areas.
Meanwhile, as a new development engine, the "new infrastructure" of the digital economy brings enormous development dividends to the world.
China can cooperate with other countries in the digital sector to advance digital technologies, set standards and provide high-quality services.
Poverty alleviation is a common concern to mankind. China's achievements in poverty alleviation have demonstrated the benefits of globalization.
China's successful integration into the world economy is the best practice in resisting anti-globalization as well as reducing the gap between the rich and the poor, and is China's innovation in the theory and practice of international poverty alleviation.
It is China's greatest soft power. More developing countries can learn from China and we all need to strengthen international cooperation, engage in globalization, and jointly contribute to successful global poverty alleviation.
From China Daily , 2021-1-25