Former US Secretary of State John Kerry speaks at CCG roundtable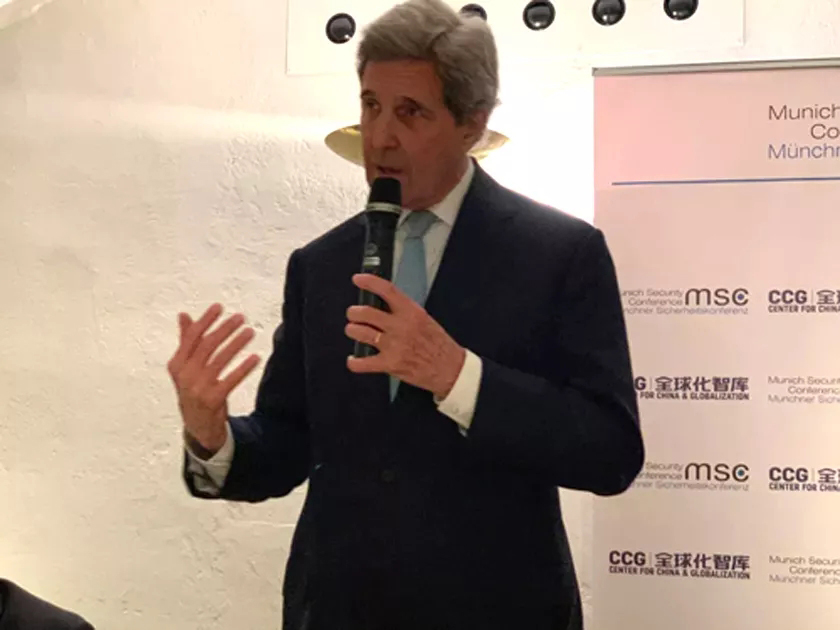 John Kerry, former US Secretary of State, recently gave a speech on China-US relations at a roundtable hosted by the Center for China and Globalization (CCG) at the 56th Munich Security Conference (MSC).
The event, held on February 14, was hosted by CCG in its capacity as the MSC's only non-governmental Chinese partner. The theme of the event was "US-China Cold War? Myth and Reality." Wang Huiyao, president of CCG and counselor for China's State Council, gave welcoming remarks. John Kerry, former US Secretary of State, gave a speech.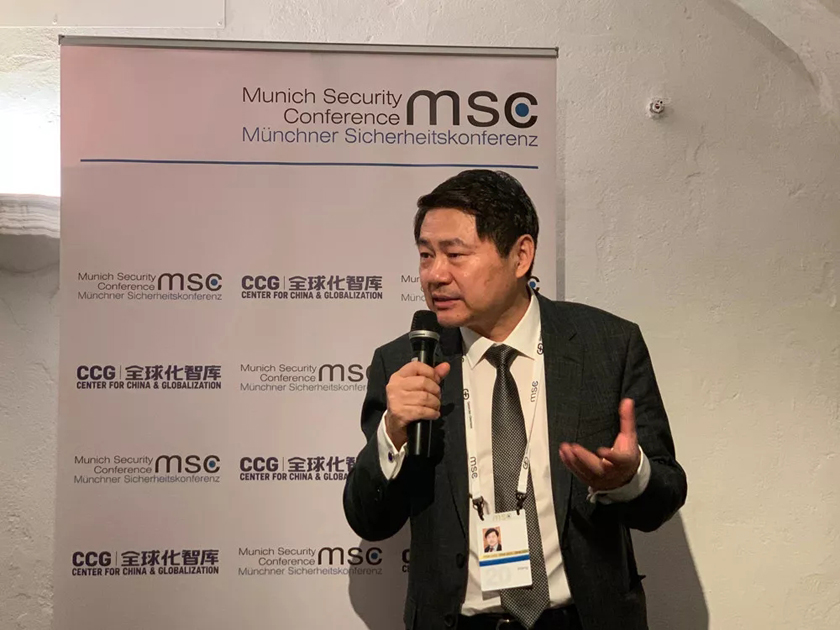 Wang said that the roundtable aimed to provide a platform to openly exchange opinions, ideas, and potential solutions for critical China-US relations issues through the lenses of trade and security.
No one's ever won a trade war. No one won this one.

Kerry remarked that the US and China, as two great nations, should not automatically fall into a role that drives each other apart and pushes the world away from dealing with critical challenges.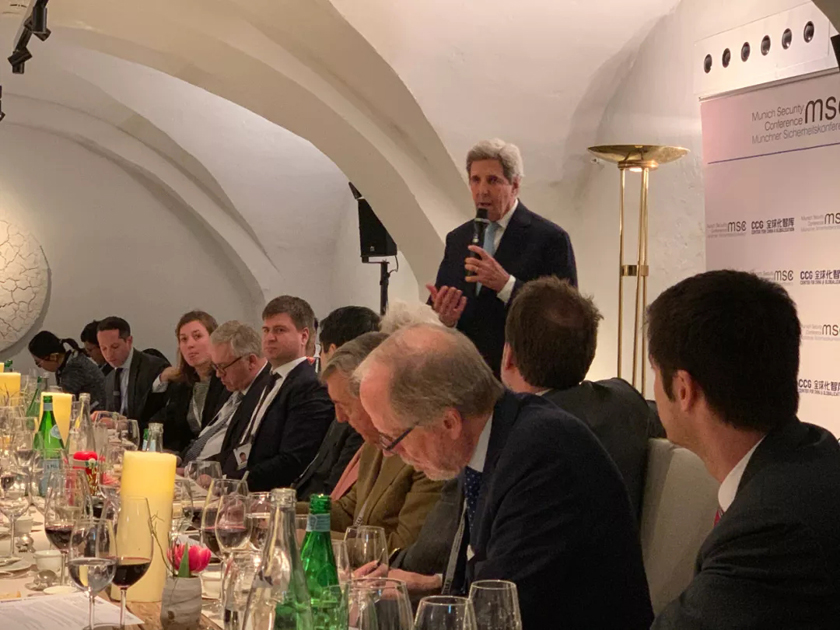 The former US Secretary of State said that although the two countries have different systems, the US and China have nonetheless enjoyed deep interactions throughout history. For example, US trade with China commenced in 1783 when the vessel Empress of China sailed from New York Harbor. Through ups and downs, trade between the two economies has continued. During WWII, China also launched rescue missions to save the lives of US pilots "flying the hump."
Kerry described the horrors of the first and second world wars, saying that after these devastating conflicts, the world tried to put together a more stable, peaceful system. Kerry famously testified against U.S. involvement in the Vietnam War and was an anti-war campaigner.
In his speech, Kerry also described how he worked for the ratification of the New Start treaty, which requires the US and Russia to reduce nuclear stockpiles so that within seven years of ratification neither deploys more than 1,550 strategic warheads.
Kerry encouraged China, destined to be the biggest economy in the world, to carefully think about measuring history against where the US and China are heading to.
Concerns about Huawei controlling 5G networks?
Kerry said that the US would like to see 5G developed as fast as possible if it can guarantee accountability, transparency, and mutuality. However, he did note concerns about "back doors" and emphasized the importance of rules for cybersecurity, which creates risk for politics and many other fields, making effective cybersecurity more important than ever.
Kerry acknowledged that China probably has the same fears the US has, noting that the US had planted a program called Stuxnet into Iran, which delayed their nuclear program.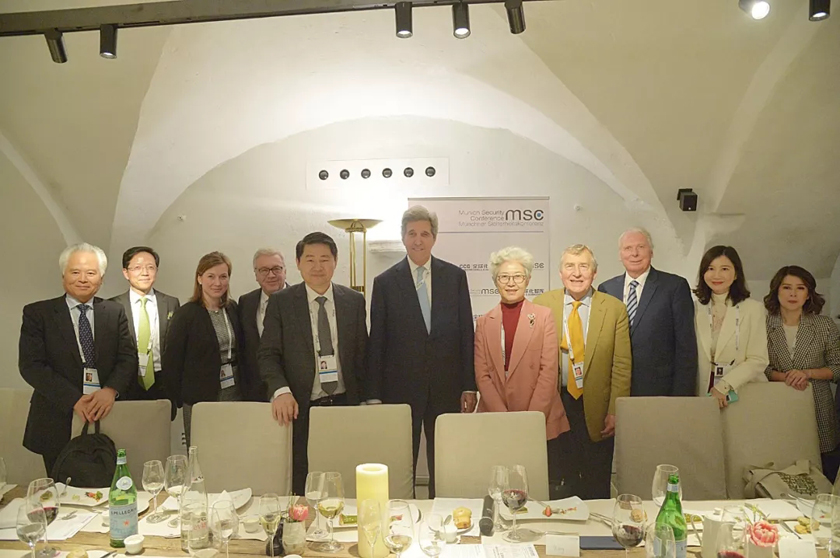 "No need for China and the US to lead the world into a new cold war"

Kerry pointed out that there is no need for the United States and China to lead the world into a new cold war. In the discussion after his speech, he reminded the audience that "war is the failure of diplomacy," a failure to balance interests that every country has.
Kerry observed with regret that US politics has moved from being based on facts to emotions, and said that China needs to factor that in and be restrained and mature. He also noted about the bi-partisan nature of the consensus that has emerged around China's unfair trading practices and went on to warn about the US and China being sucked, against rational understanding, into a place where terrible mistakes could be made, suggesting there are many areas of potential cooperation such as tackling climate change.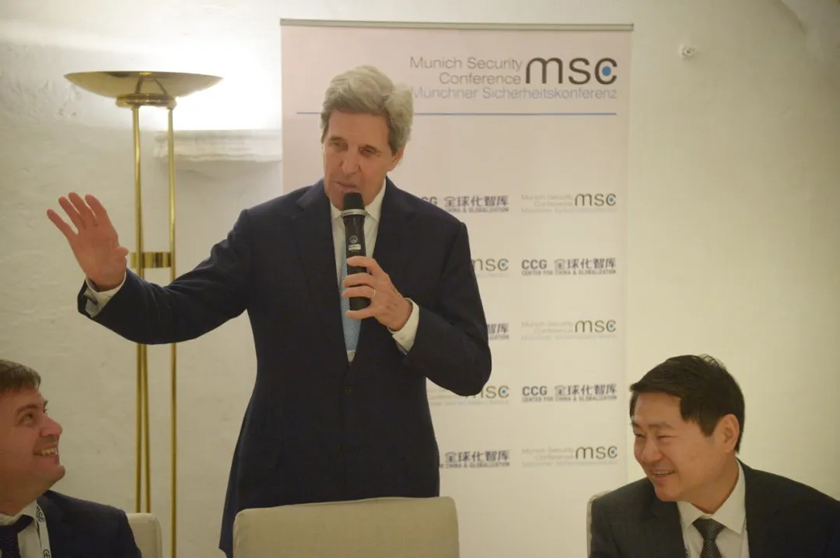 Strengthening cooperation to tackle climate change

Over many decades, Kerry has devoted considerable efforts to push for public action on climate change. Last year he formed World War Zero, a new bipartisan coalition of world leaders, business executives and celebrities to combat climate change.
Kerry said that raising awareness of climate change and the need for clean solutions could help change attitudes, so instead of a cold war, we have a war against the climate crisis.
Describing witnessing first-hand the impacts of climate change in Antarctica, Kerry emphasized that "this is the challenge we ought to be spending our time talking about here and everywhere else in the world."
Kerry appreciated that China had worked with the US to lead international efforts to tackle climate change under the Paris Agreement, and said both sides should strengthen cooperation in fighting climate change. For example, China and the US could work together to solve the problem of battery storage through a joint consortium, and Chinese universities or research institutions could work with institutions in the US to innovate negative emission technologies.
Who is the speaker?
John Kerry, (born December 11, 1943, Denver, Colorado, U.S.) is a US politician who served in the Senate (1985–2013) and who was the Democratic Party's nominee for president in 2004. He later was Secretary of State (2013–17) in the administration of President Barack Obama.