The Fourth Annual China and Globalization Forum
January 20 , 2021
---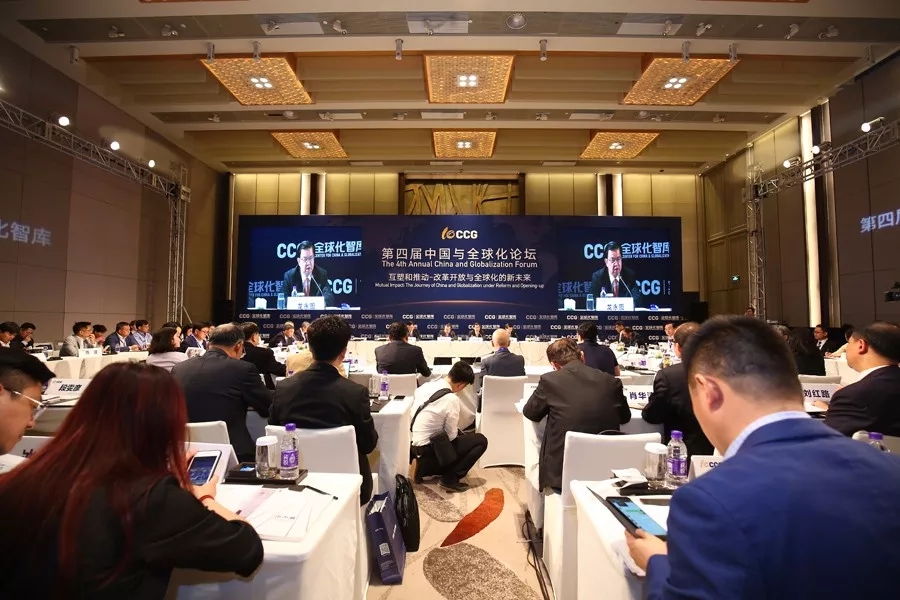 On May 20, the Center for China for China and Globalization (CCG) held its annual flagship forum on globalization at the Park Hyatt Beijing. This year's event highlighted the theme of "mutual impact," looking at the interwoven stories of China's development and globalization.
As China marks 40 years of Reform and Opening-up, this forum offered a valuable chance for leading experts to review experiences and lessons from the last four decades and look forward to map out new directions for China's development and globalization. Such reflection and debate is all the important coming amidst a period of international uncertainty, trade frictions and persisting protectionist currents.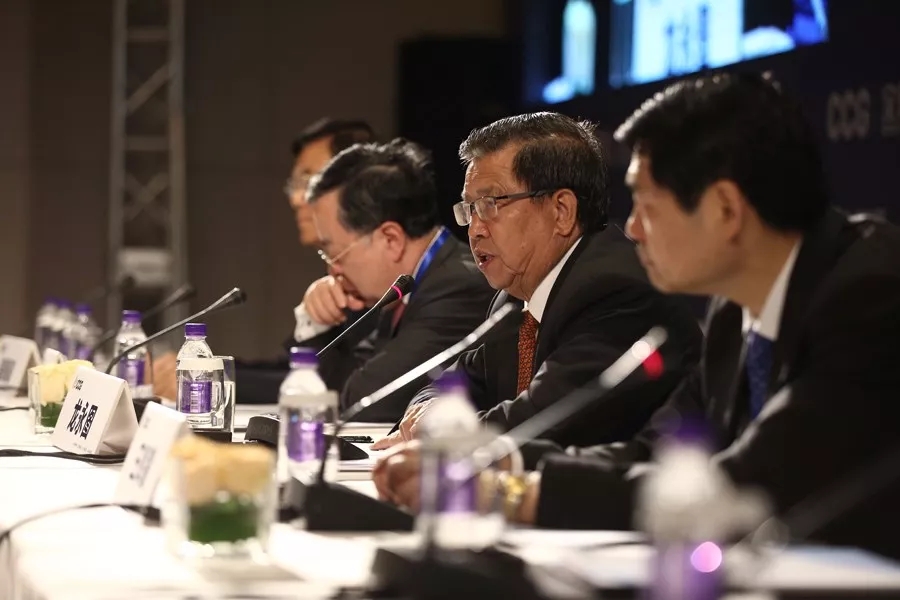 Against this background, the Fourth Annual China and Globalization Forum brought together over 80 thought leaders including CCG council members, scholars and senior experts from government and business, as well as nearly 200 guests. Over six sessions and a full day of conversations, participants exchanged views and offered constructive proposals to overcome current challenges and capitalize on new opportunities for globalization. These sessions covered a range of timely topics, including the role of Chinese enterprises in global development, opportunities and challenges presented by the current wave of "digital globalization," human-centered globalization, and global governance.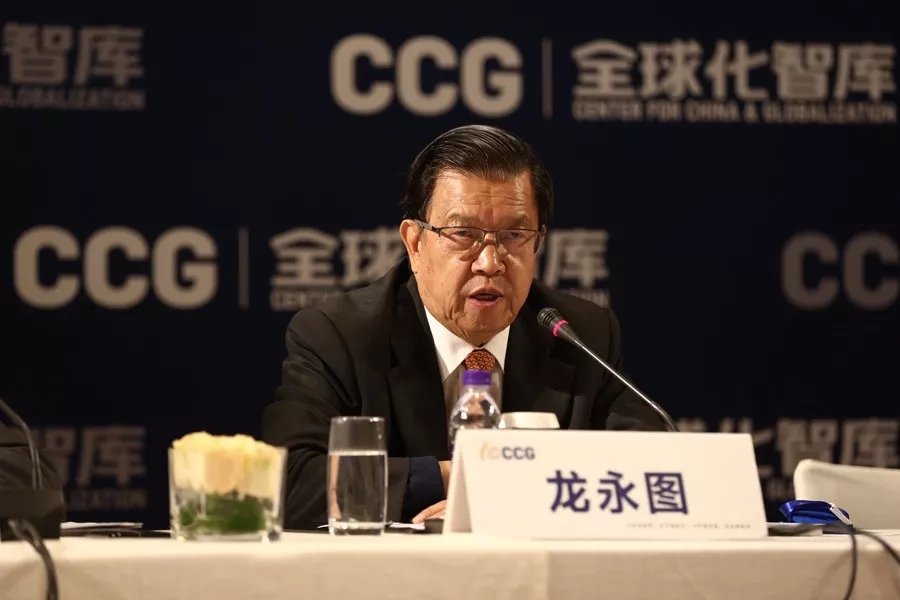 The opening session started with remarks from CCG Chair Long Yongtu, former MOFCOM vice minister and secretary general for the Boao Forum for Asia. Long traced the evolution of China's interaction with the global economy and called to build on China's recent agreement with the US with active research into the historical, market and structural causes of current trade imbalances.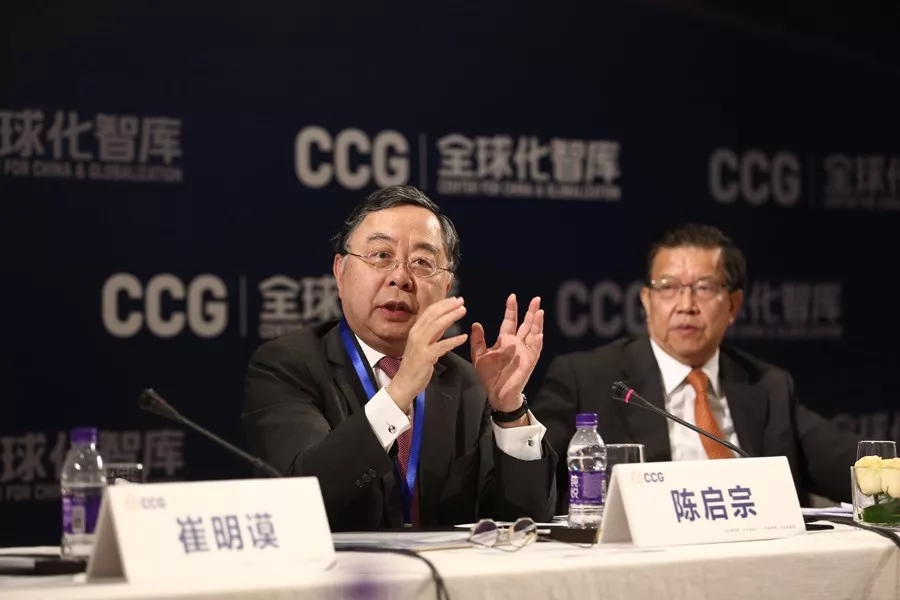 Following this, Ronnie C. Chan, CCG co-chair and chairman of Hang Lung Group, noted the significance of China's Reform and Opening-up as a pivotal juncture in the 20th century. Chan also stressed that, moving forward, clear thinking and continued efforts will be needed to address and manage various forms of international competition.
CCG President Wang Huiyao described China's role in globalization and how the forum can play a constructive role in proposing solutions to overcome current challenges by adopting a comprehensive view of globalization.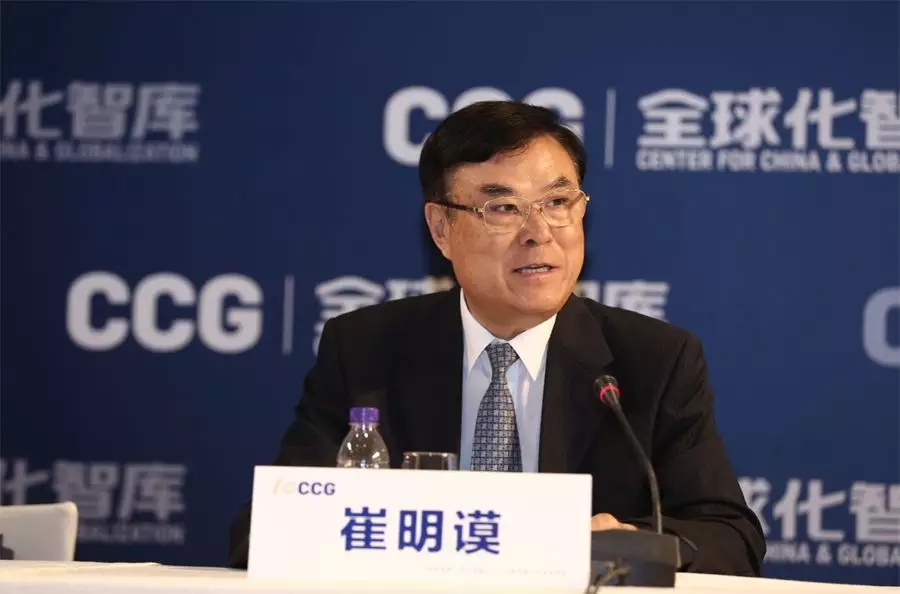 In the final speech of the opening session, Cui Mingmo, president of the Chinese Association of International Economic Cooperation (CAFIEC), praised the role of the forum in supporting a higher-degree of opening up in China's next phase of reforms.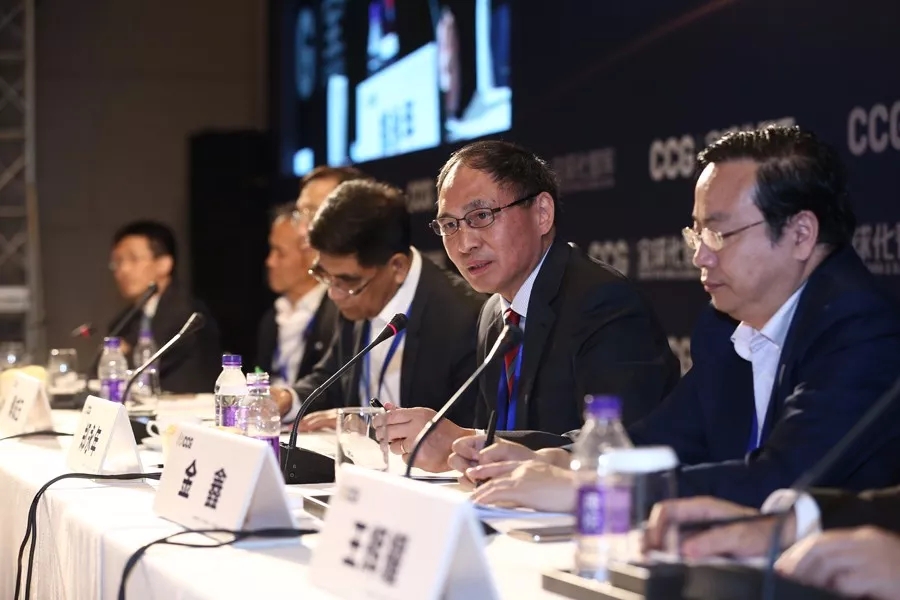 The opening presentations were followed by six sessions on various aspects of China and globalization. The first session took the theme "China's Reform and Opening-up and Globalization: Past, Present, and Future."  Discussants reflected on the experiences and lessons of the last 40 years, highlighting the importance of China's opening-up to global development and governance, while exchanging opinions on how China can continue to open up and contribute to globalization. Chaired by CCG President Wang Huiyao, the panel featured Fu Chengyu, CCG advisor and former Sinopec Chairman; Scott Kennedy, deputy director of the Freeman Chair in China Studies and director of the Project on Chinese Business and Political Economy at the Center for Strategic and International Studies (CSIS); Liu Shijin, deputy director of the Economic Council under the CPPCC and vice president of the Development Research Foundation under the State Council; Mao Zhongqun, chairman and president of Fotile Group and CCG senior vice chair; Wang Junfeng, president of King & Wood Mallesons and CCG vice chair; Wang Shi, founder of China Vanke and CCG senior vice chair; and Zheng Yongnian, director of CCG's Academic Committee and director of the East Asian Institute, National University of Singapore.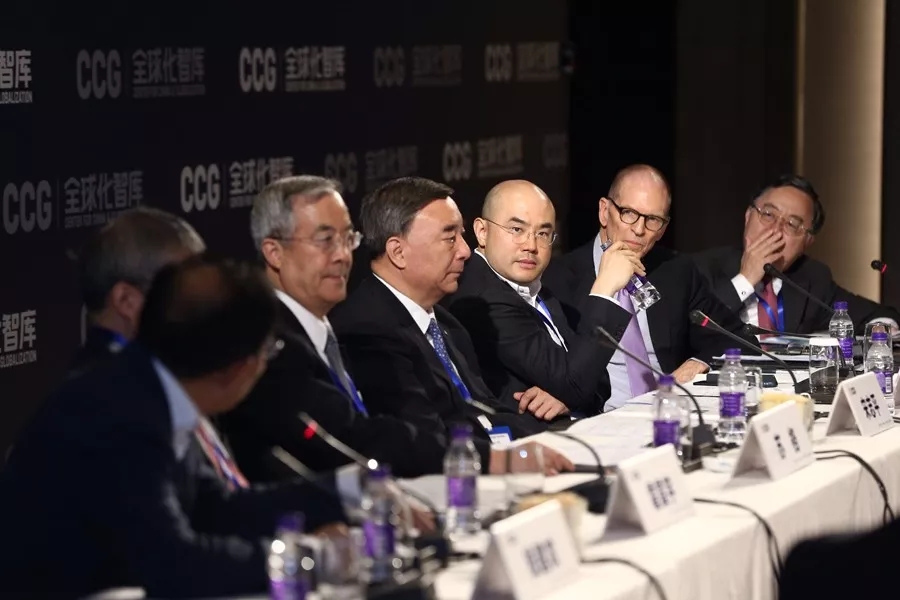 The second session was titled "Opening Up 40 Years On – How Chinese Businesses Have Changed the Landscape of Global Trade and Investment." Chaired by Ronnie C. Chan, this discussion traced the evolution Chinese industry, the emergence of new business models and sectors, and the changing role of Chinese companies in global values chains. There was lively debate on how Chinese companies can navigate new challenges and opportunities and play a role in refining the international trading system. Insights were shared by a distinguished panel of experts including Benjamin Fok Chun-yue, CCG senior vice chair and director of the Fok Ying Tung Foundation; Hong Mingji, CEO of Hop Hing Group and CCG senior vice chair; Jim Qian, partner of Fosun International and Chairman of Fosun Tourism and Culture Group; Song Zhiping, chairman of China National Building Materials Group; Su Ge, CCG advisor, chairman of China National Committee for Pacific Economic Cooperation, and former Chinese ambassador to Iceland; and William Zarit, chairman of AmCham China.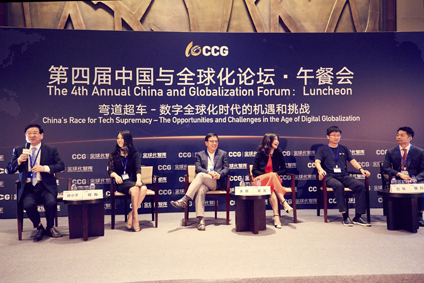 The lunch session was titled "China's Race for Tech Supremacy – Opportunities and Challenges in the Age of Digital Globalization." Figures from China's technology and education sectors provided fresh perspectives on various business and social issues shaped by rapid technological development. The panel was moderated by Xu Xiaoping, founder of Zhen Fund, co-founder of New Oriental Group and CCG senior vice chair. The participants were Michael Kuan, founder and CEO of Kuan Capital and CCG vice chair; Linda He, chairman and president of Wailian Overseas Consulting Group and CCG senior council member; Liu Chang, founder of 17zuoye.com; Miranda Qu, founder of xiaohongshu.com; and Zhang Chuan, CCG council member and chairman of Shanghai Fumu Asset Management.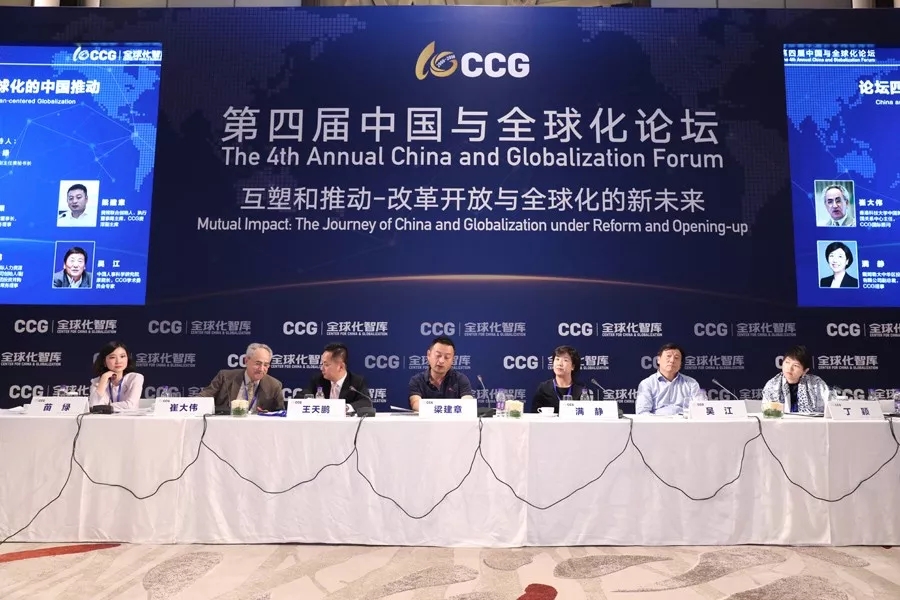 The creation of China's National Immigration Administration in April this year represented a new landmark for "China's promotion of human-centered globalization," the theme for the fourth session of the day.  The panel discussed various aspects of human-centered globalization, including the competition for international talent, study and travel overseas, and policies to upgrade China's human capital. Chaired by CCG Vice President Miao Lu, the panel featured Vivian Ding, founder of QWOS and CCG senior council member; James Liang, co-founder and executive chairman of Ctrip and CCG vice chair; Man Jing, executive vice president of Daimler Greater China and CCG council member; Wang Tianpeng, founder and vice president of Career International and CCG senior council member; Wu Jiang, former president of the Chinese Academy of Personnel Science and CCG academic advisor; and David Zweig, CCG foreign expert and director of the Center for China's Transnational Relations at Hong Kong University of Science and Technology.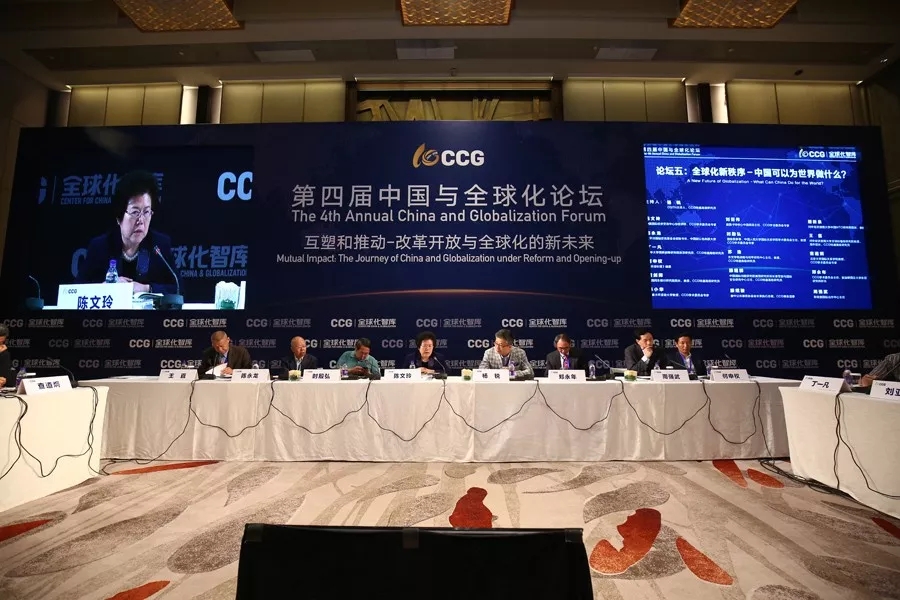 With the global order in flux, session five looked to the future and China's role in the international system, adopting the theme of "A New Future of Globalization – What Can China Do for the World?" This roundtable, hosted by CGTN host Yang Rui, featured over fifteen experts from academia, media, government and business. Participants had a broad ranging discussion on the ability of the international order to renew and revitalize itself and explored solutions that China can offer for global governance and the economic system.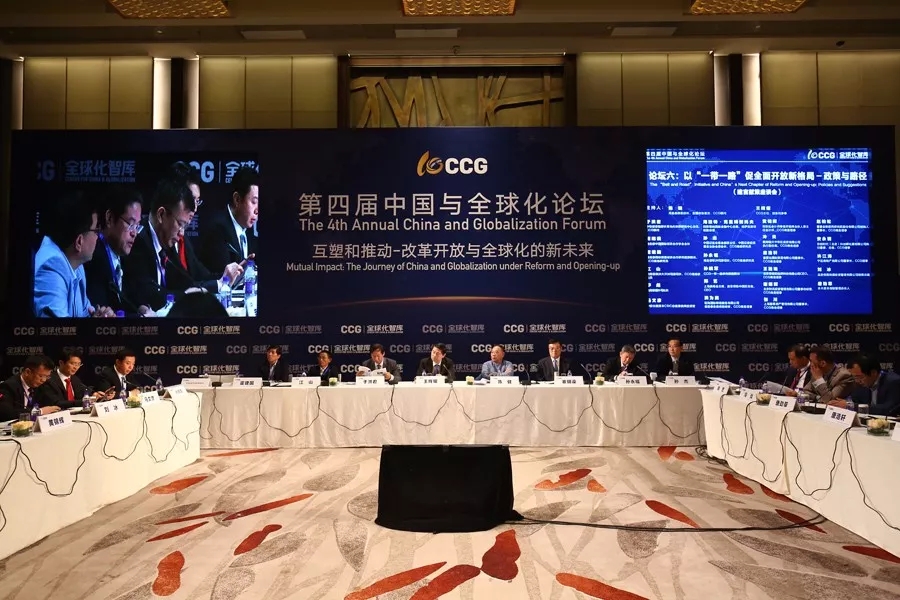 The final evening session of the forum gave participants a chance to offer policy recommendations for the Belt and Road Initiative (BRI). The discussion was chaired by Chen Jian, former vice minister of commerce and member of the CPPCC National Committee, and CCG President Wang Huiyao. Around 20 experts drawn from government, academia, finance, and large Chinese and multinational companies contributed insights and gave suggestions for the BRI based on experiences over the last five years and steps to ensure mutually-beneficial international cooperation.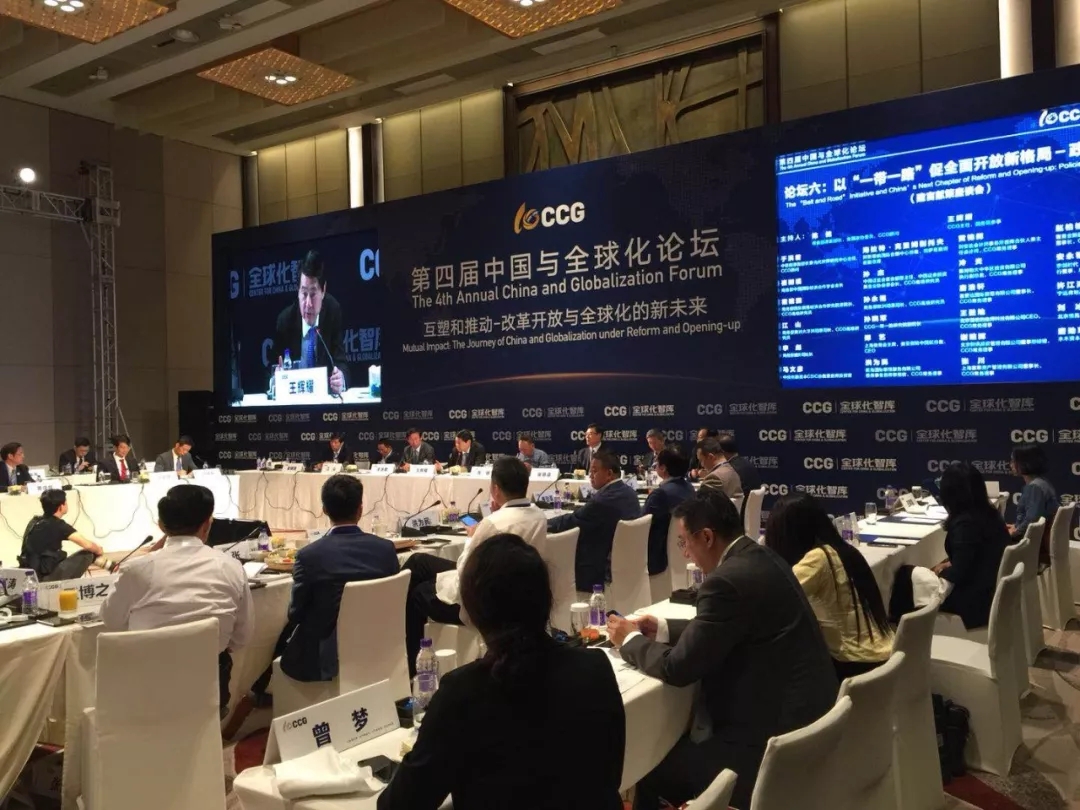 In his closing remarks for the forum, CCG President Wang Huiyao underscored the importance of China's continual opening up and its close links to the process of globalization.  As one of the nation's few high-level international events held by a think tank, the success of this year's China and Globalization Forum reaffirmed its importance in the annual calendar as a platform to facilitate discussion, offer Chinese perspectives on pertinent issues, and chart new directions for research and global cooperation.
Keyword