China can Consider Joining Trans-Pacific Partnership(TPP) Agreement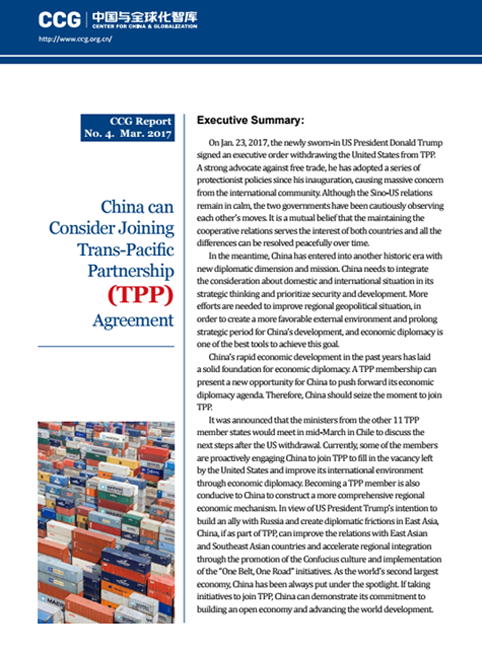 On Jan. 23, 2017, the newly sworn-in US President Donald Trump signed an executive order withdrawing the United States from TPP. A strong advocate against free trade, he has adopted a series of protectionist policies since his inauguration, causing massive concern from the international community. Although the Sino-US relations remain in calm, the two governments have been cautiously observing each other's moves. It is a mutual belief that the maintaining the cooperative relations serves the interest of both countries and all the differences can be resolved peacefully over time. In the meantime, China has entered into another historic era with new diplomatic dimension and mission. China's rapid economic development in the past years has laid a solid foundation for economic diplomacy. A TPP membership can present a new opportunity for China to push forward its economic diplomacy agenda. Therefore,China should seize the moment to join TPP.
Becoming a TPP member is also conducive to China to construct a more comprehensive regional economic
mechanism. In view of US President Trump's intention to build an ally with
Russia and create diplomatic frictions in East Asia, China, if as part of TPP,
can improve the relations with East Asian and Southeast Asian countries and
accelerate regional integration through the promotion of the Confucius culture
and implementation of the "One Belt, One Road" initiatives. As the world's second largest economy, China has been always put under the spotlight. If taking initiatives to join TPP, China can demonstrate its commitment to building an open economy and advancing the world development.