CCG issues 2020 Global Enterprises Report
September 08 , 2020
---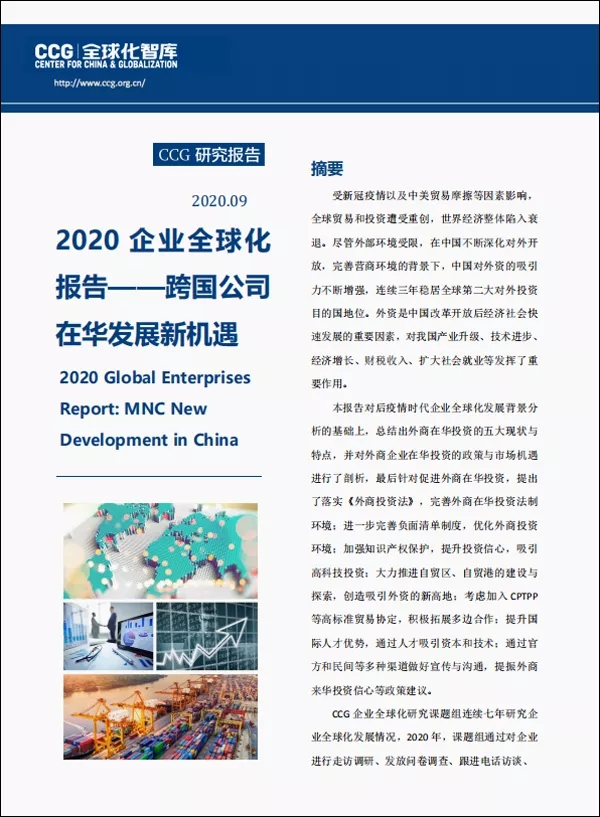 On September 8, 2020, the Center for China and Globalization (CCG) released the 2020 Global Enterprises Report: MNC New Development in China at the China International Fair for Trade in Services (CIFTIS).
Affected by COVID-19 and US-China trade frictions, global trade and investment have suffered heavily, and the global economy has fallen into recession. However, China's attraction to foreign direct investment (FDI) continues to increase in the context of its continuous deepening of opening-up and improvement of its business environment. For three consecutive years, China has been the world's second-largest FDI destination.
Based on analysis of the globalization of enterprises in the post-pandemic era, the Report summarizes five current trends and characteristics of foreign investment in China: 1) the scale of investment has steadily increased and China is the second-largest destination for FDI in the world; 2) the actual use of foreign capital in the service industry accounts for over 70%, and the proportion of new and high-tech industries has increased; 3) the regional distribution of foreign investment is expected to be more balanced; 4) Asia is the major source of investment, with increased investment in China from Association of Southeast Asian Nations (ASEAN) and countries along the routes of the Belt and Road Initiative; 5) business types are becoming more diversified, with sole proprietorship as the main investment mode.
The Report also analyzes policies and market opportunities for foreign enterprises investing in China. It indicates that at the policy level, a higher level of openness can be implemented. For instance, the Foreign Investment Law should be formally implemented to protect the legitimate rights and interests of foreign investors; the Regulations on the Optimizing the Business Environment should be implemented to provide institutional guarantees for investment by foreign enterprises and other market entities; market access to industries should be relaxed to expand the space for foreign investment in China; institutional innovations should be made in free trade zones and free trade ports to create a favorable investment environment; negotiations on free trade agreements should be carried out in an orderly manner, and China's  "circle of friends" should be expanded.
In addition, the Report shows that at the market level, China's economic resilience and prospects are promising, with positive GDP growth of 3.2 percent in the second quarter, as the rest of the world is in a deep recession due to the pandemic, underscoring the strong resilience and potential of the Chinese economy. Furthermore, China's huge consumer demand has created a "world market," and China has the advantage of a well-developed industrial chain and industrial clusters.
The Report makes several recommendations to promote foreign investment in China, including 1) to implement the Foreign Investment Law to improve the legal environment for foreign investment in China; 2) to further improve the negative list system and optimize the foreign investment environment; 3) to strengthen intellectual property protection, enhance investment confidence, and attract high-tech investment; 4) to promote the construction and exploration of free trade zones and free trade ports, and to create new highlands for attracting foreign investment; 5) to consider joining high standard trade agreements such as the Comprehensive and Progressive Agreement for Trans-Pacific Partnership (CPTPP) and actively expand multilateral cooperation; 6) to welcome foreign capital with an open and confident attitude and with international and unified standards; 7) to promote the advantages of international talent, and attract capital and technology through talent; 8) to promote and communicate through official and private channels in order to boost the confidence of foreign investors in China.
The CCG Research Group has been studying the development of enterprise globalization for seven consecutive years. In 2020, the research team collected information on multinational companies' investment in China from 2019 to 2020 by conducting visits and surveys of companies, issuing questionnaires, follow-up telephone interviews, regularly organizing special forums, seminars, and media news monitoring. By focusing on investment size, impact and development potential, the Report also highlights foreign-invested companies with outstanding performance in China in 2020, aiming to evaluate the global development of enterprises and encourage more multinational companies to invest in China.
According to the Report, the automobile, energy and chemical industries, as pillar industries of the national economy, continue to pursue high-quality transformation and improvement of industrial chain. The Report shows that automotive multinationals focus on new energy vehicles, while energy and chemical multinationals focus on clean energy and research and development of new materials. Moreover, supported by policy dividends, multinational financial companies have accelerated their entry into China's insurance, credit, and financial derivatives market. China's consumer market is being revitalized in the post-pandemic era, attracting multinational consumer companies to continuously increase investment. The research also shows that medical and pharmaceutical multinational companies are optimistic about the development potential of China's medical industry and have invested in building production bases and innovation bases in China to empower China's medical digital development.
As one of the world's top 100 non-governmental think tanks, CCG has been conducting research on enterprise globalization, focusing on the topics of international trade, inbound investment, outbound investment and digital trade in the current international context. In addition, the CCG's research team compiles the annual Bluebook Report on Chinese Enterprise Globalization, the only enterprise globalization report in China. In addition, CCG holds annually China Inbound and Outbound Forum, an influential event in China that focuses on the globalization of enterprises, with several sub-forums on international trade and investment-related topics.
Keyword