Dialogue with Jeremy Rifkin: China's Role in Building a Global Zero-Carbon Society
July 07 , 2020
---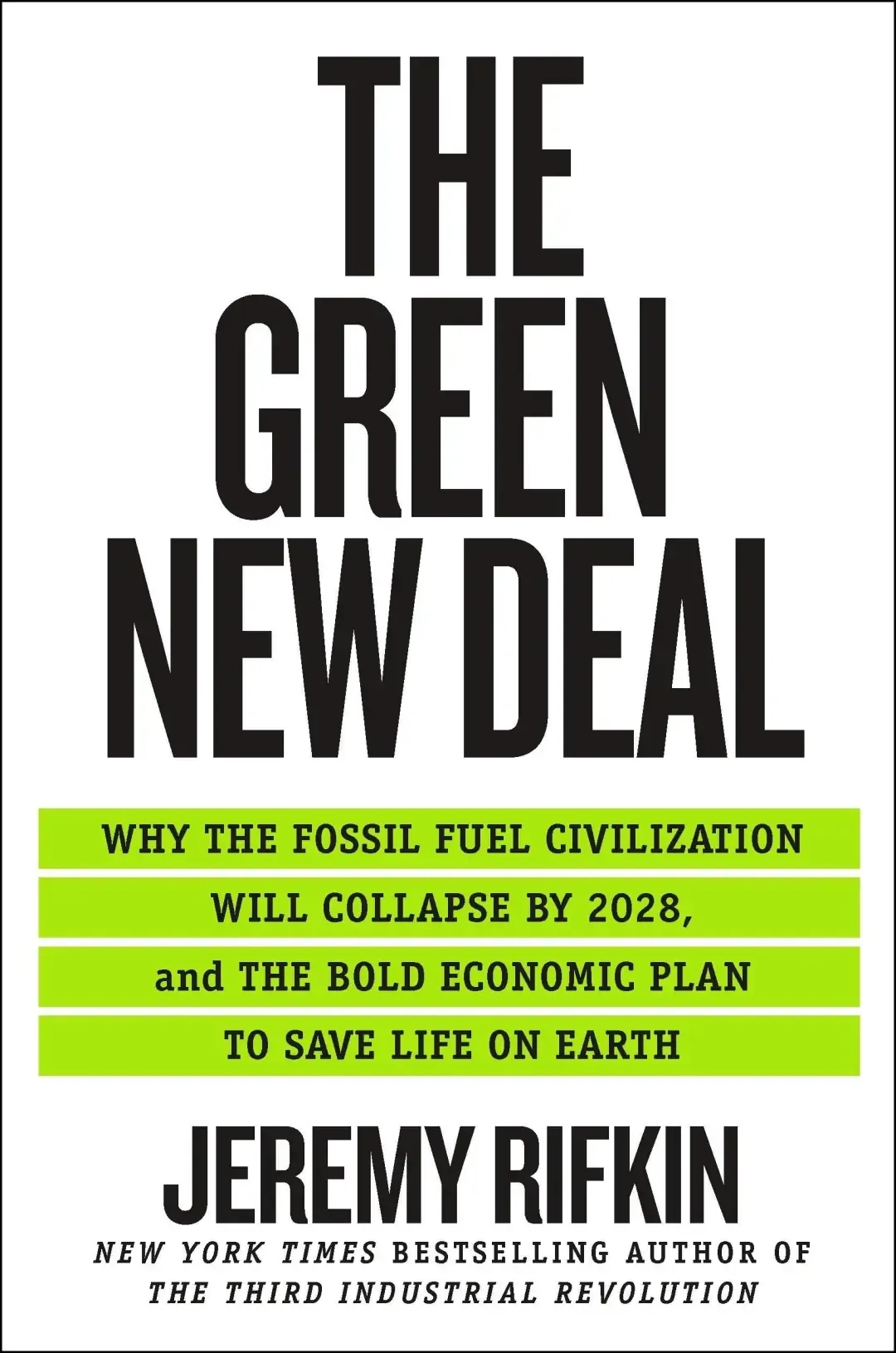 On July 7, 2020, the Center for China and Globalization (CCG) and the Foundation on Economic Trends (FOET) co-hosted an online discussion with Jeremy Rifkin, well-known economist and The New York Times best-selling author of the book, The Green New Deal: Why the Fossil Fuel Civilisation Will Collapse by 2028, and the Bold Economic Plan to Save Life on Earth.
Jeremy Rifkin spoke on a variety of topics, including the relationship between climate change and epidemics, technological revolution, energy transformations, the economics of sustainable development and a zero-carbon society, new infrastructure, Sino-EU cooperation in ecological civilization, and of course the global green new deal.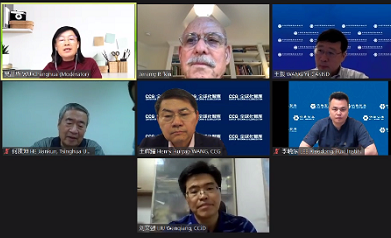 CCG President Wang Huiyao welcomed Jeremy Rifkin, saying the webinar was extremely timely, as it is increasingly important to explore the possibilities of a zero-carbon society and think about the future of development from a new perspective. Wang said that China has made great progress in building a sustainable society and is now moving towards its 14th Five-Year Plan. He said the COVID-19 crisis further proves that human beings need to attach greater importance to nature and to join hands to combat common threats such as climate change. Nearly half a million people watched this webinar.
The following is a recap of Jeremy Rifkin's speech:
Jeremy Rifkin stressed that epidemics are not the fault of any particular country, but that there is a clear relationship between climate change and the increase in the number of epidemics. In the past decade, the world has experienced five major epidemics. The reasons behind this are twofold. Firstly, economic development has had a negative impact on the earth's environment, bringing more wildlife into contact with human development. A century ago, approximately 80% of the earth was still wilderness; now, that number is only 23%. The United Nations warns that at our current rate of development, the resources needed to sustain human economic activity are equivalent to 1.5 earths. Wild animals have been forced closer and closer to human communities, leading to increased interaction. Secondly, climate change has directly induced more epidemics. While the global temperature rises, hydrological and water cycles change accordingly. Blizzards in winter, floods in spring, droughts and wildfires in summer, hurricanes and typhoons in autumn, climate change brings with it increasing natural disasters. The earth's ecosystem cannot keep up with the current runaway water cycle, leading to climate disaster.
Rifkin gave a historical overview of major changes in the global economy and how these have impacted the environment. He argued that humanity cannot go back to the past. The world we have known in the last 10,000 years will not repeat itself. This is an era of progress, and old Western ideas of development will give way to a new era of ecological civilization and flexibility. He said China must help the rest of the world understand how to become more resilient and change people's view of the world.
Rifkin emphasized that people need to learn to be more self-sustainable. People are still deeply connected with each other. China can show, for example, how to become resilient and self-sufficient in its own society; and how it can set an example for the world in protecting communities and ecosystems. How can we get out of the geopolitical system that guards fossil fuels, and launches two world wars that kill millions of people? The world needs China's help. To understand China's progress from the geopolitical world to the biosphere world, we can start from today's meaningful dialogue.
After Jeremy Rifkin's keynote speech, he engaged in discussion with other Chinese academic experts, including He Jiankun, Wang Yi, Liu Wenqiang and Li Xiaodong.
Question: What does the "zero-carbon era" mean for humankind?
President of the Low Carbon Economy Research Institute at Tsinghua University, Vice Chair of China's National Expert Panel on Climate Change, and former Executive Vice President of Tsinghua University He Jiankun said the purpose of reducing carbon emissions is to control the content of greenhouse gases in the atmosphere and slow down global warming. The Paris Agreement has set the goal that the global average temperature rise should not be higher than 2℃ and should strive to be lower than 1.5℃. However, the realization of a "zero-carbon society" is not far away for humankind, and it is a goal that we must strive to achieve.
Vice President of Science and Technology Strategy Institutes at the Chinese Academy of Sciences, and Member of the Standing Committee of the 13th National People's Congress Wang Yi, says the publication of Rifkin's book, The Green New Deal, is very timely. It is very important to educate people how to shape their future during a pandemic. This book dares to judge among the uncertainties facing the world and point out the direction of the development of human society. However, it is not easy to build an ecological society, and abandoning the use of fossil fuel energy will be very challenging
Jeremy Rifkin said that at present, clean energy such as solar energy and wind energy can compete with fossil energy in terms of economic benefits. A few years ago, clean energy accounted for less than 10% of Germany's energy. However, in recent years, the clean energy industry has expanded and stabilized, the cost has been greatly reduced, and the proportion of clean energy in Germany's energy mix has been greatly increased.
Vice President of the China Center for Information Industry Development (CCiD) at MIIT Liu Wenqiang, says a "zero-carbon society" conforms to China's future development goals, while the "Green New Deal" provides a specific development path. The key to achieving this goal lies in infrastructure construction, relying on the mutual integration of information communications, digital power grids and intelligent transportation networks. During the COVID-19 pandemic, in China, the economy has already undergone transformation, vigorously developing new infrastructure, and building a digital economy using the internet and artificial intelligence to lay the foundation for future social transformation.
Founder and Director of the Fuxi Institution, Vice Chair of the China Internet Society, and Director of the Internet Governance Research Center of Tsinghua University Li Xiaodong, says at present, human society is entering a new stage of development, and that the internet and artificial intelligence will become the backbone of China's economic transformation. A large number of new internet technologies and applications in China can be widely used around the world. China's economy is a combination of market and planned economics, and internet data can help the government make better planned policies. In the future, the supply side and the demand side can be better connected through the internet, so as to reduce unnecessary excessive production and resource waste, which consequently reduces carbon emissions. Big data can also be used to predict future demand and produce corresponding products. However, current challenges include information barriers, network fragmentation and anti-globalization, which will also make it difficult for countries to build a common global governance platform.
Jeremy Rifkin concluded the discussion by saying that people need to recognize the concept of sharing. In the future, we need to build a global new energy network where solar energy on one side of the earth can be transported to the other side. The future energy system will be decentralized and become a part of people's daily life, rather than monopolized by superpowers. Therefore, the biosphere will be a new community for humankind with no boundaries. In terms of the labor force, robots and artificial intelligence cannot replace human beings to build new energy systems in the short term, which means that energy transformation will bring a lot of new jobs to the world.
___
Introduction to the Speaker:
Jeremy Rifkin is a well-known global futurist. He is an economist, social theorist, writer, speaker, political adviser and activist. Through his keen insight into the influence of science and technology on industry, economy and social development trends, Jeremy Rifkin has influenced several generations. Rifkin is the author of more than 20 best-selling books on the impact of scientific and technological change on the economy, labor force, society and the environment, which have been translated into more than 35 languages.
Jeremy Rifkin has been an adviser to the leaders of the European Union since 2000. He has advised several European heads of state, including Romano Prodi, Jose Manuel Barroso, Jean Claude Juncker, and is currently advising the European Parliament and Chancellor of Germany Angela Merkel. Many European heads of state, including Merkel, have put forward the economic concept of "the third industrial revolution."
Jeremy Rifkin has also provided advice to the leadership of China on the establishment and expansion of the internet plus strategy and the third industrial revolution infrastructure, in order to achieve a sustainable low-carbon economy and help build an ecological civilization.
Jeremy Rifkin is also Chairman of the Foundation for Future Economic Trends and President of TIR's third industrial revolution consultation, working closely with leading renewable energy companies, power transmission, ICT and electronic information companies, logistics and transportation, advanced manufacturing and other companies and economic modelers to turn the future of ecological civilisation into reality. At present, the team is actively cooperating with many governments and enterprises in North America and Europe to promote and implement the blueprint for a "green platform".
Keyword