CCG holds a seminar on Sino-Australian relations with an Australian delegation of think tank scholars, parliament members and entrepreneurs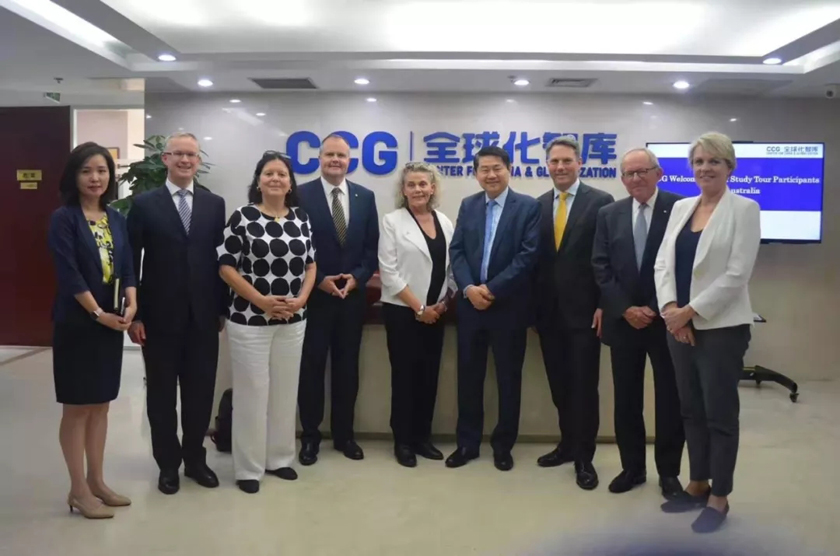 On 25th September, an Australian delegation of think tank scholars, parliament members and entrepreneurs visited the Center for China and Globalization (CCG) headquarters in Beijing.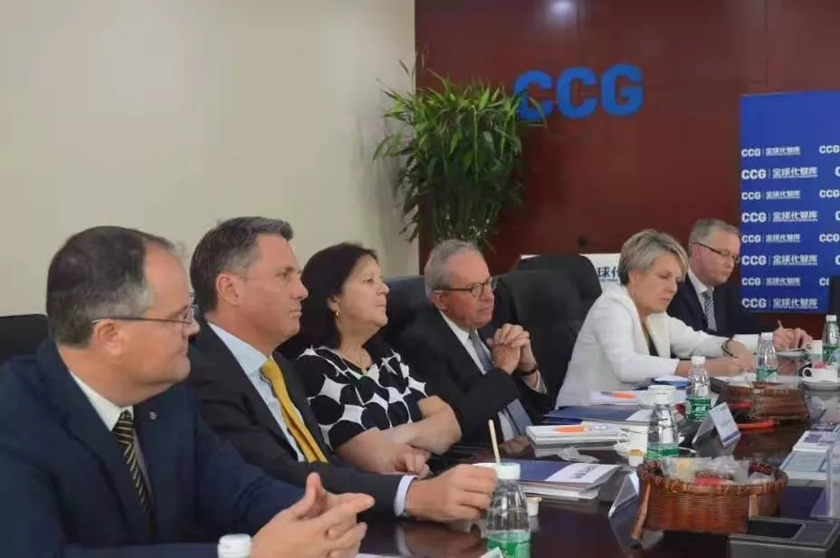 ---
The Australian delegation, led by Richard Marles, deputy leader of the Opposition and shadow minister for Defence in the House of Representatives, Australian Labor Party, Parliament of Australia and Linda Jakobson, founding director and deputy chair of China Matters, discussed with CCG President Wang Huiyao, CCG Deputy Secretary-General Ann Tang and other CCG experts on various topics, such as the Sino-Australian relations, the Belt and Road Initiative (BRI) and multilateral cooperation. 
Highly complementary economies and growing bilateral trade relations

Wang Huiyao pointed out that China and Australia are natural partners, with highly complementary economies and deepening trade relations. The two countries have made good progress through cooperation in tourism, talent exchange and many other fields. 

Wang added that Australia is rich in resources and plays an important strategic role in the economic development of the Asia-Pacific region. At the same time, China's 1.4 billion population constitutes a huge market for the world, including Australia. Thus, China and Australia could enhance their cooperation on bilateral trade in the future.

Wang noted that Australia has always been an environmentally friendly country. In recent years, China has also made some positive efforts to reduce carbon emissions. He suggested that China and Australia could cooperate in supporting the transition to net-zero carbon emissions by 2050.
Multilateral cooperation under CPTPP and RCEP

Wang said that Australia and Japan have made great contributions to the development of the Comprehensive and Progressive Trans-Pacific Partnership Agreement (CPTPP). 

As an important member of the Asia-Pacific Economic Cooperation (APEC), Australia has played an active role in promoting the Regional Comprehensive Economic Partnership (RCEP). Previously, Australian Minister for Trade, Tourism and Investment Simon Birmingham said he would welcome China to join the CPTPP when he visited CCG.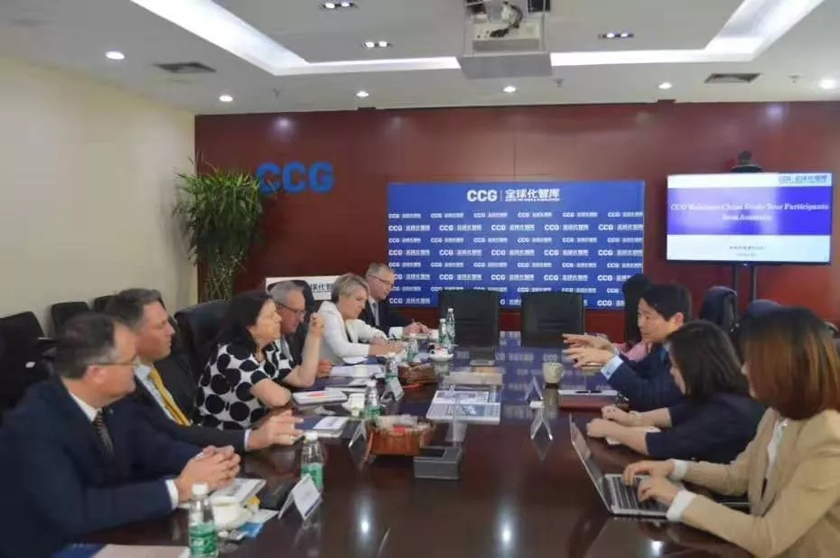 Wang added that China attaches great importance to the development of the CPTPP and the RECP. Therefore, he suggested that China should consider joining the CPTPP and accelerate efforts to realize the RCEP to further enhance cooperation in Asia-Pacific region.

Wang said that the uncertainties brought about by the current Sino-US trade war have cast a shadow over the global economy. However, China and the United States have developed complicated and robust economic ties that makes it impossible for the two economies to "decouple". If the trade war continues, it will hurt both sides.

Look forward to further cooperation between Australia and China

The Australian delegation of think tank scholars, parliament members and entrepreneurs said that China is one of the most important markets in the world, and Australia's exports of goods to China exceed that to the US. 

They illustrated that China is an important trading partner of Australia, and they look forward to more cooperation between China and Australia in the future. 

The Australian delegation suggested that China and Australia should carry out more track 1.5 dialogues, which are increasingly important in facing the current complex international situation, improving communication and eliminating misunderstandings.

Time to create positive impacts for the world 

In the Q&A session, the Australian delegation discussed the BRI and many other top issues with Dr. Wang, who responded as following.

Wang said that China is actively responding to certain concerns and skepticism toward the BRI that has emerged in some western countries. He hoped that the West can acknowledge China's efforts to support development. 

He pointed out that the Asian Infrastructure Investment Bank (AIIB), as a multilateral development bank, offers a new platform for multilateral cooperation. Thus, Wang suggested the BRI could follow the model of the AIIB to make greater contributions to the world economy. 

Wang added that the rapid rise of China, cultural differences between China and the West, and fake news that distorts facts have contributed to the misunderstanding of China's development in the western world. 

He suggested that it is time to jointly make efforts to create a positive impact, including enhancing communication, strengthening dialogue and communication, and working to dispel misunderstandings.

The Australian delegation also included Kevin McCann, chair of China Matters, chairman of Citadel Group, Telix Pharmaceuticals and the Menzies Research Centre and the Smith Family Centenary Council; Ted O'Brien, member for Fairfax in Queensland and chair of the Standing Committee on the Environment and Energy in the House of Representatives, Liberal National Party of Queensland, Parliament of Australia; Tanya Plibersek, shadow minister for Education and Training and member for Sydney in the House of Representatives, Parliament of Australia; Brian Pontifex, chief advisor for Government Relations at Rio Tinto in Australia; and Fiona Simson, president of the National Farmers' Federation in Australia.