CCG Released Investigative Report on Chinese Returnees Employment in 2016
June 05 , 2019
---
On 31 July, the Center for China & Globalization (CCG) released the "Investigative Report on Chinese Returnees Employment in 2016".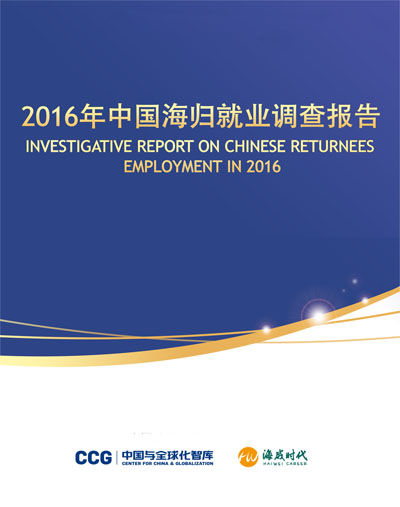 On 31 July, the Center for China & Globalization (CCG) released the "Investigative Report on Chinese Returnees Employment in 2016". The report analyzes the employment situation of returned Chinese studying abroad, and sheds light on the new trends that those Chinese returnees born in the 1990s have shown in employment. The report also includes a comparative study of the advantages and disadvantages of overseas returnees. Based on companies' expectation on Chinese returnees, the report provides recommendation to guide their career development.
CCG President Wang Huiyao, Secretary General Mabel Miao Lv and President of Haiwei Career Services Yu Zhongqiu presented the report at the book releasing ceremony. The report is based on a survey jointly conducted by CCG and Haiwei Career Services between March and July in 2016 among 820 returning Chinese who studied abroad. Nearly 70% of the respondents are female. Most of them are aged 26-35 and obtained master degrees. Their academic majors in school are mostly business-related.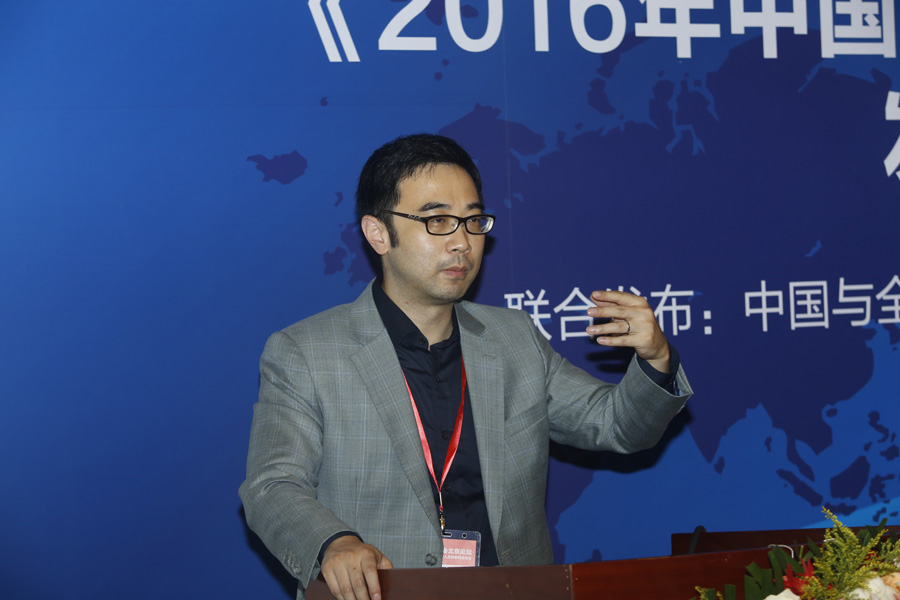 Yu Zhongqiu, President of Haiwei Career Services
Mabel Miao Lv, Secretary General of CCG
Emotional and Cultural Factors are main reasons for Chinese students to return from abroad
According to the study, family background especially parents' educational level has an important influence on their decision to pursue development abroad. Among the respondents' parents, 44.8% has bachelor's degrees, 17.7% master's degrees, and 4.7% PhD degrees.
In terms of the reasons to return, 43.7% of those polled mentioned emotional and cultural factors are the main reasons for their return, followed by "China has better economic prospect and more stable political situation" (37.1%) and "employment situation for international students in foreign countries is bleak" (23.4%).
Economic development and public services are main considerations when choosing where to work
When asked about the main considerations behind their decisions on where to work, more than half of the interviewees chose "fastest economic development", followed by good infrastructure facilities (35.9%), solid industrial foundation (31%), abundant public services resources (30.7%), and extensive personal networks (27.3%). Also, 17.6% of interviewees believes that local governments' talent recruitment policies are also important to their choice.
Most returnees work in the field related to their academic majors
According to the study, more than half of the interviewees said their actual jobs are, to a certain extent, related to their academic majors, while about 15% of them think the opposite. In terms of their job position level, over 60% of them remains at entre level, and only 4.7% holds senior management positions. When asked about their monthly income after tax, 46.9% chose the range from RMB 5,000 to 10,000, 16.6% between RMB 10,000 and 15,000, and 11.3% above RMB 15,000.
Unfamiliarity with local employment situation is the main disadvantage of Chinese returnees
The report finds out that unfamiliarity with local employment situation and job market demands are the key disadvantages of Chinese returnees. More than half of the interviewees believe that they do not have an overall career development plan or a clear idea about future.
The study also finds that nearly 40% of them wants on-the-job training or information sessions by experienced HR or senior managers to understand their industries and job requirement. They also need more guidance on job searching, mock tests and interviews.
While surveying 80 employers based in Beijing, including SOEs, privately-owned companies, foreign business, start-up companies, and government agencies, the respondents said that the most important quality they are looking for in the candidates is the relevant skill set and knowledge to the position, followed by teamwork spirit, creativity, influence, persuasiveness, people skills and time management capability.
Inconsistent time window for recruitment pose challenges to Chinese returnees
Nearly 53% of the polled employers indicated that they will hire more graduates in the next year, but 36.8% said that the number of university graduates they will hire next year will remain the same or decrease. Returning graduates cited the inconsistent time window for recruitment as one of the big challenges for them to be employed upon graduation.
Private-owned enterprises tend to provide preferential treatment to returnees
The report notes that most employers interviewed prefer to hire returnees and only 39.5% of them said they would hire indiscriminately, thus showing that Chinese returnees possess certain advantage in the job market. Privately-owned companies and returnees' start-up business, among all types of employers, tend to provide more preferential treatment to returnees.
Enterprises do not trust and utilize human resource service agencies enough
According to the report, domestic media outlets and company website are the two main channels through which enterprises disseminate recruitment information. Only 30% and 5% of the enterprises make use of domestic and overseas human resource service agencies, respectively. Therefore, there is still great potential for enterprises and human resource companies to cooperate in the future.
Dedicated to the research of Chinese returnees, the Center for China and Globalization (CCG) is a leading global think tank in the research areas of returnees and global talent. CCG has published various influential books such as the "Reverse Migration in Contemporary China: Returnees, Entrepreneurship and the Chinese Economy", "Entrepreneurship and Talent Management from a Global Perspective: Global Returnees", "Globalizing China: The Influence, Strategies and Successes of Chinese Returnees" and "Chinese Returnees: Driving Force of Chinese Innovation". CCG also launches the "Blue Book of Global Talent: Annual Report on the Development of Chinese Returnees" published by the China Social Science Academy Press yearly and releases the "Investigative Report on Chinese Returnees Employment and Entrepreneurship" for consecutive years.
Upon its launch, the investigative report has been extensively reported by close to a hundred domestic and overseas mainstream media. The research findings presented in the report, including the employment trends of Chinese returnees and specific recommendations, were widely discussed and debated.
Keyword