CCG Report—Infrastructure Cooperation-New Opportunities for China-US Relations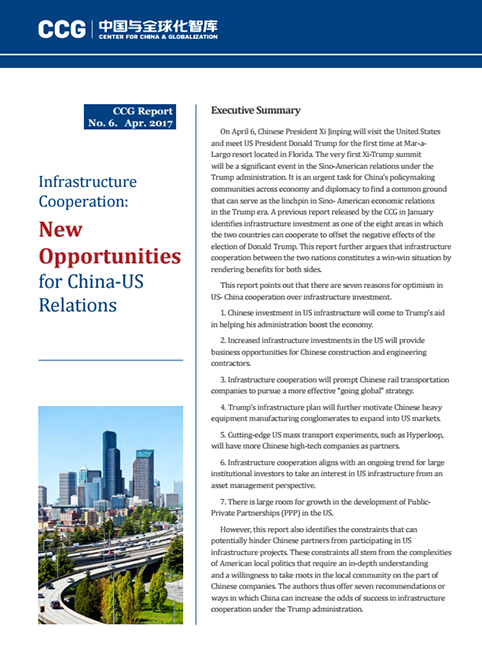 On April 6, Chinese President Xi Jinping will visit the United States and meet US President Donald Trump for the first time at Mar-a?Largo resort located in Florida. The very first Xi-Trump summit will be a significant event in the Sino-American relations under the Trump administration. It is an urgent task for China's policymaking communities across economy and diplomacy to find a common ground that can serve as the linchpin in Sino- American economic relations in the Trump era. A previous report released by the CCG in January identifies infrastructure investment as one of the eight areas in which the two countries can cooperate to offset the negative effects of the election of Donald Trump. This report further argues that infrastructure cooperation between the two nations constitutes a win-win situation by rendering benefits for both sides.This report points out that there are seven reasons for optimism in US- China cooperation over infrastructure investment.
However, this report also identifies the constraints that can potentially hinder Chinese partners from participating in US infrastructure projects. These constraints all stem from the complexities of American local politics that require an in-depth understanding and a willingness to take roots in the local community on the part of Chinese companies. The authors thus offer seven recommendations or ways in which China can increase the odds of success in infrastructure cooperation under the Trump administration.
In sum, CCG is optimistic about the prospects of infrastructure cooperation between China and the US. It is also the authors' hope that infrastructure cooperation will become a positive development in future US- China relations under a precarious Trump presidency.