CCG Report— Solutions and Approaches to Int'l Win-Win Cooperation on B&R Initiative(05.2017)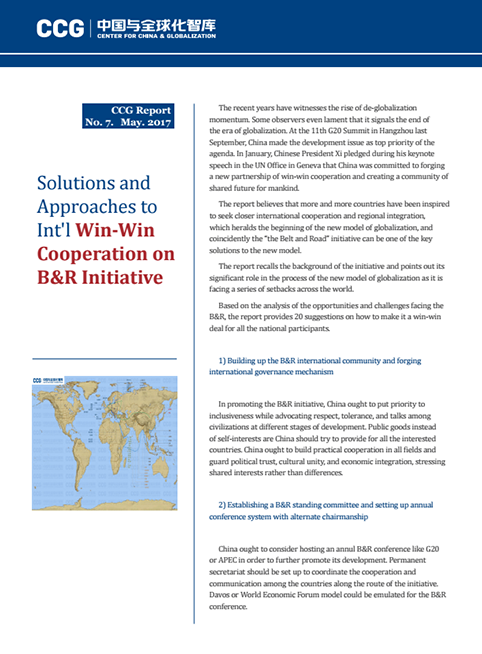 The recent years have witnesses the rise of de-globalization momentum. Some observers even lament that it signals the end ofthe era of globalization. At the 11th G20 Summit in Hangzhou last September, China made the development issue as top priority of the agenda. In January, Chinese President Xi pledged during his keynote speech in the UN Office in Geneva that China was committed to forging a new partnership of win-win cooperation and creating a community of shared future for mankind.
The report believes that more and more countries have been inspired to seek closer international cooperation and regional integration, which heralds the beginning of the new model of globalization, and coincidently the "the Belt and Road" initiative can be one of the key solutions to the new model.
The report recalls the background of the initiative and points out its significant role in the process of the new model of globalization as it is facing a series of setbacks across the world.
Based on the analysis of the opportunities and challenges facing the B&R, the report provides 20 suggestions on how to make it a win-win deal for all the national participants.