Potential paths for WTO reform: discussion with EU delegation
Nowadays, with the rise of unilateralism and protectionism, economic globalization is encountering twists and turns. The multilateral trading system, with the World Trade Organization (WTO) at its center, is facing serious challenges. Most of the world's major economies are now part of WTO, covering 98 per cent of global commerce. There is a growing sense of urgency for WTO reform.
On July 11, a European Union (EU) delegation led by Denis Redonnet, director for WTO, Legal Affairs and Trade in Goods in the European Commission's DG Trade, visited the Center for China and Globalization (CCG) headquarters in Beijing to exchange ideas with CCG experts on a variety of topics, such as WTO reform, EU-China cooperation and the multilateral trading system.
01
China and the EU could strengthen cooperation on WTO reform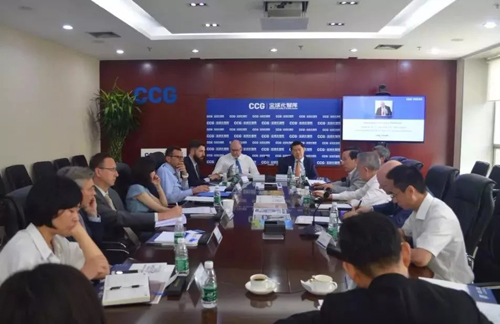 CCG President Wang Huiyao pointed out that the EU and China have cooperated at the bilateral and multilateral levels to promote WTO reform since 2018.
"This year, WTO reform is also on the agenda at the G20 Summit in Osaa," said Wang, "I think it is an appropriate time for China and the EU to strengthen cooperation in WTO reform, and many other fields of economy, trade, investment, technology and global governance."
Wang added that the EU has set a good example for supporting the multilateral trading system. Wang expected that the EU could play a more active role in leading the WTO reform.
In response to media coverage of some countries accusing China of practicing "state capitalism", Wang called attention to the fact that China has been actively carrying out reforms. He said these countries could gain a deeper understanding of China through more exchange, communication and useful debates with China.
02 The issue of subsidies is arguably the dominant issue in WTO reform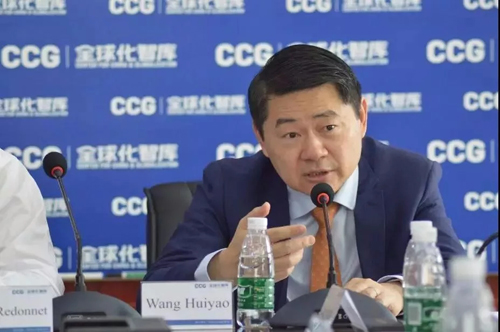 Denis Redonnet noted that the EU and China share a common goal of maintaining the multilateral trading system with the WTO at its center.
He emphasized that the issue of subsidies is currently a high concern for the international community and that the EU has already started a dialogue with China on this issue.
Redonnet added that although many countries have reached a certain consensus on this issue, further development of new standards and principles on subsidies-related issues is needed to improve in the multilateral trading system.
He also pointed out that current WTO rules on countervailing measures should be reconsidered.
To address the challenges of WTO reform, Denis said that all member states should stay within the WTO rather than weaken it.
He said that the EU would work with member states to accelerate the process of WTO reform. This is in line with the common interests of all members.
Redonnet also noted that China has made many contributions in the field of international trade. He expected that China could become a major driving force in WTO reform and work with the EU to support the multilateral trading system.
03 Recommendations on WTO reform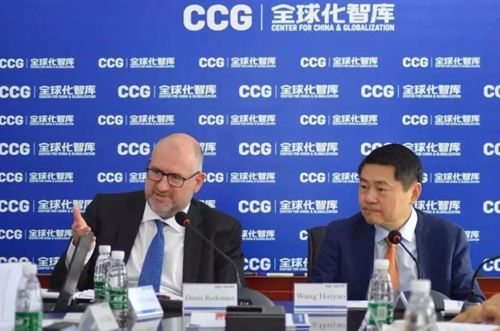 Redonnet made some recommendations to aid the WTO negotiations and meet the challenges of WTO reform, which are:
1. All WTO members should be applied rights and obligations in a horizontal and transparent manner.
2. The negotiation process should be transparent with each member having an equal voice.
3. All WTO members should treat all the views in the negotiations or debates in an open manner, and listen to the different opinions of the members.
4. There is a misunderstanding that should be clarified: one of the purposes of WTO reform is controlling the potentially trade-distortive effects of certain subsidies, instead of changing the policies of member states.
CCG continues to put efforts on research related to WTO reform from a think tank perspective and actively provide supports and promote exchanges on relative issues. Based on this, Wang made some recommendations on WTO reform as following:
1. China and the EU should strengthen bilateral cooperation to jointly promote WTO reform.
2. China and the EU could also consider strengthening multilateral cooperation through joining the Comprehensive and Progressive Agreement for Trans-Pacific Partnership (CPTPP) and the Regional Comprehensive Economic Partnership (RCEP).
3. China and Europe could accelerate cooperation in e-commerce, an area that the WTO has not covered.
4. In Osaka, G20 leaders reached a consensus on eliminating additional pollution by marine plastic litter by 2050. Accordingly,  the WTO could play a lead role in reducing plastic waste and marine litter by setting relevant actions or agendas.
5. China, the EU and Japan should play a more active role in restoring the WTO dispute settlement mechanism.
Participants from the EU delegation in the roundtable included Eoin O'malley, deputy head of unit for WTO, Legal Affairs and Trade in Goods, European Commission; Carlo Pinto, head of sector, Trade Defense, European Commission; Balazs Kiss, policy officer, Asia and Latin America, European Commission; and Thomas Langelaar, counsellor, Trade Section, European Union Delegation to China.
CCG experts who participated in the event were Victor Gao, CCG vice president; Sun Yongfu, CCG senior fellow, former director-general of Ministry of Commerce (MOFCOM) Department of European Affairs; Xu Hongcai, CCG non-resident senior fellow, deputy director of the economic policy commission at China Association of Policy Science; Cui Fan, CCG non-resident senior fellow, professor of international trade and economics, University of International Business and Economics (UIBE); Mabel Miao, CCG vice president and secretary-general; Ann Tang, CCG deputy secretary-general and Zhang Wei, CCG deputy secretary-general.