World Migration Report 2018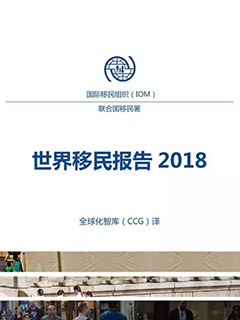 World Migration Report 2018
Released:
May 2018
Starting in 2000, the International Organization for Migration (IOM) issued a series of
reports to enhance world understanding of key migration issues. As one of IOM's
key contributions to the field of migration, the World Migration
Report series is increasingly important in todays' post-truth
political era. In order to further people's understanding of current and
long-term migration development, IOM and CCG have jointly released the Chinese
language version of the World Migration Report 2018. As the
ninth edition in the series, this report highlights the complicated and
unexpected problems faced by policy makers in the field of migration. By
presenting migration data at the global and regional levels, the report
presents the complexity of migration issue, and provides a rigorous and
effective empirical analysis of migration issues for practitioners, policy
makers and researchers in this field.