12 Suggestions for Building Stable, Balanced and Win-win Sino-US Relations Based on Key Finding of CCG Field Trip in US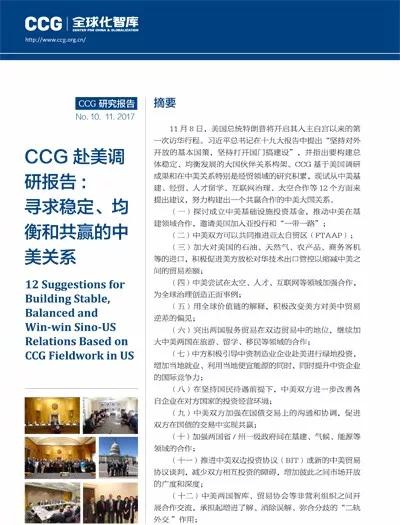 As the 19th CPC National Congress was concluded, China will welcome Donald Trump on Nov. 8 to pay his first official state visit as the American president. Once again, the Sino-US summit meeting will attract tremendous attention from all over the world. To get more insights about the upcoming American presidential visit and strengthen the Sino-US think tank exchange, CCG conduted a field trip to the United States in October in New York and Washington, D.C.. The delegation visited multiple government agencies, NGOs, think tanks, and companies and met with many prominent policymakers, scholars and business leaders.
During the six-day trip in America, CCG delegation held 12 meetings and discussions with leading US think tanks, and industrial associations, including:
American Enterprise Institute (AEI),
The Heritage Foundation,
American Center for Progress,
Council on Foreign Relations,
Migration Policy Institute,
Wilson Center Kissinger Institute on China and the United States,
Peterson Institute for International Economics,
Asia Society,
Committee of 100,
China General Chamber of Commerce-USA
In addition, they visited several senior members of the House of Representative and the Senate, including:
Rick Larsen, co-chair of the bipartisan US-China Working Group of House of Representative
Terra Sabag, representative of the members of House of Representative
Nathan Wolf, secretary at the office of John Cornyn, the senator of Republican Party
Edwin J. Feulner, founder of the Heritage Foundation
Elizabeth Economy, C.V. Starr senior fellow and director for Asia studies at the Council on Foreign Relations
Andy Green, Head of Economic Policy study at Center for American Progress
Brian Harding, Head of East and Southeast Asia study at Center for American Progress
Josette Sheeran, President of Asia Society
David Dollar, Senior Researcher at Brookings Institution
Scott Kennedy, Deputy Director of the Freeman Chair in China Studies and director of the Project on Chinese Business and Political Economy
Robert Hormats, Vice President of Kissinger Institute on China and the United States and former Deputy of Secretary of State
Steve Orlins, President of National Committee on United States-China Relations
Karlyn Bowman, senior researcher of AEI
Matthew Goodman, Simon Chair in Political Economy at CSIS
Daly Robert, Wilson Center Kissinger Institute on China and the United States
Jeffrey Schott, senior researcher at Peterson Institute for International Economics
Bruce H. Andrews, former Deputy Secretary of United States Department of Commerce
Zhou Shanqing, Counselor of the General-Consulate of China in New York
Teng Shaojun, Executive Director of The US-China Association for public affairs
Li Xuehai, Co-chair of committee of 100, the Greater China
John Dickson, President of World Trade and Development Group
David Wyche, senior official of Asia Energy, Department of Energy of America
Alexander Hammer, senior economist and trade commissioner of International Trade Commission of America
Jocelyn Chan, Senior Director of American Chamber of Commerce
James Keith, the former Deputy Assistant Secretary of State for China Director for China on the National Security Council and the managing director of McLarty Associates
Michael Schiffer, Senior Advisor/Counselor in the Senate Committee on Foreign Affairs
Katherine Tai, Trade Counsel in the House Committee on Ways and Means
In addition, CCG delegation held two seminars on the Sino-US economic and trade relations in New York and at the Capitol Hill in Washington, respectively, gathering a great number of leaders in political, business, academic and media affairs, including:
Teng Shaojun, Executive Director of The US-China Association for public affairs
Li Xuehai, Co-chair of committee of 100, the Greater China
Zhou Shanqing, Counselor of the General-Consulate of China in New York
Steve Orlins, President of National Committee on United States-China Relations
Yu Weiping, Vice President of CRRC Corporation Limited
Liu Haiqiang, Senior Vice President of China Unicom in America
William Plummer, Vice President of Huawei in America
Wang Tianyi, President of CIIC
Pan Jiang, First Secretary at Embassy of China in the United States
Li Yeqing, Chairman of China Society
Zhao Zhenge, Representative at China Council for the Promotion of International Trade in America
Xiao Yuqiang, Vice Chairman of China General Chamber of Commerce – USA and Chairman of Industrial and Commercial Bank of China in North America
Wu Zhigang, Vice President of China Construction America
Wang Shuguang, General Manager of China Grand Enterprises
Yu Jihong, Vice General Manager of CRRC America
Cheng Mengrong, Head of International Department of National Grid
Jiang Hongyi, General Manager of Vantone Ltd.
Lu Feng, Representative of CITIC Securities in New York
Deng Zhaoxiang, Co-founder of Committee of 100
Liu Zhiqiang, General Manager of Waitex
Zhang Zhongjun, Former President of New York University Polytechnic School of Engineering
Liu Hong, Co-founder of Mayer Brown
Zhang Honglin, Executive Director of Committee of 100
Wang Ge, Vice President of LESSO China
Wu Yujun, Executive Partner of The WK Law Firm
Zhang Anshu, Senior Consultant at Jeb Bush Office
An Ping, Executive Director of Asia Society
Fan Wei, Vice President of Air Source Group
Ye Hui, Vice President of Ogilvy
Wei Yi, Vice President of US-China Public Affairs Association,
Zhang Ruijun, Head of Office of Huawei America
Ma Qing, Chief Economist of Chinese economy at the Institute of International Finance
Cai Qian, founder of Voko Telecommunication
Chen Bing, Chief Executive Officer of the Pacific Think Tank
Cui Qiao, President of China Innovation Investment Limited
Fu Heng, Director of Oversea Business of HIT Robert Group
Elliot Feldman, partner of Baker & Hostetler
Jorge Guajardo, Former President of McLarty Associates
He Ping, President of IFCE
Julia Liu, Vice President of China Society
Loretta Liu, News Director of Wind Financial Information
Alidad Mafinezam, Chair of East-West Center
Marc A. Ross, Founder and President of Caracal Global Communication Company
Yu Yang, Director of Strategic Investment of Dentons Law Offices
Zhang Qun, Representative of Zhongguancun Science Park in Washington
Tian Guangqi, investor of Sinoinvest
Wu Jia, Senior Consultant of Office of trade and regulatory reform of the United States Agency for International Development
Michael Marshall, Honor Editor of United Press International
Sara Estes, Operator Director of International Trade and Business of Perrigo Company
Zhang Lili, Union of Chinese American Professional Organizations
Suggestions to the future cooperation of China and America
President Xi emphasized in the report of the 19th CPC National Congress that China is committed to carrying on with the reform and opening-up policy and builing partnership with the countries all over the world. Based on the findings of CCG's previous studies and this field trip to the United States, CCG provides 12 suggestions to enhance the bilateral cooperation in the sectors such as infrastructure construction, trade and economy, studying abroad, and outer space development, and builde a constructive relationship to achieve win-win cooperation.
A Sino-US Infrastructure Investment Fund can be established to promote the cooperation in this field; China can also extend invitation to America to join the Asian Infrastructure Investment Bank and the "Belt & Road" Initiative
During the visit to the American Center for Progress, CCG delegation has seen its proposed "New Marshall Plan" aiming to rebuild the US infrastructure and industrial strength. Driven by President Trump's grand plan to invest US$ 100 million in the US infrastructure transformation, there appears a bright prospect in the bilateral cooperation in this field. In the past decade, China has invested a total of US$11 trillion in infrastructure building. China's capital will be undoubtedly a great support to President Trump's plan and a boost to the US economic development.
The infrastrucuture cooperation can also help Chinese companies learn the experience of global expansion and speep up the steps of going abroad. Meanwhile, the infrastructure investment will drive the development of equiment manufacturing, engineering and high-tech companies in the two countries, and create more opportunities and market for PPP.
China can invite America to join AIIB and the "Belt & Road" Initiative, and work together to improve infrastructure in the third-party markets. Since its inception, China has committed, through AIIB investment, to improving the infrastrucuture in Asia and the entire world. This idea corresponds to President Trump's infrastructure transformation plan. With the US participation, AIIB can bring in more fund for infrastructure development, elevate its global image, and creates more opportunities for the Sino-US cooperation.
To cooperate on infrastructure development, China and America should overcome protectionism and perceive each other's investment environment, corporte capacity and society more objectively. The countries should made additional efforts to expand communications, financial and capital cooperation, policy consultation, government interaction, third-party partnership and think tank collaboration. Also, the two countries should learn from Europe's best practice of allowing foreign investment and companies to work in infrastructure development, and then improve the US domestic PPP project implementation environment.
China and America can jointly push forward the creation of Free Trade Area of the Asia-Pacific (FTAAP).
TPP is essentially suspended with the US withdrawal. The Regional Comprehensive Economic Partnership (RECP) is neither not making progress, becase it involves too many countries that can hardly reach a consensus on major issues. CCG believes FTAAP synthesizes the advantages of both TPP and RECP and China and America should work together to establish FTAAP and do their part to achieve economic stability. The 2017 APEC conference in Vietnam, which both Chinese and American leaders attende, could be such a platform to discuss this particular issue.
It is commonly-recognized that FTAAP would bring social and economic benefits to China and the United States to allow them a more significant role in global economic, security, energy and environment affairs. Meanwhile, since President Trump has shown less approval and interest in NAFTA, America might be repivoted to Asia Pacific and resume the free trade negotiation in this region. Both China and the United States need such a platform like FTAAPT to jointly establish new international economic norms in the 21st century.
The Asian Pacific economic integration and free trade zone creation can help reduce trade and investment barriers and maintain a favorable political environment for Chinese companies. With the development and integration of value chain and supply chain in Asia Pacific, the companies investing in this region can lower their cost and increase their success rate.
China can import more petroleum, natural gas, agricultural products and commercial jets from America, while pushing America to loosen its restriction on technology transfer to China, to narrow the trade gap between the two countries.
In 2015, America's natural gas output has reached 767 billon cubic meter. As the Energy Information Administration (EIA) estimates, by 2020, America will become the 3rd largest natual gas exporter in terms of capacity, following Australia and Qatar. Energe trade will be a new engine for the balanced development of the Sino-US trade relations. If America could invest more or cooperate with China to improve its energy export infrastructure, and allows China to invest in the US energy infrastructure projects including those along the western coast, it will significantly shrink the US trade deficit with China.
China and America are the largest agricultural product importer and exporter, respectively. According to China's Ministry of Agriculture, between 2006 and 2016, the Sino-US trade in agricultral products increased at an average annual rate of 15%. In 2016, China imported the agricutural products worth US$21 billion from the United States, making it the largest single market for American agricultural product exports. As an outcome of the Sino-US comprehensive economic dialogue lauched after the Mar-a-Lago Summit, China resumed the imports of rice and beef from America. The US think tanks estimate, along with rice and beef, corn and soybean will also become the most needed agricultural products in the Chinese market. The Sino-US trade in agricultural products has been through rapid growth in the past decade, and still has great potential to grow more.
In the next 20 years, China will need to add at least 5,000 civil aircrafts. A quarter of the aircrafts Boeing delivered are made for China.  Looking ahead, China can moderately increase the import of Boeing aircrafts and expand the cooperation with the company.
Meanwhile, China can push America to relax its restriction on high-tech products export to China, which has been a tough issue in the bilateral trade relations. China's Vice Premier Wang Yang mentioned at a luncheon speech during the Comprehensive Economic Dialogue in July that American companies haven't benefited from China's growing market due to the US out-of-date export control regulations. For example, last year, China's import of integrated circuit reached US$227 billion, but only 4% came from American companies. Another issue that impedes the US export to China is its restriction on technology transfer.
A report released by the Carnegie Endowment for International Peace in April shows that if America can loosen its restriction on high-tech products export to China to the level of the restriction on the exports to Brazil, the US trade deficit with China will be reduced by up to 24%. If it is down to the level of exporting to France, the deficit will further shrink by 34%.
For China, while expanding import from the United States, it should proactively seek to relax the US restriction on high-tech product export, by highlighting the loss of profit American companies may have to suffer if the restriction stays.
China and America could seek more cooperation in the new fields such as space exploration, talent development, and internet technology, and work together to improve global governance.
The global governance system is jointly established and shared by all the countries around the world. As the two biggest economies, China and America are motivated and obligated to work together to build a more fair, reasonable and effective global governance system and set a positive example for other countries,
Space has become a new frontier that all the great powers are competing for, for its strategic significance in science & technology, military, and economy. The space race between Russia and America has caused distrust and hostility betwen the two countries and distructed space exploration cooperation. Nowadays, the space governance is challenged by the lack of peace and development initiatives as well as governance system. To avoid another round of space race, China and America should seek more cooperation for the sake of our human community of shared future and create more benefit for the  two countries and even the entire human society.
China aims to build a manned space station by 2022. If successful, China will become the only country that owns a space station after the international space station is retired in 2024 as planned. Therefore, it is foreseeable that China and the United States will inevitably seek cooperation in space exploration and China will have a chance to contribute its ideas and initiative in this regard.
First of all, China should propose a space cooperation plan and build a consensus with the United States as the foundation for coordinative actions. Secondly, China and America should lead the effort to establish a multilateral international organization for space governance, which allows all the parties to jointly formulate space exploration rules and ensure equal access to space resources. Thirdly, the two countries can establish practical cooperation on space exploration, starting with fundamental research and commercial activities. The "Wolf Article" proposed by former Republican Congressman Frank Wolf sets a barrier for the bilateral space collaboration, but it does not apply to commercial cooperation. As technology advances and more lower-cost business models for space exploration emerge, China and the United States will have more opportunities and methods to cooperate in this field and work together to promote space governance.
America, which is the No. 1 destination of immigration in the world, has been a leading nation in attracting high-tech and high-level talent from all over the world. China also homes a large number of such talent. As globalization continues and international talent mobility increases, it will become crucial that China and the United States can jointly initiate the formation of an international talent organization.
The global governance system has been established in some fields, such as WTO managing trade affairs and IMF governing capital flow. But, there still lacks a globalize organization for talent mobility that can take charge of issues, such as accredition of education diplomas and occupation certificates, issuance of immigrant quota, and management of international students. China and the United States can work together to fill the blank, which can benefit them both and also the people in other countries.
Although internet was invented only decades ago, it has been rapidly developed and integrated with telecommunication, computer system, automatic control system, digital equipment, services and data, and become the fifth dimension, along with sea, land, air and space. However, a cross-border supervision and governance system is needed to ensure internet security and address any subsequent problems. A World Internet Conferenece was created in Wuzhen, as an international platform that connects China with the world and as a China-based platform to enable global governance of internet. By far, the conference has been held three times. To China, the fundamental principle for the global governance of internet is to seek consensus, cooperation and win-win outcome. As the two leading nation in the internet development, China and the United States need to strengthen their cooperation to build a shared community of humankind on the internet.
China and America should strive to set more appropriate standards to calculate the bilateral trade, since the current method leads to exaggerated trade surplus of China with America.
Since China's accession into WTO, the US export to China has increased by 500%, far above the growth rate of the US global export at 90% in the same period. With China, America has long maintained trade surplus in the service trade. According to the Chinese official statistics, between 2006 and 2016, the value of US service export to China has increase five times from US$14.4 billion to US$86.9 billion. In 2016, the US service trade surplus with China has reached US$55.7 billion.
Meanwhile, China's trade surplus with America has been always exaggerated. In 2016, China's surplus in the trade of goods with America, according to the statistics on China side, was US$254 billion. But it was calculated nearly US$1,000 billion more by the US side, due to the difference in the two countries' calculation methods. Though the discrepancy may be caused by many different factors, given the trade surplus of America in service trade, the US' overall trade deficit is not as wide as it is perceived. Drawing statistics from a recent report about added-value, the US trade deficit with China in 2015 was US$132.7 billion, but the value excluded the patent fees paid by Chinese companies to American companies. If it is included, the US trade deficit would be further reduced.
Currently, China and America are still in two different places along the global industry chain, with different divison of labor and benefit from global market. Many American MNCs are on the top of the industry chain, while most Chinese companies are in the middle.  Quite a number of products exported to the United States from China use the components imported from the third countries, but all are counted as China's export to the United States. This calculation method leads to the unfair conclusion about the Sino-US trade imbalance and need to be rectified to reveal the real situation of the bilateral trade relations.
Professor Xing Yuqing from the National Graduate Institute for Policy Studies in Japan pointed out that currently, most profit of MNCs is gained from the added value of their intellectual products. Taking the Apple factory in China for instance, custom record shows that the US$140 billion profit iPhone earned in the overseas market in 2015 is not included in the US export. If including the Apple's revenue from the added value gained in the Greater China, the US export to this region would increase 13.1%, and the deficit in the bilateral trade will shrink by 6.7%.
Therefore, we suggest that China employ innovative statistics methods and standard in the bilateral trade calculation to more accurately reflect the reality without exaggeration and assure the American government and society that this trade relationship is equally benefiting the two countries.
China and the United States should continue to expand cooperation in tourism, education and immigration and promote the trade in services.
For a long time, trade in services such as tourism, education and immigration has been overlooked. However, the United States has been always maintaining a trade surplus with China. In 2016, the US service surplus with China in the sectors including education, tourism, IPR, transportation, commerce and finance reached US$55.7 billion, 40 times of that in 2006. According to a study report on the Sino-US economic and trade relations released by MOFCOM in May, China's service deficit with the United States has accounted for 23.1% of China's total service trade deficit.
Taking education for instance, the statistics of the Institute of International Education show that China is the biggest source of international students in America, with a total number of 328,500 students in 2016, or 31.5% of the total. From 2010 to 2015, the number of Chinese studying in America has been nearly tripled. Averagely, each Chinese student spends around US$45,000 in America per year, meaning that all of them can generate US$15.9 billion income. In a strong contrast, only 20,000 Americans were studying in China in the same time.
As for tourism, according to data released by the US Department of Commerce in August, nearly 3 million tourists from China's mainland have visited America since 2016, or 15% higher than the same time last year, and they have spent around US$33 billion, a 9% growth from last year.
Based on the data of IIUSA, the national trade association for the EB-5 Regional Center Program for investment immigration, during the 2015-2016 fiscal year, America has received 13,273 applications from all over the world. Only from China alone,  a 10,948 cases were submitted, or 82.48% of the total. Among them, a majority of people are the investors from China's mainland. They need to invest no less than US$500,000 to be eligible to apply EB-5 status.
From the data above, we can see that China has trade deficit with the United States in many service sectors. To reduce such deficit, China should improve the domestic education, tourism and investment and entrepreneurship environment and step up promotional efforts to attract more American students, tourists and businessmen to China.
Chinese government can provide guidance on Chinese companies' greenfield investment in the United States, which can reduce energy cost, create local job opportunities, and improve their overall global competitiveness.
According to a report jointly released by the National Committee on United States – China Relations and Rhodium Group, Chinese companies' direct investment in the United States exceeded US$15 billion in 2015. Greenfield investment, in particular, registered a rapid growth to US$1.8 billion, 34% higher than 2014. By far, Chinese companies have set up more than 1,900 subsidiaries in the United States and launched business operation in 42 states. The total number of people hired by the Chinese companies reached 90,000, compared to only 30,000 three years ago.
Fuyao Glass Industry Group Co., Ltd. is one of the Chinese companies that have succesfully made greenfield investment in the United States. So far, Fuyao has invested more than US$1 billion and hired over 4,000 Americans in Michigan and Ohio, the two most-inflicted states in the previous economic crisis. Chinese iron and steel companies can learn from Fuyao's experience to set up factories in the United States, which can help them optimize global resource allocation and expand market coverage. Meanwhile, the investment in the iron and steel industry is very politically welcomed. It is estimated that around 270,000 people are employed in the US iron and steel industry. Although only accounting for less than 0.2% of the total labor force,they are mostly located in the politically important states like Indiana, Ohio, Michigan and Pennsylvania. Investing in these regions can help Chinese companies play a more important role in the Sino-US economic relations and obtain more leverage in the bilateral trade negotiation.
China and the United States should continue to improve respective policy environment to faciliate corporate investment in each other, observing the national treatment pricinple.
The 19th CPC National Congress working report reinforces the direction of China's reform to further open up the market to attract foreign investment. Chinese government needs to expand the market access of foreign companies, including those from the United States, especially opening up the market of service industry and enhancing IPR protection. The US government, on the other hand, should restrain itself from using too much scrutiny to impede Chinese companies' legal investment and business operation. Chinese companies should more familiarize themselves with the US legal and policy environment and proactively engage themselves in policy advocacy, to improve the relations with local government, media and third-party organizations.
In addition, Chinese government should consolidate the relevant policies and guidance released this year and add more explanation and details, to foster understanding and cooperation of the American companies in China.
China and the United States should strengthen communications and coordination on national debt trading to achieve win-win outcome
According to the statistics released by the US Department of Treasury on Oct. 17, China has increased the holding of the US national bond for seven consecutive months this year, which reached US$1.2 trillion in August. In June, China has surpassed Japan to become the largest creditor of the United States.
China has long been a major buyer of the US national bonds. As the Trump administration reduces the tax and the Federal Reserve increases interest rate, China's purchase can help the US government keeps a fiscal balance and obtain sufficient capital for its infrastructure rebuilding plan. On the other hand, the holding of the US dollars can also help Chinese currency maintain and grow its value. It is also conducive to the stabilization of RMB's foreign exchange rates. The fact that China is the US government's largest creditor proves the interdependency of the two economies and also alerts the United States against any radical policies towards China.
China and the United States can strengthen the cooperation in infrastrucuture building, climate change and energy at the provincial/state level.
In the United States, State governments have a high level of autonomy in their own economic affairs and most of them have developed close economic relations with China. Therefore, they can service as a propellor and stablizer for a constructive bilateral relationship. We suggest that Chinese local governments at all levels strengthen cooperation with the US states and establish platforms and mechanism such as annual summits to enhance communciations and exchange with them.
For instance, China and California state government signed agreements in June on climate change and clean technology cooperation. This can be taken as an exemplar case to show the US state governments' strong initiative for international cooperation and the possibility for China and the US to develop cooperative relations at the local leve.
China should recognize and leverage the similarities and differences of the political mechanism between the two countries. As the Trump-led federal government is striving to cut tax and the Federal Reserve is prepared to halt quantatitive easing policies, the US local governments have stronger desire for investment, especially the greenfield investment from China.
More efforts are needed to accelerate BIT and trade agreement negotiation process to reduce the barriers in the bilateral investment and further open up the markets to each other.
According to MOFCOM statistics, by the end of 2016, the total direct investment Chinese companies have made in the United States has reached US$50 billion, including US$19.5 billion made in 2016, 132.4% higher than 2015. Meanwhile, a Rhodium Group study shows that Chinese companies have employed nearly 100,000 Americans between 2000 and 2015. These figures signal Sino-US economic relations entering into a new phase in which the investment is two-way not just one-way anymore.
This time, CCG schlolars paid a visit to John Cornyn, a leading Republican Senator whos urges for the changes in the Committee on Foreign Investment in the United States, or CFIUS, an interagency panel led by the Treasury Department that reviews proposed transactions to ensure they do not pose a challenge to national security. Through the discussion with him and his office representative Nathan Wolf, CCG has learned that the US government is considering to strengthen the scrutiny over foreign investment, which will gradually change the investment environment in the country. Accordingly, China has made adjustment to its foreign investment policies. As a result, Chinese investment in America has slowed down since 2017, showing that it remains necessary to maintain a favorable enviroment to reboost bilateral investment growth.
Compared to the huge deficit in the Sino-US trade, the current situation of bilateral investment is still less worrisome, but its improvement is constrained by international economic situation, bilateral relations and domestic policies. Therefore, more efforts are needed to resume BIT negotiation, since it is an important institutional foundation on which the bilateral economic relations can be maintained and strengthend.
The think tanks, trade associations and other non-profit organizations in China and the United States can enhance their cooperation and exchange as the "Track II" diplomacy activities to help remove misperception and promote mutual understanding of each other.
During this trip to America, CCG delegation found out some think tanks, especially those that have major influence on the Trump administration such as AEI and Heritage Foundation still lack understanding of China and Sino-US relations, and have a lot of misperception about China's mainland, due to insufficient communications and exchange with think tanks from there. Therefore, it is imperative that Chinese think tanks, particular independent think tanks, can increase engagement with them and communicate with them on the importance of a constructive Sino-US relations, with a goal to minimize irrational decision making by the US policymakers and strengthen the bilateral relations and national interest protection.
Now, it is a particularly critical moment for Chinese and American think tanks to increase their "Track II Diplomacy" activities as the new US government is adjusting its policies. The enhanced communications and exchange between the specialists of various sectors in the two countries can help reduce the economic and political barriers in the bilateral relations.
Many scholars in the US think tanks used to work for the federal government and international organizations at senior positions. With extensive political, diplomatic and economic management experience and networks, they can exert strong influence on policymaking. A consensus between Chinese and American think tanks can facilitate the two governments to reach an agreement. To provide such support to policy study and formulation, Chinese think tanks are required to gain more global perspectives and learn from the best practice of foreign think tanks.
Conclusion
As the world's largest trading nations and economies, China and the United States' trade relations significantly impact the economic development of not only their own but also the entire world. It is important for China to proactively engage the United States in maintianing a constructive relationship based on win-win cooperation. The effective and productive management of the Sino-US economic and trade relations is conducive to transforming China into a great and modernized socalist country.
Looking back at the history, China and the United States have developed their relations through a complex process, becoming closely connected while remaining distinctively different. CCG's field trip to the United States, which was arranged right before President Trump's first official visit to China, is an exemplary case on how think tanks can play a significant role in the "Track II" diplomacy to faciliate communciations and exchange and faciliate understanding and cooperation. Through this trip and based on the findings of CCG's long-term studies on the Sino-US relations, we propose some measures to further develop the bilateral reltions as reference.
Appendix
CCG delegation
Dr. Wang Huiyao, President
Dr. Miao Lu, Vice President and Secretary-General
Dr. Li Weifeng, Executive Secretary-General
Dr. Tang Beijie, Deputy Secretary-General
Dr. Xiao Huilin, Senior Research Fellow
Dr. Wangzhi, Non-resident Fellow
Li Yeqing, Senior Research Fellow
List of visited institutes
Government agencies, party organizations and NGOs
US-China Working Group
US Senate Committee on Foreign Relations
House Ways and Means Committee
US National Security Council
US Department of State
US Department of Defense
US Department of Treasury
US Department of Commerce
American Chamber of Commerce
Committee of 100
China General Chamber of Commerce-USA
US Council on Foreign Relations
The Brookings Institution
Kissinger Institute on China and the United States
Asia Society
National Committee on United States-China Relations
American Enterprise Institute
Migration Policy Institute
Center for American Progress
Heritage Foundation
Center for strategic and international studies
Peterson Institute for International Economics
Chinese companies and American MNCs
State Grid Corporation of China
CRRC
CITIC Group
China State Construction Engineering Corporation
China Unicom
Industrial and Commercial Bank of China
Vantone
Huawei
CIIC
China Grand Group
PFGF
General Electrics
Hyundai
Morgen Stanley
List of selected CCG reports:
China can Consider Joining Trans-Pacific Partnership (TPP)
Understand De-globalization Objectively and Push Forward Inclusive Globalization Proactively
Trump's Coming Era: Chanllenges, Opportunities and Policy Responses
FTAAP:Best Option in Post-TPP Era
Adopt More Open Policies to Attract International Talent
Infrastructure Cooperation – New Opportunities for China-US Relations
Solutions and Approaches to International Win-Win Cooperation on Belt&Road Initiative
Report on Chinese Enterprises Globalization
Annual Report on the Development of Chinese Students Studying Abroad
Report on Development of World Overseas Chinese Entrepreneurs