DigitALL – Symposium on Gender Responsive Technology and Innovation in the 21st Century
March 07 , 2023
---
Theme:
Time:
Location:
Form: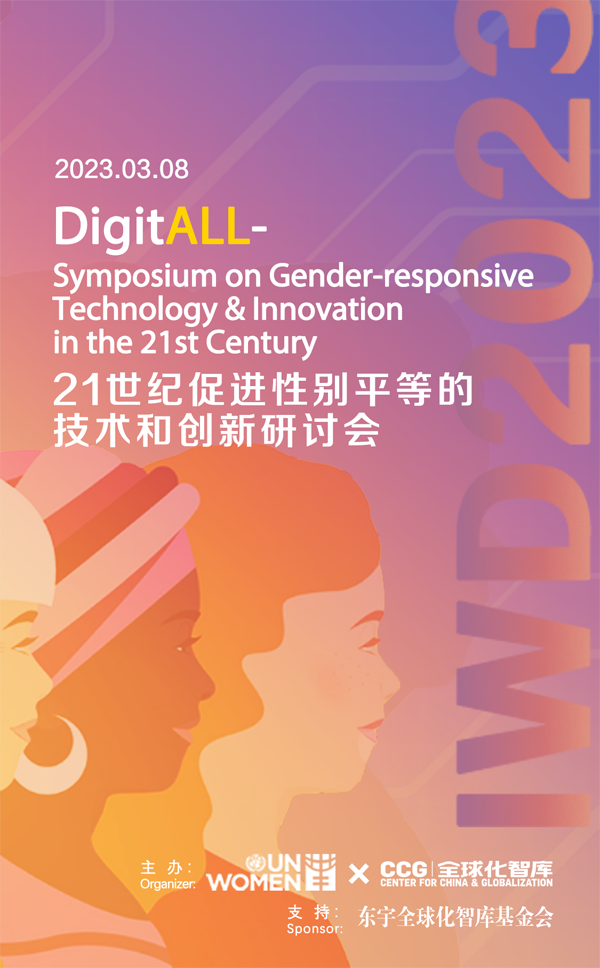 BACKGROUND
Technologies and innovation are transforming society at a rapid pace, enabling unprecedented advances to improve the social, economic, and political status of women and girls, but also bringing profound new challenges that can perpetuate and deepen existing patterns of gender inequality. Women have limited opportunities to participate in the technology workforce and in leadership positions, and they are rarely viewed and empowered as technology developers, promoters, and decision makers. There is a continuum between offline and online gender-based violence, with technology often exacerbating the level of violence perpetrated by individuals or institutions.
Bringing women and girls into technology results in more creative solutions and has greater potential for innovations that meet women's needs and promote gender equality. By designing and adopting gender-responsive approach to innovation, technology and digital education, immense opportunities can be harnessed to accelerate the implementation of the Beijing Declaration and Platform for Action and realize the 2030 Agenda for Sustainable Development.
This event, which will be held on March 8th to mark Women's Day, aims to bring together a diverse group of government agencies, embassies, UN entities, financial institutions, practitioners, academics, and leading think tanks to share best practices on policies and programs to bridge the gender digital divide and identify actions that will enable gender-transformative technology and innovation.
OBJECTIVES
·Recognize challenges that disproportionately impact women and girls and put them at risk in the digital transformation.
·Identify solutions to ensure women's needs and rights are systematically considered in the development of technology and promote their active participation and decision making in tech and innovation.
·Share global best practices of policies and programs to enhance digital gender equity and inclusion.
·Enhance international knowledge exchange on best practices of gender-responsive technology design, development and deployment in the context of global partnerships and cooperation.
TOPICS
· Gender-responsive technology design, development and deployment & gender-inclusive innovation and digital ecosystems
· Protection and economic empowerment of women and girls in the context of digitalization and innovation
LANGUAGE
English/Chinese simultaneous interpretation
Baidu live:
https://live.baidu.com/m/media/pclive/pchome/live.html?room_id=8110015660&source=h5pre

AGENDA
13 h 00 – 13 h 30 Arrival of Guests/Networking
13 h 30 – 13 h 45 Welcoming Remarks
13 h 45 – 13 h 55 Keynote Speech
13 h 55 – 14 h 15 Special address by the Chinese government
14 h 15 – 14 h 20 Group-photo/Technical Break
14 h 20 – 16 h 30 Roundtable Discussion
Theme 1: Gender-responsive technology design, development, and deployment & gender-inclusive innovation and digital ecosystems
Theme 2: Protection and economic empowerment of women and girls in the context of digitalization and innovation
16 h 30 – 16 h 50 Coffee Break
16 h 50 – 17 h 30 Special Dialogue by Women in Trade Beijing
<Making Sure Women Have a Seat at that Table: Strengthening the voice of women on technology and innovation decisions that will define the 21st century> – Insights from women leaders in international trade
17 h 30 – 17 h 35 Closing
17 h 35 – 18 h 00 Networking
PARTICIPANTS
(IN ALPHABETIC ORDER)
H.E. Ali Obaid AI Dhaheri, Ambassador of UAE to China
Ms. Smriti Aryal, Country Representative, UN Women China
H.E. Paulette Anne Bethal, Ambassador of the Bahamas to China
Mr. Siddharth Chatterjee, Resident Coordinator, United Nations in China
Mr. CHEN Dali, Deputy Director-General, Department of International Cooperation and Exchange, Ministry of Education
Prof. FANG Xin, Academician, The World Academy of Sciences for the Advancement of Science in Developing Countries (TWAS)
Prof. Arancha González Laya, Dean and Professor of the Paris School of International Affairs at Sciences Po.; former Minister of Foreign Affairs of Spain; former Cabinet Director for the Director-General of the World Trade Organization
Ms. Dora Giusti, Chief of Child Protection, UNICEF China
Ms. Kathy Gong, CEO and Co-founder, WafaGames
Ms. Karen Guo, Vice President of Public Affairs, Novelis China; Chair of Business Sustainability Committee, AmCham China
Dr. Shahbaz Khan, Director and Representative of UNESCO Office Beijing
Ms. Helene Juramy, Trade Officer, The European Union Delegation
H.E. Anne Lafortune, Ambassador of Seychelles to China
Mr. LIU Zhen, Vice President, Kuaishou
Prof. LYU Yue, Professor of International Trade, University of International Business and Economics (UIBE)
H.E. Martha Mavrommati, Ambassador of Cyprus to China
Dr. Mabel Miao, Co-founder and Secretary-General, CCG
Mr. Johannes Neubacher, Vice President, WWD Greater China
H.E. Alenka Suhadolnik, Ambassador of Slovenia to China
Ms. Beate Trunkmann, Resident Representative, UNDP China
H.E. Oliver Wonekha, Ambassador of Uganda to China
Ms. XU Fang, Managing Partner, Galaxy Ventures
Ms. ZHANG Xiaoyan, Vice President, China Center for Information Industry Development (CCID)
Ms. ZHAO Xin, Artic Green Energy Group, Board Member and CEO of Business in China
Ms. Katrina Zhuang, General Manager, Arrail Plus