Book Release: Understanding Globalization, Global Gaps, and Power Shifts in the 21st Century—CCG Global Dialogues
December 12 , 2022
---
Theme:
Time:2022-12-16 18:00—2022-12-16 19:30
Location:
Form: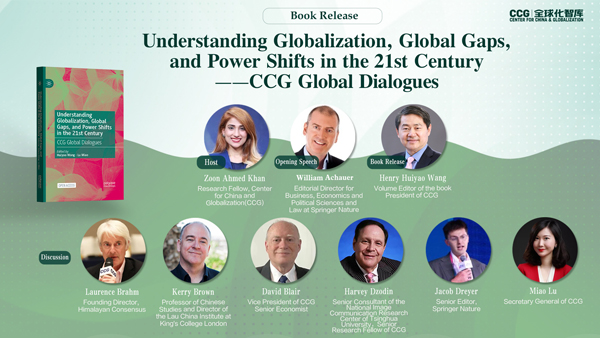 The arrival of crises, both in terms of global health and the economy, come require conversation and collaboration, yet they come at a time when many of the traditional routes of international engagement have been forced to close. As the spread of Covid-19 remains unchecked and associated geopolitical tensions mount, the world needs a calm and sensible voice more than ever to address the tremendous changes happening and to find ways to collaborate.
Regardless of the distance, CCG is eager to communicate with specialists from many nations and disciplines. In order to adapt to the new situation, CCG has established a new multimedia center in Beijing, where 21st-century technology allows for real-time conversations between old and new friends, allowing them to video-link with leading experts from around the world to better understand current events and find targeted solutions. The "CCG Global Dialogues series" continues to draw hundreds of millions of viewers both domestically and internationally with guests ranging from distinguished journalists and authors and Nobel Prize winners to experienced former top government officials and previous heads of multilateral institutions, as well as world-renowned professors in international relations, commerce, and trade.
Since its inception in 2021, the CCG Global Dialogues series has featured a diverse range of experts and scholars that have provided valuable insights into the trends that are reshaping the world, generating ideas on how we can collaborate to create a more peaceful, prosperous, and inclusive world in the post-epidemic era. CCG will soon publish a new book, Understanding Globalization, Global Gaps, and Power Shifts in the 21st Century—CCG Global Dialogues, published in cooperation with Springer Nature. This book is proof of CCG's commitment to sharing these insights with the world. This compilation, of the CCG Global Dialogues series held from March to October 2021, aims to share and compare the views of expert scholars in order to deepen understanding on critical issues in globalization, global governance and multilateralism, the world economy, our common humanity, transnational threats, and US-China relations.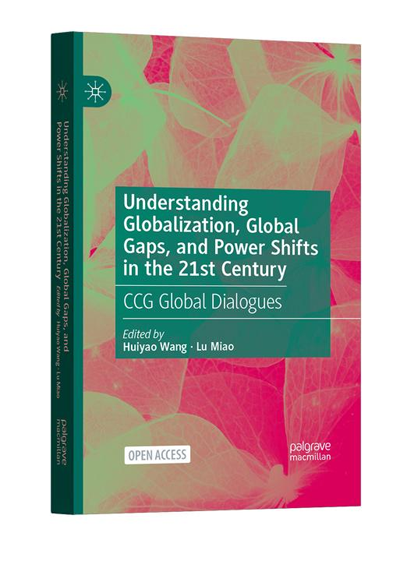 Book Link:
https://link.springer.com/book/10.1007/978-981-19-3846-7
Dr. Henry Huiyao Wang, the editor of this book, is Founder and President of Center for China and Globalization (CCG), ranked among the world's top 100 think tanks. He is also Dean of the Institute of Development Studies of Southwestern University of Finance and Economics of China, Vice Chairman of China Association for International Cooperation, and Director of Chinese People's Institute of Foreign Affairs. He is currently a Steering Committee Member of the Paris Peace Forum and an Advisory Board Member of Duke Kunshan University. He pursued his Ph.D. studies at University of Western Ontario and University of Manchester. He was Senior Fellow at Harvard Kennedy School and Visiting Fellow of Brookings Institute, and an adjunct professor at Peking University. In addition to its top ranking as a world think tank, CCG is also the only non-governmental Chinese think tank that has been granted special consultative status by the United Nations.
Dr. Miao Lu is the co-founder and Secretary General of Center for China and Globalization (CCG), the Founder and Secretary General of Global Young Leaders Dialogue (GYLD) program, Deputy Director General of the Alliance of Global Talent Organizations (AGTO), Secretary General of China Global Talent Society and Deputy Director-General of the International Writing Center of Beijing Normal University. Dr. Miao holds a Ph.D degree in Modern and Contemporary Chinese Studies from Beijing Normal University. She was also a visiting fellow at New York University and Harvard University, a post-doctoral fellow of the Hong Kong University of Science and Technology (HKUS), and a Lien Fellow at Nanyang Technological University (NTU), Singapore. In 2020, she was selected as Young Leader for Munich Security Conference (MSC) from China. As the lone Chinese participant in the Munich Security Conference 2021, she spoke with Antonio Guterres, Secretary-General of the United Nations, in 2021.
On December 16th, CCG will conduct an online launch of this new book, inviting top professionals and scholars to discuss the contents and its potential impact.
Discussion topics:
· What are the current setbacks and future trends in globalization?
· What are the new characteristics of the evolving multilateral trading system? How might global disparities and deficits be addressed?
· How will China-US relations in a multipolar world? How can the United States and China strike a balance between competitiveness and cooperation?
When:
18:00-19:30, Dec 16, 2022 (Beijing Time)
Baidu live:
https://live.baidu.com/m/media/multipage/liveshow/index.html?room_id=7897532681&source=h5pre

Agenda
Introduction by the host:
Zoon Ahmed Khan, Research Fellow, Center for China and Globalization(CCG)
Speech by the publisher
William Achauer, Editorial Director for Business, Economics and Political Sciences and Law at Springer Nature
Book Release
WANG Huiyao, Co-Editor, CCG Global Dialogues; President of CCG
MIAO Lu, Co-Editor, CCG Global Dialogues; Secretary-General of CCG
Discussion
Laurence Brahm, Founding Director, Himalayan Consensus Institute
Kerry Brown, Professor of Chinese Studies and Director of the Lau China Institute at King's College
David Blair, Vice President of CCG
Harvey Dzodin, Senior Consultant of the National Image Communication Research Center of Tsinghua University,Senior Research Fellow of CCG,
Jacob Dreyer, Senior Editor, Springer Nature