CCG Global Dialogue | Navigating an Imperfect Storm: Think Tanks in a Changing World Order
December 12 , 2022
---
Theme:
Time:2022-12-16 20:00—2022-12-16 21:00
Location:
Form: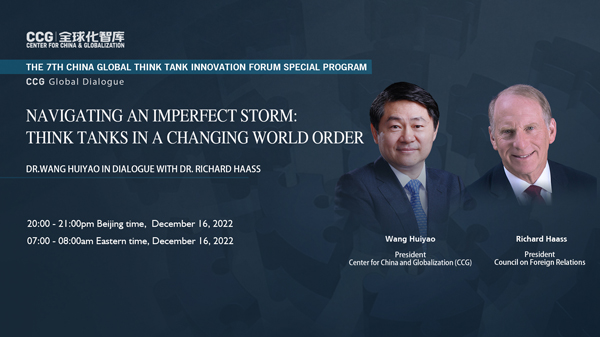 Think tanks today are operating in an increasingly uncertain environment rendered by geopolitical instability, economic fluctuation, technological change, and globalization. The era we live in is increasingly defined by a shifting world order. According to Dr. Richard Haass, president of Council on Foreign Relations, the predicament of our time stems from the return of realpolitik juxtaposed with transnational threats such as climate change, pandemic and nuclear proliferation that demands global cooperation. Part of CCG global dialogue series, this forum special program features the insights and experiences of Dr. Haass, who has been leading the 101-year-old institution for two decades.
· Think tanks and foreign policy: a think tank leader vs. a policy-maker's perspective
· The sharp decline in world order: causes and consequences
· The globalization order and the global governance machinery: what can be done to mind the gap
· US-China relationship in 2023: the way forward
When:
To be broadcast at 20:00 – 21:00pm Beijing time, December 16, 2022
Language:
English/Mandarin simultaneous interpretation
Baidu live:
https://live.baidu.com/m/media/multipage/liveshow/index.html?room_id=7897532681&source=h5pre
Speaker: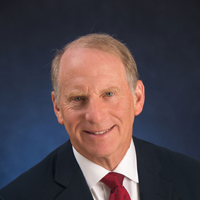 Richard Haass, President, Council on Foreign Relations
Dr. Richard Haass is a veteran diplomat, a prominent voice on American foreign policy, and a proven leader and manager. He is in his twentieth year as president of the Council on Foreign Relations, an independent, nonpartisan membership organization, think tank, publisher, and educational institution dedicated to being a resource to help people better understand the world and the foreign policy choices facing the United States and other countries.
In 2013, he served as the chair of the multiparty negotiations in Northern Ireland that provided the foundation for the 2014 Stormont House Agreement. For his efforts to promote peace and conflict resolution, he received the 2013 Tipperary International Peace Award.
From January 2001 to June 2003, Dr. Haass was director of policy planning for the Department of State, where he directed the policy planning staff and was a principal advisor to Secretary of State Colin Powell. Confirmed by the U.S. Senate to hold the rank of ambassador, Dr. Haass also served as U.S. coordinator for policy toward the future of Afghanistan and U.S. envoy to the Northern Ireland peace process.
Dr. Haass has extensive additional government experience. From 1989 to 1993, he was special assistant to President George H.W. Bush and senior director for Near East and South Asian affairs on the staff of the National Security Council. In 1991, Dr. Haass was awarded the Presidential Citizens Medal for his contributions to the development and articulation of U.S. policy during Operations Desert Shield and Desert Storm. Previously, he served in the Departments of State (1981–1985) and Defense (1979–1980), and was a legislative aide in the U.S. Senate.
A Rhodes Scholar, Dr. Haass holds a bachelor's degree from Oberlin College and master's and doctorate of philosophy degrees from Oxford University. He has also received numerous honorary degrees and was a member of the faculty of Harvard University's Kennedy School of Government and Hamilton College.
Dr. Haass is the author or editor of fourteen books on American foreign policy and one book on management. His next book, The Bill of Obligations: The Ten Habits of Good Citizens, will be published by Penguin Press in January 2023.
Presider: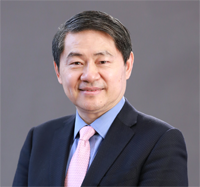 WANG Huiyao, President, Center for China and Globalization (CCG)
Dr. Henry Huiyao Wang is Founder and President of the Center for China and Globalization (CCG). He is a Vice Chairman of China Association for International Economic Cooperation (CAIEC) under the Ministry of Commerce (MOFCOM), Vice Chairman, China Talent Research Society under the Ministry of Human Resources and Social Security. He is also Vice Chairman of China Public Relations Association; a Director of Chinese People's Institute of Foreign Affairs and a Director of China National Committee for Pacific Economic Cooperation, both organizations under the supervision of Ministry of Foreign Affairs. He is a Professor and Dean of the Institute of Development at Southwestern University of Finance and Economics in China. Dr. Wang is a member of Advisory Committee for Global Competence Development of Tsinghua University and serves on the Advising Board of Duke-Kunshan University.  
Dr. Wang is a Steering Committee Member of Paris Peace Forum and was an Advising Board Member for International Organization of Migration (IOM) of the UN. He pursued his doctoral studies at University of Western Ontario and University of Manchester, and obtained PhD degree in international management. He was a Visiting Fellow at The Brookings Institution, a Senior Fellow at Harvard Kennedy School and a Senior Fellow at Asia-Pacific Foundation of Canada. He has published over 100 books in English and Chinese along with hundreds of journal articles and opinion pieces on global relations, global governance, global migration, China outbound and inbound investment and trade, Chinese Diasporas and Chinese think tanks.
He is the editor of China and Globalization Series which includes Consensus or Conflict? China and Globalization in the 21st Century co-edited by Huiyao Wang and Alistair Michie (Springer-Nature, 2021) ,The Asian 21st Century by Kishore Mahbubani (Springer-Nature, 2021 ),Transition and Opportunity Strategies from Business Leaders on Making the Most of China's Future co-edited by Huiyao Wang and Lu Miao (Springer-Nature, 2022 ) , China and the World in a Changing Context-Perspectives from Ambassadors to China co-edited by Huiyao Wang and Lu Miao (Springer-Nature, 2022 ) and The Ebb and Flow of Globalization: Chinese Perspectives on China's Development and Role in the World by Huiyao Wang (Springer-Nature, 2022 ) .
He is also a frequent speaker at international events such as the World Economic Forum, Munich Security Conference, Paris Peace Forum, WTO Public Forum, Munk Debate, Berlin Foreign Policy Forum, and Milken Global Forum. Over the past year, Dr. Wang launched "CCG Global Dialogue" series, inviting global thought leaders and prominent scholars including Graham T. Allison Jr., Kerry Brown, Neil Bush, Kent E. Calder, Wendy Cutler, Angus Deaton, David J. Firestein, Thomas L. Friedman, Valerie Hansen, John Hamre, Wolfgang Ischinger, David M. Lampton, Pascal Lamy, Kishore Mahbubani, Jim O'Neill, Stephen S. Roach, Joseph S. Nye Jr., Adam S. Posen, J. Stapleton Roy, Anthony Saich, John L. Thornton, Susan A. Thornton and Martin Wolf, to discuss issues related to China-US relations, globalization, global economy, international development, and China's role in the world.