CCG's first overseas visit since the pandemic
The world is struggling to recover from profound shocks that have brought into question the integrity of the international order, the current geopolitical landscape and the global economic system. The huge short-term costs resulting from the fight against Covid-19, as well as increased distrust among key global actors in the wake of the Ukraine Crisis, has given communication and diplomacy a greater immediacy and importance than ever before. Pushing forward its 'Track II Diplomacy' vision, a CCG Expert Delegation initiated a global tour that crisscrossed Asia, North America and Europe from June 22 to July 21, 2022.
The visit was devoted to enhancing mutual trust and communication between countries, reducing misunderstanding, and discussing the concerns and opinions of Chinese think tanks with the members of the international community.
CCG delegation members included CCG Founder and President Henry Wang, CCG Co-Founder and Secretary-General Mabel Miao, CCG Vice President and Senior Fellow Mike Liu and CCG Researcher Wang Wei.
A Record-Breaking Tour
CCG's think tank world tour started in Singapore, then after visiting New York and Washington, continued in Paris, Berlin and Brussels before finishing in Seoul. CCG experts in the delegation held and participated in 70 exchanges and met with hundreds of influencers, scholars and government representatives face to face.
● New York and Washington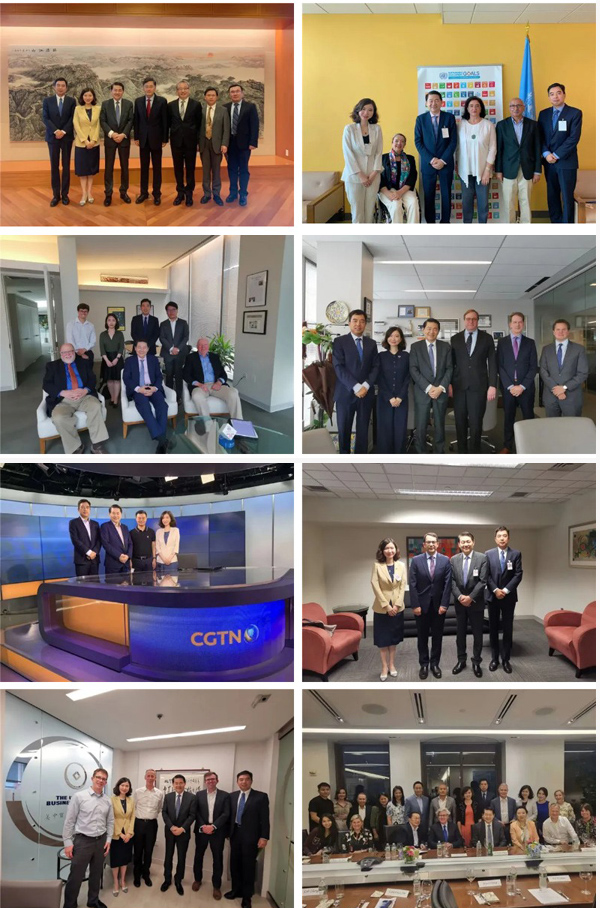 Despite the fact that US-China relationship is facing some of the greatest challenges of the past four decades, it will remain the world's most consequential bilateral relationship in the foreseeable future. Strategic competition between the two countries has intensified amid emerging problems ranging from economic disagreements to the ongoing conflict in Ukraine. In these turbulent times, there's been an increasing call for the world's two largest economies to work together to clear a path towards global recovery.
Now more than ever, it is imperative that cross-Pacific people-to-people exchange, especially Track II Diplomacy between think tanks, be renewed. CCG experts kicked off the US leg of their global tour on June 28th in New York, and finished their visit on July 8th in Washington DC. Thirty productive meetings were held over the course of these ten days.
● Berlin, Paris and Brussels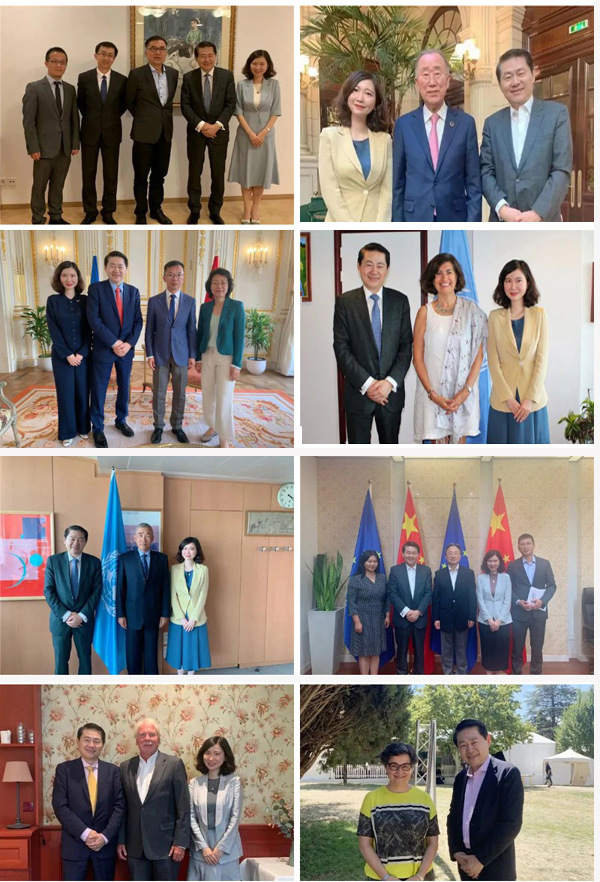 Positioned at either end of the Eurasian Integration Network, China and the EU both embrace the concept of multilateralism and serve as anchors of global stability. Mounting rifts and diverging positions on international and domestic affairs risk undermining the confidence and mutual understanding that have been a hallmark of China-EU bilateral relations.
It was in this context that CCG experts visited France, Germany and Belgium from July 9 to July 18, where they participated in nearly 30 exchanges over a ten day period. These included informative and constructive meetings and dialogues with professional counterparts and organizations on a range of current issues.
● Singapore to Seoul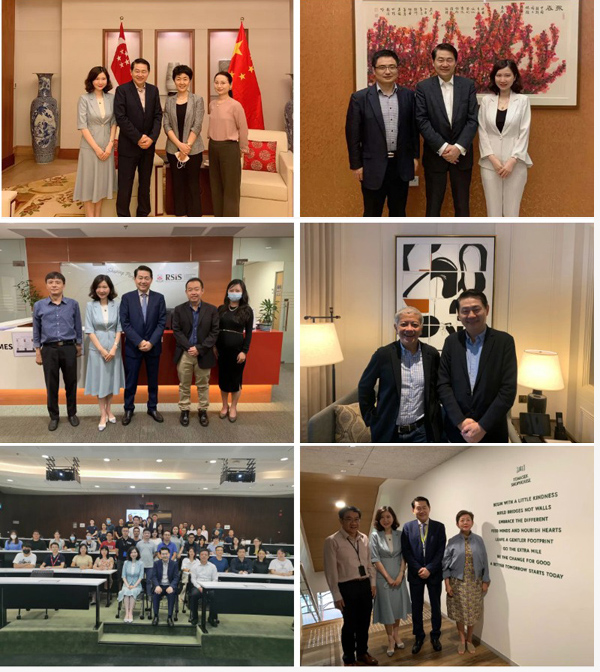 Recent decades have seen several booms in Asian economies, which has also driven continued regional integration. As the world becomes more multipolar in the 21st century and the global environment becomes more complex and volatile, Asia will play an increasingly important role in global governance.
Singapore was the first ASEAN country to sign a comprehensive free trade agreement with China, which will have a huge impact on the future of international relations and the Indo-Pacific region. 2022 also marked the 30th anniversary of diplomatic relations between China and South Korea as trade exchanges between the two countries become closer and closer.
CCG's delegation began this tour in Singapore (June 23-28) and finished it in South Korea (July 20-21) hoping to emphasize the importance of Asia in promoting people-to-people and cultural exchanges and mutual trust and to expand opportunities for further cooperation.
Dialogue with a Wide Range of Institutions
In this "ice-breaking" trip, CCG met with representatives from embassies, international organizations, think tanks, universities, media, business circles, government and other institutions involved in a wide range of fields.
Over this month-long tour, CCG's delegation visited over twenty internationally renowned think tanks, including the Council on Foreign Relations (CFR), the Center for Strategic and International Studies (CSIS), the Stimson Center, the Carnegie Endowment for International Peace, the Peterson Institute for International Economics (PIIE), the Asia Society Policy Institute (ASPI), the Atlantic Council, the European Policy Centre (EPC), the Bruegel Institute, the S. Rajaratnam School of International Studies (RSIS), and other institutions.
The delegation also visited Nanyang Technological University, the National University of Singapore, and the Middlebury Institute of International Studies at Monterey where they held discussions with a number of experts, professors and scholars in international relations and foreign affairs, working to better understand their perspective and support their work in policy research while promoting international exchange and cooperation.
CCG experts met with the US-China Business Council, the National Committee on US-China Relations and the the US Chamber of Commerce's headquarters. In Singapore, they were invited to attend the 2022 CEO Retreat hosted by the Global Business Policy Council (GBPC). In New York, Dr. Wang gave a talk at a dinner hosted by Supchina where the delegation also held discussions with a number of multinational business leaders on topics of economic globalization, investment in China and international communications.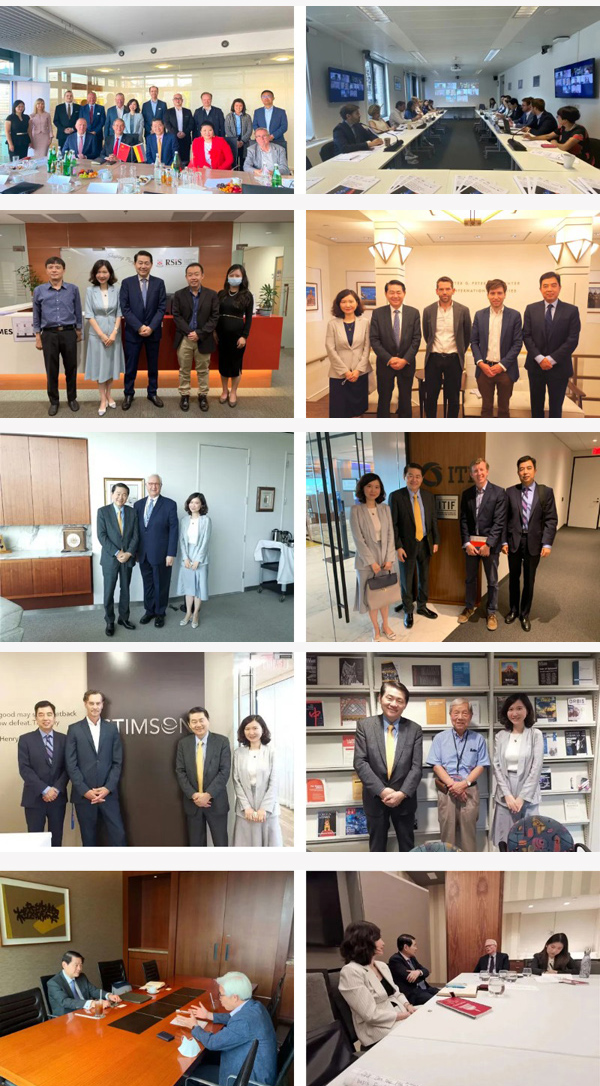 CDuring the visit, the CCG delegation visited local Chinese embassies, and held meetings with Qin Gang, Chinese Ambassador to the United States; Lu Shaye, Chinese Ambassador to France; Sun Haiyan, Chinese Ambassador to Singapore; Minister Zhang Junhui, Charge d'Affaires of the Chinese Embassy in Germany; Minister Wang Hongjian, Charge d'Affaires of the Chinese Embassy in the EU; Fang Kun, Minister of the Chinese Embassy in South Korea, and other senior diplomats.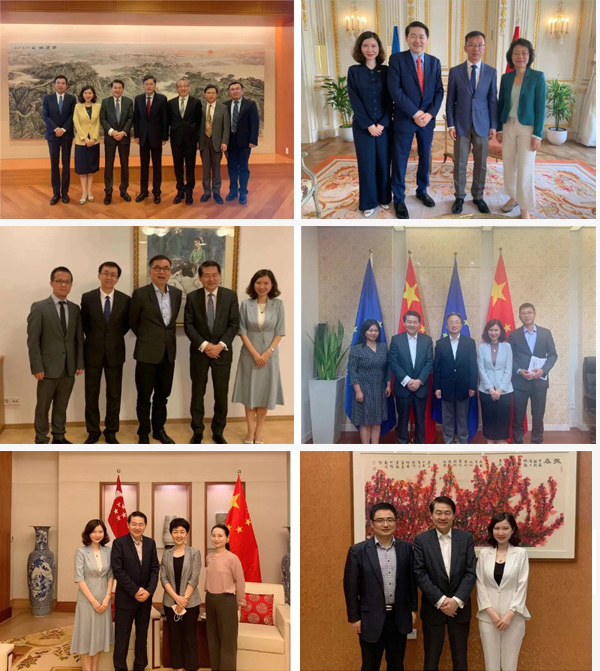 The delegation visited the headquarters of the United Nations in New York, the World Bank, UNESCO and other international organizations, as well as the Temasek Foundation, America China Public Affairs Institute, the Konrad Adenauer Foundation, The Global Solutions Initiative (GSI), the BMW Foundation, the "China-Bridge" Initiative, La Fondation Prospective et Innovation (FPI), the Asia Society France and other NGOs.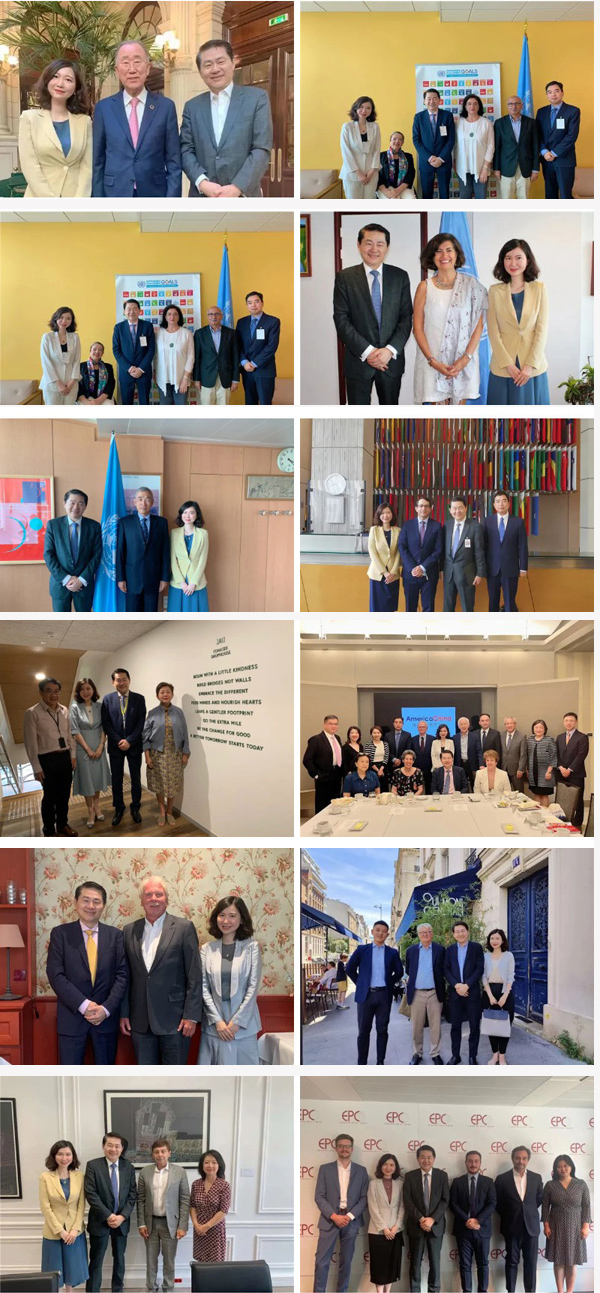 The CCG think tank experts also visited the US State Department and had discussions with more than ten officials, including the Deputy Assistant Secretary.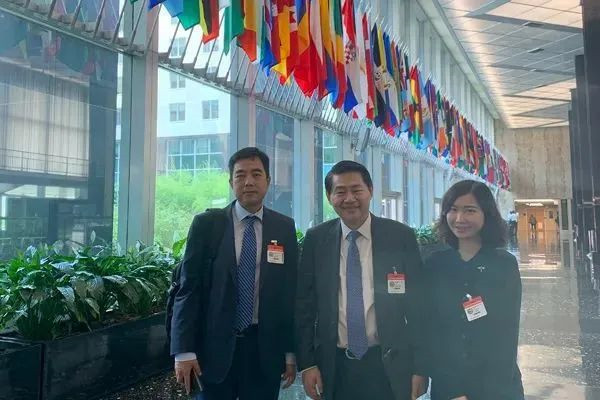 CCG's delegation met with a range of media outlets including Bloomberg News headquarters in New York, CGTN America and TV Berlin. They also met with Norman Pearlstine, former Chief Content Officer and Vice Chairman of Time Inc., former Executive Editor of Los Angeles Times; three-time Pulitzer Prize winner Thomas Friedman, and also had an exchange with the founders of Semafor, Justin Smith and Ben Smith.
Many well-known international media closely followed CCG's trip. Dr. Henry Wang and other members of the delegation were invited to exclusive interviews multiple international media outlets and journalists including BBC's HardTalk, Senior Editor and Shanghai bureau chief at Forbes magazine Russell Flannery, senior reporter at Berlin TV Peter Brinkmann, South Korea's JoongAng media outlet, European Mandarin TV, Lianhe Zaobao and South China Morning Post. China's enhanced role in economic globalization and the investment and development of MNCs in China has made China's voice an increasingly relevant in international public opinion.
The trip also caught the eye of many domestic Chinese media outlets including Xinhua News Agency, People's Daily, China News Service, China Daily, Global Times, The Beijing News, Phoenix TV, and The Paper, which conducted special interviews and detailed reports on the visit.
As the first Chinese think tank delegation hold such an international tour since the outbreak of the pandemic, CCG's overseas visit has received considerable attention. The delegation used this attention to actively reduce misunderstanding and promote international cooperation, while working to find practical solutions to the problems of economic recovery and global governance.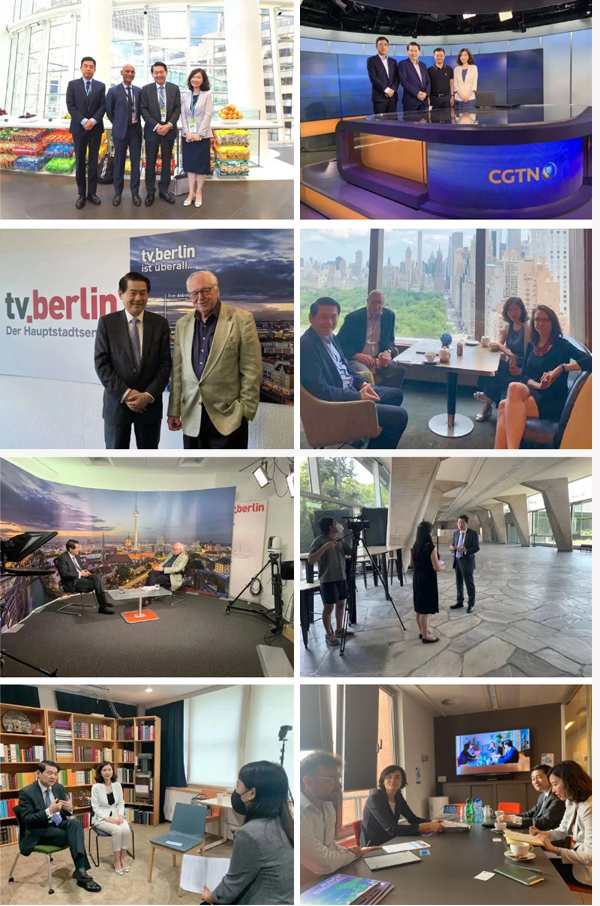 Constructive exchanges with high-level figures
During this visit, CCG experts met with dozens of current and former dignitaries, heads of international organizations, leaders of international multilateral forums, and internationally renowned opinion leaders from all over the world. Individuals CCG met with during this word tour include: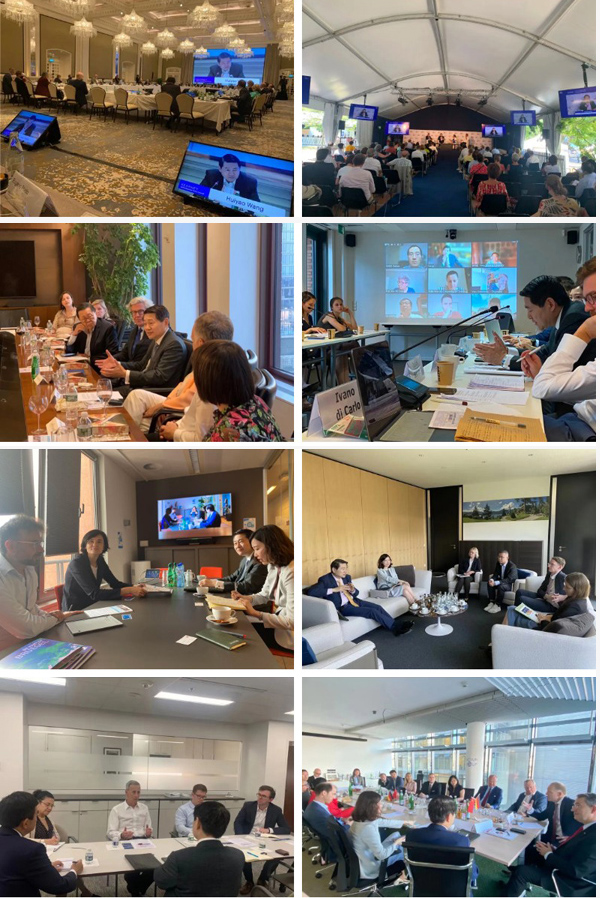 Current or former government leaders:
Craig Allen, President of the US-China Business Council (USCBC);
Wendy Cutler, ASPI's Vice President;
Markus Engels, Secretary General and former President of the European Parliament;
Hans-Peter Friedrich, President of "China Bridge" and Vice-President of the German Bundestag;
John Hamre, President and CEO of the Center for Strategic and International Studies (CSIS);
Henry Hand, Assistant Deputy Secretary General and Director of the Office of China's Issues;
Arancha Gonzalez Laya, former Spanish Minister of Foreign Affairs;
David MacDonald, Trade Policy Advisor for Chinese Mainland and Taiwan;
Kishore Mahbubani, former Singapore's Permanent Representative to the United Nations and the President of the United Nations Security Council;
Jean-Pierre Raffarin, Former French Prime Minister;
Daniel Russel, Vice President of the Asia Society Policy Institute (ASPI) and former Assistant Secretary of State for East Asian and Pacific Affairs;
Benjamin Sand, Chief of Strategic Communications for Chinese and Mongolian Affairs;
Michael Schumann, Vice President of "China Bridge" and Board Chairman of BWA;?Former German Ambassador to China, Michael Schaefer;
Yannis Stournaras, governor of the Bank of Greece;
John Thornton, Chair Emeritus of The Brookings Institution and Co-Chair of the Asia Society;
Martin Tummel, German Ministry of Foreign Affairs.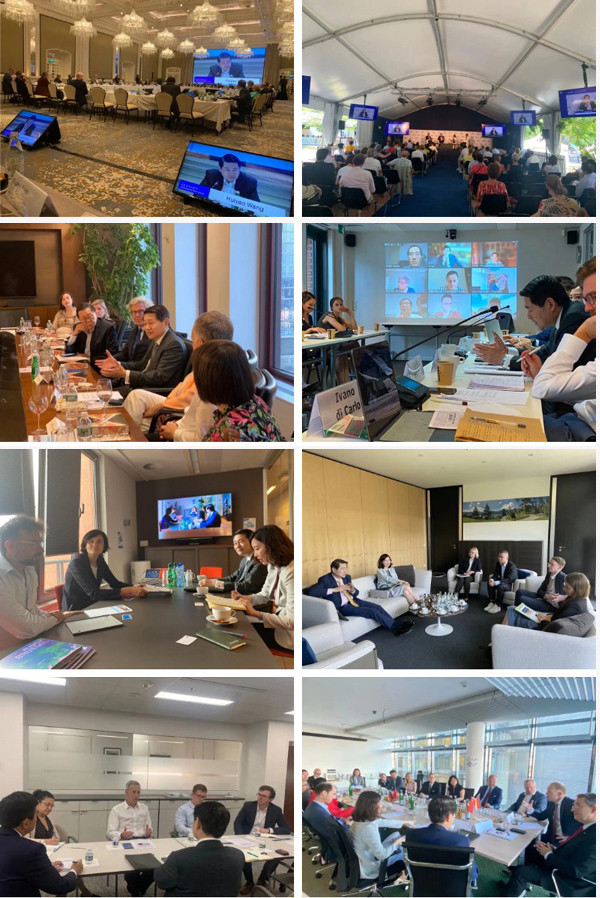 Current or former leaders of international organizations:
Daniela Bas, Director of the Division for Inclusive Social Development at the UN Department of Economic and Social Affairs;
Ban Ki-moon, 8th UN Secretary-General;
Richard Carey, former Chairman of the OECD Development Assistance Committee;
Serge Dumont, Co-Founder and President of Asia Society France;
Navid Hanif, Assistant Secretary-General of UN;
Ayhan Kose, Chief Economist and Director of the Prospects Group in the Equitable Growth, Finance, and Institutions (EFI) Practice Group;
Qu Xing, Deputy Director-General of UNESCO;
Gabriela Ramos, Assistant Director-General for the Social and Human Sciences;
Maria Francesca Spatolisano, Assistant Secretary-General of UN.
Heads of internationally influential think tanks:
Maria Demertzis, Interim Director and former Researcher fellow of the European Commission and of De Nederlandsche Bank;
Brian Finlay, President and CEO of Stimson Center;
Frederick Kempe, President of Atlantic Council;
LEE Sang-Hyun, President and Senior Research Fellow of the Sejong Institute;
Dominique Moisi, Special Advisor to the Montaigne Institute;
Adam Posen, President of Center for Strategic and International Studies (CSIS).
Leaders of key international multilateral forums:
Boris Ruge, Vice President of Munich Security Conference;
Justin Vaïsse, Director General of the Paris Peace Forum.
Heads of non-governmental organizations:
Rick Niu, President of the Committee of 100 (NY);
Steve Orlins, President of National Committee on United States-China Relations (NCUSCR);
Michael Schumann, Vice President of "China Bridge" and Board Chairman of Federal Association for Economic Development and Foreign Trade (BWA);
Fred Teng, America China Public Affairs Institute (ACPAI);
Xu Bo, Chairman of the French "Friends of Wu Jianmin" Association.
Heads of multinational enterprises and trade organizations:
Sanders Capital, Piedmont Bank, JP Morgan, Deloitte, Kamsky Associates, Outwater, Donning Capital Management, Bain Capital, Carnegie Group, Medical Excellence, Boies Schiller Flexner and United Family Healthcare Group.
Related Events:
First Chinese Think Tank to Visit Europe since Pandemic
First Chinese Think Tank Visits Washington DC since Pandemic
New York: CCG Delegation's First Stop in the US
CCG Delegation of Experts Visits Singapore