China-India: Complex Interdependence in a Rising Asia
August 09 , 2022
---
Theme:
Time:
Location:
Form: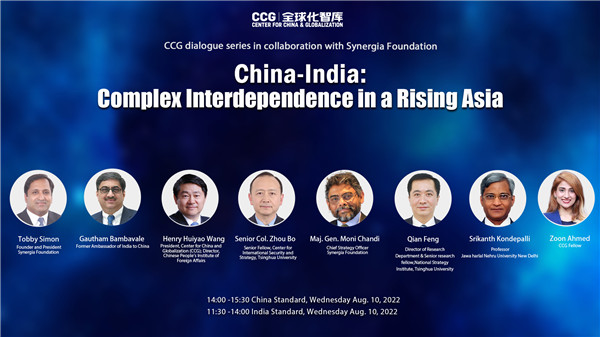 Since the outbreak of the COVID-19 pandemic and border clashes in May 2020, China and India have entered a new phase of complex interdependence and mistrust but also deepening and diversifying cooperation. Today the two Asian giants, accounting for over one-third of the world's population, have attained new heights in bilateral trade and spearhead multilateralism as members of BRICS, G20, Asian Infrastructure Investment Bank (AIIB), and the Shanghai Cooperaiton Organization (SCO). Yet, India's membership of the Quadrilateral Cooprdination Group (QCG), and most recently the Indo-Pacific Economic Forum (IPEF), and recent bans on Chinese telecom giants have aroused misapprehensions in Beijing. Simultaneously, China's enhanced engagement in South Asia, and border tesnions have served to caution decision makers in New Delhi. However, both China and India's firm stance against bloc politics amidst the Ukraine Crisis, and the upcoming face-to-face meetings between Xi and Modi, a new opportunity to revive the "Wuhan-Spirit" is in the horizon.
Amidst these developments, how can China and India address their existing misunderstandings to benefit economic cooperation and pragmatic domestic goals in the short and medium term? What is India's emerging role in the Indo-Pacific Economic Forum in the Asia-Pacific Region? How can India and China emerge as partners in China's proposed Global Development Forum and Global Security Initiative? What are the prospects and potential mutual gains from a "Pacific Dialogue on Economic and Regional Cooperaton" that includes both China, India and key regional stakeholders? How can the role of academic, cultural and people-to-people exchanges in bridging the existing trust deficit be enhanced?
Welcoming Remarks:
Tobby Simon, Founder and President, Synergia Foundation
Keynote Speakers:
Gautham Bambavale, Former Ambassador of India to China
Henry Huiyao Wang, President, Center for China and Globalization (CCG); Director, Chinese People's Institute of Foreign Affairs
Moderator:
Zoon Ahmed, CCG Fellow
Speakers (in speaking order):
Senior Col. Zhou Bo, Senior Fellow, Center for International Security and Strategy, Tsinghua University
Gen. Mani Chandi, Chief Strategy Officer, Synergia Foundation
Qian Feng, Director of Research and Development and Senior Research Fellow, National Strategy Institute, Tsinghua University
Srikanth Kondepalli, Professor, Jawaharlal Nehru University New Delhi
Wrap-up/closing
Biography
(In program order)

Tobby Simon is the Founder and President of Synergia Foundation, a strategic do tank which works to develop impactful insights  in the areas of geo-economics , geo-politics  and geo-security. Tobby has a Master's in Business Administration,  a university. He is a graduate of the Harvard Business School and a Research Associate at the Massachusetts Institute of Technology (MIT). He is currently pursuing his doctoral studies in International Security.
Gautam Bambawale worked in the Indian Foreign Service (IFS) for 34 years between 1984-2018. He has been India's Ambassador to Bhutan, Pakistan and China. He has headed the Indian Cultural Centre, Berlin. He was stationed in Washington D.C. during the Indo – U.S. nuclear deal. He has worked at the Prime Minister's Office. He has had 17 years of experience dealing with China, in various capacities. He is fluent in Chinese and German. He has an M.Phil in Economics from   the Gokhale Institute of Politics and Economics, Pune.
Dr. Huiyao (Henry) Wang is Founder and President of the Center for China and Globalization (CCG); Vice Chairman of China Association for International Economic Cooperation under the Ministry of Commerce; President of China Global Talent Society, Ministry of Human Resources and Social Security and Vice Chairman of China Public Relations Association; a Director of Chinese People's Institute of Foreign Affairs and a Director of China National Committee for Pacific Economic Cooperation, both organizations under the supervision of Ministry of Foreign Affairs; a member of Advisory Committee of the Center for Global Competence Development, Tsinghua University; and a Steering Committee Member of Paris Peace Forum and Metropolis International. He also sits on the Advisory Board of Duke Kunshan University and Richard Ivey Business School.Dr. Wang pursued his PhD degree at University of Western Ontario and University of Manchester. He was a senior fellow at Harvard Kennedy School and a visiting fellow at the Brookings Institution. He has taught at Peking University, Tsinghua University and Richard Ivey Business School as an adjunct professor, and authored and edited nearly 100 books in both Chinese and English on global relations, global governance, global migration, China outbound and inbound investment and trade, Chinese Diasporas and Chinese think tanks etc.
Senior Col. Zhou Bo (retired) started his military service in 1979. He served in different posts in Guangzhou Air Force Regional Command. From 1993 he worked successively as staff officer, Deputy Director General of West Asia and Africa Bureau and then Deputy Director General of General Planning Bureau of the Foreign Affairs Office of the Ministry of National Defense of China, Chinese Defense Attaché to the Republic of Namibia and Director of the Centre for Security Cooperation in the Office for International Military Cooperation, Ministry of National Defense. He is now a senior fellow of Center for International Security and Strategy Tsinghua University.Zhou Bo has published more than 100 essays and opinions in English in Foreign Affairs, Foreign Policy, The New York Times, The Wall Street Journal,The Diplomat, Financial Times, The Economist (by invitation), The Australian, Die Zeit, South China Morning Post, Strait Times, China~US Focus and China Daily, etc. He had interviews with BBC,NBC, CNBC, Euronews, Al Jazeera, Time, The Economist, ABC (Australia), Euronews, Channel NewsAsia (Singapore), Russia Today,NHK, and CGTN. He speaks as a PLA delegate at Shangri-La Dialogue in Singapore and at Munich Security conference. He is supervisor to foreign post-graduate officers at PLA National Defense University.Zhou Bo is an under-graduate of Air Force Engineering College and a postgraduate of St Edmund College of Cambridge University (Mphill in International Relations). He was a visiting fellow to the Land Warfare Studies Centre of the Australian Army in 1999. He has attended various courses in Harvard University, Westminster University, PLA National Defense University, PLA University of Science and Technology for the National Defense and PLA Army Command College (Shijiazhuang).
Gen. Mani Chandi is a retired indian army officer, who brings to the foundation skills of a soldier, an engineer, a counterterrorist commando, a un peacekeeper and a security professional. A former major general and inspector general of the elite national security guard, he is an enthusiastic analyst, an articulate speaker and a prolific writer.
Qian Feng, Director of Research Department & Senior research fellow,National Strategy Institute, Tsinghua University.Qian Feng is also the former Chief of India Bureau ,People's Daily, the Executive member of Chinese Association for China South Asian Studies, Member of the China-South Korea Future Relations Development Committee, Expert for China International Engineering Consulting Corporation (CIEC),etc.
Dr Srikanth Kondapalli is Professor in Chinese Studies at Jawaharlal Nehru University. He is also an Honorary Fellow at Institute of Chinese Studies, Delhi and Research Associate at Centre for Chinese Studies, University of Stellenbosch, South Africa. He served at Institute for Defence Studies & Analyses, New Delhi for nearly 12 years. He is educated in Chinese studies in India and China with a specialisation in Modern Chinese History in Master of Arts at Osmania University at Hyderabad, Master of Philosophy and Doctor of Philosophy in 1989 and 1995 respectively in Chinese Studies Division of School of International Studies, Jawaharlal Nehru University, New Delhi. He learnt Chinese language at Beijing Language & Culture University and was a post-Doctoral Visiting Fellow at People's University, Beijing from 1996-98. He was a Visiting Professor at National Chengchi University, Taipei in 2004. He has published three books, two monographs, co-edited a volume and several articles in edited books and in national and international journals and newspapers. He has presented several research papers at national and international conferences in India, China, Japan, Singapore, South Africa, Taiwan, United Kingdom and United States and lectured at Indian academic, defence, and media establishments. He is a guest faculty member at College of Naval Warfare, Army War College, Indo-Tibetan Border Police Academy and Border Security Force Academy.