[China Daily] Ambassadors share insights in new book
March 16 , 2022
---
Many countries' ambassadors to China have expressed their views about and experiences in the country in a book that was released Tuesday.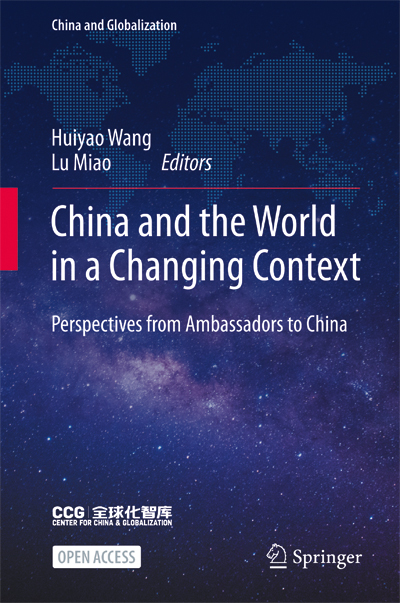 China and the World in a Changing Context
Perspectives from Ambassadors to China
Editors: Huiyao Wang, Lu Miao
Published in March, 2022
ISBN: 978-981-16-8085-4
Publisher: Springer Nature Publishing Group
The book, China and the World in a Changing Context, brings together the insights of ambassadors to China on bilateral and multilateral issues such as trade and investment, regional economic integration, sustainable development, technological innovation and entrepreneurship.
This book is divided into three parts: mutually beneficial relations, facing global challenges together and creating a common future. Over 20 ambassadors attended a seminar launching the book in Beijing.
Wang Huiyao, founder and president of Center for China and Globalization and one of the book's editor's, said "a globalized world is a core component of the creation of a peaceful and sustainable world order that contributes to the mutual benefit of all mankind".
This book seeks to create a balanced global perspective by gathering the views of highly influential policy scholars, practitioners and opinion leaders from China and around the world, he said.
Osman Rahamtalla, ambassador of the African Union to China, said the country, as a consistent partner of Africa and its member states, plays a key role in supporting the empowerment of youth in Africa through knowledge-sharing, entrepreneurship, culture and exchanges.
Luis Diego Monsalve, ambassador of Colombia to China, said the political and economic relationships between both countries have been full of challenges, adapting many times to the changing context of the world, but at the same time there have always been many opportunities.
"We have been working closely in many fields that are important for the development of each country to strengthen this true and lasting friendship," he said.
From China Daily, 2022-3-16