CCG New Year Message for 2022
January 01 , 2022
---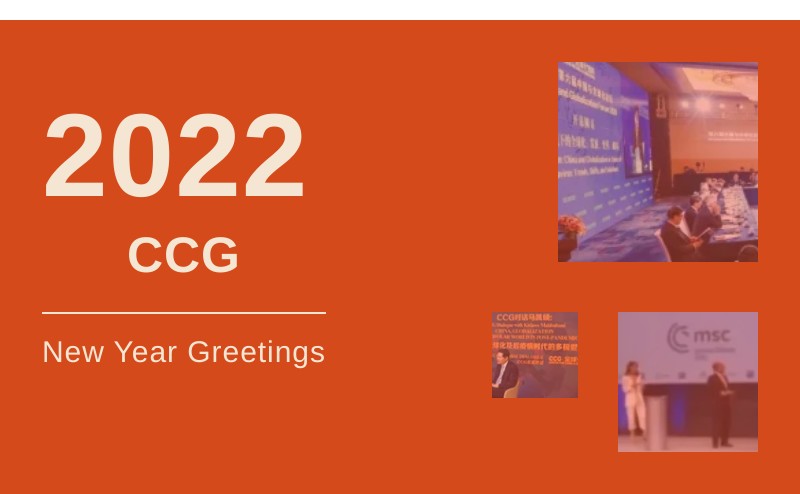 Looking back at 2021, the past year brought the world yet more covid variants, grinding climate and geopolitical anxiety and endless fatigue about the pause in globalization. At a time of heightened US-China tensions and intensified frictions between China and the west, CCG's work is more important than ever because bridge-building matters. We must understand the world and vice versa, and find ways to work together. With 2022 set to start, we are proud to showcase our achievements and looking forward to a new year of more exciting endeavors.
Amid an ongoing pandemic and shifting global context, CCG continued to build innovative modes of communication between China and the outside world via its convening power. In the past 12 months, we hosted more than 100 forums, roundtables, seminars, symposiums, lectures and workshops, including CCG Global Dialogue series, annual China and Globalization Forum, China Inbound-Outbound Forum, China Global Think Tank Forum, Global Young Leaders Dialogue Forum, West Lake Dialogue, Fuchunjiang International Forum, ambassadors' roundtables co-organized with UN China, L'Organisation internationale de la Francophonie (OIF), Pacific Alliance, as well as global events we collaborated with our partners such as WTO Public Forum, Foreign Policy Community of Indonesia's Global Townhall, South China Morning Post's China Conference, China Institute's Executive Summit, EPC's EU-China Think Tank Exchange, and two track-two discussions with Singapore NUT's RSIS, CSIS and RAND.
These cutting-edge communication platforms brought together over 600 international guests including think tank experts, global opinion leaders, former heads of state, ambassadors and dignitaries, business leaders, leading policy scholars, and foreign policy practitioners to discuss and debate the most pressing global issues ranging from Sino-US, Sino-EU relationships, multilateral trading rules, global development financing and infrastructure, to mobility and vaccine cooperation and talent migration. Hosted by CCG president Dr. Henry Huiyao Wang, CCG Global Dialogue series welcomed world-class speakers such as Pascal Lamy, Thomas Friedman, John Thornton, Martin Wolf, Susan Thornton, Graham Allison, Joseph Nye, Angus Deaton, Wendy Cutler, Neil Bush, Kerry Brown, Tony Saichs, Adam Posen, J Stapleton Roy, David M. Lampton, Stephen Roach, Lord Jim O'Neill, Lord Mandelson, John Hamre, among others, reaching tens of millions of internet viewers via Chinese and international social media platforms.
2021 also saw CCG's monumental publication of Consensus or Conflict? China and Globalization in the 21st Century, an English edited volume by Springer-Nature. Among the 38 contributors are Nobel-winning economists such as Edmund Phelps and Angus Deaton and leading policy advisors such as Pascal Lamy and Joseph Nye. With endorsements from Sir Danny Alexander, Sir Peter Bonfield, Sir Andrew Cahn, Tim Clissold, Sir Angus Deaton, Jon Geldart, Lord Philip Hammond, Lord Peter Mandelson, Rana Mitter, Sir John Peace, Sir Mike Rake, and John Russell, this open-access book has scored over 130,000 downloads worldwide. In addition, CCG translated Singapore's leading voice on international relations Kishore Mahbubani's book Has China Won? The Chinese Challenge to American Primacy into Chinese. 10 CCG reports were released last year including China and the United States in the Biden Era: Trends and Policy Responses; Trends in the US-China Relations: Implications for MNCs in China; E-Commerce Going Global: Challenges and Opportunities; University Alumni Insights: Career Development Prospects for Chinese and Global Graduates 2021; A New Journey for a NEW Era: An Action Plan of Education for International Understanding.
Launched in 2020, the Global Young Leaders' Dialogue (GYLD) program came to fruition in 2021 with 7 China Tours, the inaugural GYLD Annul Forum, the WiseDemo Campaign, and monthly meetups under its belt. 100+ GYLD members drawn from 50+ countries participated in events and activities that helped them explore China's cultural and governance systems and brainstorm ideas and solutions to today's global challenges. The success of the GYLD program culminated in a congratulatory letter from President Xi Jinping encouraging the young achievers to play a positive role in global affairs and cross-cultural communication.
CCG continued its global outreach efforts throughout the past year by taking part in some of the most influential international conferences such as as the Munich Security Conference, Paris Peace Forum, Berlin Foreign Policy Forum, Harvard China Forum, Astana Club Meeting, Les Rencontres ?conomiques Aix en Seine, FT's Trade Secrets Summit, Budapest Eurasia Forum, Global Town Hall, Bergedorf Round Table, SCMP's China conference, etc. to engage decision-makers, policy advisors and scholars, business legends outside of China on the country's role in global affairs.
As we recognize all that CCG has offered this year, we anticipate a very productive year of 2022 in which we will witness Beijing's Winter Olympics and the epical 20th CPC Party Congress amidst the global concern over new covid variants and a number of key elections in the major powers. We thank you for being part of our community and your unwavering support for our vital work. We wish you success and happiness, and may year 2022 award you with more growth and progress.
Keyword