CCG holds Francophonie Ambassadors Symposium
October 08 , 2021
---
On October 8, 2021, CCG hosted the Francophonie Ambassadors Symposium "Francophonie, China and Sustainable Development" at its headquarters. The tragedy caused by the pandemic last year brought home how making peace with nature is more urgent than ever and how the 2030 SDGs point a way to a sustainable and inclusive recovery. As key milestone events for sustainability such as COP15 in Kunming increasingly call for more inclusive and networked multilateralism, China and the Organisation Internationale de la Francophonie (OIF) are well-positioned on the international agenda.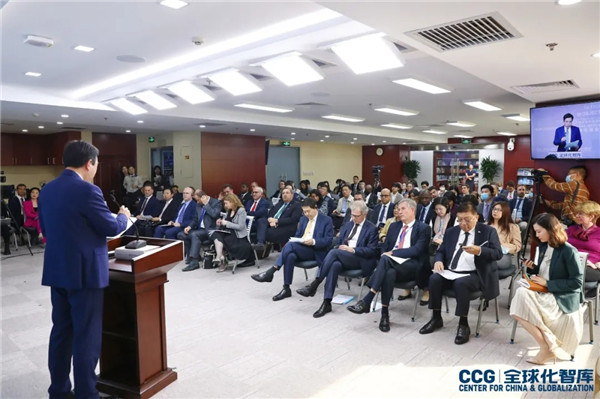 Topics such as global governance, green infrastructure, reducing inequality, as well as cultural and sports exchange were explored during the symposium. Attendants included 50 ambassadors and representatives from Francophone countries and regions including Switzerland, France, Madagascar, Gabon, Mauritius, Lebanon, Cambodia, Belgium, Mexico, Egypt, Romania, and Quebec; and policy advisors, government officials, business executives and IO representatives.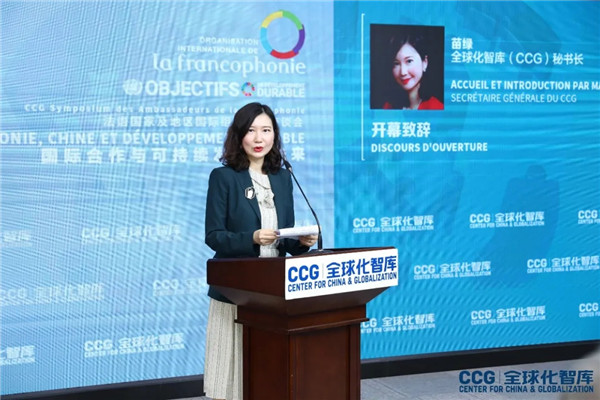 Dr. Miao Lu, CCG secretary-general, welcomed all the guests on behalf of CCG and said that 2021 marks the 50th anniversary of China's restoration of its legal seat at the United Nations. In July this year, China issued "China's VNR Report on Implementation of the 2030 Agenda for Sustainable Development", sticking to the path of implementing the SDGs. Further, China has announced goals of "carbon peak" and "carbon neutrality", echoing the Paris Agreement in tackling climate change, as well as alleviated extreme poverty and has recently set up the agenda of "common prosperity." Biodiversity is also an important area.
With the recent COP 15 in Kunming, China is highly committed to multilateral partnerships in preventing the planet's biodiversity loss. Ever since 2008, CCG has been focusing on studying international relations, globalization and multilateralism, providing a platform for China and the world to communicate, and supporting the process of achieving SDGs.
Opening Speeches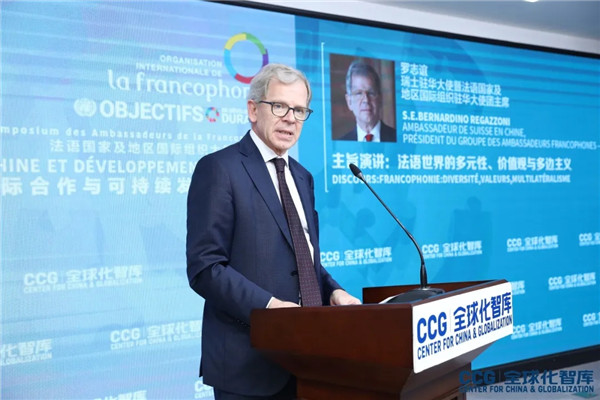 H.E. Bernardino Regazzoni, Ambassador of Switzerland to China and President of the Group of Francophonie Ambassadors in China, gave a speech entitled "Francophonie, diversity, values, multilateralism". He pointed out that there are 300 million French-speaking people in Africa, Europe, America and Asia, and this number is still growing. French-speaking countries and regions are very active in China, with 140,000 Chinese studying French and 150 universities that possess a French department, and both numbers are growing. Maintaining unity among diversity is crucial to the OIF, which applies to the political activities of the organization, such as promoting common agenda and advancing actions based on our own different histories, cultures and economic backgrounds. Climate change and biodiversity are challenges of globalization. Therefore, we need to take collective action with a common vision, especially with China, which has become a very important partner in the international arena in pursuit of sustainable development.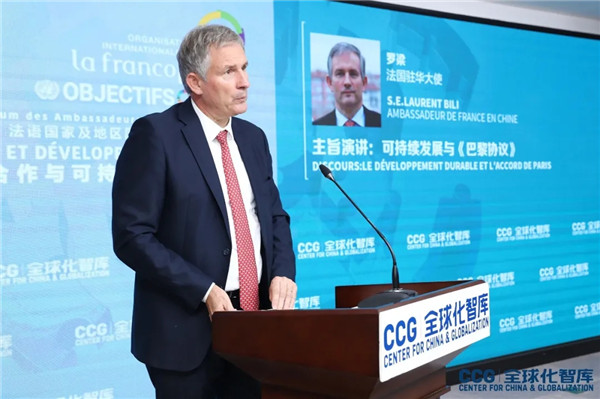 H.E. Laurent Bili, Ambassador of France to China, gave a speech on "Sustainable development and the Paris Accord". He said that France and China have carried out a long-term active partnership in various aspects of sustainable development, which has been a subject of discussion between President Macron and President Xi Jinping every time they speak. He noted that on November 6, 2019, the two heads of state jointly launched "Action Plan for Franco-Chinese relations – Declaration (Beijing)". There have been many exchanges on technology and pragmatic developments in the cooperation between relevant institutions in France and China. French and Chinese officials have maintained a friendly relationship and there have been pragmatic developments between the governments and companies of the two countries. The Paris Accord has taught us that reaching a multilateral agreement call for the spirit of courage and pursuit of excellence to be embraced by the world's major countries. Amid differences, Bili said the international community must maintain the momentum of dialogue on the issue of climate change.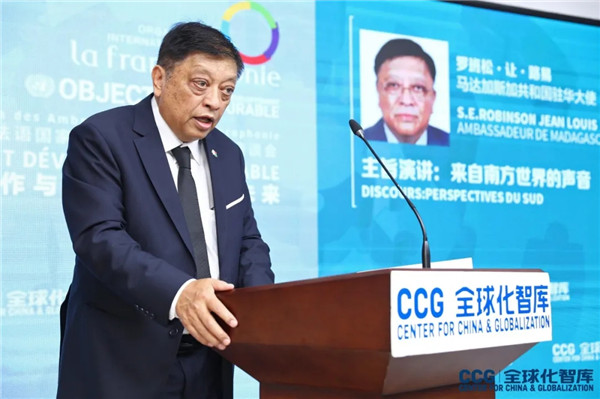 H.E. Robinson Jean Louis, Ambassador of Madagascar to China, gave his opening speech on "Perspectives from the South". He suggested that the development of the South should be considered in conjunction with the UN's 2030 Agenda and they deserve proper, fast, and sustainable development which can be advanced through cooperation with countries in the OIF. Most countries in the South are lagging behind in the path towards achieving the SDGs and these countries are located in sub-Saharan Africa. The 2020 report shows that the number of children receiving an education is on the increase, and infectious diseases such as AIDS are on the decline, drinking water is also being improved, and women's participation in politics has also been improved. Yet it also revealed the negative effects of the COVID-19 pandemic, which affected poverty and hunger alleviation and the realization of people's health, well-being and quality education.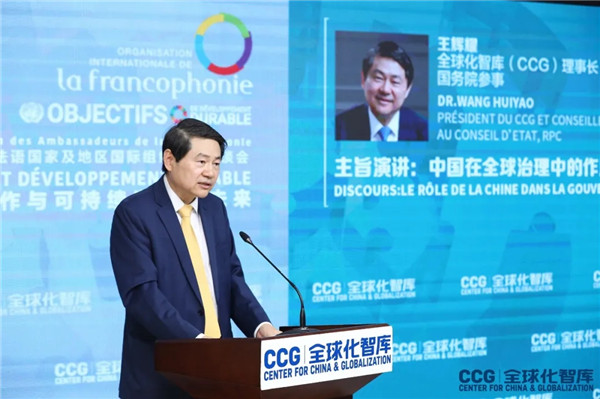 Dr. Wang Huiyao, CCG president, in his speech "China's role in global governance" said that in the era of globalization, more spirit of multilateralism is needed and the OIF has been embracing that spirit. Firstly, China, Europe, and the US, should strengthen their collaboration on global governance issues and set up a trilateral cooperation mechanism on climate change. Secondly, China can OIF can establish partnerships in third-party market cooperation, in order to help advance the development of developing countries. Thirdly, infrastructure can be the starting point for cooperation between China and OIF. Fourthly, joining hands to tackle climate change is the most important for the whole of humankind. China and OIF can carry out more partnership work related to carbon peak and carbon neutrality, so as to push initiatives on green economy and clean energy between the South and North.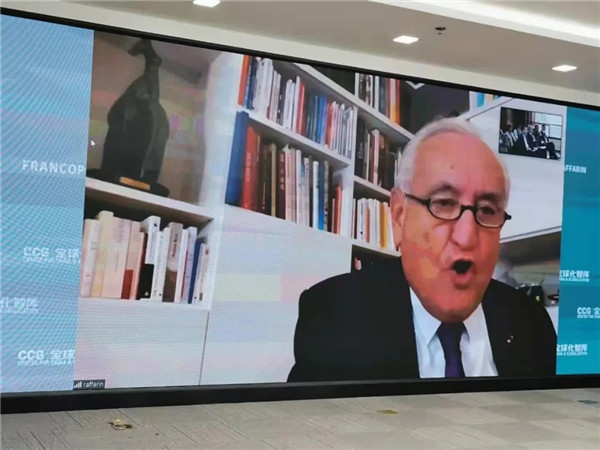 H.E. Jean-Pierre Raffarin, former French Prime Minister, delivered a special speech via video link. He said that global consensus should not only involve country leaders, but also the public. Mobilizing the public, especially the young people, who are very sensitive to the situation, is important, because it involves the future of mankind. OIF countries share the willingness to collaborate, especially when it comes to African development, on which we must take steps further, as African development is our top priority. He said we should consider our approaches to African development from a pluralist perspective and take climate change into account.
Panel 1: Meeting the green infrastructure challenge: the role of technology, finance, standards and the private sector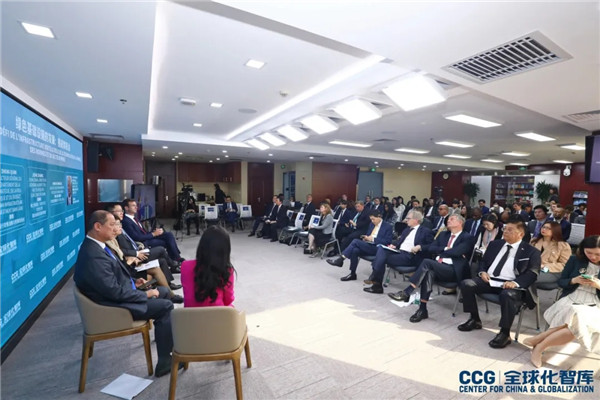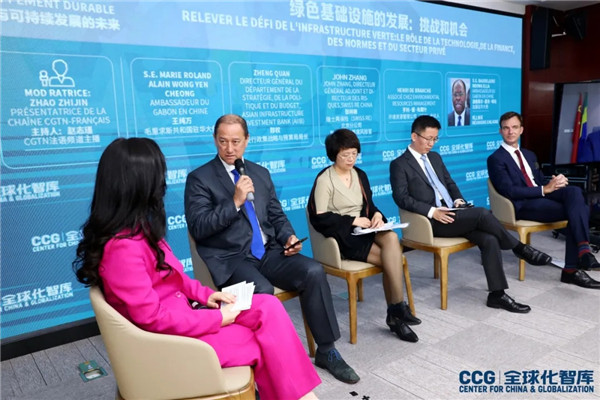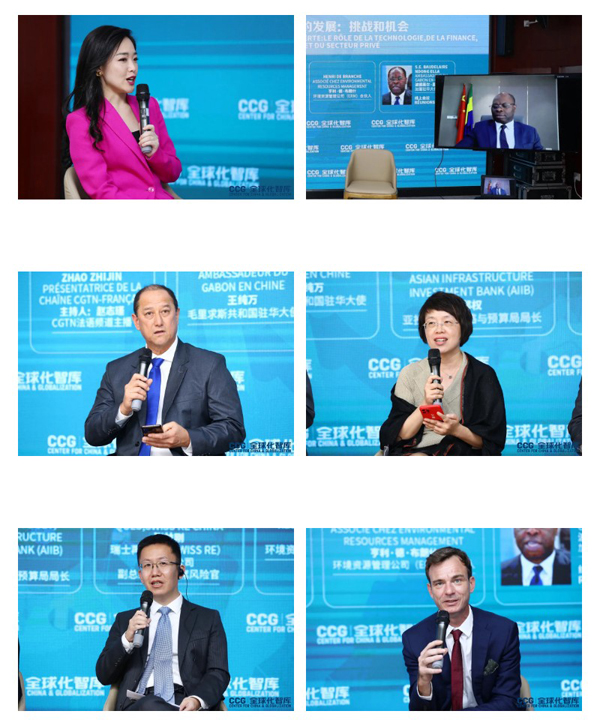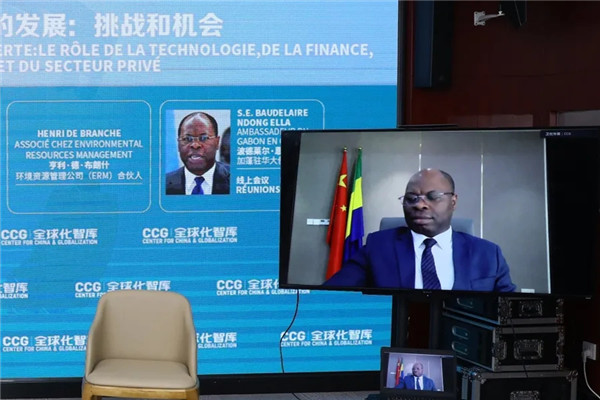 According to, H.E. Baudelaire Ndong Ella, Ambassador of Gabon to China, infrastructure is a pillar of the economy and the foundation of human economic and social activities. Green infrastructure is very different from grey infrastructure as it improves the quality of life, biodiversity and environment, hence remains crucial in averting climate catastrophe. More resources should be committed to green infrastructure and governments should make bigger efforts in setting green agenda and upon which to take actions. Issues in biodiversity protection and combatting climate change such as funding and new technology are to be involved by the private sector, too.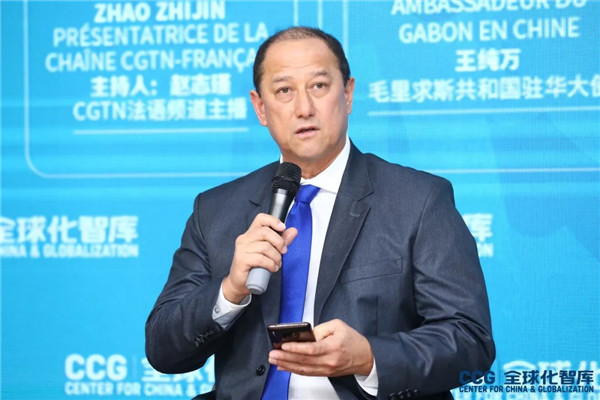 H.E. Wong Yen Cheong, Ambassador of Mauritius to China, revealed that Mauritius has formulated many policies to adapt to climate change and will reduce emissions by 30% by 2030 and is in the process of building a low-emission economy. Further, he noted that Mauritius has decided to take more effective solutions to climate change: it will implement a comprehensive approach of management in terms of tackling pollution, coastline protection while further improving its biodiversity to build a better ecosystem and mitigate the negative effects of climate change.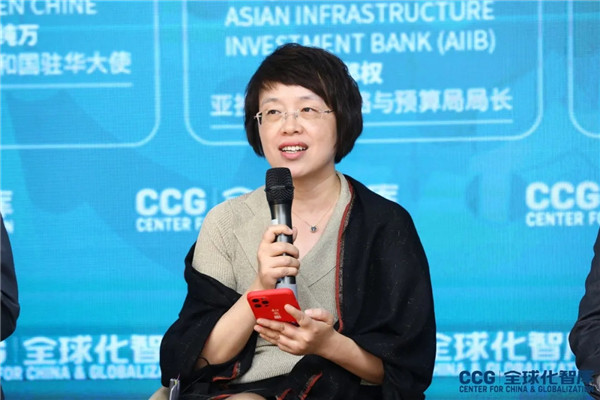 Quan Zheng, Director General of the Strategy, Policy and Budget Department, Asian Infrastructure Investment Bank (AIIB), confirmed that AIIB is committed to low-carbon transformation and providing green infrastructure to support its member countries to achieve sustainable development and fulfill the Paris Accord. In this regard, AIIB dedicates four key areas – green infrastructure, regional cooperation, technology and mobilization of private capital. As a multilateral development bank, AIIB participates in the green finance working groups consisting of many other global and regional development banks, formulating the methodology and investment guide in accordance with the Paris Accord objectives, as well as setting agenda for COP 15 and COP26.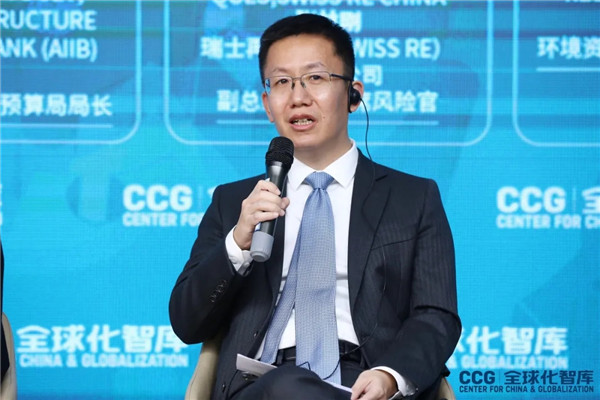 John Zhang, Deputy General Manager and Chief Risk Officer, Swiss Re, Beijing, introduced the role of the insurance industry in advancing green SDGs. Firstly, underwriting is the foundation of an insurance company. Aside from revitalizing society, as a private company, Swiss Re has been partnering with governments in empowering society by building resilience and reducing the negative effects brought by natural disasters. Secondly, many obstacles lie in the path to achieving SDGs and insurance companies play a crucial role in post-accident or disaster recovery. For instance, typhoons might cause damage to facilities of offshore wind power and insurance companies can enhance the industry's resilience and help with recovery.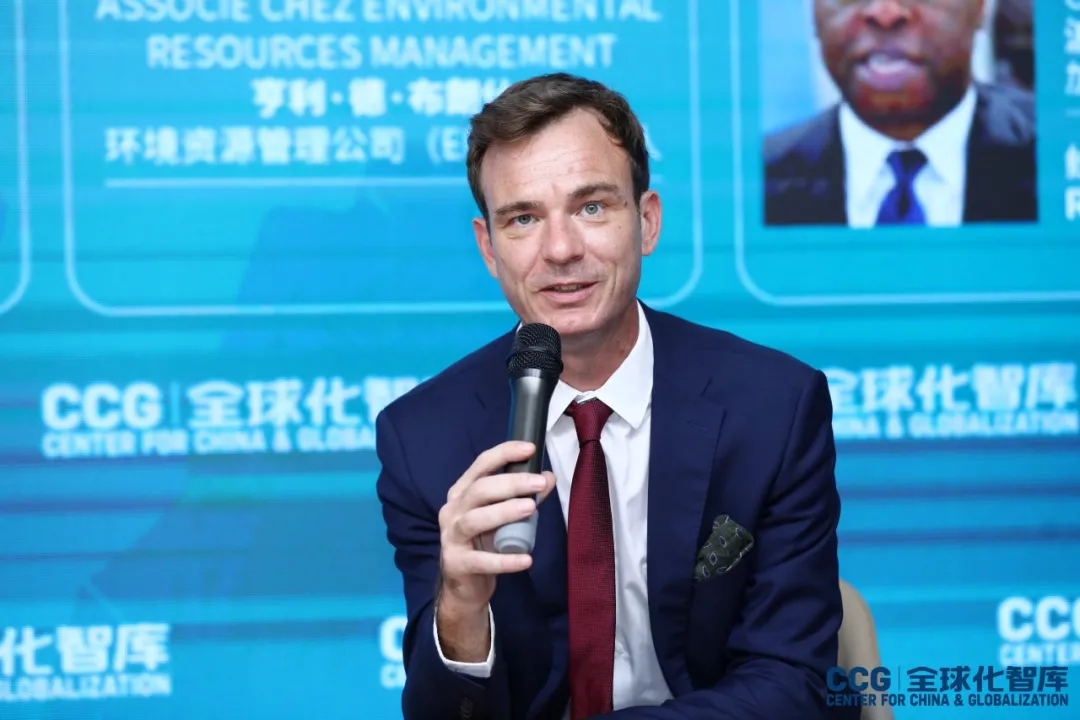 Henri de Branche, Partner at Environmental Resources Management (ERM), said that investors should be encouraged to better understand the environmental needs of the countries where they invest in projects. Objectives and standards should be transparent and investors     bear responsibilities, too. Relevant agreements should be signed as they enable subsequent measures and actions to be monitored. No matter what the projects are, it's crucial to make sure their role in improving the well-being and sustainable development of these places.
Panel 2: Reducing inequalities to achieve SDGs (rural-urban, digitalization, multilingualism, gender, sport and health)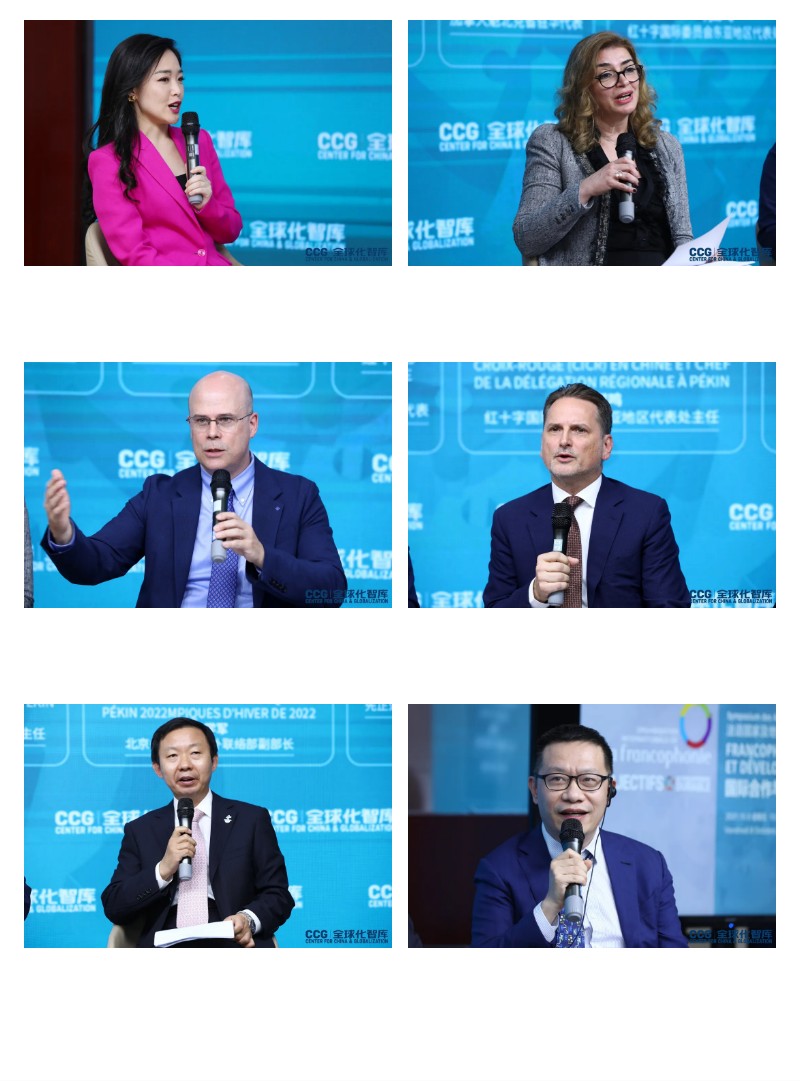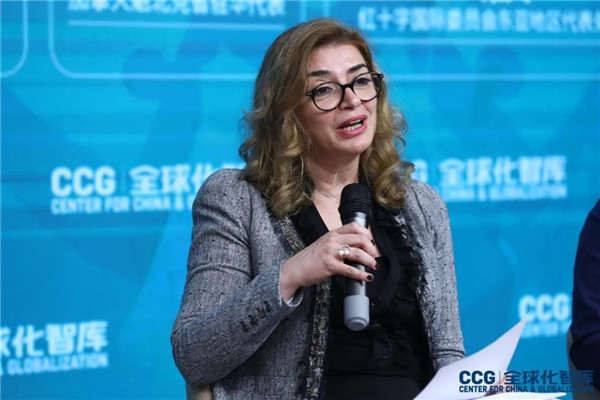 H.E. Milia Jabbour, Ambassador of Lebanon to China, said that Lebanon has been a French-speaking country since before the establishment of OIF and was a founding member of this organization. In 2017, Lebanon established an international commission to oversee international cooperation on inequality issues. The role of social groups in Lebanon is very active in the Middle East. There are organizations and institutions in each industry to coordinate with the government and monitor the work of reducing inequality. Moreover, high-quality education is very important, as well as empowering everyone with the right to receive an education. The whole of Lebanese society should make efforts to reduce inequality, especially to bridge the gap between the rich and the poor as well as inequality between men and women. He also said that efforts should be made to enable everyone to adapt to technological changes for the purpose of poverty reduction and improvement of living conditions.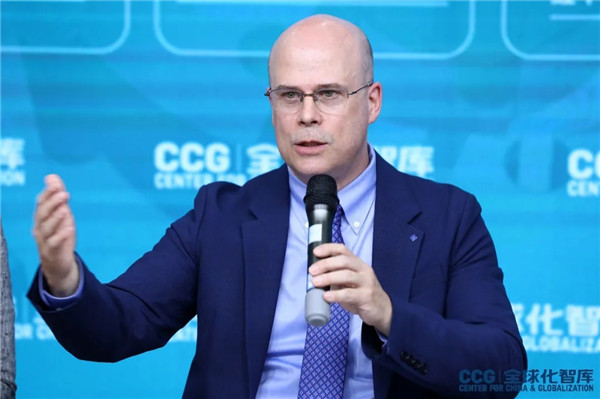 Michel Constantin, Representative of Quebec to China, shared the experience of the Quebec government with the OIF, especially in regard to building networks. To strengthen the institutionalization of the OIF and achieve SDGs, developing networks is crucial, such as networks for media communications. Embedding different people in the same network can reduce costs and enable us to share the best lessons of experience, making it an effective means to achieve the SDGs.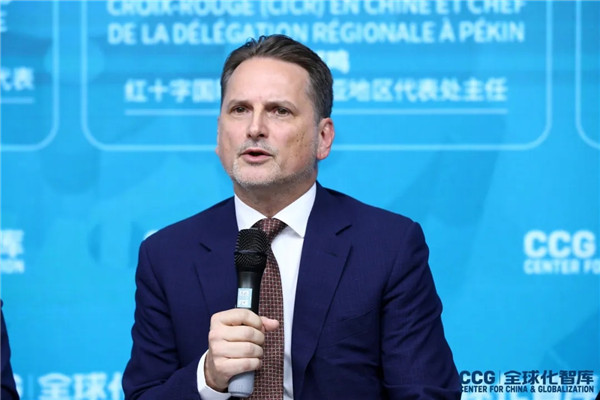 Pierre Krähenbühl, Special Envoy of the ICRC's President to China and Head of Regional Delegation Beijing pointed out that ending poverty, zero hunger, health and education lie at the top of the UN's 2030 Agenda and China's achievement in these realms are to be praised. The ICRC aims to eliminate the negative impacts of wars on humanity. The victims of wars often have to leave their home countries and are in need of humanitarian aid. The ICRC wants to ensure fairness in vaccination. Amid the armed conflicts in some parts of the world, an even distribution of vaccines should be ensured, which would advance the path to the SDGs and guarantee the health of everybody.
Wan Xuejun, Deputy Director General, International Relations Department of the Beijing Organizing Committee for the 2022 Olympic Games, said that the 2022 Olympic Games places the pursuit of SDGs high in its agenda.  In May 2020, the "2022 Olympic and Paralympic Winter Games Sustainability Plan" was released, which reflects the Beijing 2022 mission of being "green, open, inclusive and clean" in line with eight priorities. One, prioritize ecological conservation in venue construction and utilization – make full use of existing venues and temporary infrastructure; two, advance low-carbon venue construction; three, use carbon dioxide as a refrigerant; four, demonstrate ultra-low-energy models; five, utilize low-carbon energy; six, promote low-carbon transportation; seven, encourage the public to use digital technology to track their low-carbon activities; eight, promote the long-term development for the region.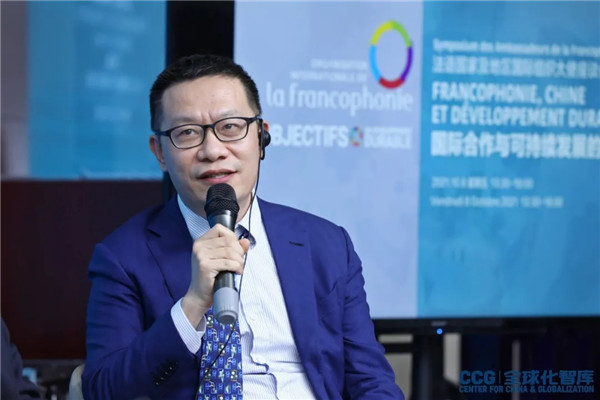 Lance Wang, President of Syngenta Group China, said that due to the fast development of urbanization, the development of rural areas is in a decline and farmers are facing many challenges. Firstly, the input-output ratio is relatively high. The production of soybeans and corn in China is only 60% of that of the US. Secondly, the prices remain low and the value chain remains long. The third is the capital flow – as many risks and uncertainties lie in agricultural production and farmers do not possess assets to obtain mortgages. He said that the upgrade and transformation of China's agricultural sector is crucial to rural revitalization and lies as the most important piece in the puzzle of the great rejuvenation of the Chinese nation. The whole society, including companies, government, and organizations like ICRC, AIIB and OIF, is required to join efforts in rural revitalization.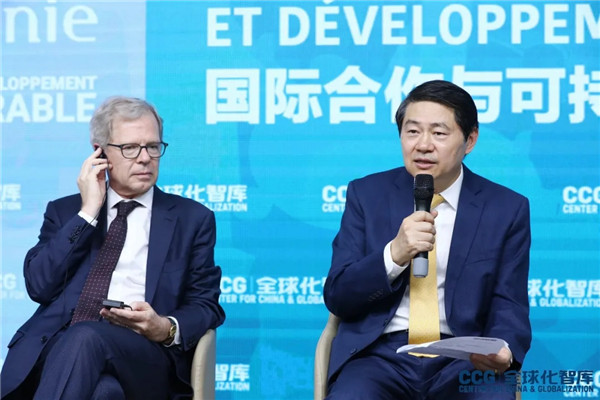 Concluding remarks were made by H.E. Bernardino Regazzoni and Dr. Wang Huiyao. H.E. Regazzoni said that the symposium has embraced the "unity in diversity" spirit of OIF countries. Dr. Wang Huiyao said that OIF and China share similarities in that they are dynamic communities with cultural and linguistic richness and diversity. More exchanges should be encouraged between China and OIF and multilateralism should be embraced further with new angles in the future.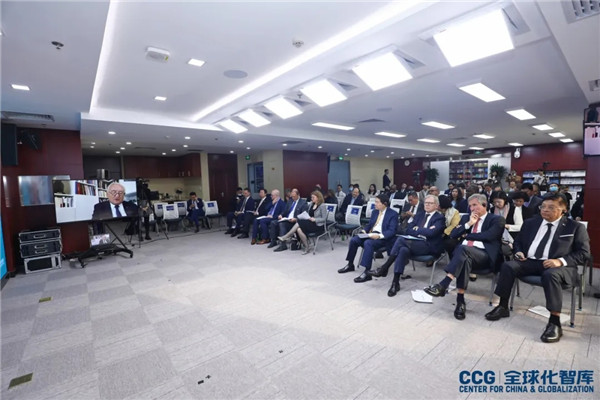 As one of the world's top 100 Chinese non-governmental think tanks, CCG has been actively engaging in conducting multilateral research and advancing multilateral activities. Through its role in promoting non-governmental exchanges and "Track II Diplomacy", CCG has become an important platform to aid mutual understanding between China and the rest of the world.
On December 8, 2020, the Ambassadors Roundtable on "China and the World in the Period of China's 14th Five Year Plan" was hosted by CCG. New opportunities for international cooperation in the 14th Five-Year Plan and ways to strengthen cooperation between China and the African Continental Free Trade Area (AfCFTA) were discussed by 60 countries' diplomats. On July 30, 2021, another Ambassadors Roundtable "Post-pandemic global trade and mobility of the world" were held on CCG's 7th China and Globalization Forum.
Keyword