[Global Times] New book explains how consensus, not conflict, is a way forward towards globalization amid accelerated competition
October 13 , 2021
---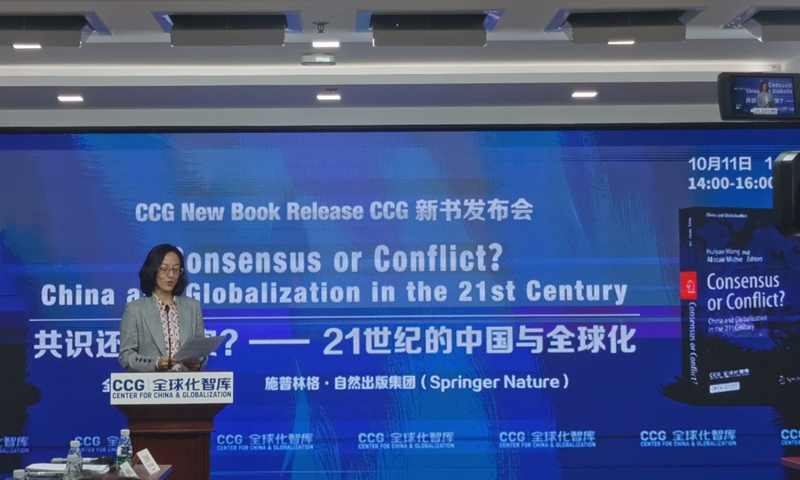 the CCG's new book Consensus or Conflict? China and Globalization in the 21st Century on Monday Photo: Hu Yuwei/GT
What is the future of globalization in an era of stricken economy and rising unilateralism and populism? How can China work with other countries to fit in the trend of globalization? How can countries handle conflicts, reach consensus and form healthy relations of competition? The latest book compiled by China's leading think tank Center for China and Globalization (CCG) brings together leading international scholars and policymakers to explore the challenges and dilemmas of globalization and governance in an era increasingly defined by economic crises, widespread populism, retreating internationalism, and a looming cold war between the United States and China.

The book titled Consensus or Conflict? China and Globalization in the 21st Century provides a diversity of views on those widely concerned topics such as global governance, climate change, global health, migration, financial market, and sustainable development.

Overall, 35 international experts contributed their chapters, including Pascal Lamy, the former head of the World Trade Organization (WTO), Joseph Nye,  former dean of the Harvard Kennedy School of Government who coined the term "soft power" in the late 1980s, and Edmund Phelps, American economist and recipient of the 2006 Nobel Memorial Prize in Economic Sciences.

In the book, Joseph Nye proposes that the US should create a "COVID Marshall Plan" to strengthen global healthcare systems. Such leadership could enhance US' 'soft power' and by 2030 have a similarly significant geopolitical effect as the original Marshall Plan.

Edmund Phelps adds that if China is to make the leap from a middle-to-high-income country, then it must develop indigenous innovation and continue improving its institutions.

William Achauer, Executive Editor of the book's publisher Springer Nature, suggested at the book's launching session on Monday that its content revealed that China, unlike the Soviet Union, is not only a socialist superpower, but also a highly successful national identity. As a new country, China's ancient civilization is very successful, a perfect combination of Confucianism and Marxism. He called for more sober views from the West on China's development.

He Yafei, another contributor, and former Deputy Minister of Foreign Affairs of China, believes that the most serious global challenge today is the COVID-19 pandemic which is intertwined with geopolitics and has unprecedented impact on the international order. The international order naturally needs to be restructured and countries need to rethink their own positioning at the current stage.

At the book launch, Zhu Guangyao, the former vice minister of finance, pointed out that mankind is now facing the impact of a new systemic crisis, especially in the economy, climate and energy.

Financially, the global economy faces two risks. One is the policy risk of the US, and the other is the impact of oil prices and energy crisis. And referring to climate change, extreme weather across the US, Europe and various regions in China is an actual alert for humankind, said Zhu.

He raised three key issues to deal with the climate change crisis: carbon market pricing, green investment and technology transfer, adding that "only when consensus is reached on these three issues can climate change be properly addressed."

In his contribution to the book, Shi Yinhong, Director of the Center for American Studies at Renmin University of China, argues that the conflict between China and the US apparently stopped escalating compared to where it was eight months ago. However, it is unlikely to de-escalate significantly in the foreseeable future.

Shi explains three main reasons behind the de-escalation of the conflict between two countries, especially after the American troop's failure in Afghanistan. "First, Biden needs to deal with domestic crisis as well as serious strategic setbacks for his allies. Second, the US has a serious shortage of available financial resources. Third, there are concerns that the Sino-US conflict may increase the possibility of military conflicts in Taiwan and the South China Sea," Shi argued.

In terms of trade policy between the two, Shi said there will be a significant partial de-escalation of the trade war but conflicts will remain and new battlefields may surge as a result of US finding new tools. All of this is evidence that conflict has arisen and consensus-building will be very difficult in the future.
From Global Times, 2021-10-13