【Newsgd.com】How can the world achieve "COVID peace"?
September 14 , 2021
---
At the 13th BRICS summit, Chinese President Xi Jinping put forward 5 proposals for BRICS practical cooperation amid a once-in-a-century pandemic and unprecedented global changes, including strengthening public health cooperation in the spirit of solidarity and strengthening international cooperation on vaccines in the spirit of equitable access for all.

Xi also announced that on top of the 100 million USD donation to COVAX, China will donate an additional 100 million doses of vaccines to fellow developing countries within this year.

"I've often said if the world had only listened to President Xi Jinping last year, and he pointed out that the only way forward in effectively combating pandemic was international cooperation," said Gert Grobler, former South Africa's ambassador to Spain, Japan and Madagascar, in an interview with GDToday & Newsgd.com. However, "the Americans went their own way and international solidarity hasn't happened."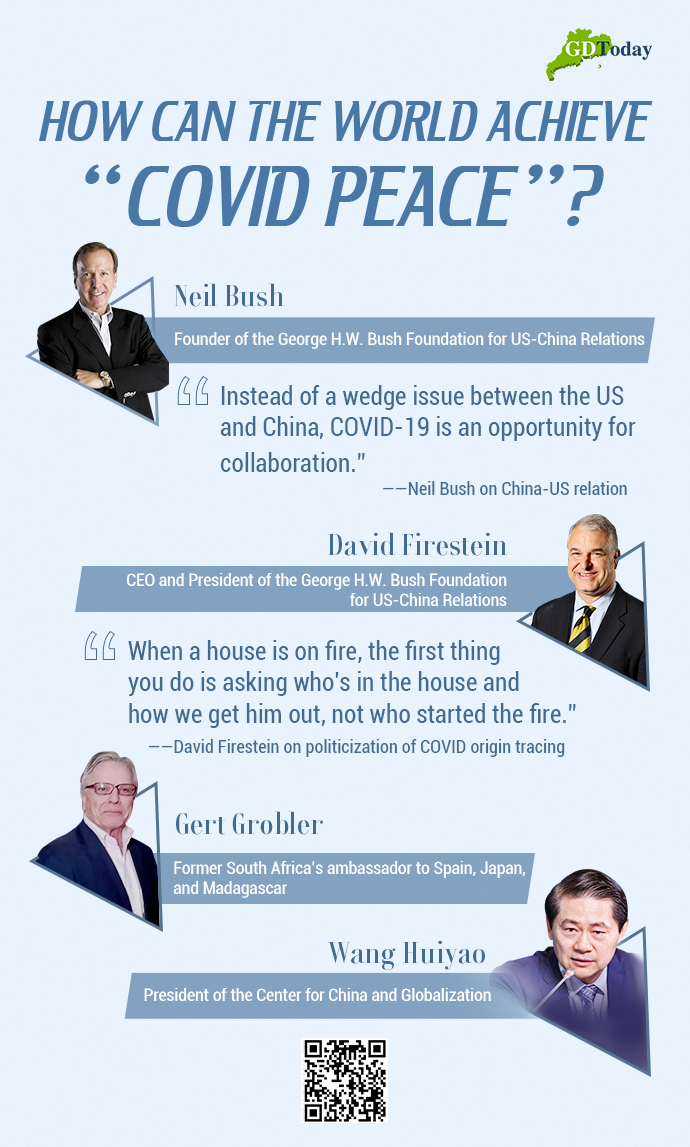 The US' obsession with blame games hampers global anti-pandemic progress
As of September 8, COVAX has delivered 240 million doses to 139 countries, which is still far less than its initial goal of distributing 2 billion doses in 2021.
In a recent statement, COVAX pointed out that only 20% of people in low- and lower-middle-income countries have received their first dose of vaccine, while the proportion in high- and upper-middle income countries has reached 80%. The international inequality of vaccination is hampering global recovery from the pandemic.
"Only 2% of the entire population of Africa has been vaccinated," said Gert. "The virus has seriously affected many sectors in Africa, including the economies of various countries."
When regions like Africa are struggling for a dose of vaccine and global economy has been wrecked by the pandemic, the US, as one of the major countries in the world, seems to be more obsessed with provoking China and playing blame games.
In terms of big agendas such as addressing the challenges of pandemic and climate change, "clearly the two largest economies in the world have to work together," said Neil Bush, son of former US President George H.W. Bush and founder of the George H.W. Bush Foundation for US-China Relations, in a dialogue with Wang Huiyao, President of the Center for China and Globalization, where he expressed his frustration over the finger pointing.
From May to August, the US wasted 90 days churning out an inconclusive report on COVID-19 origins and has been peddling "Wuhan lab leak" theory until now.
"The Americans appointing the intelligence community to look into this matter actually represents a slap in the face of scientists and doctors," Gert commented. "Based on the information I received from contacts in Geneva, the previous joint report of the WHO team is very substantive, professional, and science-based" and all future work should be built on this report in consultation with all member countries, rather than through pointing a finger at one country.
In the dialogue with Wang Huiyao and Neil Bush, David Firestein, CEO and President of the George H.W. Bush Foundation for US-China Relations, mentioned an analogy to criticize US' politicization of COVID origin tracing: "When a house is on fire, the first thing you do is ask who's in the house and how we get him out. You don't ask who started the fire."
"Rather than focusing on the blame game and demonizing and so forth in any direction, we should have been focused on solving the problem right at the outset," David emphasized.
"COVID peace" depends on China-US collaboration
In the New Delhi Declaration issued at the conclusion of the BRICS summit, the 5 BRICS countries called "for better international preparedness and enhanced cooperation to fight the pandemic and other current and future health challenges through the mobilization of political support and necessary financial resources", because COVID-19 is not going to be the last pandemic we will ever face.
"It's hard to imagine solving these issues without the collaboration of China and the United States," said Neil. To achieve better cooperation, "instead of thinking of COVID-19, here in the United States, as a kind of wedge issue between the United States and China, we ought to be thinking of it as an opportunity for collaboration, because lives depend on our ability to collaborate".
From Wang's perspective, such cooperation is an important way to avoid a new Cold War "or maybe a hot war". And cooperation is based on communication.
Neil also believes in the power of communication. "Inevitably when you sit down and you have dialogue with counterparts, good things come out of it." He then pinpointed that "better understanding in addressing of serious issues in the topic of collaborating on the pandemic and healthcare-related issues in general should be front and center on the table for discussion."
David underlined the importance of communicating "in a mature, professional, and serious way", denouncing the racist rhetoric prevailing in the US during the pandemic such as "China virus" and "Kung flu". "When you start throwing around these types of terms, any possibility of collaboration goes out of the door, even if there really are valuable areas where we ought to be collaborating."
Since Henry Kissinger's secret visit to China in 1971, the exchanges between China and the US have lasted for 50 years. Although the legacy of those exchanges seems to be waning in recent years in spite of the high-level engagement in Anchorage and the Tianjin Meetings, the latest presidential phone call has prompted renewed hopes for bilateral cooperation.
"I think we're getting back to some of the norms that were established under many presidents. That is a really important part of the 'COVID peace'," said David. "China is an indispensable partner to the US and the US is an indispensable partner to China. We have a stake in each other's future and we need to be able to work together with that in mind."
From Newsgd.com, 2021-9-14