China and the US in the Biden Era: Trends and Policy Responses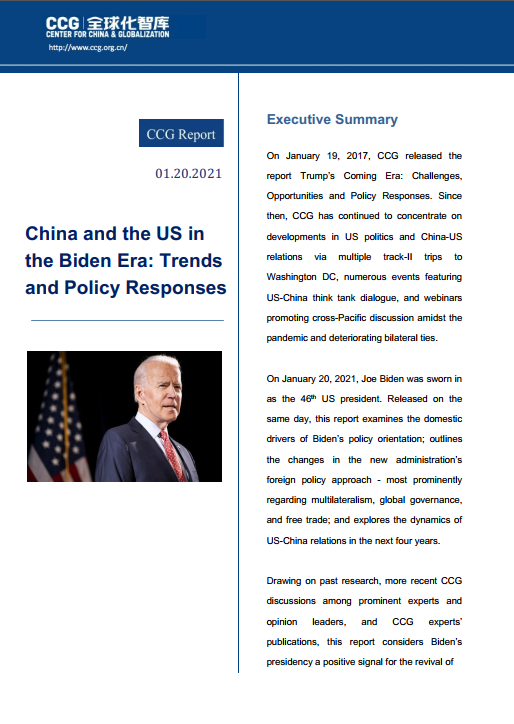 Executive Summary
On January 19, 2017, CCG released the report Trump's Coming Era: Challenges, Opportunities and Policy Responses. Since then, CCG has continued to concentrate on developments in US politics and China-US relations via multiple track-II trips to Washington DC, numerous events featuring US-China think tank dialogue, and webinars promoting cross-Pacific discussion amidst the pandemic and deteriorating bilateral ties.
On January 20, 2021, Joe Biden was sworn in as the 46th US president. Released on the same day, this report examines the domestic drivers of Biden's policy orientation; outlines the changes in the new administration's foreign policy approach – most prominently regarding multilateralism, global governance, and free trade; and explores the dynamics of US-China relations in the next four years.
Drawing on past research, more recent CCG discussions among prominent experts and opinion leaders, and CCG experts' publications, this report considers Biden's presidency a positive signal for the revival of globalization and an opportunity for China and the US to resuscitate cooperation. With populism remaining a significant factor in US domestic politics, the Biden administration will likely continue to approach the US-China relationship through the lens of strategic rivalry. However, facing urgent tasks such as containing the coronavirus, restoring economic growth and social stability, and repairing badly-damaged international prestige, it is expected that the new administration will deal with a rising China in a more rational, consistent, and predictable way than its predecessor.
The Biden White House's return to multilateralism also opens up broader horizons for potential cooperation between the countries. Given this window of opportunity to improve the bilateral relationship, CCG puts forward the following policy recommendations:
1. Resume bilateral high-level, multi-channel dialogue and exchange mechanisms between China and the US in a timely manner.
2. Establish a trilateral dialogue and coordination mechanism between China, the US and Europe, and convene a vaccine summit to promote global cooperation on pandemic control and global economic recovery.
3. Propose a Global Climate Summit involving the G10 (an expanded version of the G7 including China, Russia and India.)
4. Explore avenues for the US and China to join the CPTPP, support the WTO modernization agenda, and expand RCEP stakeholders to include the US.
5. Ease restrictions on market access by both US and Chinese governments, with Washington relaxing sanctions against Chinese firms such as Huawei, TikTok, Tencent, Alibaba and Xiaomi, and Beijing opening its market to American tech companies including Google, Twitter and Facebook.
6. Redress the unilateral tariffs levied on Chinese exports to the US, implement the Phase One Trade Deal in full, and accelerate progress towards the negotiation of a "Phase Two" deal.
7. Revive talks on the US-China Bilateral Investment Treaty to facilitate two-way flows of FDI.
8. Promote China-US infrastructure cooperation via direct financing, greenfield investment, capacity building, and other measures that align with Biden's infrastructure drive and US energy exports.
9. Engage Washington on the Belt and Road Initiative within a framework of multilateral cooperation on infrastructure development financing.
10. Strengthen ties between Chinese and US subnational governments to tap into local forces supporting increased engagement in both countries.
11. Restore non-governmental and cultural exchanges between scholars, journalists and students between the US and China, and restore the momentum of education cooperation.
12. Revisit the merits of multi-party talks on regional security issues such as the Iran nuclear deal and nuclear proliferation on the Korean peninsula, and promote economic cooperation in the Asia-Pacific region.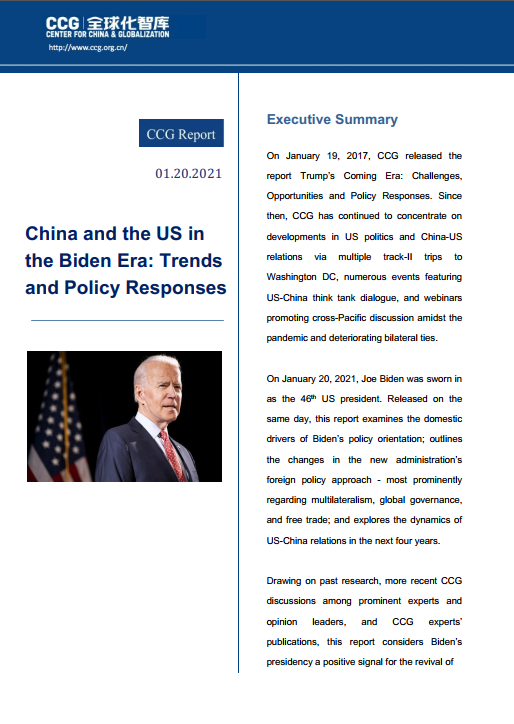 Content
Part I. The Democrats' Governing Base in the Biden Era………………………………………………………. 1
I.I Biden's Cabinet Picks…………………………………………………………………………………………….. 1
Diversity………………………………………………………………………………………………………… 1
Return to the Washington Establishment……………………………………………………………. 1
China Experience……………………………………………………………………………………………. 2
I.II America's Political Reality………………………………………………………………………………………. 2
A Divided Polity………………………………………………………………………………………………. 2
Worsening Inequality Amid a Pandemic…………………………………………………………….. 5
I.III Constraints Posed by Trump's China Policy……………………………………………………………. 6
From Trade to Ideology……………………………………………………………………………………. 6
Last Moves against Chinese companies……………………………………………………………. 7
Part II. Foreign Policy Outlook for the Biden Administration…………………………………………………… 8
Global Governance…………………………………………………………………………………………. 8
Regional Security……………………………………………………………………………………………. 9
Multilateral Trade…………………………………………………………………………………………… 10
Part III. The Biden Era: A New Phase in China-US Relations?……………………………………………… 12
A Rational Approach toward US-China Rivalry…………………………………………………. 13
Prospects of Resumed Trade Talks………………………………………………………………… 13
Common Interests in Multilateral Cooperation…………………………………………………… 15
Resumption of People-to-people Exchange……………………………………………………… 17
Part IV. CCG Recommendations……………………………………………………………………………………… 18
Reference……………………………………………………………………………………………………………………… 26