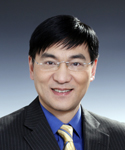 Gong Jiong
Professor at the University of International Business and Economics
Professor Jiong Gong graduated from University of Texas at Austin in 1995 and obtained PhD in Economics. Now, he is professor and doctoral supervisor of the Department of Economics, University of International Business and Economics. His researching fields cover Finance, anti-monopoly, regulatory and competitive policies, international trade and so on. Professor Jiong Gong is a highly productive scholar who has published papers in world-class journals, covering the filed of both economics and electronic Engineering. He used to serve as the executive editor of the Journal of Chinese Economic and Foreign Trade Studies (JCEFTS), an authoritative English journal on China's international trade published by Emerald Press, UK. He is also the special columnist of many Asian English newspapers, including regular political and economic articles for South China Morning Post, Global Times and CGTN. He is a frequent guest of CCYV programs as well.
Professor Gong is an expert on anti-monopoly and patent dispute in Chinese economic sector and an academic affiliate of Global Economics Group, a world-class economic consultation company. At the same time, Professor Gong is the Deputy Director of China Society for World Trade Organization Studies and the anti-monopoly research center. He is also a special expert of the Anti-Monopoly Bureau of the Ministry of Commerce, and used to in charge of the overall design of the national competition database. Professor Gong was appointed by the Anti-Monopoly Bureau of the Ministry of Commerce to either in charge of or participate in many global anti-monopoly inspections of multi-national companies' M&A, including China's anti-monopoly review on Seagate's merger with South Korea's Samsung's hard drive business, China's anti-monopoly review on U.S. Western Digital's merger with Japan's Hitachi GST, China's anti-monopoly review on the merger between PotashCorp, Saskatchewan, Canada an Agrium and China's anti-monopoly declaration of the merger between DiDi and Uber. Professor Gong served as an expert witness of China's first vertical monopoly agreement lawsuit, Beijing Yonghe Ruibang against the Johnson & Johnson Medical Devices Companies, and appeared in the court to testify. This case is the first vertical monopoly agreement lawsuit in China and the first plaintiff-wins vertical monopoly agreement lawsuit in Chinese history. After that, Professor Gong successfully engaged in many other anti-monopoly lawsuits as expert witness, including Yunnan YingDing against SINOPEC, Panasonic and its distributors' disputes, patent rejection case of HITACHI, NetEase's case against Guangzhou Hua Network Technology for multiple copyright infringements, Hytera's case against Motorola for abusing market dominance and Huawei's patent disputes. Professor Gong also consulted for the World Bank in the respect of national competition policy, for example consulted for the competition policy for Kazakhstan and Namibia as the representative of the World Bank.
Before returning to China and entering University of International Business and Economics, Jiong Gong was a senior research fellow of U.S. Cable Television Laboratories, Inc. Prior to that, he worked in Bell Communications Research for 7 years and was mainly responsible for the research on formulating economic and competition policies and new economic relations. He also participated in the National Information Infrastructure project of former Vice President Gore. In the field of SPC exchange television, Jiong Gong is the inventor of two patents certified by U.S. Patent and Trademark Office. The patent number is No. 8,332,902 and No. 8,566,888.