CCG holds the 7th China Inbound-Outbound Forum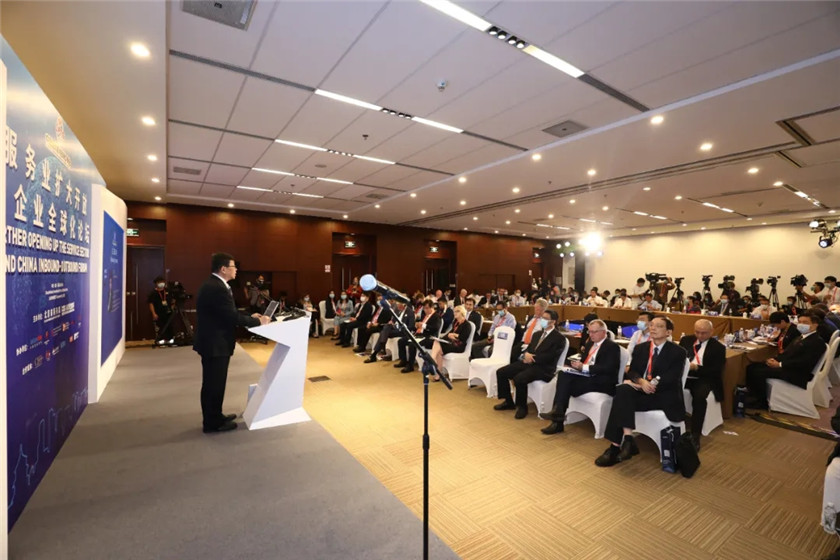 On September 8, 2020, the Center for China and Globalization (CCG) held the 7th China Inbound-Outbound Forum in Beijing, China. The event was held in conjunction with the Beijing Municipal Commerce Bureau as part of a larger state-sponsored event, the China International Fair for Trade in Services (CIFTIS), which took place from September 5 to September 9 at the China National Convention Center (CNCC).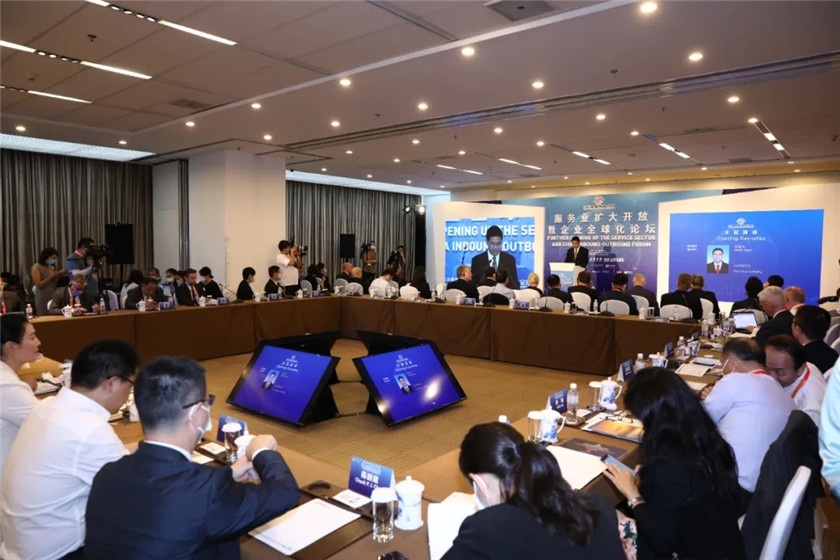 The forum focused on China's post-pandemic economic recovery, which calls for broader opening up of the country's service sector, and implications of the US-China rivalry in a US election year for domestic and foreign firms. Participants explored forward-looking, strategic pathways for Chinese and multinational businesses to mitigate adverse impacts and advanced proposals to the Chinese government to promote and manage global trade in services. Panels, workshops, and exclusive meetings also featured representatives from the Ministry of Commerce (MOFCOM) and other regulatory agencies, briefing participants on the latest legislative developments and providing insights on forthcoming policies.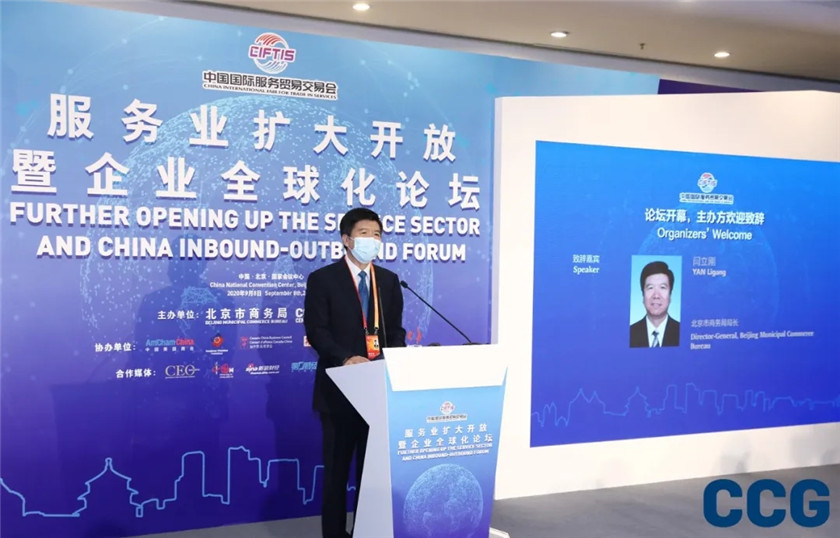 Yan Ligang, director-general of the Beijing Municipal Commerce Bureau, pointed out in his speech at the opening of the forum that the State Council officially issued a plan for launching pilot programs and establishing demonstration zones in Beijing on September 7, as part of efforts to advance opening-up in the service sector. He said that this program will boost scientific and technological innovation and opening-up of the service industry. Yan said that in the near future, Beijing will play a leading role in the opening-up of China's service industry with a new system of marketization, legal reform, and internationalization.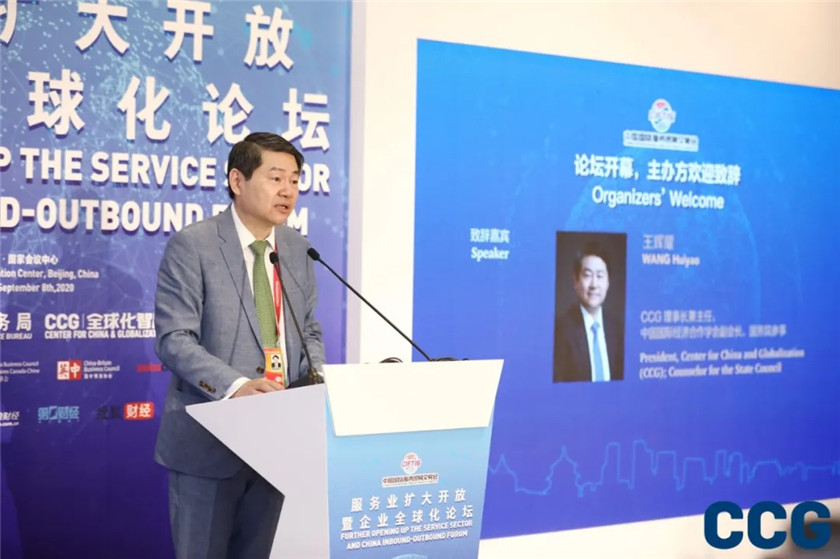 CCG President Wang Huiyao said that China will further open its economy, improve the business environment, and enhance conditions for Chinese outbound investment and foreign inbound enterprises. He said that at present, the global pandemic continues to spread, and the global economic and trade situation is uncertain and complex. Wang noted that under this situation, the holding of the 7th China Inbound-Outbound Forum demonstrates that China's determination to expand opening-up remains unchanged. He added that the crucial question is how to promote new international cooperation and expand the opening of the service industry. The forum aimed to help offer answers by bringing relevant practitioners, ambassadors, experts, and scholars together in for discussions.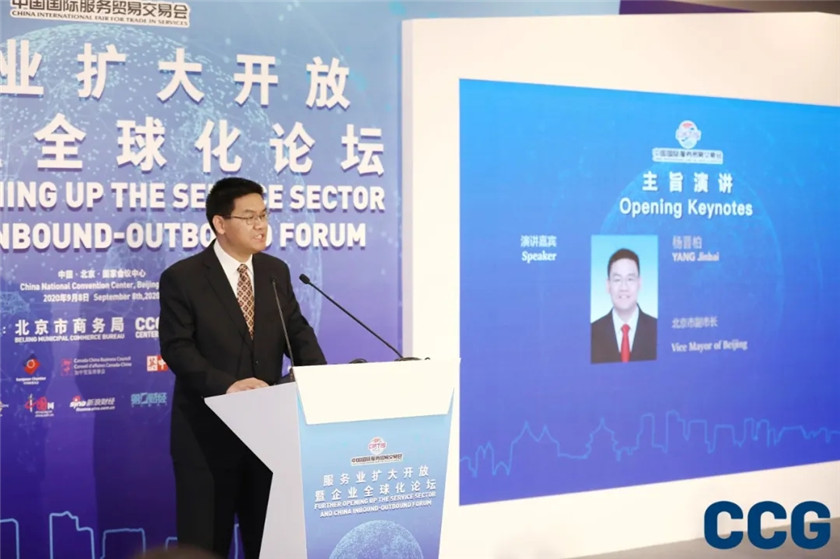 Vice Mayor of Beijing Municipal Government Yang Jinbai, former Minister of Commerce Chen Deming, Resident Representative of the United Nations Development Programme in China Beate Trankmann, and President of the European Union Chamber of Commerce in China Joerg Wuttke delivered keynote speeches.
Yang Jinbai pointed out that in recent years, Beijing has closely focused on the strategic positioning of four key functions, comprehensively constructed a new open economic system, continuously promoted a new round of high-level, collaborative and precise opening-up, effectively linked up domestic and foreign markets and resources, and promoted the formation of the international and domestic "dual circulation" pattern. Yang said that Beijing has built an open economic mode dominated by the service industry and formed unique advantages through opening-up. He stressed that in today's world, there are both challenges and opportunities and Beijing will continue to open up.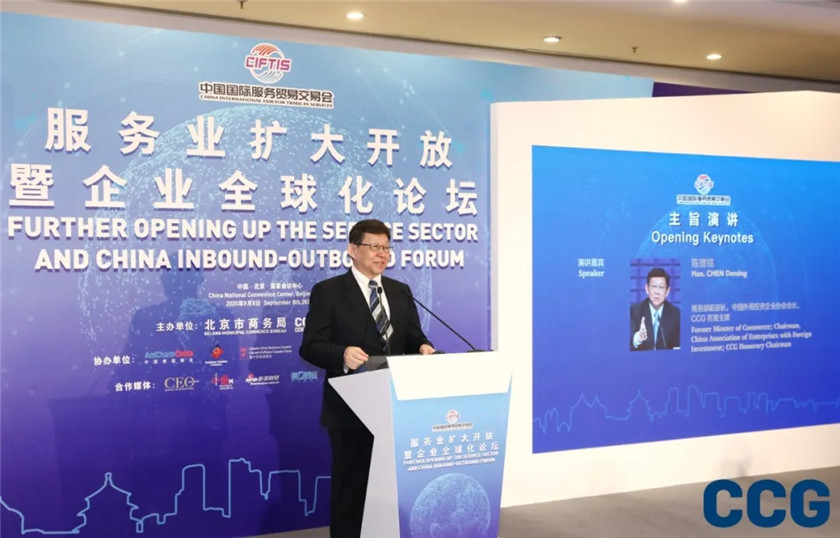 Chen Deming said that while the domestic consumer market has been very important for enterprises, the international market is also very important. He added that the increase of income, the stability of prices, the protection of resources and psychological expectations are all important factors. He said that while the Belt and Road Initiative and the European market are important, the United States and China need to explore their complementarity in economic structures and increase cooperation. Chen highlighted that in the long run, although US-China relations will be dominated by competition in the future, we should still strive to create cooperation in regular competition and avoid or reduce serious confrontation.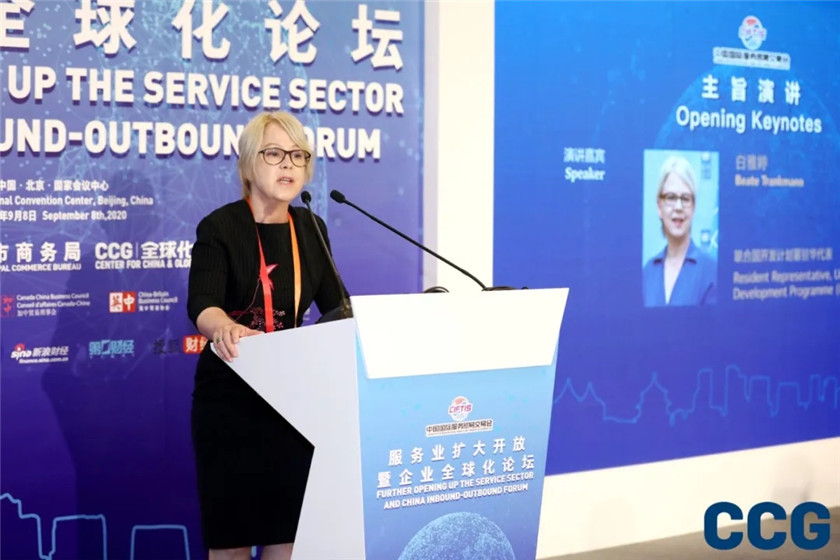 Beate Trankmann said that China's special economic zones have rapidly promoted China's economic transformation. She said that China's special economic zones or free trade zones account for more than half of the world's such areas. Meanwhile, China has also shared its experience and promoted cooperation with other countries. Trankmann added that, according to the Ministry of Commerce of China, around 100 cooperation zones had been established under construction by 2018, with about US $40 billion invested and approximately US $3 billion in taxes paid in the host countries. She said that the United Nations Development Programme will support such responsible investment so that the benefits of trade and investment benefit all.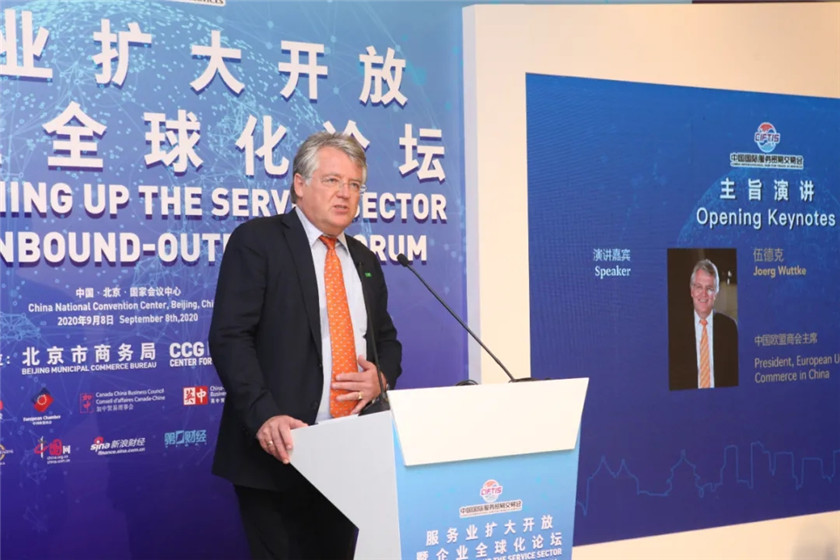 Joerg Wuttke said that the Chinese economy has followed similar growth trends of two economies, including Japan  and  Korea, as illustrated in a study of the World Bank, which shows gross domestic product (GDP) per capita in purchasing power parity (PPP) terms since the introduction of market reforms in respective markets. He added that although the Chinese economy has fallen behind over the last two years, the European companies hoped all reform efforts China made would turn this around. Wuttke called upon people to deal with the current trade frictions and "decoupling." He said that the investment agreement between China and Europe has been under negotiation for seven or eight years and the business community hopes that there will be a milestone, not just verbal, but some practical progress.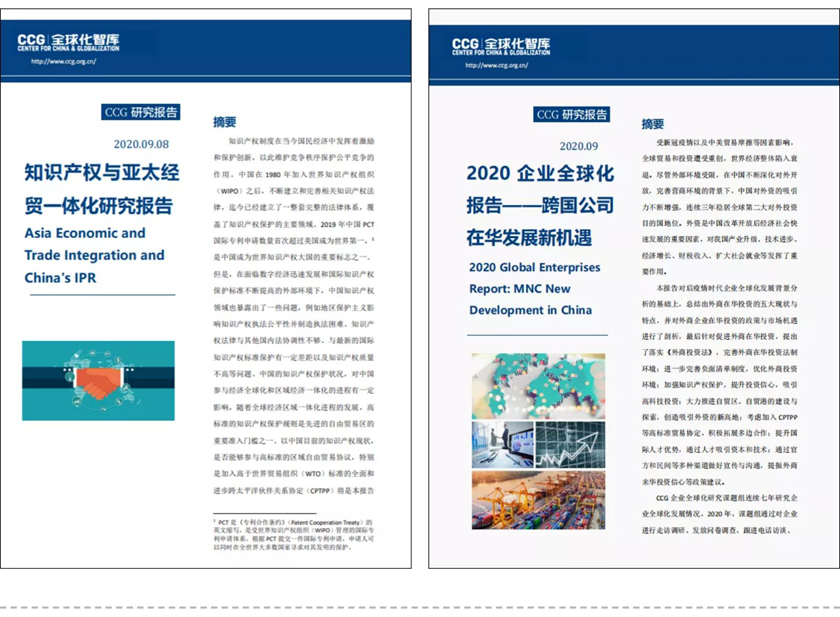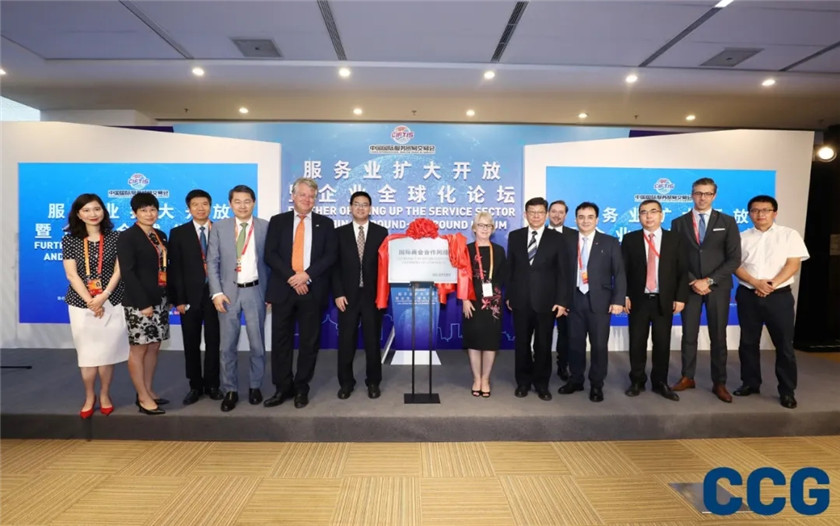 CCG published two reports at the forum, namely  "2020 Global Enterprises Report: MNC New Development in China" and "Asia Economic and Trade Integration and China's IPR." CCG also released the "Recommendation List for Globalizing Enterprises" and launched an initiative to establish a network for international chambers of commerce.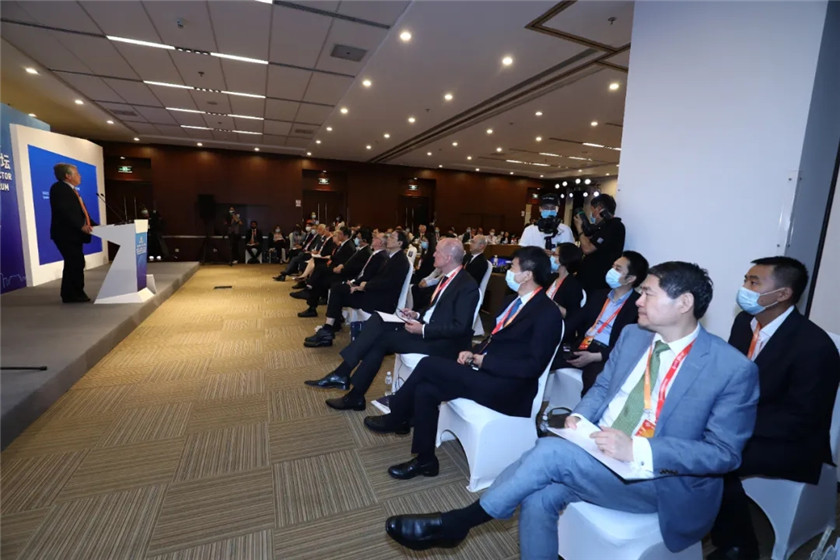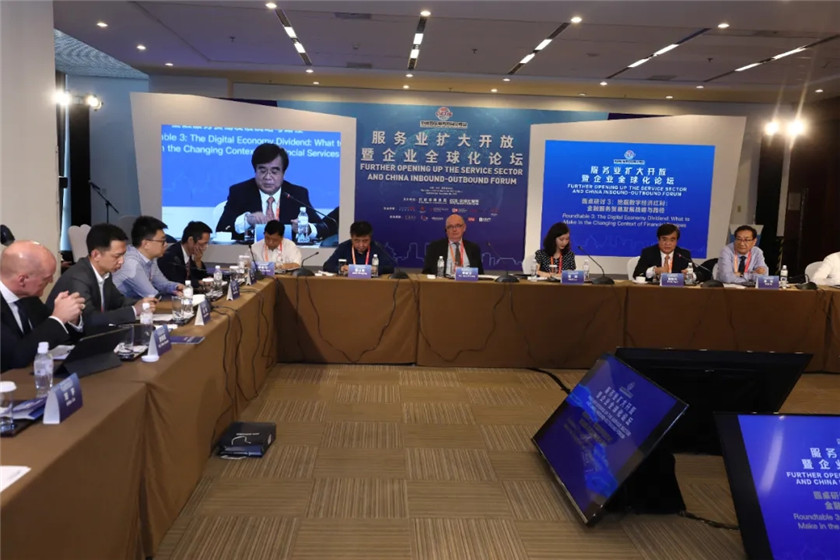 In addition, the forum included four roundtables, including "China's Service Sector in Pandemic Times: Outlook and Challenges for Reform and Opening-up," "Technology Cooperation in an Era of US-China Rivalry," "The Digital Economy Dividend: What to Make in the Changing Context of Financial Services" as well as "Business and Policy Views of Regional Free Trade and Supply Chains in Flux."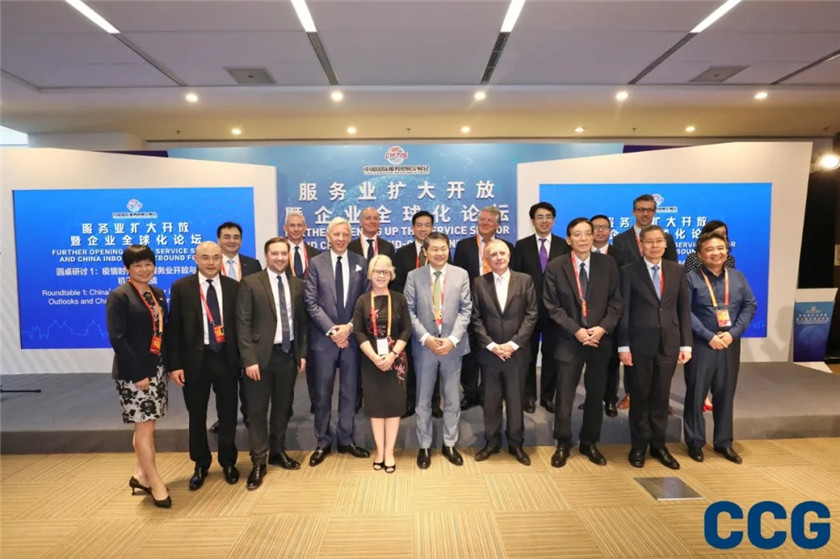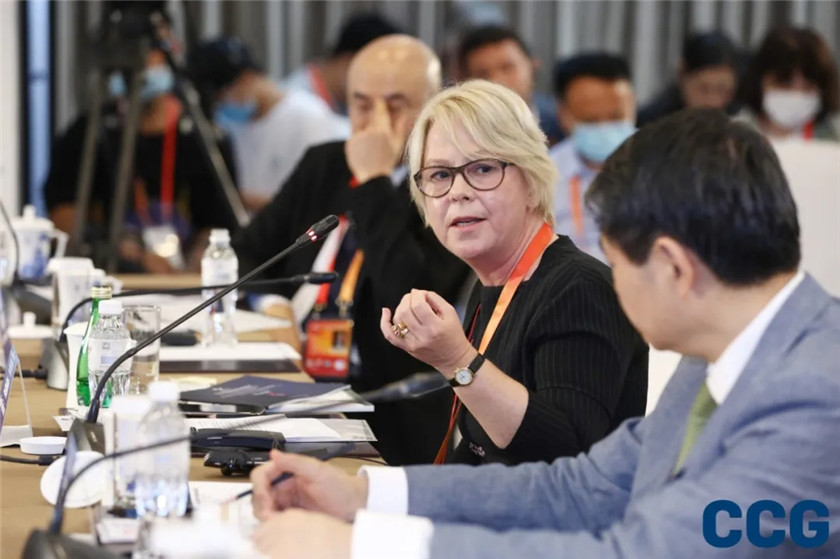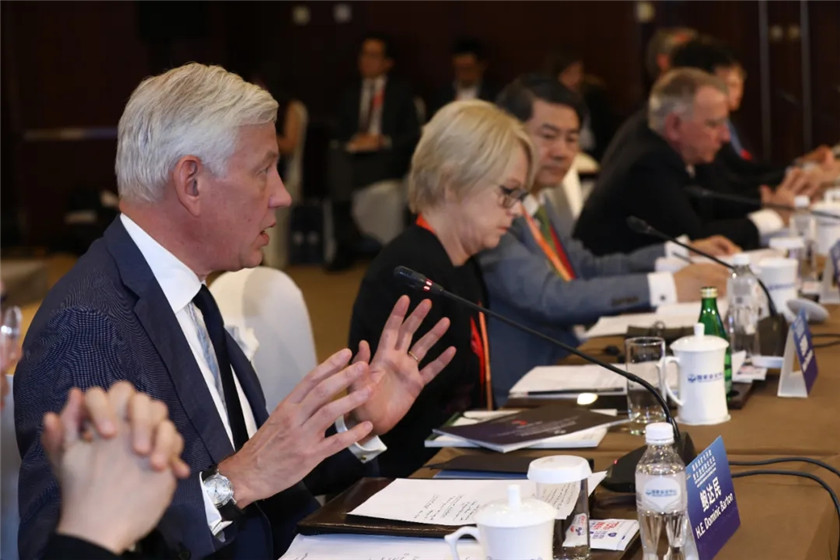 Roundtable 1 focused on "China's Service Sector in Pandemic Times: Outlooks and Challenges for Reform and Opening-up." Participants were Dominic Barton, ambassador of Canada to China; Craig Burchell, vice president of global trade affairs at Huawei; Nicolas Chapuis, ambassador and head of delegation of the European Union to China; Chen Deming, former Minister of Commerce, chairman of the China Association of Enterprises with Foreign Investment and CCG honorary chairman; Marvin Hung Ming Kei, executive director and chief executive officer of Hop Hing Group Holdings Ltd.; Liu Shijin, deputy director of Economic Committee of the National Committee of the Chinese People's Political Consultative Conference, former deputy director of the State Council Development Research Center and CCG advisor; Lui Tuck Yew, ambassador of Singapore to China; Tom Simpson, managing director of China operations and China chief representative of the China-Britain Business Council; Beate Trankmann, resident representative of the United Nations Development Programme (UNDP) in China; Wang Yanping, general manager of China public affairs at LinkedIn; Joerg Wuttke, president of the European Chamber of Commerce in China; Gloria Xu, vice chairman of AmCham China; Zhang Zhe, CEO of ZGC International Holdings; and Zhao Bin, senior vice president of Legal and Government Affairs at Qualcomm. The roundtable was presided over by Wang Huiyao, CCG president and counselor for the State Council.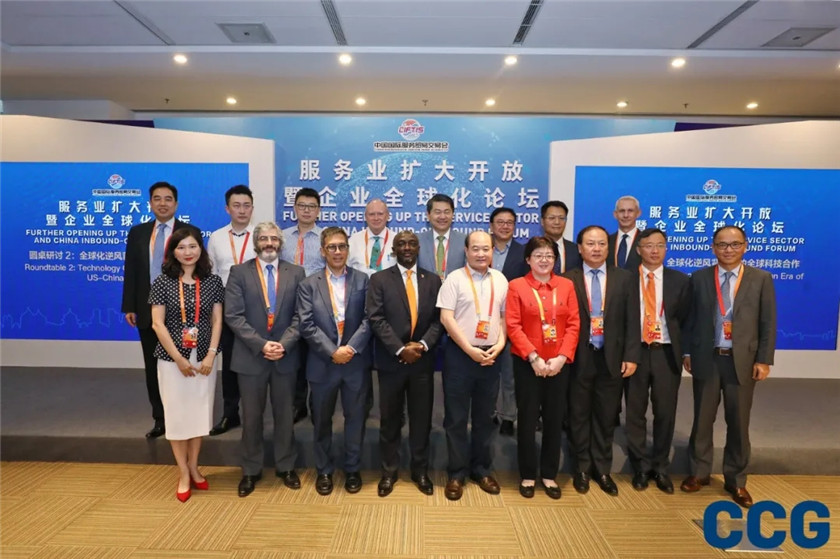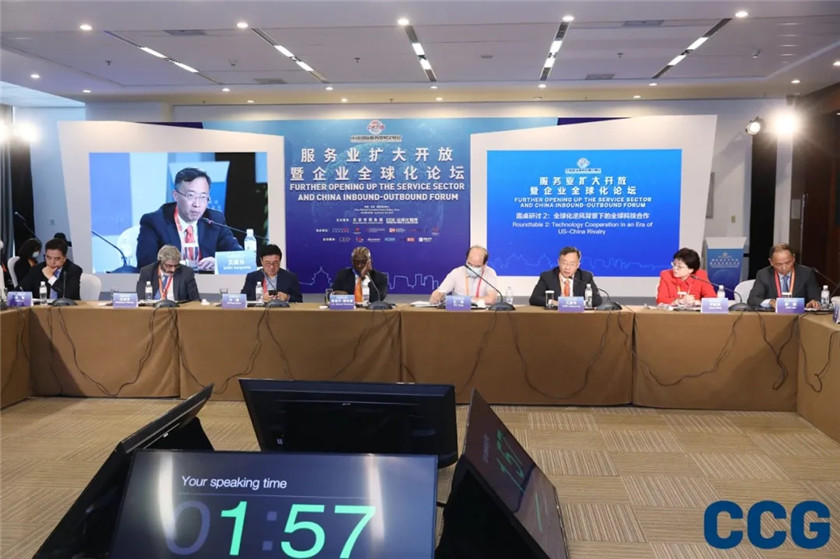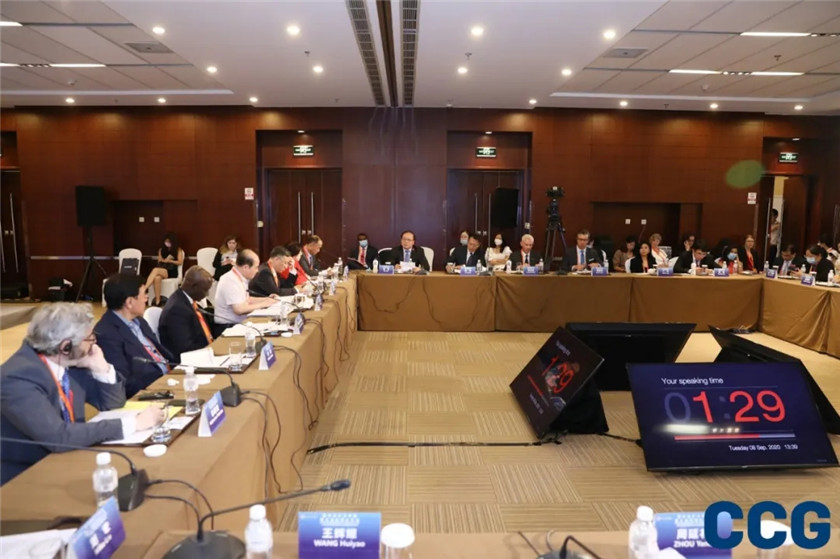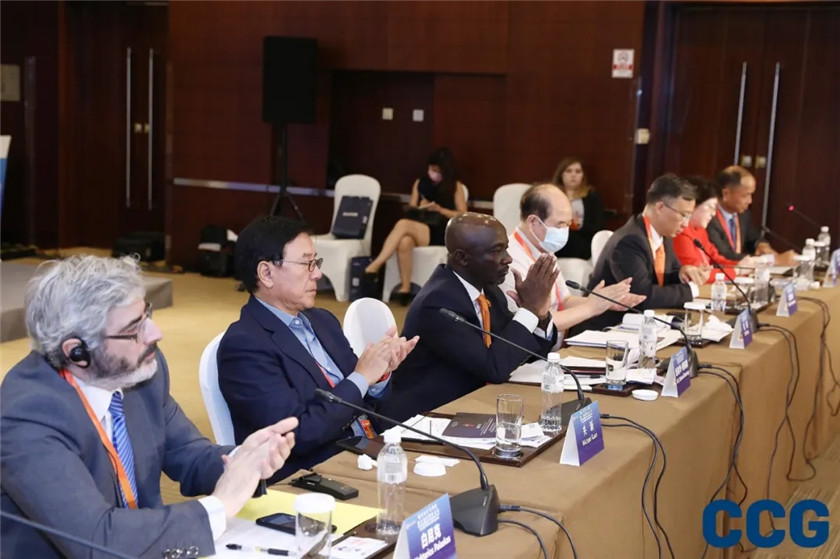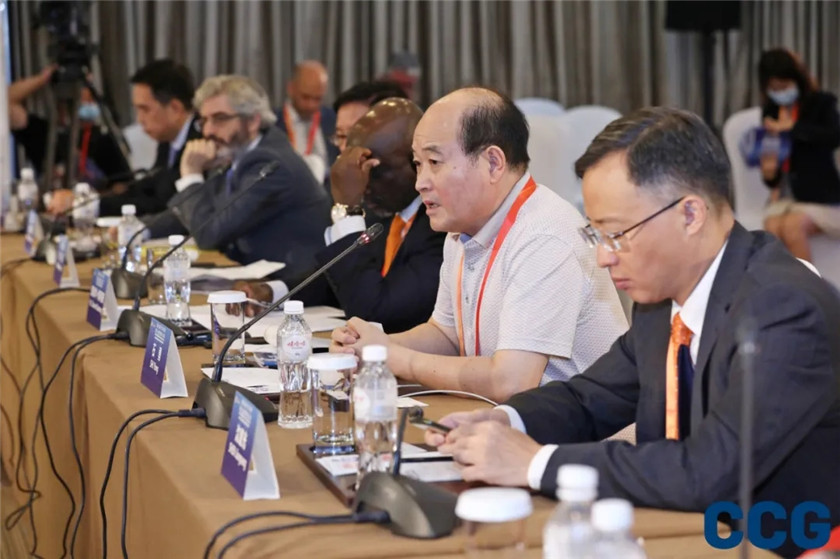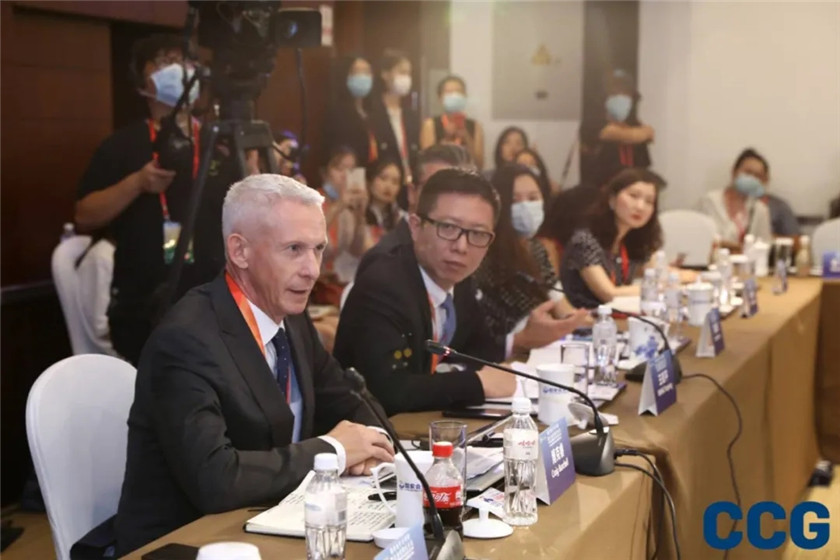 Roundtable 2 focused on the theme "Technology Cooperation in an Era of US-China Rivalry." Participants included Edward Boateng, ambassador of Ghana to China; Michael Kuan, founder and chairman of Kuan Capital; Jerry Guo, vice president of Qualcomm; Liao Jun divisional CEO of Specialty Businesses and China and member of Bekaert Group Executive at Bekaert Group; Liu Wei, vice president of Dell Technologies and general manager of China Center of Excellence; Susan Ning, Partner of King & Wood Mallesons; Nektarios Palaskas, science and technology counsellor of theEmbassy of Switzerland in China; Shen Jianguang, vice president of JD.com, chief economist of JD Digits and CCG non-resident senior fellow; and Shi Yong, counselor for the State Council, director of the Chinese Academy of Sciences (CAS) Research Center on Fictitious Economy & Data Science and CCG expert advisor. They discussed development opportunities that China's technological innovation brings to multinational companies, and the strategies that technology companies need to adopt when China's technological development has aroused global vigilance. The roundtable was hosted by Mike Liu, CCG senior fellow and former managing director of DXC Technology Greater China.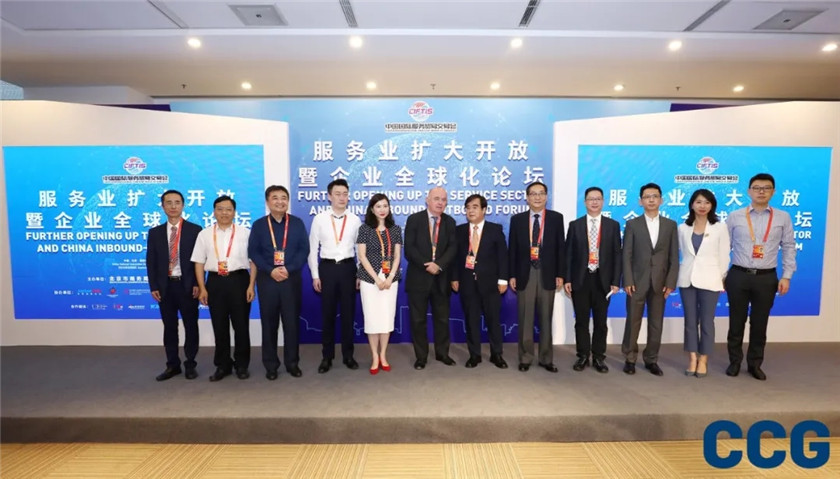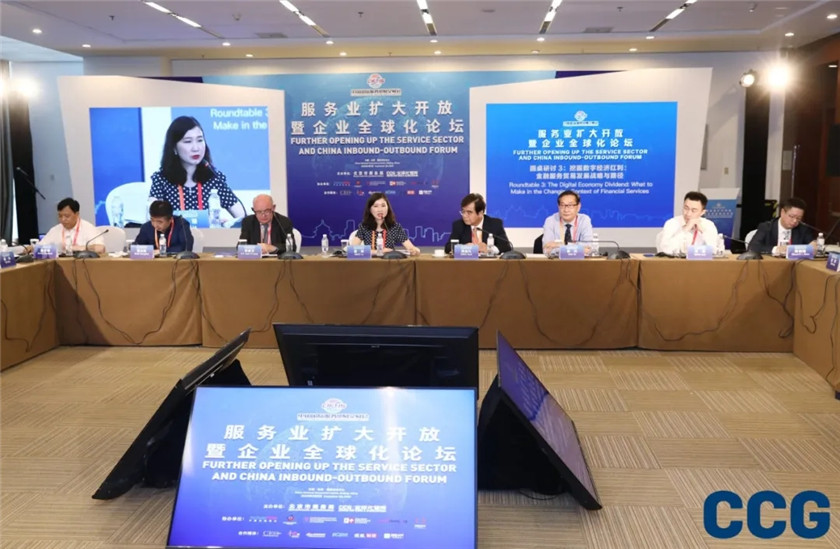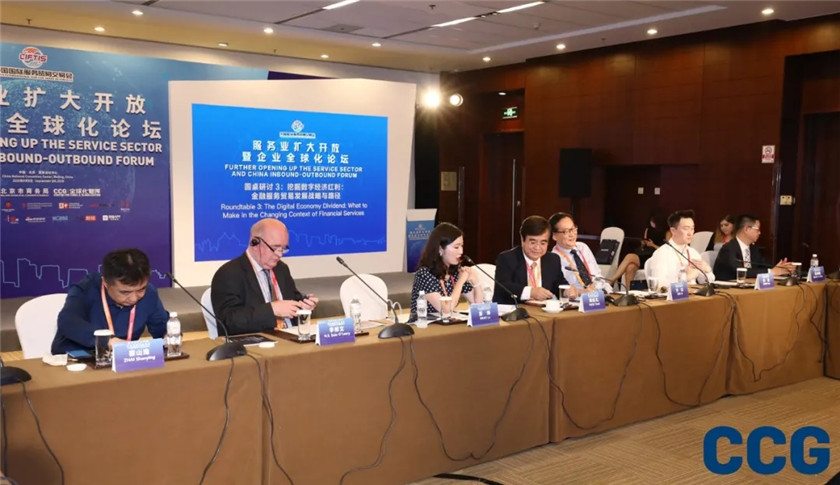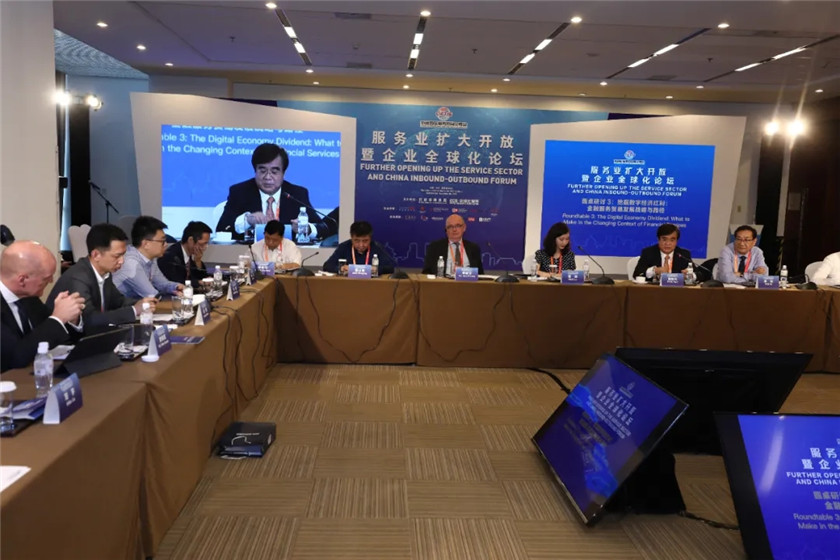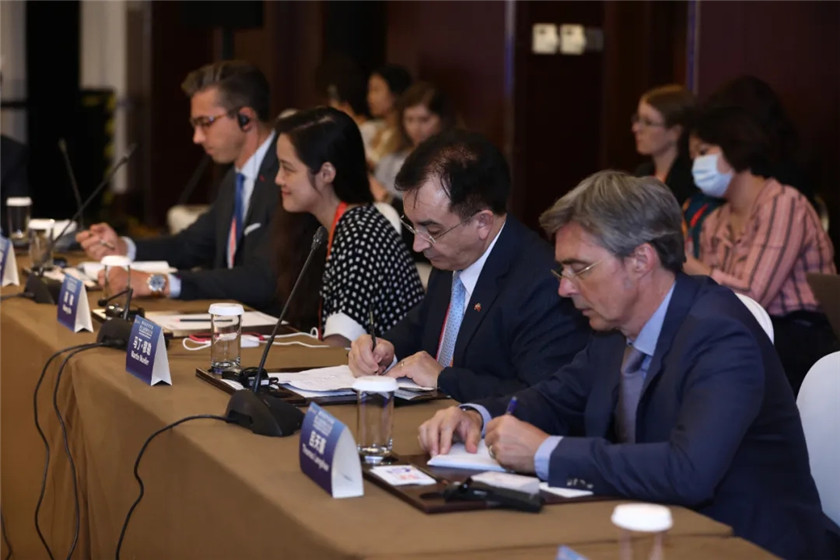 Roundtable 3 focused on the theme "The Digital Economy Dividend: What to Make in the Changing Context of Financial Services." Participants were Chuck P. J. Chen, chairman of Ruihua Health Assurance; CUI Fan Professor at the School of International Trade and Economics at the University of International Business and Economics (UIBE) and CCG non-resident senior fellow; Eoin O'Leary ambassador of Ireland to China; Shao Chunbao Researcher at China Center for Strategic Studies at Peking University, former deputy secretary of the Discipline Commission of the State Owned Assets Supervision and Administration Commission of the State Council and CCG senior fellow; Shi Yang Founder and Fund Manager, Zhejiang HongHui Asset Management Co., Ltd.; Sun Jie, CCG non-resident research fellow, former director-general of the Fund Supervision Department of CSRC and former chairman of the Asset Management Association of China; Jeremy Xiong, deputy editor-in-chief and director general of CGA at Xiaohongshu; Xu Qing, programme specialist of the United Nations Development Programme (UNDP) in China; Zhai Shanying, chairman of Peogoo Business Group; Zhang Peng, founder and CEO of Neutron Star Finance Group; Zhou Hao, founder and CEO of QuantGroup; and Zhou Yanli, former vice chairman of the China Insurance Regulatory Commission and CCG advisor. They discussed how Chinese and foreign financial service trading companies understand the changes of the historical opportunities for the financial services industry, the major business opportunities brought about by relevant policy and institutional innovations to the financial services industry, and other hot topics. The roundtable was chaired by Miao Lu, vice president and secretary-general of CCG.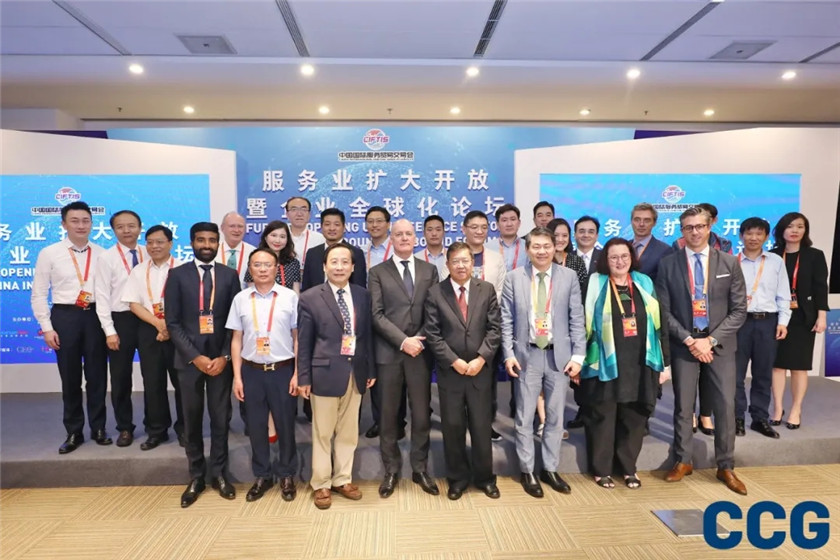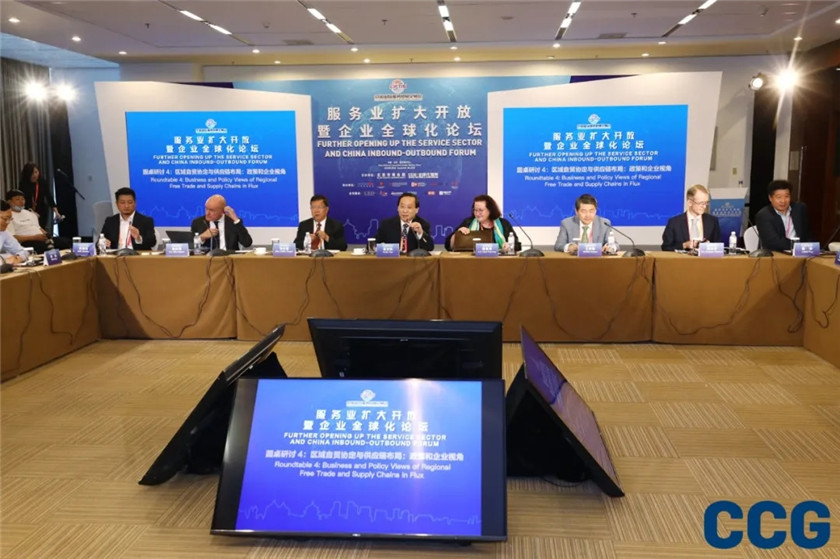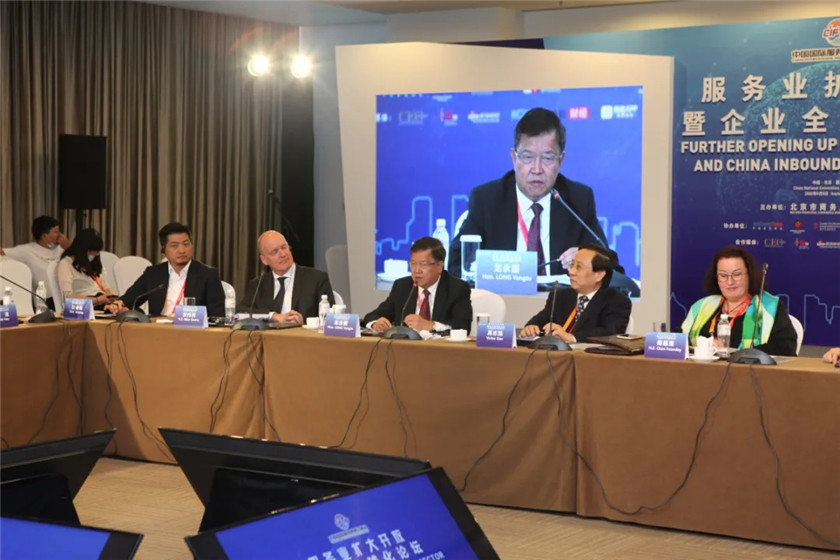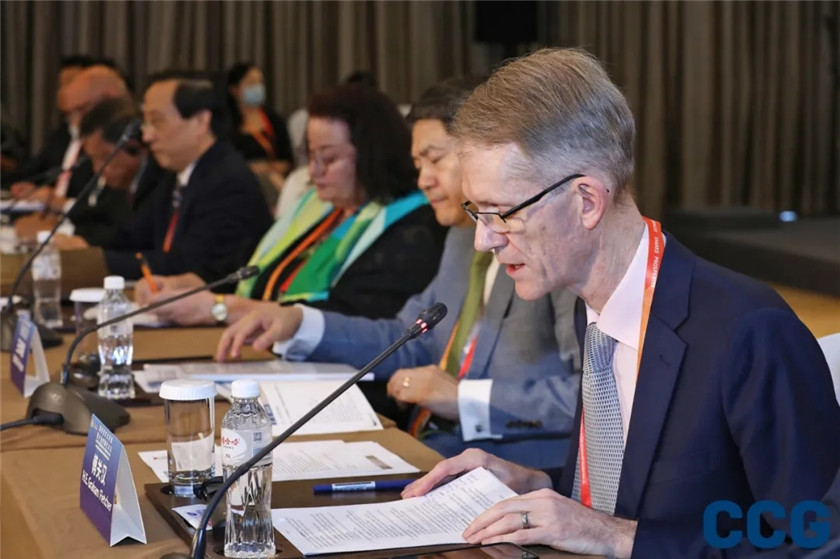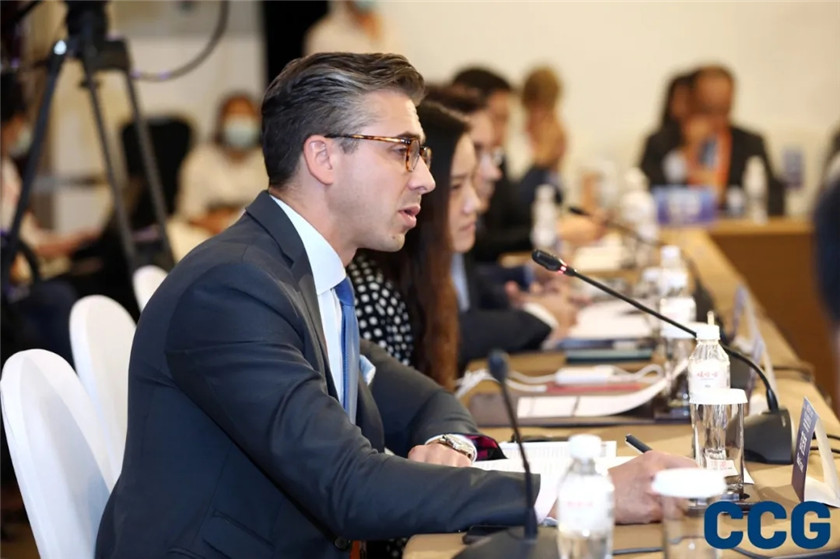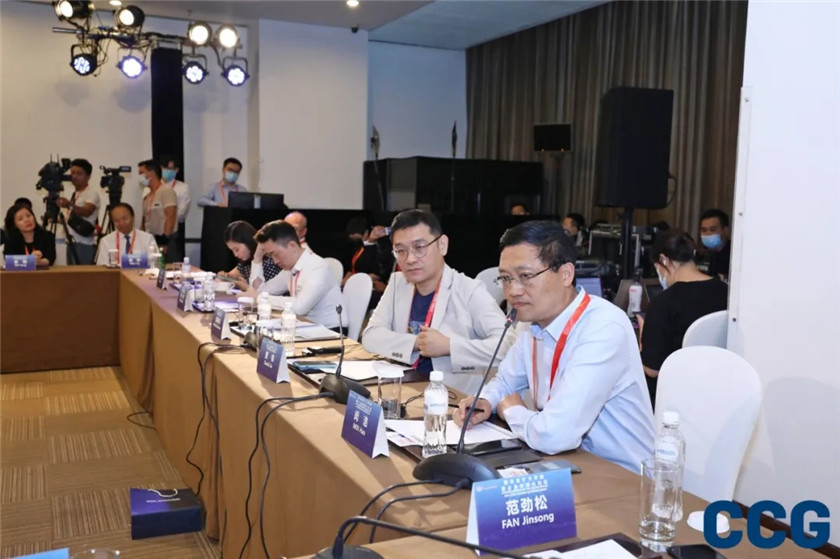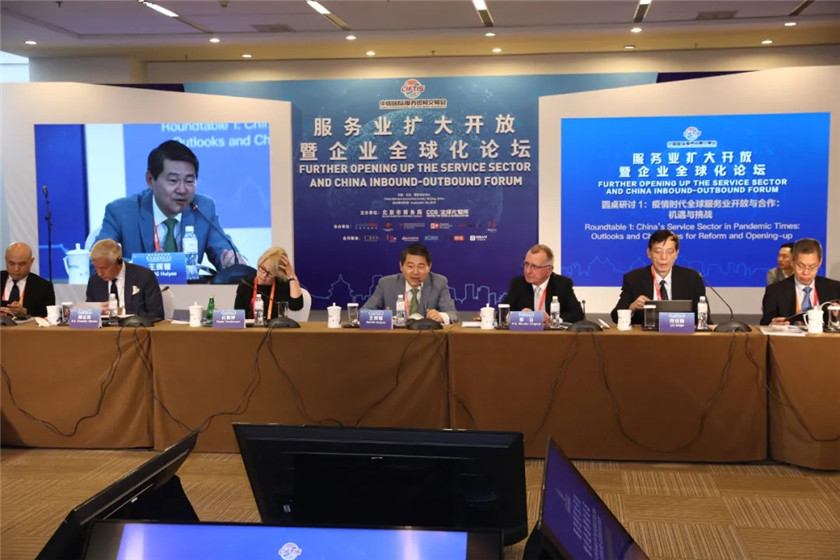 Roundtable 4 discussed the theme "Business and Policy Views of Regional Free Trade and Supply Chains in Flux." Participants included Fan Jinsong, Chairman of Korrun; Clare Fearnley ambassador of New Zealand to China; Graham Fletcher ambassador of Australia to China; Noah Fraser managing director of the Canada China Business Council; Wim Geerts, ambassador of the Netherlands to China; David Jia, chairman of LKK Innovation Design Group and founder of LKKER Sharing Design Platform; Nancy Ko, president of Hempel International Group; Harold Lang, board director of Far East Holding Group and president & chief investment officer of Far East Smart Energy Co., Ltd.; Long Yongtu, former vice minister of the Ministry of Foreign Trade and Economic Cooperation of P.R.C., former secretary-general of Boao Forum for Asia and CCG chairman; Min Hao, founder and chairman of Nanjing Easthouse Electrical Co., Ltd.; Martin Mueller chairman of the board of the Swiss Chinese Chamber of Commerce in China; and Wang Huiyao, president of CCG and counselor for the State Council. They discussed regional free trade agreements around the theme of the forum. The roundtable was chaired by Victor Gao, vice president of CCG.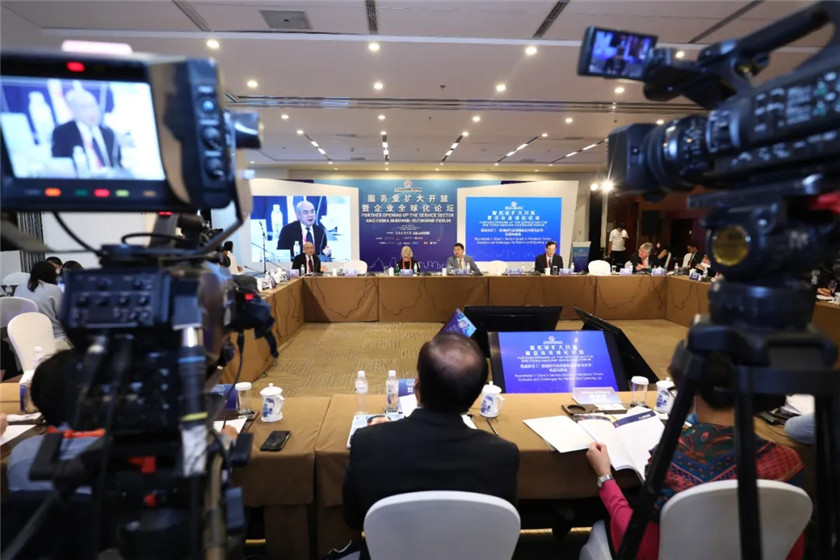 Some CCG executive council members also participated in the meeting, including Ding Feng, founder and CEO of WeBranding Global; Qiu Yufeng, CEO of Hangzhou Zorpia Robotics Technology Co., Ltd.; Tang Haoxuan, chairman of FUETA; Wang Xinghua, chairman of Chengdu Wangfu Industrial Development Co., Ltd.; and Zou Hengrui, president of Henry Group. The forum was supported by QuantGroup, Dell Technologies, and Peogoo Business Group.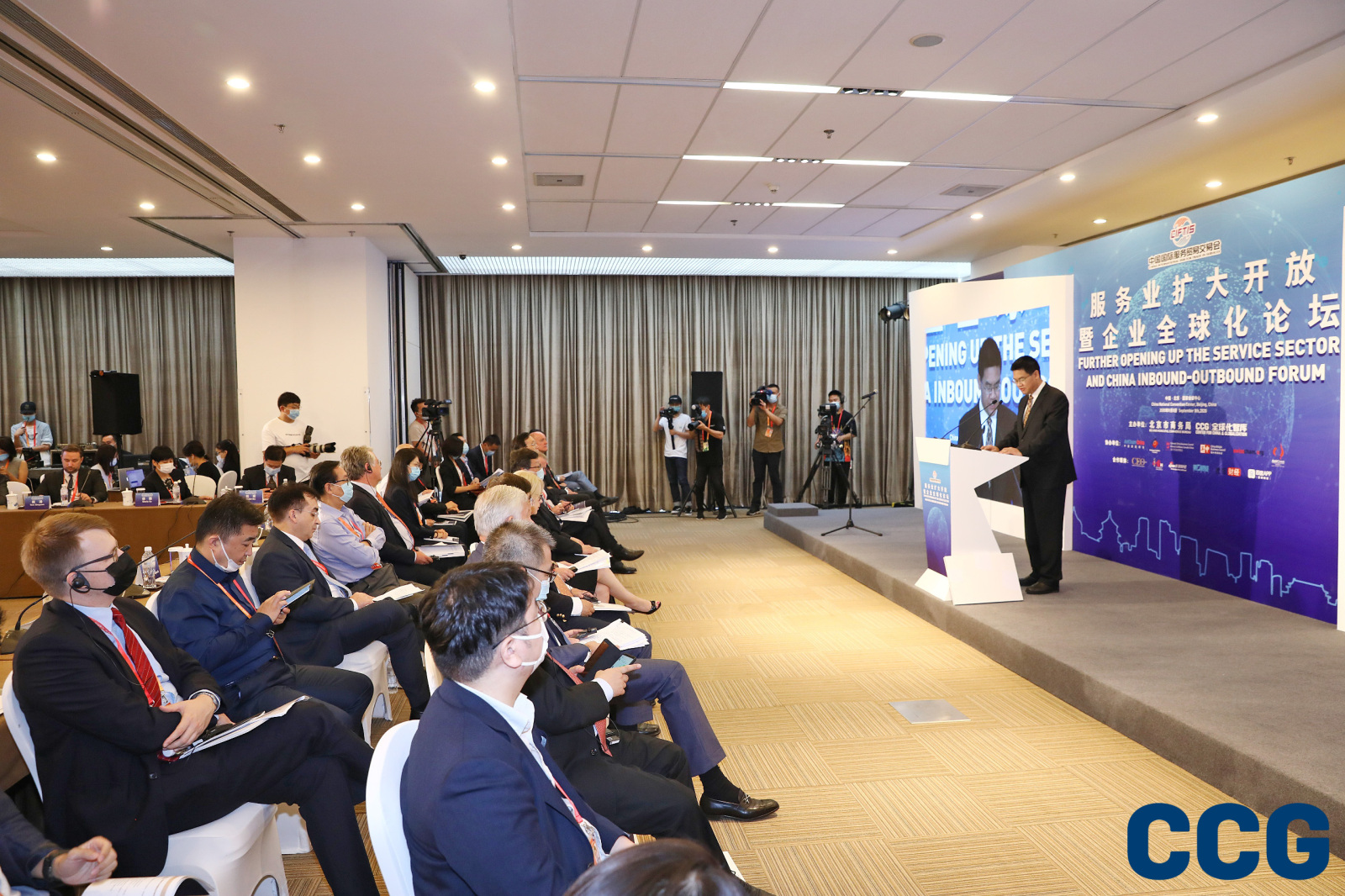 The China Inbound-Outbound Forum was founded in 2014 and has been held for seven consecutive years. It is committed to creating a new type of international economic forum based on China and "going global."Since its establishment, the forum has become an influential platform for "going out" and attracting foreign investment for Chinese and foreign companies.
As a top 100 Chinese non-governmental think tank, CCG has always been committed to research in the fields of globalization, international trade and investment, and international relations. Over the years, CCG has carried out a series of studies in the field of Chinese enterprises globalization, has issued the only "Blue Book of Enterprise Globalization" and "Chinese Corporate Globalization Report" many times, and has held the China Inbound-Outbound Forum for seven consecutive years.