Improving understanding of China ——CCG president joins "Dollar & Sense" podcast at the Brookings Institution
Amidst ongoing China-US trade tensions, to strengthen bilateral academic and cultural exchange, a CCG delegation visited the US in early December 2019.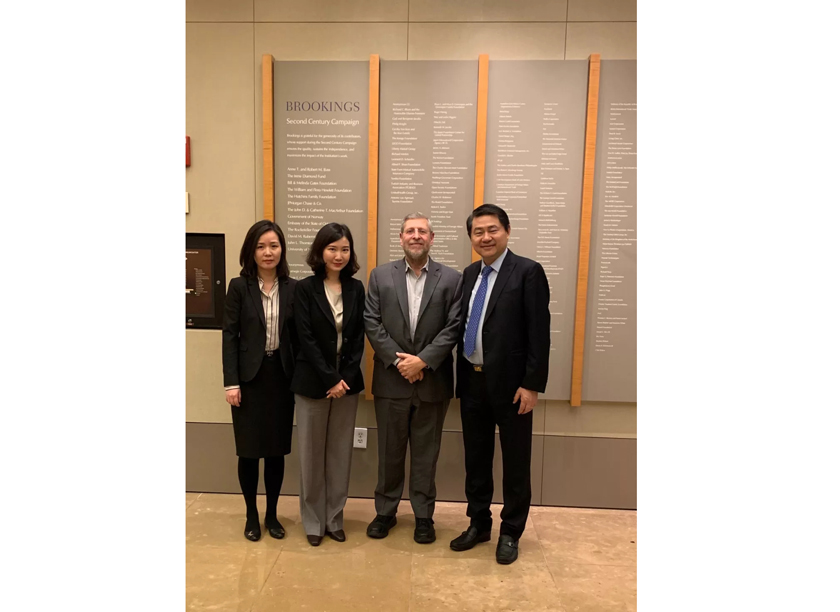 On December 4, a CCG delegation visited the Brookings Institution in Washington D.C. CCG President Wang Huiyao was interviewed on the podcast "Dollar & Sense" with David Dollar, senior fellow at the John L. Thornton China Center of Brookings Institution and host of the Brookings trade podcast "Dollar & Sense".
During the interview, Wang Huiyao said that since 1978, China has benefitted from and strived to maintain the current international system, and voiced hopes that U.S.-China trade negotiations can achieve a deal to increase confidence and stabilize global economic development.
https://www.brookings.edu/podcast-episode/is-china-undermining-the-global-economic-order-or-helping-build-it/

Response to the "China Threat Theory"
Regarding the "China Threat Theory", Wang emphasized that China is not only a beneficiary of the international order, but also a defender and contributor.
Wang pointed out that since the 1980s, China has continuously participated in the process of globalization through reform and opening-up. China also has actively participated in international organizations such as the WTO, IMF and the World Bank in which the US plays a leading role.
He added that since joining the WTO, China's economy has developed rapidly, and its total GDP has nearly doubled. With the World Bank's assistance, China's infrastructure construction has been greatly improved. Furthermore, China is the second largest contributor to the UN peacekeeping budget. China has also created the Asian Infrastructure Investment Bank (AIIB), which is helping to improve infrastructure and strengthen regional economic cooperation, gaining 100 member countries.
However, these success stories about China have not spread as well as expected in the West. Wang expressed hopes that understanding of China will improve and that the world will be able to embrace diversity. At the same time, he said China should adjust the way it communicates internationally, so that the world can better understand China.
Responding to claims of forced technology transfer
In response to US claims about China regarding "forced technology transfer" (FTT), Wang highlighted several flaws in these arguments.
He pointed out that China's relevant regulations on joint ventures are completely consistent with relevant WTO rules. Joint ventures requirements and equity caps in certain areas are also the results of negotiations among WTO members. He also noted that technology transfer between foreign and Chinese companies, when it does occur, is a voluntary action by the enterprises involved.
Wang also pointed out China's proactive response to criticisms about FTT. For example, China will implement the "Foreign Investment Law" on January 1, 2020. The law, covering areas such as technology transfer, intellectual property protection and government procurement, will offer legal protection for the long-term interests of foreign-invested enterprises. China is also committed to continuing to its long-running programs of economic reform and opening up, and will remove foreign ownership limits in the financial sector by 2020.
In conclusion, Wang highlighted that US-China trade tensions have increased uncertainties in the world economy, impacting negatively on global value chains. However, China and the United States have close trade relations and cannot be simply "decoupled." Wang said that he expects that China and the United States can reach an agreement, which is not only in the interests of the two countries, but will also inject stability and confidence into the next stage of global economic development.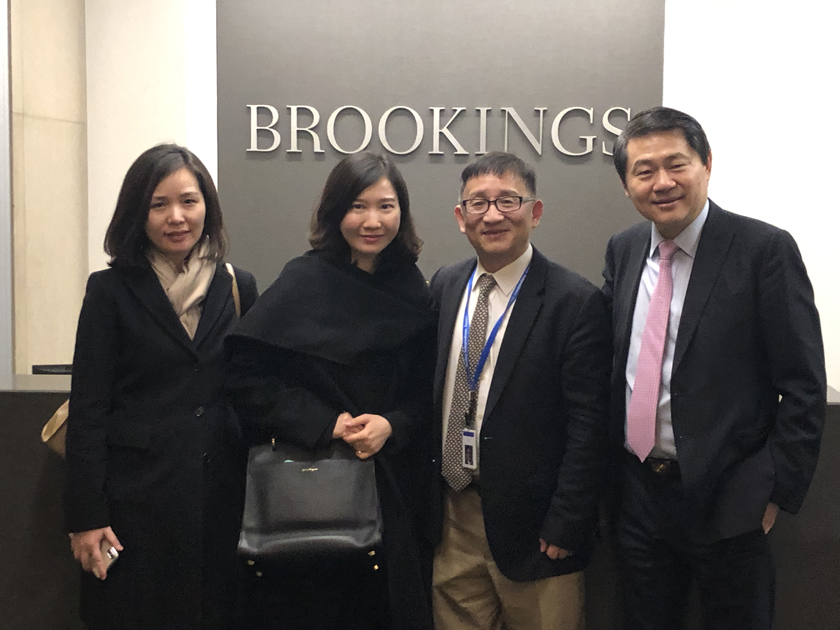 During the visit, CCG delegation also talked with Li Cheng, director and senior fellow in John L. Thornton China Center at Brookings Institution.
The "Dollar & Sense" podcast described in this post covered US-China relations, China's economic development and China's role in international multilateral development.