CCG participates in the New Economy Forum 2019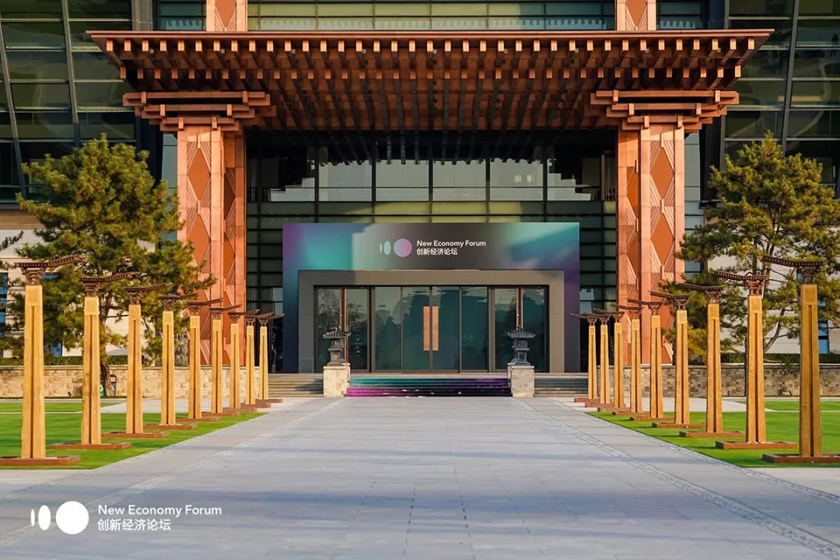 On November 21-22, the New Economy Forum 2019 was co-hosted in Beijing by the China Center for International Economic Exchanges (CCIEE) and Bloomberg. More than 500 figures, including business executives, technology innovators, government officials, and academics discussed ways forward for the global economy at a time of uncertainty. President of the Center for China and Globalization (CCG) Wang Huiyao participated in several panels, sharing views about the world's economic transition.
Calling for a US-China trade deal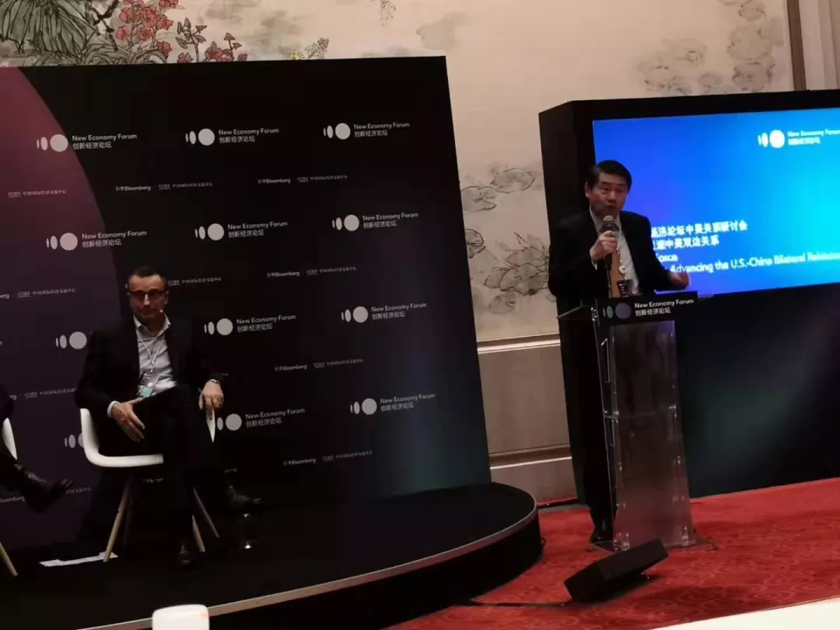 On November 19, Wang took part in the US-China relations roundtable session, which aimed to provide policy advice for US-China relations, global trade and economic development.
In interviews with Bloomberg, Wang said that if a US-China trade deal is reached, it would have a beneficial impact in stabilizing the deterioration of bilateral relations and helping to avoid a global recession. 

Wang added that fiscal policy, political stability, governance efficiency, 5G and infrastructure improvements, and the digital economy are helping to support the Chinese economy, with new sectors particularly promising. He also highlighted how China contributes to and benefits from the current international order through its economic strength and political stability.
Supporting the WTO, the core of the multilateral trading system
With current uncertainties facing the WTO, Wang Huiyao participated in several sessions on the multilateral trading system.
On November 21, Wang joined the discussion "Managed Trade: A Threat to the WTO" with Ivan H. Amiagada, group chief executive officer of Antofagasta PLC; Wei Jianguo, vice chairman of CCIEE and former vice minister for Commerce; Penny Pritzker, founder of PSP Partners; and Victor Fung, group chairman of Li and Fung Group. The session was chaired by Gary Cohn, former assistant to the U.S. President and former director of U.S. National Economic Council.
On November 22, Wang participated in the session "Is the World Really Flat? Protectionism and Populism Reveal Craters." Participants in this session were Diana Choyleva, chief economist of Enodo Economics; Gary Cohn; Fred Hu, founder and chairman of Primavera Capital Group and Xu Niansha, chairman of China Poly Group, executive director of China Chamber of International Commerce and president of China Arts and Crafts Association. Zhu Min, chairman of the Institute of Financial Research at Tsinghua University, moderated.
US-China tensions
During the forum, participants voiced concerns about US-China trade tensions and looked for solutions to boost cooperation.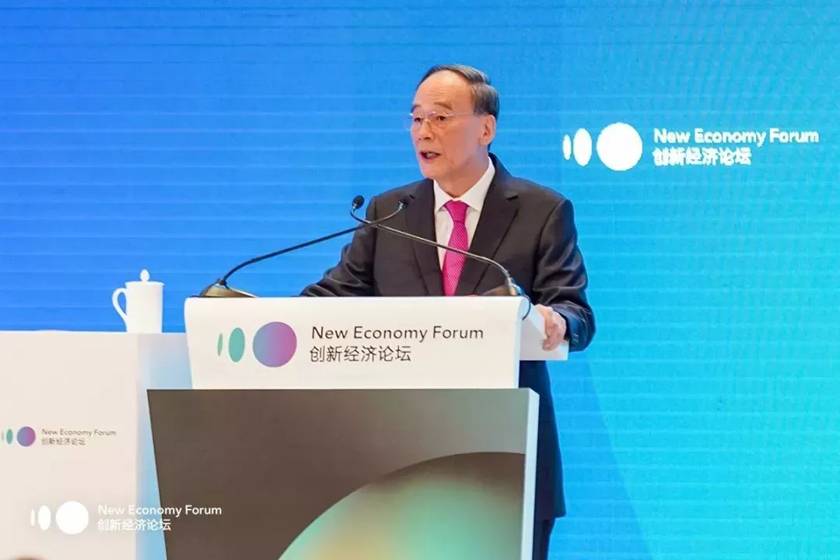 Wang Qishan, vice president of People's Republic of China, pointed out the risks of holding onto a zero-sum or cold war mentality. He reemphasized that China has persisted in support of globalization and multilateralism as a means to advance peace and development. He also said that China is willing to work for a new type of international relations featuring mutual respect, equity, justice and win-win cooperation under the principle of consultation and cooperation for shared benefit.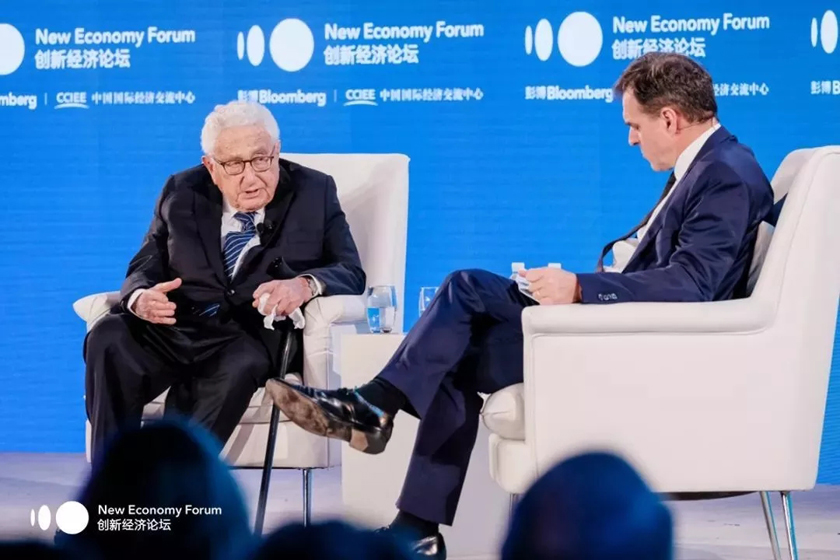 Henry A Kissinger, honorary chair of the New Economy Forum and former U.S. secretary of state and national security advisor said, the U.S. and China "are still in the foothills of a cold war," warning of the harm that could occur if conflict is unconstrained.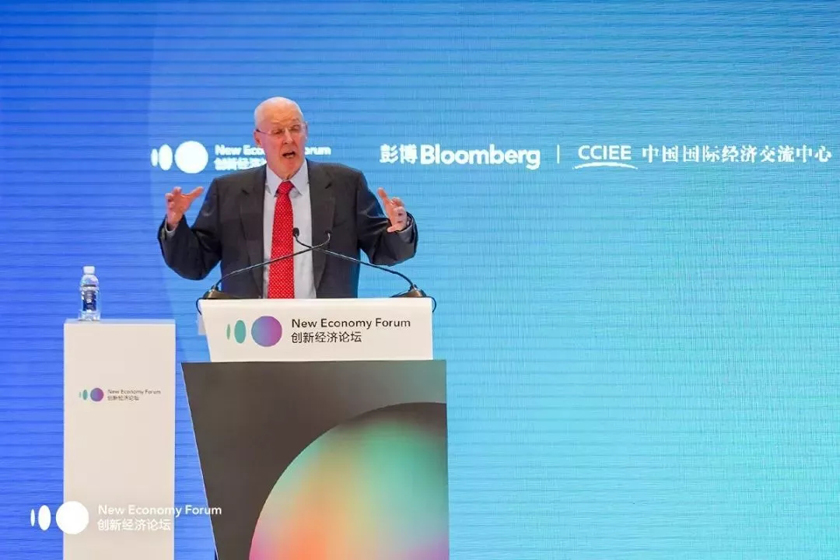 Hank Paulson, former U.S. Treasury secretary and co-chair of the Advisory Board of the New Economy Forum, also expressed worries about the intensification of US-China tensions: "If we decouple economically, good luck trying to work together to combat common foes such as nuclear proliferation, climate change, global pandemics, or any of the other threats to global stability."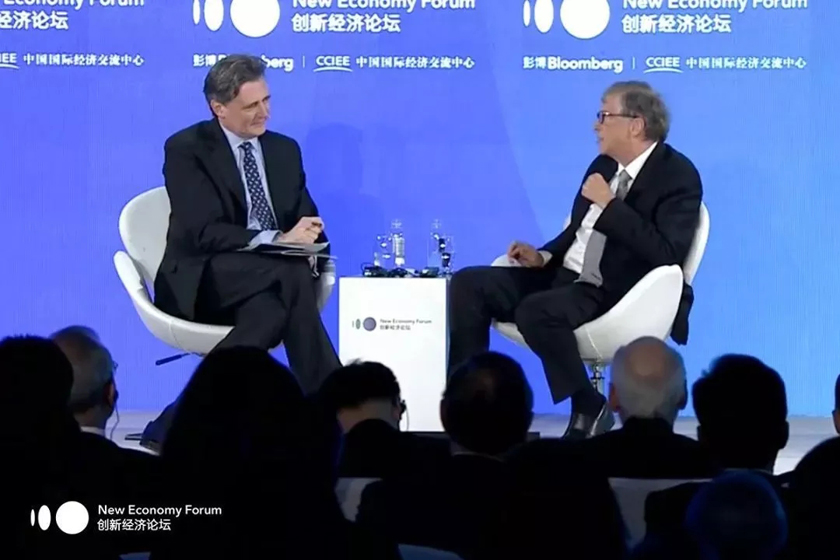 Bill Gates, founder of Microsoft, shared his concerns about US-China decoupling, saying he was "more passionate about the value of engagement than ever."
During the forum, Wang Huiyao engaged in conversation with Tharman Shanmugaratna, former deputy prime minister of Singapore, and Lui Tuk Yew, Singapore's ambassador to the People's Republic of China. 

At the welcome dinner hosted by the Beijing Municipal Government, Hank Paulson and Chen Jining, mayor of Beijing delivered speeches. 

In addition, Miao Lu, CCG co-founder and secretary-general, participated in the award ceremony for the Paulson Prize for Sustainability, co-hosted by Paulson Institute and Tsinghua University. The initiative aims to promote to China's goals on climate change, energies transition, economic growth and global sustainability etc.
Bloomberg New Economy Forum
The New Economy Forum was founded in 2018 by Michael Bloomberg, co-founder, CEO, and owner of Bloomberg L.P., and former mayor of New York City. The forum's goal is to stimulate productive, fact-driven dialogue among participants in an effort to promote deeper understanding and develop actionable solutions on important global issues. 

The Bloomberg New Economy Forum is led by the Founder, Advisory Board Members, Steering Committee, and Partners who are influential political and business leaders. Dr. Henry Kissinger is Advisory Board Honorary Chair of New Economy Forum. Zeng Peiyan, former vice premier of the State Council of the People's Republic of China and chairman of CCIEE, and Hank Paulson are Advisory Board Co-Chairs. Advisory Board Members participating the forum include Zhou Xiaochuan, Xie Zhenhua, Lou Jiwei, Fu Ying, Nandan Nilekani, Lubna Olayan, Martin Lau, and Zhang Lei. The first edition of New Economy Forum was hosted in Singapore in 2018, when CCG President Wang Huiyao attended as the representative of China's non-governmental think tanks. 

Participants in the forum also included Charlene Barshefsky, senior international partner of Wilmer Cutler Pickering Hale and Dorr LLP; Robert D. Blackwill, the Henry A. Kissinger senior fellow for U.S. foreign policy at the Council on Foreign Relations and former U.S. Ambassador to India; Andrew Browne, the editorial director of the Bloomberg New Economy Forum; Duncan Clark, founder and chairman of BDA China; Spencer Deng, founder and CEO of Dorabot Inc.; Michael Froman, vice chairman and president of Strategic Growth for Mastercard; Stephen J. Hadley, principal of RiceHadleyGates LLC; Richard N. Haass, president of the Council on Foreign Relations of the United States; David Hoffman, senior vice president Asia and managing director of the Conference Board China Center for Economics & Business; John Hoffmann, co-founder and principal at Exceptional Resources Group (XRG); John Holden, senior director for China at McLarty Associates; Lyndsay Howard, senior analyst for foreign policy at Bloomberg LP; Scott Kennedy, senior adviser and Trustee Chair in Chinese Business and Economics at the Center for Strategic and International Studies (CSIS); Deborah Lehr, vice chairman of the Paulson Institute; James McGregor, chairman of APCO Worldwide's greater China region; Richard McGregor, the Washington bureau chief for the Financial Times; Bob T. Li, physician ambassador to China and Asia-Pacific of Bobst International Center in Memorial Sloan-Kettering Cancer Center; Tim Payne, senior partner and head of Asia in Brunswick Consulting Co. Ltd.; Penny Pritzker, former U.S. secretary of Commerce and founder of PSP Partners; Gary Rieschel, founding managing partner of Qiming Venture Partners; Kevin M. Rudd, former prime minister of Australia; Samn Sacks, fellow of cybersecurity policy and China digital economy at New America; Susan L. Shirk, professor at the School of Global Policy and Strategy at the University of California at San Diego; Taiya Smith, director of the China Program at the Climate Leadership Council; Sun Piaoyang, chairman of Jiangsu Hengrui Medicine; Wang Jisi, dean of the School of International Studies at Peking University; Xue Bozhong, general manager of oversea business department of Cedar Holdings and Yang Yanqing, deputy editor-in-chief of YICAI Newspaper.