CCG shares Chinese perspectives at the Athens Democracy Forum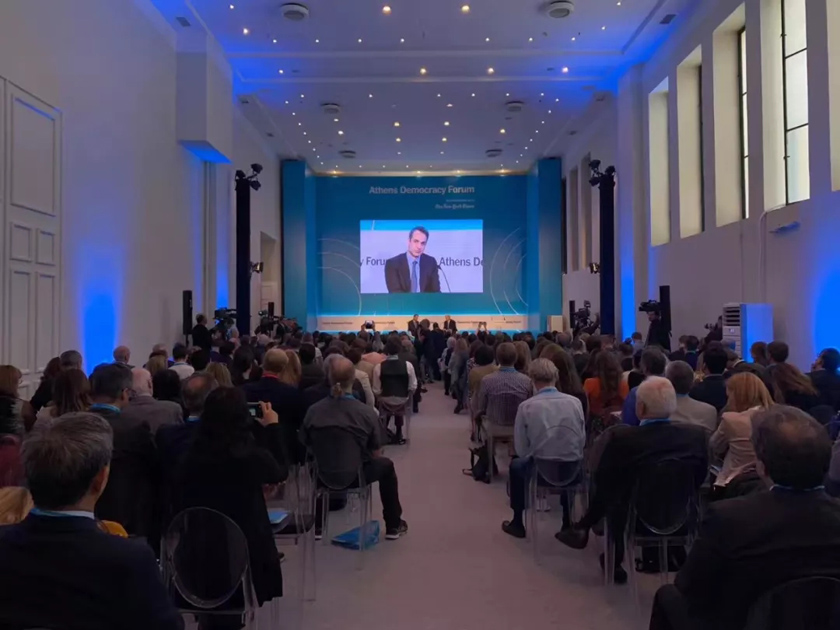 From 9th to 11th October, the 2019 Athens Democracy Forum was held in Athens. Organized by the Democracy & Culture Foundation in association with The New York Times, the forum brought together over 400 international delegates from more than 30 countries to explore alternative models of governance and how to deal with them.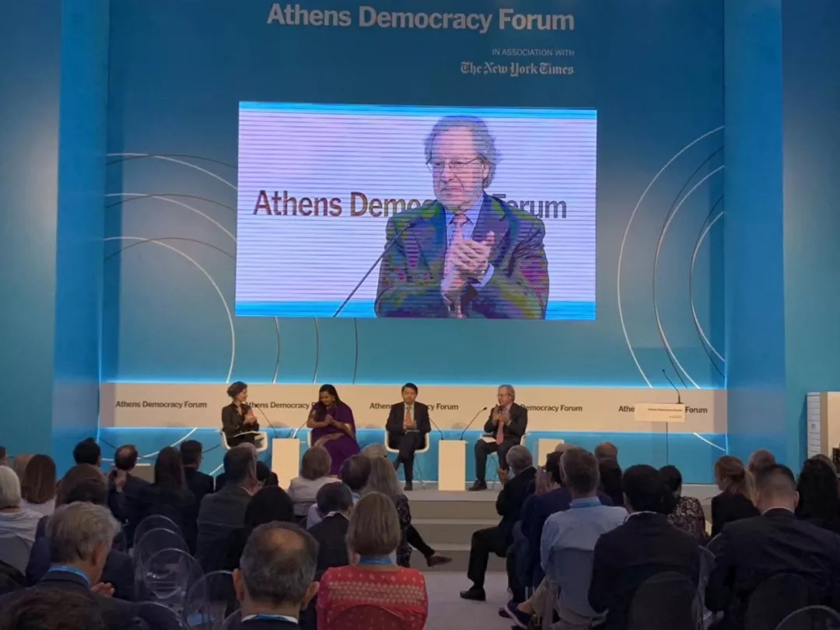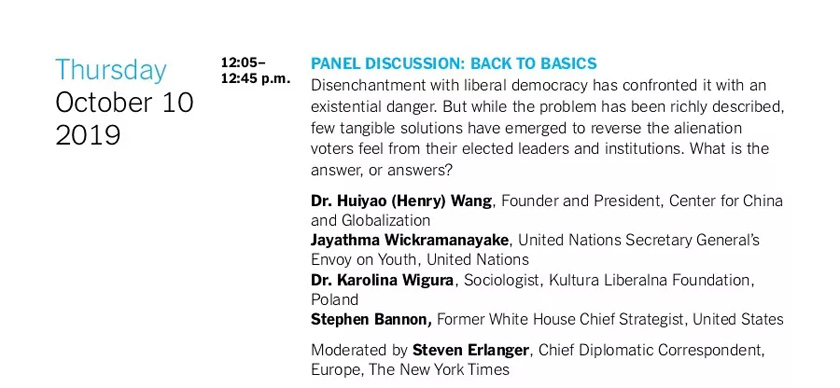 On October 10th, as the only invited Chinese guest in this forum, founder and President of the Center for China and Globalization (CCG) Wang Huiyao delivered a speech in the panel discussion "Back to Basics: Restoring Faith in Core Values." Wang also engaged in conversation with the UN Secretary General's Envoy on Youth, Jayathma Wickramanayake and Sociologist of the Kultura Liberalna Foundation in Poland, Karolina Wigura. This panel discussion was moderated by The New York Times Chief Europe Diplomatic Correspondent, Steven Erlanger. Unfortunately, Stephen Bannon, former White House chief strategist, had been scheduled to attend but was not present.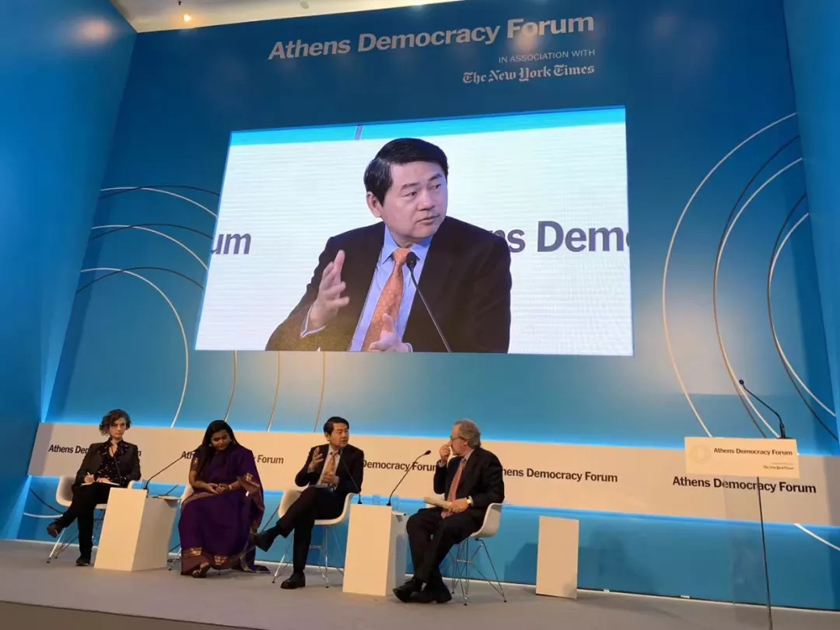 Where next for democracy?
In the panel discussion, Wang shared his insights on China's development and its participation in global governance.
Wang said that the rise of populism and nationalism had presented globalization with unprecedented challenges, but that globalization remains a robust developmental trend.
He pointed out that people have to rethink current democracy and even "reinvent democracy" in the era of Industry 4.0 as technology develops fast and the world changes rapidly.
He said that some radical opinions and fake news in social media arouse confusion over facts and cause misunderstandings, impacting the development of democracy.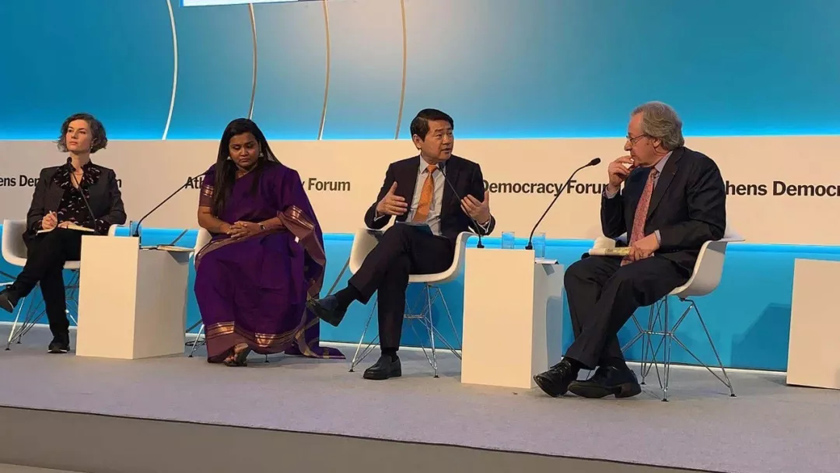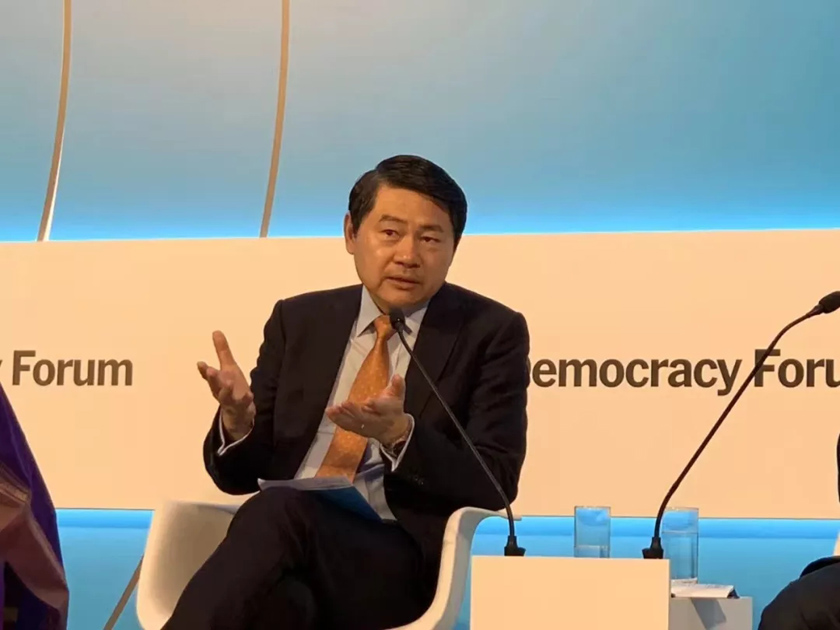 China's contribution to the practice of democracy  
Wang emphasized that China is an integral part of the global community and benefits from the current international system. Furthermore, China is committed to participating and contributing to the current international order. For example, China has helped 800 million people out of poverty, accounting for over 70% of global poverty reduction over this period. China also makes major contributions to global economic growth.
Wang said that the biggest challenge is the practice of global governance. He added that the Belt and Road Initiative (BRI) promoted by China offers a platform to implement multilateral cooperation and is a positive contribution to the world.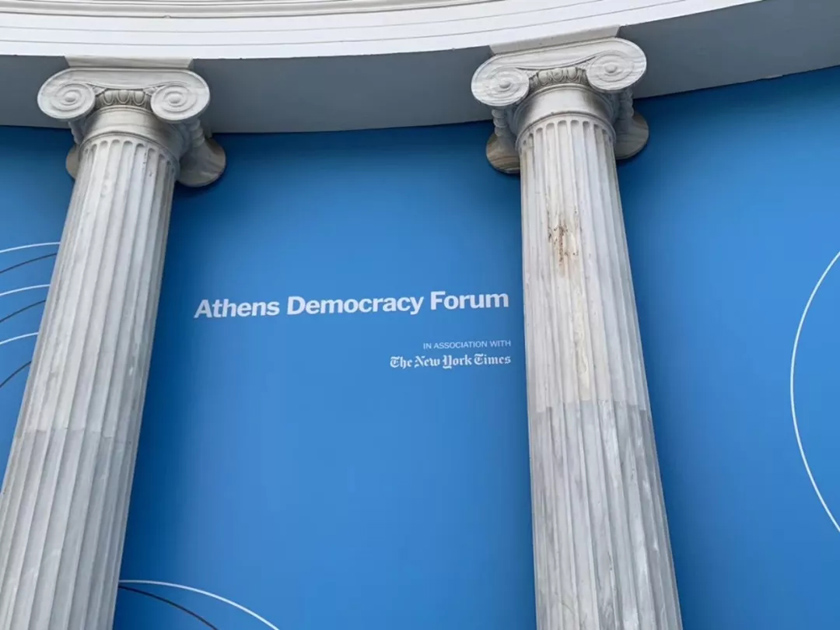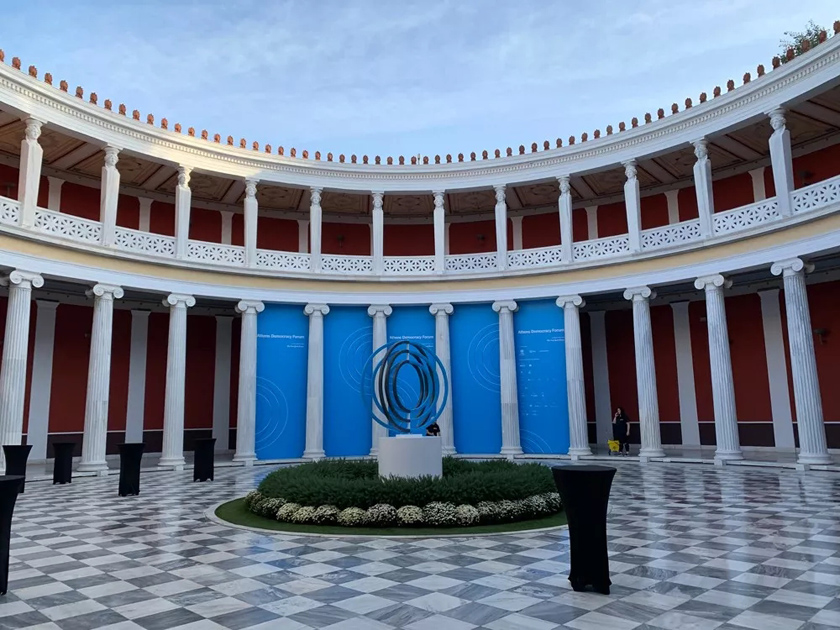 The 2019 Athens Democracy Forum:
The 2019 Athens Democracy Forum was organized with the support from President of the Hellenic Republic Prokopis Pavlopoulos. Secretary-General of the United Nations António Guterres gave congratulations to this forum. In the opening ceremony, President of the European Council Donald Tusk delivered an opening speech. President of Athens Democracy Forum Achilles Tsaltas, Executive Head of UN Democracy Fund Annika Savill and Mayor of Athens Kostas Bakoyannis delivered welcome speeches.
Speakers in this forum also included President of the Hellenic Republic Prokopios Pavlopoulos, Prime Minister of the Hellenic Republic Kyriakos Mitsotakis, President of Ireland Michael D. Higgins, President of the Republic of Slovenia Borut Pahor, former Prime Minister of the Hellenic Republic George A. Papandreou, former President of the Republic of Costa Rica Laura Chinchilla, Member of the European Parliament Magdalena Adamowicz, honorary Chairman of the Russian Council on Foreign and Defense Policy Sergey A. Karaganov, President of the Kofi Annan Foundation Alan Doss, Chairman and C.E.O. of the Brunello Cucinelli S.p.A. Brunello Cucinelli, and Nobel Literature Laureate Professor Wole Soyinka as well as other leading politicians, economists and scholars.
About the Athens Democracy Forum:
"With emerging democracies backsliding into authoritarianism and others falling prey to populism, there has never been a more urgent need to assess the evolving state of democracy and its impact now, amid rapid global change". Held since 2015, the Athens Democracy Forum is one of the most influential forums in Greece and receives a high degree of attention from around the world.