Symposium on the Urbanization of China and the Internationalization of Chinese Cities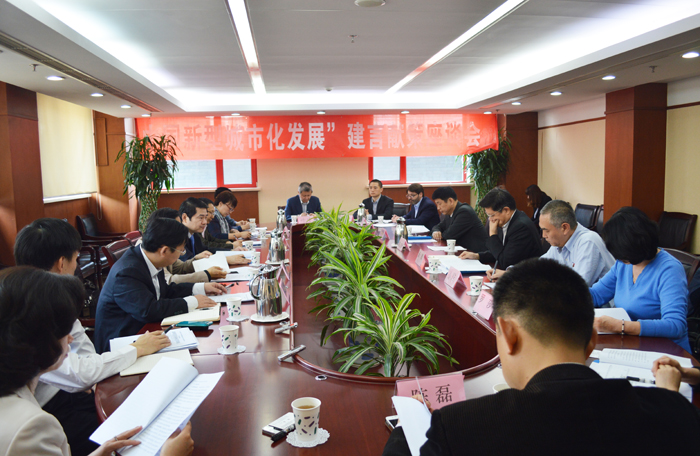 The Forum on the Urbanization of China and the Internationalization of Chinese Cities was held on Apr.8, 2014. The Forum was jointly organized by Western Returned Scholars Association and Center for China and Globalization, with leading experts and government officials in attendance to discuss on the issue. The seminar was hosted by.Dr. Huiyao Wang, President of the Center for China and Globalization, Vice-Chairman of China Western Returned Scholars Association (WRSA) and Senior Fellow at Harvard Kennedy School.
Dr. Wang believes that the development of urbanization in China should be in line with the world and such a forum is of enormous significance to the research and implementation of Chinese urbanization. He offered some constructive ideas on internationalization and Chinese urbanization. He said the internationalization of a city is first the internationalization of mindset and culture, and the critical part is the internationalization of talent. Dr. Wang also raised the issue of Institutional innovation and giving full play to overseas Chinese in Guangzhou.
Wang Fuchun, from the Foreign Affairs Office of Guangzhou Municipal Government, talked about the current status and strategy on internationalization and urbanization in Guangzhou.  He states that Guangzhou's foreign affairs Five-Year-Plan put advancing the internationalization process through city diplomacy high up on the agenda.
Tang Min, Counselor of the State Council, Deputy Secretary-General of China Development Research Foundation, said that we should see ourselves as the world center of customization in the third industrial revolution, offering personalized production and service, and promoting the internationalization of cities.
Niu Tiehang, the Editor-in-Chief of Globalization of China Center for International Economic Exchanges, believes that urbanization is an evolution, which has to advance in sequence. A new concept on urbanization in China is the development of city groups as a whole.
Pan Wei, Head of China and the World Research Center of Peking University and Professor at the International Studies School of Peking University first discussed the definition of internationalization, which is to him the living convenience for foreigners. Therefore, an international city should boast of public security, schools, English signage on streets and offering exotic cultural experience.
To Hu Jianhua, Council member of Personnel Work Bureau of the Organization Department of CPC Central Committee and Vice-Chairman of the Professional Committee of China International Talents, an international city is inclusive and embraces all kinds of people equally regardless of their cultural or ethnic background or economic status.
Experts and government officials attending the forum have offered constructive advice on internationalization and urbanization. The sponsors of the forum-WRSA and CCG will see to that those valuable suggestions will contribute to the innovative development of Chinese urbanization.