CCG 2014 Executive Board Meeting held in Beijing
During the meeting, chairmen, co-chairmen, vice-chairmen, and executive directors of the CCG Advisory Committee offered constructive advice regarding CCG's future development. All expressed their firm confidence in and support for the goal of developing CCG into an internationally recognized, independent think tank with Chinese characteristics.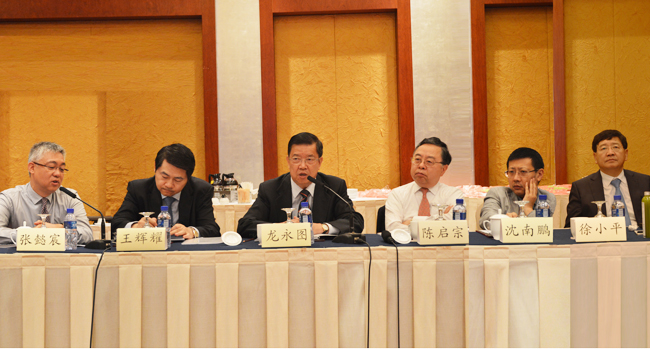 President Xi Jinping recently called for the establishment new think tanks with Chinese characteristics. The Third Plenary Session of the 18th CPC Central Committee also stated that such research organizations are crucial for improving Chinese Governmental decision-making. CCG has now accumulated considerable practical experience as a think tank and is leveraging that experience and its expertise into doing high quality research and providing constructive policy recommendations based on a strong global vision and international perspective. CCG has invited a great many worldwide renowned academic experts, prominent corporate executives, and high level government policy- makers to establish a think tank platform focusing on the globalization of Chinese talent and enterprises.  CCG now employs 60 full-time researchers and staff.  In addition to its main office in Beijing, CCG is also has offices in Beijing, Guangzhou, Qingdao, Shenzhen, and Hongkong as well as representatives in New York, Washington, DC, Paris, London, Frankfurt, and Sydney. Since beginning operation in 2008, CGG has made a significant impact in providing useful strategic suggestions and recommendations for relevant national ministries and government authorities. Over this period, CCG has also received a considerable amount of sound advice and suggestions during the previous executive board meetings from the chairmen, vice-chairmen, executive directors, and other sources of expertise. We are fully convinced that, under the guidance and orientation of the CCG Advisory Committee, CCG will achieve greater success and increase its influence as a globally recognized independent Chinese think tank.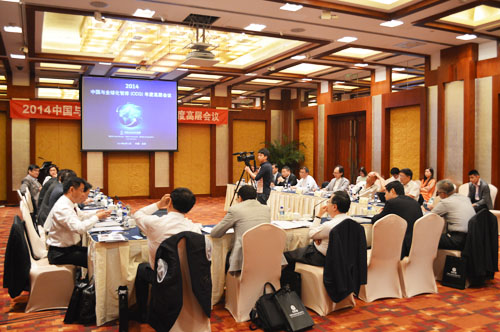 ---
CCG is pleased to announce that it hold the Inaugural Meeting of the China Outbound Forum in Sanya, Hainan, on November 21-23, 2014. The CCG executive board annual meeting was also marked by the release of the latest CCG Blue Book.
Participants
Long Yongtu, Chairman of the CCG Advisory Committee; Chairman of the Advisory Committee of the China Outbound Forum, former Vice Minister of Commerce, and former Secretary General of the Boao Forum
Ronnie Chan, Co-chairman of the CCG Advisory Committee; Chairman of Hanglung Group; Co-chair of Asia Society, Hong Kong
Wang Huiyao, Vice-chairman of the CCG Advisory Committee; President of Center for China and Globalization; Vice-president of China International Economic Cooperation Society
Shen Nanpeng, Vice-chairman of the CCG Advisory Committee; Founder and Managing Partner of Sequoia Capital China
Zhang Yichen, Vice-chairman of the CCG Advisory Committee; Chairman and CEO of Citic Capital
Xu Xiaoping, Vice-chairman of the CCG Advisory Committee; Founder of ZhenFund
Wang Guangfa, Vice-chairman of the CCG Advisory Committee; Chairman and President of Fazheng Group
Ha Jimin, Executive Director of the CCG Advisory Committee; Managing Director of Investment Management Department, Goldman Sachs (Asia) Co. Ltd.
Hu Bo, Executive Director of the CCG Advisory Committee; Chairman of Ciming Checkup Group
Li Lei, Executive Director of the CCG Advisory Committee, President of SABIC (North Asia)
Li Zhenfu, Executive Director of the CCG Advisory Committee; CEO of GL Capital Group
Liu Ke, Executive Director of the CCG Advisory Committee; President of Shenhua Research Institute, Special National Advisor
Tao Jingzhou, Executive Director of the CCG Advisory Committee; Managing Partner of Dechert LLP
Wang Weifeng, Executive Director of the CCG Advisory Committee; President of Everbright Financial Holding Asset Management
Zhao Baisong, Executive Director of the CCG Advisory Committee; Chairman of Jilin Hope Genes Pharmaceutical Research Institute, China
Zhu Min, Executive Director of the CCG Advisory Committee; Chairman of Cybernaut(China) Capital
Zheng Hong, Representative of Zong Fuli, Executive Director of the CCG Advisory Committee President of Hangzhou Hongsheng Beverage Group
Wang Shaofeng, Director of the CCG Advisory Board, Vice President, China Construction Eighth Engineering Division
Tang Min, Vice-chairman of CCG, the State Council Counselor
Liu Yanning, Vice-chairman of CCG, Executive President of China Council for the Promotion of Nationalities Trade, SASAC
Ge Ming, Vice-chairman of CCG, Former Chairman of Ernst & Young Huaming Accounting Firm
Duan Peijun, Chief Strategist of CCG, Director of Strategy Research Institute of the Central Party School