Seminar on China's Economic Overhaul and Its Global Implications held in Beijing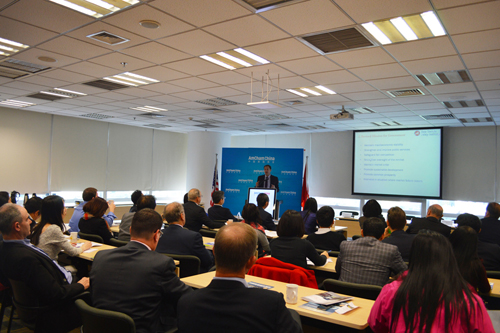 On November 3, 2014 Asia Society, the Center for China & Globalization (CCG) and American Chamber of Commerce in China, held a panel discussion in Beijing on the latest report issued by the Asia Society, Avoiding the Blind Alley:  China's Economic Overhaul and its Global Implications. Economists, key policy-makers, and business leaders from China and the U.S. assessed the progress China has made in implementing reforms and considered how such reforms will impact not just China, but the world in general.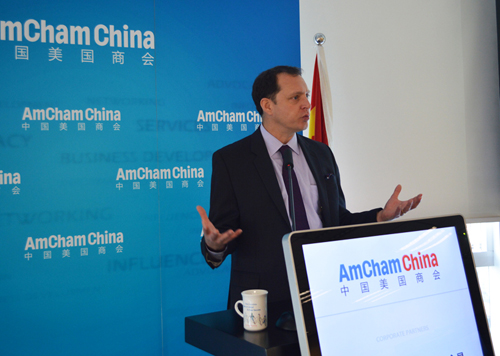 This new report offers new insights into the changing profile and prospects of what will soon be the world's largest economy. Its author, Daniel H. Rosen, is a research fellow at the Asia Society and adjunct professor at Columbia University who had served as a senior advisor for international economic policy in the Clinton White House. He presented the main arguments and findings of the report at the seminar. Jia Kang, Director and research fellow of the Research Institute for Fiscal Science, Ministry of Finance, Tao Jingzhou, managing partner of Dechert LLP, Xiao Geng, executive director, CCG, Vice President and senior fellow of Fung Global Institute, and honorary professor at the University of Hong Kong, and Kim Woodward, Chairman and CEO of Javelin Investments, attended the panel and offered their views on the report. Yang Yanqing, Deputy Editor-in-Chief of China Business News, served as the moderator of the panel.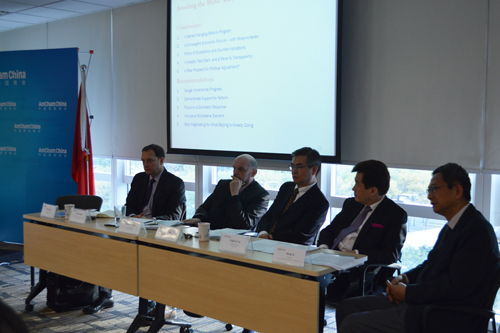 In the report, Rosen quoted the "Decision on Comprehensively Deepening Reform" adopted at the Third Plenary Session of the 18th Central Committee of the Communist Party of China on November 12, 2013, strongly arguing that it will push China further toward embracing a developed market economy model for its future development. China currently faces a dead if it continues down its current path of economic growth, and to avoid that, Rosen argued that the country must undertake comprehensive reform and opening up of its economy. He projects that China's potential annual GDP growth in 2020 will be at least 6 percent. Half of that growth will be generated through continued investment in the capital stock of the economy—that however, will be the case only if the assets that are the focus of such investment differs the kind of investment China currently emphasizes.  The rest of this growth will be driven by the more efficient and productive use of China's finite pool of human resources and capital, or what economists refer to as total factor productivity. But attaining this kind of efficiency-based growth requires implementing new rules and institutions that enable the market to allocate resources, including people, capital, and raw materials, into areas where they can generate the highest growth. If investment continues to be principle engine of economic growth in China, Rosen warned, the economy of the country will experience a hard landing in 2020, attaining an annual growth rate of just 3 percent. And a worst-case scenario is possible in the absence of fundamental reform, in which falling productivity also pulls down private investment, leading to even slower annual GDP growth, in this case amounting to 1 percent a year. That will definitely lead to a catastrophic crisis.
This comprehensive report on China's economic outlook also finds that the Chinese government is making strenuous effort to accelerate reform in most areas, but also warns Beijing that a comprehensive makeover of its governmental structure is is needed if China is to realize its full economic potential. Rosen reviewed China's economic restructuring from nine perspectives, analyzed its influence upon the rest of the world, and put forward five suggestions for foreign policy makers. In the final part of his presentation, Rosen argued that the Chinese government under the leadership of Xi Jinping should maintain the stability of macro economy, deepen the quality of public service, safeguard fair competition, and promote oversight over the market, including intervening appropriately when the market fails to deliver sustainable development and common prosperity.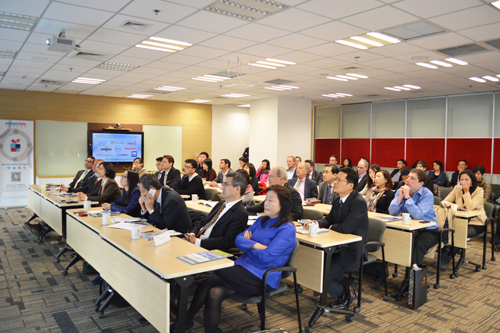 In the discussion that followed Rosen's remarks, Jia Kang suggested that the phrase "dead end" does not properly describe the current China's economic prospects. He preferred to say that China is now in a kind of stasis, defined by an even race between the two tigers of economic reform and social issues. He further argued that Chinese society needs to learn more about the needs of the country's young generation. According to Tao Jingzhou, this round of Chinese economic reform has changed the fundamental rules of the game in some ways. However, the smooth development of market sometimes needs a strong political will. Other participants offered a range of diverse opinions on reforming the Chinese economy.