CCG joins leading Singapore thinktank in hosting a discussion of China's political situation
After holding two highly successful Chinese charity law symposiums in the United States at the Harvard Kennedy School and in New York City, the Center for China & Globalization (CCG) has taken another major step forward in deepening its global footprint by co-hosting an April 12, 2015 Forum that discussed China's current political situation with the Longus Institute for Development and Strategy (LIDS), a prominent Singapore-based think tank.
The Longus Asia Forum focused in on China under President Xi Jinping's leadership, closely examining a number of hot issues, such as the "New Normal" in the Chinese economy, politics,and talent development, the "abnormal" in foreign relations, rule-based governance, and efforts to stamp out corruption. It also reviewed regional issues, including Asian integration and development and the impact of high-end talent migration on the continent. Besides Dr. Wang Huiyao, the founder and president of CCG, other experts leading the discussion included:
Long Yongtu, Chairman of CCG's Strategic Advisory Council, former Vice Minister of Commerce and Secretary General of the Boao Forum
Zheng Yongnian, Professor of National University of Singapore and the convener of the CCG Academic Committee
Kishore Mahbubani, Dean and Professor in the Practice of Public Policy,Lee Kuan Yew School of Public Policy, National University of Singapore
The highlights of discussion are as follows:
Long Yongtu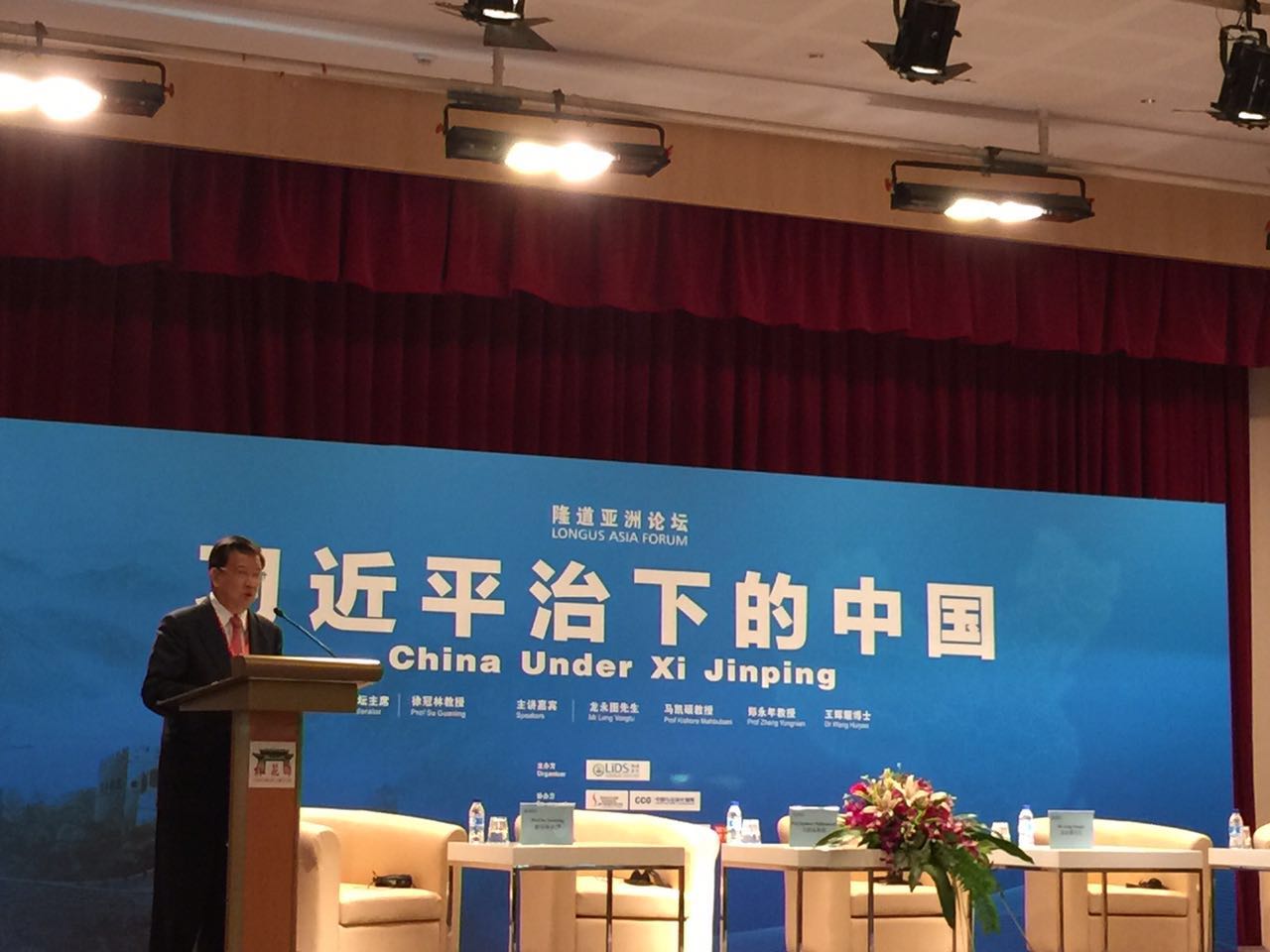 Long argued that as China enters into the new normal, more importance needs to be attached to the quality of life as well as upgrading manufacturing production and the overall economy. Besides the quality of development, ensuring sustainable economic growth is a crucial issue that requires greater research priority.
The "One Belt, One Road" has been proposed by China, but Beijing needs the support and coordination of neighboring countries to make it a win-win initiative. Long maintained that reaching a consensus and achieving cooperationis the key to turning the initiative into reality.
Kishore Mahbubani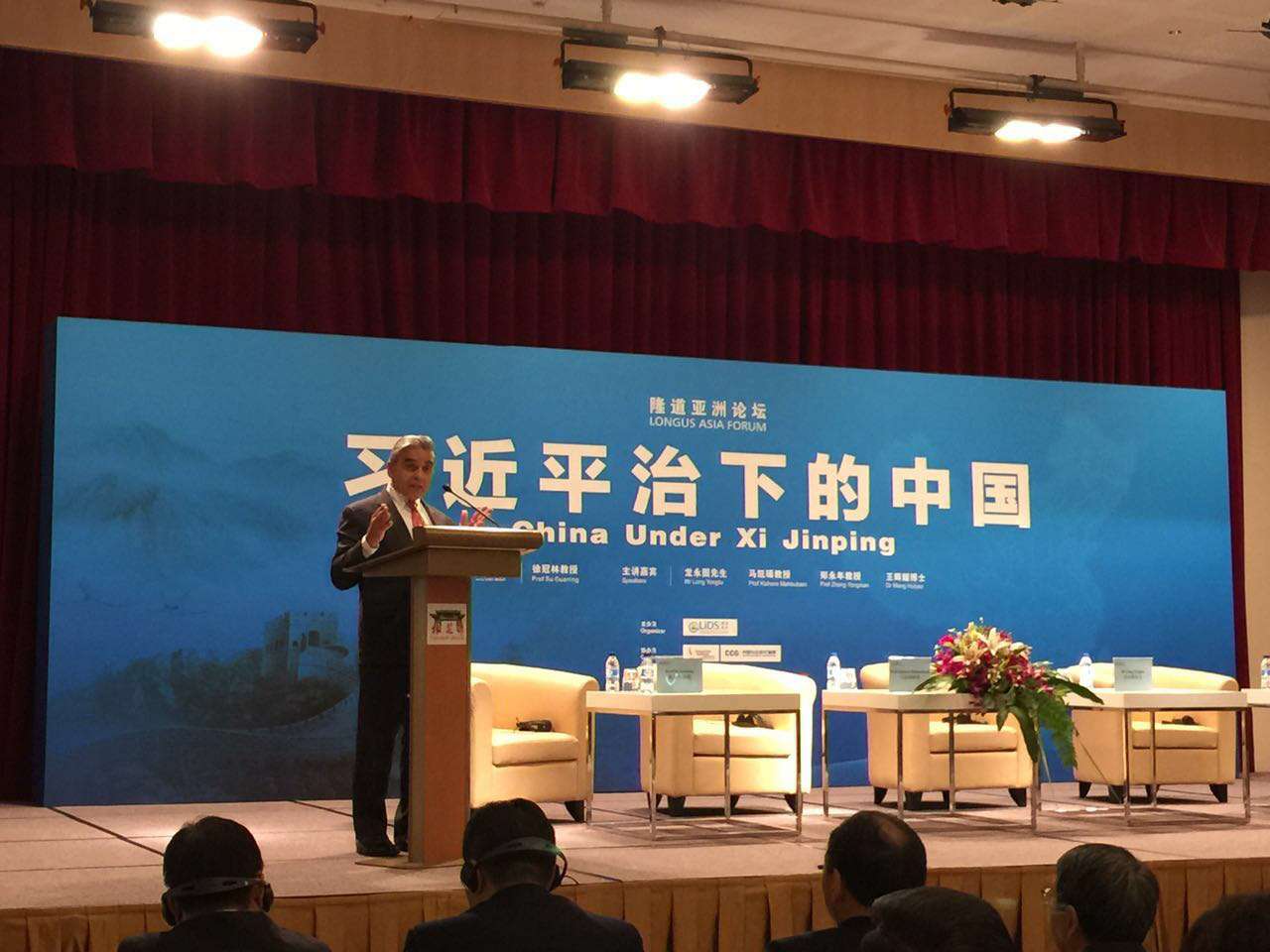 Mahbubani began by observing that in contrast to the new normal of China's domestic economy and politics, China's foreign relations are in an "abnormal" state, which is to say they have become more stable, and that this has occurred without major friction. To maintain this positive momentum, Mahbubani suggested that China support the construction of multilateral organizations and global governance. He noted that the World Health Organization is one of the international bodies in which China can enhance its influence. One key reason why China needs to take such steps is its emergence as the world's largest trading country. Given the importance of global commerce to its economy, China needs to create and sustain a safe and stable international environment. Mahbubani further emphasized that as China seeks to strengthen its influence in international bodies, it also must attach more importance to the huge impact of the "Anglo-Saxon media" that shapes global opinion, thereby influencing China's worldwide image.
Wang Huiyao
Wang argued that in view of the increasing global competition for talent, the Chinese Government and think tanks should work together to initiate and promote policies aimed at attracting and retaining highly skilled and qualified individuals from around the world. In the decades following the Reform and Opening Up policy, China has benefited tremendously from the internal migration of labor from rural to urban areas, which has helped transform its economy into the world's manufacturing workshop. However, Wang noted that China has not yet tapped the great potential of "international talent bonus." The percentage of international talent in China's overall labor force is only 0.06%, compared to the average 10% in developed countries and 1.6% in the developing world. President Xi has repeatedly emphasized the need to recruit talent worldwide to serve China's development. To meet that goal, China should establish a long-term effective mechanism for luring international talent and learn from the Singapore model as it seeks to do that.
Zheng Yongnian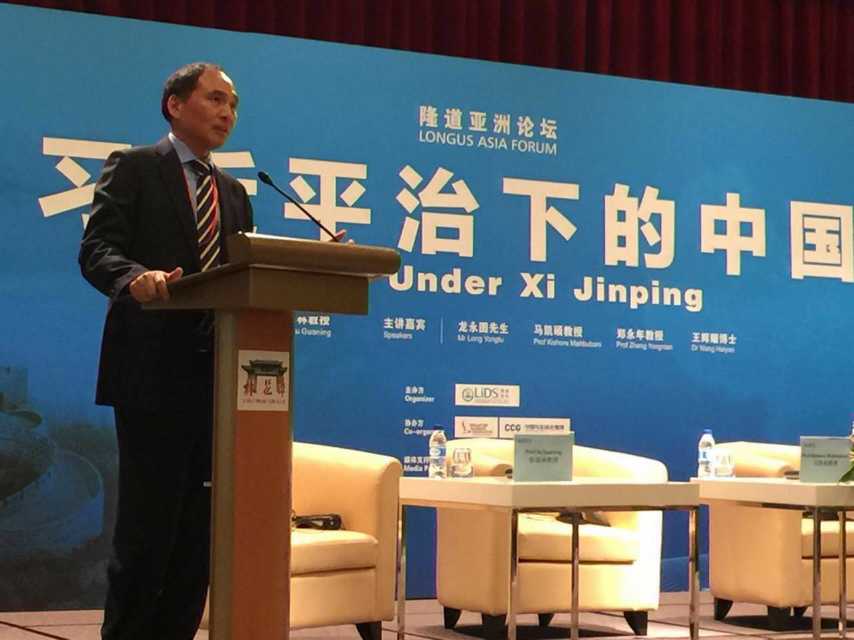 Under the one-party system, Zheng maintained that China can still achieve judicial independence and constitutional governance. The key for doing this, he further stated, is political innovation. Regarding this matter, Zheng suggested that China continue to learn from the late former Prime Minister of Singapore Li Guangyao. When discussing China's political situation and prospects, he noted that the "old normal," featuring elite rule, term limits, and collective leadership, has enabled China to make great achievements. However, this "old normal" has also created some problems. Since the 18th National Congress of the CPC, China politics entered the "new normal," which features power centralization, a tough, long-term anti-corruption campaign, and the top-level design of reforms. This approach also poses a challenge to China: as its economy faces increasingly strong headwinds, the power centralization and the anti-corruption crackdown may cause paralysis in some parts of the government bureaucracy, making it harder to tackle the slowdown in growth.
The Longus Asia Forum is the second international academic event CCG has hosted abroad this year. In February, CCG held its charity symposiums at the Harvard Kennedy School and in New York to learn about the best American charitable practices from prominent U.S. scholars and philanthropy leaders as China finalizes its upcoming National Charity Law.  In seeking to provide constructive opinion informed by global perspectives and strategic advice with a world vision, CCG has exercised an increasingly strong influence on policymaking and public opinion through its research publications and events, all of which Is helping the organization deepen its already significant worldwide footprint.