American scholar on thinktank Dr. James G.McGann speaks at CCG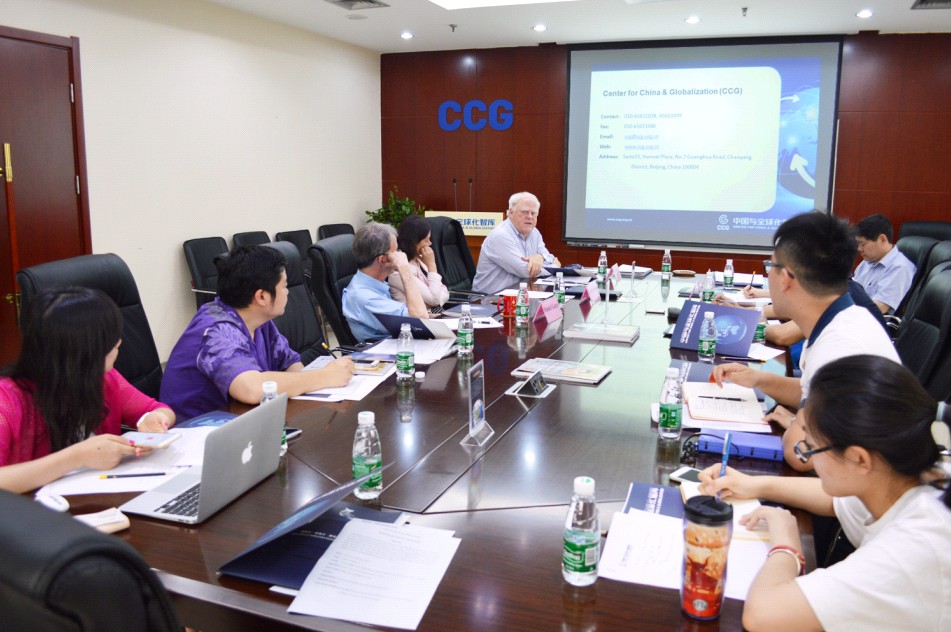 James G. McGann, founder and director of the Think Tanks and Civil Societies (TTCSP) Program at the University of Pennsylvania, was invited by the Center of China & Globalization on June 23, 2015, to lead its roundtable on "How to Construct Globalized Think Tanks." McGann is well known throughout the world for his work on evaluating and ranking think tanks.  During the roundtable, he discussed his recent study on the new trends and momentum of global thinktank development and made 10 recommendations for building world-class think tanks in China.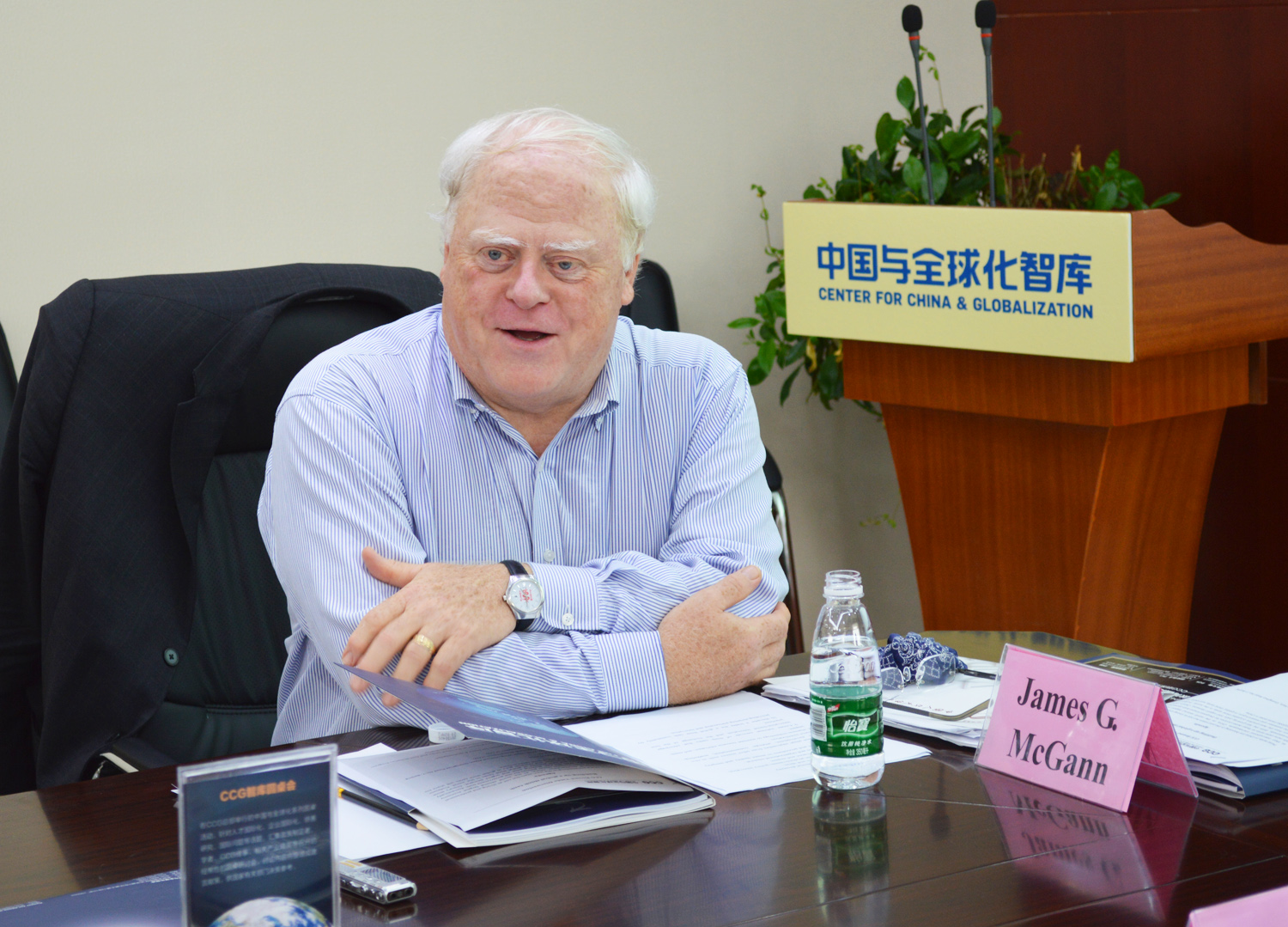 In extending a warm welcome to Dr. McGann on behalf of CCG, President Wang Huiyao provided a brief overview of its organizational structure and internationalization process. He cited extensive information and data regarding the increasingly visible footprint of CCG with respect to its scholarly research on China and globalization and policy-making advice on such issues.  Since its establishment in 2008, CCG has successfully built and positioned itself as a bridge for linking together China's political, academic, and business communities while becoming one of the most active and influential independent think tanks in the country.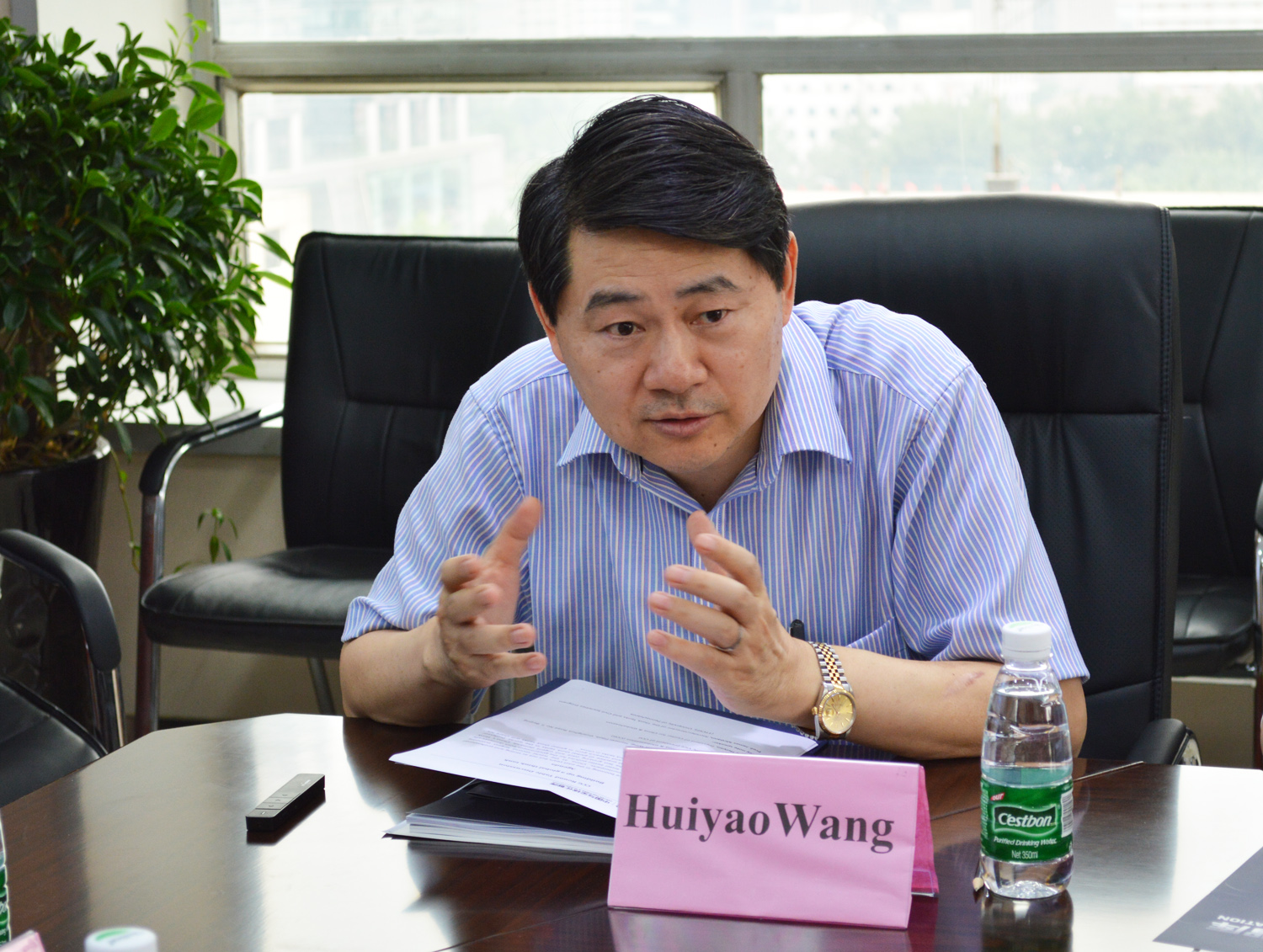 Those also attending the roundtable included CCG's Vice President Frances Sun, Executive Secretary-General Miao Lv, senior research fellow Daniel Garst, and journalists from Chinese and foreign media.
Dr. McGann began his presentation by by introducing the TTCSP at the University of Pennsylvania, reviewing its history, strategic structure, and academic achievements. In the 1980s, Dr. McGann created global think tank database. He then was commissioned to build a world think tank network in the 1990s and held the first think tank summit in Barcelona, Spain. Thanks to his pioneering efforts, the study of think tanks began receiving worldwide attention.  Dr. McGann formed a team of elite experts in relevant areas to evaluate and rank major thinktanks in the world with a set of criteria from over 50 aspects. The TTCSP's "Global Go To Think Tank Index" has is now universally seen as the gold standard for evaluating and ranking think tanks worldwide.  In addition, under the leadership of Dr. McGann, the University of Pennsylvania has hosted several regional and global think tank summits to examine the existing challenges to think tank development and explore ways for improving their overall management effectiveness and research capacity.
In the second part of his presentation, Dr. McGann offered 10 suggestions on how to build globalized think tanks in China. Noting that most Chinese think tanks are currently affiliated with and supported by the government or higher education institutions, he argued that China must embrace innovation and institutional diversity with respect to think tanks.  In making these comments, he emphasized that the country can especially benefit from the development of independent think tanks like CCG, highlighting the critical role they ought to play in the overall development of think tanks in China.  A key step for a thinktank to become truly globalized is to recruit staff with new skills and ideas and to be multi-lingual. Dr. McGann also believes that think tanks must focus on rigor, relevance, and impact, while motivating their research staff to be more productive and contribute to policy innovation. He emphasized that it is essential to employ appropriate policies and procedures to ensure research quality and integrity. Think tanks can also benefit from incorporating approach from other sectors, especially strategic communications and marketing, into their operation.  Dr. McGann also advised Chinese think tanks to harness technology, particularly infographics, to boost their relevance and reach to busy policy-makers.  Another suggestion offered in the talk was the creation of a national network of think tanks in China to boost innovation and exchange among them.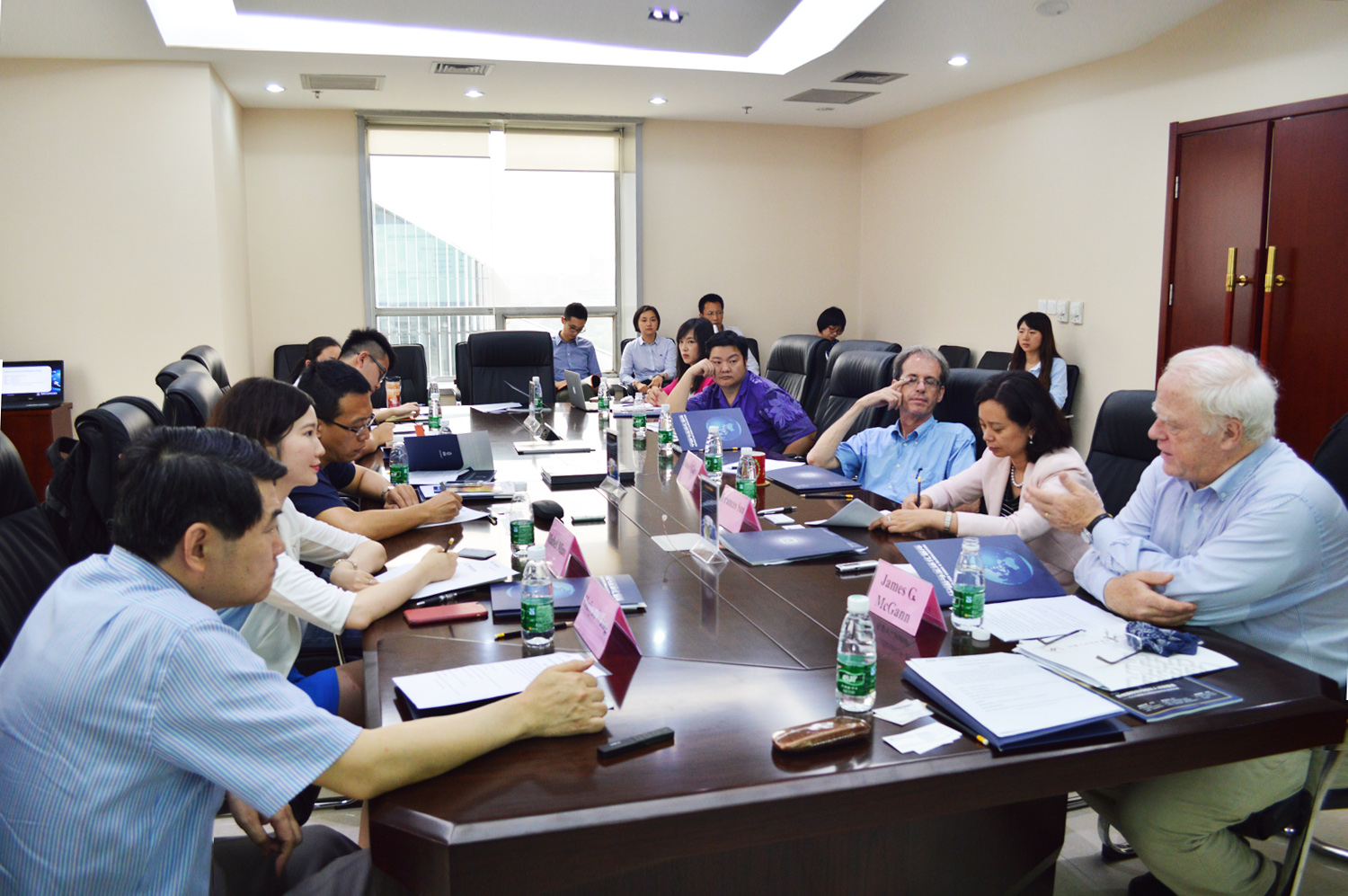 While addressing questions from the media guests, Dr. McGann noted that the recent policies of the Chinese government on think tank reform has sent a positive signal and provided a strong impetus for think tank development. However, Chinese think tanks need to step up innovation to meet the expectations. They can certainly learn a lot from the West.  However, it is even more important for such organizations to learn from their own successes and failures to realize that leadership, building a solid research team, and constantly innovating are the key elements for developing effective globalized think tanks. Finally, he emphasized the need to ensure think tanks' accessibility to reliable data to increase the credibility of their research and boost their global influence.