US journalists visit CCG for better understanding of China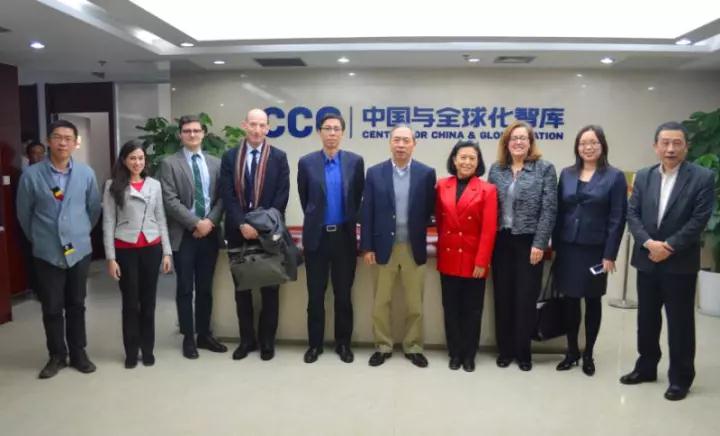 The "Understanding China Travel Program" of the Asia Society was successfully held in Center for China and Globalization (CCG)On December 4th, 2017. As the annual program with journalists from US main media coming over to know more about China by field trips, the event undertaken by Asia Society, one of the best U.S. think-tanks regarding Asian Issues, finds CCG as an indispensable place to visit during their China tour.
The visiting members were distinguished media professionals including Sara Just, the Executive Producer of PBS NewsHour, Catherine Rampell, Columnist of the Washington Post, Stuart Reid, the Deputy Foreign Editor of the Foreign Affairs and David Julian Shipley, the Senior Executive Editor of Bloomberg View. An Ping,Executive Director, Strategic Development Initiatives-China of the Asia Society, steered the group.
CCG experts joined their American counterparts in a conversation, they were He Ning, former Director-General of MOFCOM Department of America and Oceania, Lv Xiang, research fellow of Institute of American Studies at the Chinese Academy of Social Sciences and Zhou Mi, deputy director, Institute of American and Oceania Study. Wang Xin, CCG vice-president moderated the discussion.
There was a sincere exchange between the two sides on a series of topics, such as the Sino-American trade and investment relations, the world trade system,regional situations of the Asia-Pacific area, the"B&R" initiative and also the newly-proposed Indo-Pacific strategy by the U.S. government.
As a leading independent think-tank in China, CCG has committed itself to serve the communication and better understanding between China and the rest of the world as a transit hub, this visit was one of many cases how CCG undertook its mission and in this way could we hope American media could know more about China.