Ten Features and Trends of World Chinese Entrepreneurs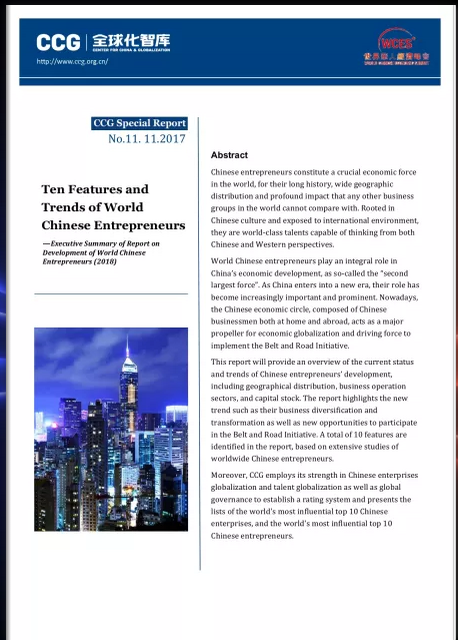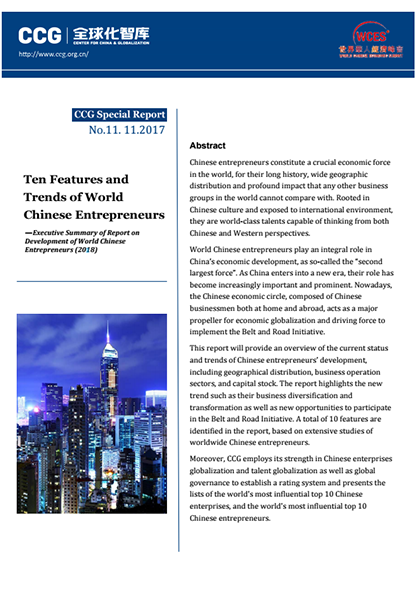 Chinese entrepreneurs constitute a crucial economic force in the world, for their long history, wide geographic  distribution and profound impact that any other business groups in the world cannot compare with.  Rooted in Chinese culture and exposed to international environment, they are world-class talents capable of thinking from both Chinese and Western perspectives.
World Chinese entrepreneurs play an integral role in China's economic development,  as so-called the "second largest    force". As China enters into a new era, their role has become increasingly important and prominent. Nowadays, the  Chinese economic circle, composed of Chinese  businessmen both at nhome and abroad, acts as a major propeller for economic globalization and driving force to implement the Belt and Road Initiative.
This report will provide an overview of the current status and trends of Chinese entrepreneurs' development, including geographical distribution, business operation sectors, and capital stock. The report highlights the new trend such as   their business diversification and transformation as well as new opportunities to participate in the Belt and Road Initiative. A total of 10 features are dentified in the report, based on extensive studies of worldwide Chinese entrepreneurs.
Moreover, CCG employs its strength in Chinese enterprises globalization and talent globalization as well as global governance to establish a rating system and presents the lists  of the world's most influential top 10 Chinese enterprises, and the world's most influential top 10 Chinese entrepreneurs.