【Global Times】More overseas Chinese students lured by China's economic strength
April 20 , 2017
---
85% of returning students hired within 6 months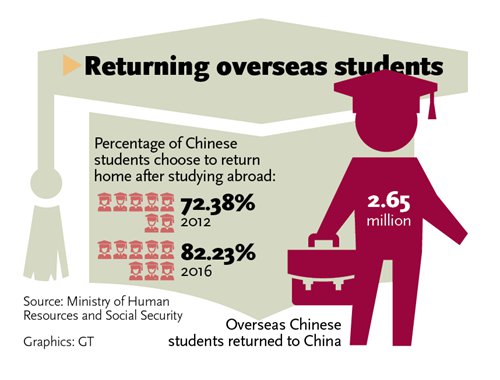 China's economic might is attracting more overseas Chinese students home, with over 2.6 million having already returned and their numbers still growing, government data shows.
The total of Chinese overseas students who have returned to China is increasing years after year, with more than 432,000 students returning in 2016, the highest since the establishment of China, when only 248 returned, Yang Tao, the deputy minister of the Ministry of Human Resources and Social Security (MOHRSS) said Tuesday.
More than 660,000 Chinese overseas students are expected to return to China in 2017, according to a report by overseas recruitment company Lockin China in March.
Many are compelled to return because of limited foreign job opportunities, and because their families want to keep their children close to them.
Gao Xiaojing, a University of Queensland accounting major graduate, told the Global Times, "My family urged me to return to China after my studies. I tried to find a job in Australia, but I'm not a permanent resident (PR)."
"The jobs I am interested in require a PR, which takes up to a year to get. I could not afford to wait that long, so I decided to return to China first," Gao said.
Optimism in the growth of China's economy and anti-immigration sentiment in some foreign nations are two other reasons why many choose to return, according to Lockin China.
Promising job market
Returning Chinese usually expect a higher salary and better work conditions, and many get hired in China, Miao Lü, secretary general of the Center for China and Globalization (CCG), a Beijing-based think tank, told the Global Times.
About 85 percent of Chinese students educated abroad found a job within half a year in 2016, Miao said.
However, their overseas education might not conform to domestic labor demands, Li Changan, a professor at the School of Public Administration of the University of International Business and Economics, told the Global Times.
They also face strict residence (hukou) requirements in some cities, Li noted. A total of 15000 people with an overseas educational background were accepted as Beijing residents in 2015, according to data from the Ministry of Education(MOE) in March.
More competition is expected from international talent in the future, many of whom are also eager to work in China, Miao said.
A separate report released by the MOE in 2014 said Chinese students with at least a graduate degree receive an average monthly salary of between 5,000 yuan ($726) and 10,000 yuan when they return.
Encouraging start-ups
The finance and education sectors are two of the most popular options areas for returning Chinese students, according to a 2016 MOE annual report on returning Chinese, released in March.
It said one-third of them look forward to entering foreign-funded companies and 20 percent at State-owned companies, with only 3.2 percent preferring to be entrepreneurs.
China has been implementing more favorable policies to encourage entrepreneurship in China, and more are expected to do so in the near future, Li said.
Programs for "elite talent," the "Made in China 2025" strategy and "mass entrepreneurship and innovation" will be used to attract more returning Chinese students in 2017, Yang said. (By Liu Caiyu)