【Global Times】Top researcher sparks debate
May 16 , 2017
---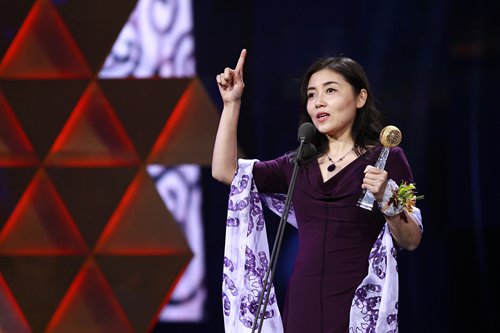 Yan Ning receives award at the You Bring Charm to the World Award Ceremony that was held in Tsinghua University on March 31. The ceremony was held to honor prominent Chinese individuals and organizations for their contribution to and impact on the world. Photo: CFP
A molecular biology professor and top researcher at a prestigious Beijing university who recently announced she has accepted a position at Princeton University has sparked repeated debate in China.
News reports on Yan Ning's decision claim that she decided to move to the US due to her frustration with China's research funding system, which has led to criticism of the country's academic system. Yan has denied the claims.
Meanwhile, Chinese experts say that people should think of ways that China can attract top talents, instead of censuring Yan.
Untrue claims
"I won't reply to questions about this again… It should have been a happy thing, so please do not guess too much," Yan posted on her official Sina Weibo account on May 9.
Yan, 40, a former professor at Beijing's Tsinghua University, has recently accepted a tenured position at Princeton's Department of Molecular Biology, the Xinhua News Agency reported on May 7.
However, an article titled "Why Tsinghua's talented woman angrily left for Princeton," posted on May 8 by public WeChat account "Diandaode Heibai," claimed that rather than being lured away by Princeton, she was driven away after failing to get her research projects approved by the Natural Science Foundation of China (NSFC) over the past two years.
The article claims that "she left in agony because China's academic system made her unable to do the research she wants to do."
"If we do not reflect on Yan's leaving and improve China's academic system, we would be cheating ourselves," it read.
The article went viral. The Sina Weibo hashtag "Yan Ning left Tsinghua" has garnered around 1 million views as of press time.
The following day, Yan posted three Weibo posts, calling the article "ridiculous and groundless." The article was deleted soon afterwards.
According to a post Yan made on her blog in 2014, as her application that year to the NSFC did not mention her latest research achievements, it was rejected. Her application in 2015 for the same project was unsuccessful, too.
"In the past 10 years, Yan has received more than 8 million yuan ($1.2 million) for six projects from the NSFC, and failing one application is actually very normal for scientists," Xiong Bingqi, vice president of the 21st Century Education Research Institute, told the Global Times on Monday.
"I think Yan just published her experience on her blog to make a conclusion. It is not reasonable to say Yan's leaving is out of her anger over unsuccessful research funding applications," Xiong noted.
Great career
Yan began her biology undergraduate studies at Tsinghua University in 1996. She then went on to study molecular biology at Princeton University, an Ivy League research university, in 2000, according to womenofchina.cn, a website under the All-China Women's Federation.
After returning to China in October 2007, Yan focused on studying the structures and functions of membrane proteins, one of the most challenging fields in structural biology. She has made a series of outstanding achievements in the years since her return, womenofchina.cn said.
Yan's outstanding achievements have won her great recognition around the world. In 2012, she was selected for the First International Young Scientist Award, organized by the Howard Hughes Medical Institute.
"(Being employed by Princeton) of course shows that she (Yan) has done significant work," physicist, Nobel laureate and Tsinghua and Princeton alumni Yang Zhenning said in an interview on May 11, chinanews.com reported.
Nothing to see here
"I'd be really afraid if I stayed in one environment for too long, I would not be able to know if I've fallen behind; changing one's environment can bring new pressure and inspiration for academic breakthroughs," Yan said in a May 8 statement.
"Yan's move abroad is just a normal case of talents moving," said Wang Huiyao, vice director of the Western Returned Scholars Association, adding that "Chinese scholars studying abroad can enhance academic communication and quality."
According to chinanews.com, since 2008, China's "Recruitment Program of Global Experts" has attracted more than 6,000 high-level talents to China.
Meanwhile, over 900,000 foreign nationals worked in the Chinese mainland in 2016, China's State Administration of Foreign Expert Affairs said in April.
"In a normal academic environment, talent exchanges are personal choices. Attracting and keeping academic talents should rely on respect to the scholars and the development space for their careers," Xiong noted.
"Yan might not come back soon, but it does not mean she will never come back," Wang noted.(By Shan Jie)
Keyword