China sees biggest wave of overseas returnees
August 17 , 2017
---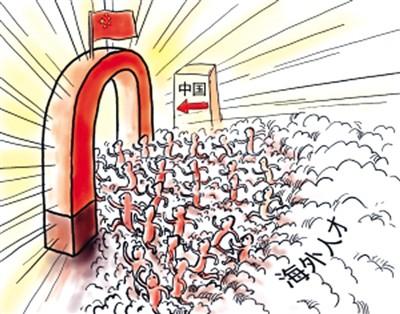 Chinese students studying overseas have returned to the motherland in record numbers, according to a report on Chinese returnees' employment and entrepreneurship in 2017 released by the Beijing-based Center for China and Globalization (CCG) on Aug. 12.
A total of 432,500 students returned to China after graduating from overseas universities in 2016, up 36.26 percent compared to 2012, according to a joint conference focusing on Chinese overseas students. The report added that by the end 2016, China has had a total of 2.65 million returnees.
The record number indicates that the rapid speed of China's economic and social development is becoming a "talent magnet."
Guo Jun, deputy director of the State Council Office for Overseas Chinese Affairs, encouraged the returnees to seize opportunities such as the Belt and Road to act as the main force for the country's industrial transformation and upgrade.
Since China launched the "Thousand Talent" program for top global talent in 2008, more than 7,000 experts have been introduced and 53,900 high-level overseas Chinese have returned, said Li Jing, deputy director of the Overseas Returnee and Expert Services Center under the Department of Human Resources.
According to the report, the number of domestic university graduates in 2017 is estimated to reach a total of 7.95 million, an increase of 300,000 over the previous year.
The overseas returnees adopt a positive attitude toward the benefits of overseas study, the report said. More than half of them are confident they can recover cost of overseas study. More returnees are engaged in the IT industry and a rising number of them are employed by private-owned enterprises.
The report noted that the rise in the number of returnees will bring more pressure on employment, which should be noted by the government and the society.
Keyword