Report on Chinese Enterprise Globalization 2020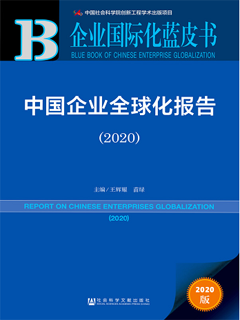 Publisher:Social Sciences Academic Press (China)
Author:WANG Huiyao, CCG president
Release Date:2/11/2019
Click for Larger Picture
---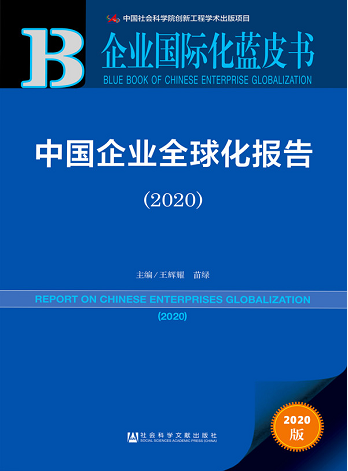 CCG released a new annual bluebook report on Chinese enterprise globalization in Beijing on Nov. 2, which was jointly published with the Social Sciences Academic Press (China). The book continues to provide a thorough overview and in-depth analysis of the new trends in Chinese companies' global expansion strategies and practice, and proposes new perspectives for the research on MNCs investment in China.
The report points out that there has been a clear sign for the world's economic slowdown and international society has been lowering the expectation on the growth rate. Under such circumstance, China is steadily persisting with its opening-up policies to push forward economic globalization. Since 2018, China has held the "Belt and Road" High-level Forum for International Cooperation on an annual basis, in the principle of multilaterism and in order to create more open platforms for cooperation. It is conducive to maintaining an open economy in the world, and building a just and reasonable system of international economic and trade norms.
This year, China released the "Foreign Investment Law" to strengthen the protection of the right and interest of foreign investors, following by a series of measures to implement the law and create a more favorable environment for them, including creating 18 pilot free trade zones in the next seven years. The formulation and implementation of these policies and measures show China's strong commitment to furthering opening-up and improving foreign investment environment. It also shows China's intention to be more involved in globalization and the process of pushing forward liberalization of global trade and investment.
According to the report, Chinese enterprises have been continuing to expand their global influence, as the second largest source of the world's foreign investment. Some new trends deserve more attention regarding China's FDI:
1.China's share in the global FDI flow has been more 10% for three consecutive years, ranking the No. 3 in the world.
2.Half of China's FDI comes from the manufacturing industry, while IT services and software industries also show strong growing momentum. As cloud computing, big data technologies advance, Chinese enterprises are expected to invest more in cross-border e-commerce.
3.Private owned companies are still very active in cross-border M&A, exceeding state-owned companies in both volume and value.
4.Chinese companies' outbound investment becomes more diversified, with capital and industry investment both increasing in overseas M&A.
5.The investment in the "Belt and Road" countries are on increase, taking a bigger share in the overall outbound investment.
Meanwhile, based on the analysis of global corporate investment, the report summarizes the key features of the foreign investment in China and China outbound investment as followed:
1.    Chinahas been leading the world for years in terms of attracting foreign investment
2.    It is China's new goal to improve the quality of foreign investment utilization. High-tech manufacturing and service industry will become major sectors for foreign investment in China.
3.    Thanks to the government policies, China's mid and western regions are improving their investment environment and services. Foreign investment are expected to be more evenly distributed geographically in China.
4.    The format of foreign investment in China is becoming more diversified while solely-owned business is still a more preferred option.
5.    Free trade zones and free trade ports are becoming China's highlands to attract foreign investment.
The report, which overviews the current status, key features and major trends of global FDI, China outbound investment and foreign investment in China, is compiled based on the findings collected from surveys, seminars, symposiums, media reports. Using investment volume, influence and potential as major evaluation indicators, the reports selects the top 10 MNCs investing in China in 2019, which include Allianz Group, BASF SE, BMW AG, Daimler AG, Mars Incorporated, Merck KGaA, Exxon Mobil Corporation, UBS Group AG, Samsung Electronics Co., Ltd., and Tesla, Inc.. The report also selects top 10 Chinese companies going global in 2019 that include Alibaba Co., Ltd., Huawei, JD.com, Lenovo, Haier Group, and New Hope Co., Ltd..
This is the 6th Bluebook Report on Chinese Enterprise Globalization that CCG published. Dedicated to the research on Chinese company globalization, CCG has held over 100 forums, seminars, and roundtable discussion every years, gathering prestigious politicians, business leaders and scholars to discuss the issues like "Belt and Road" Initiative, China-U.S. trade and global value chain.
Building on the years of research experience, the 2019 report, for the first time, examines MNCs' investment in China, and analyzes the opportunities and challenges for Chinese enterprise globalization to provide policy suggestion.