​Simon Birmingham: Australia welcomes China's economic growth
August 09 , 2019
---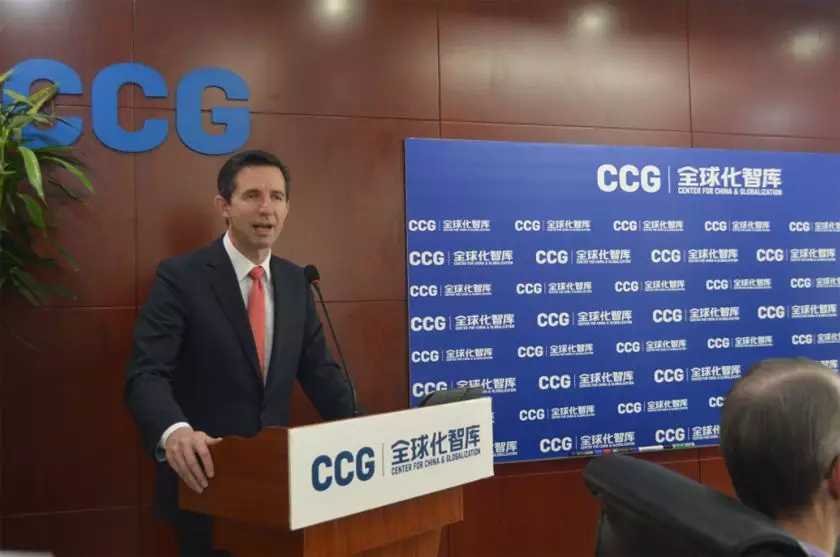 Simon Birmingham, Australian Minister for Trade, Tourism and Investment, delivers a speech at a roundtable discussion held in Beijing on Aug. 2. [Photo courtesy of CCG]
Australian Minister for Trade, Tourism and Investment Simon Birmingham talked about the mutual benefits to be gained by China and Australia through trade liberalization and multilateral trade reform at a roundtable discussion in Beijing on Aug. 2. 
Birmingham, who was in Beijing for negotiations on the Regional Comprehensive Economic Partnership (RCEP), a trade agreement between the 10 member states of the Association of Southeast Asian Nations (ASEAN) and the six FTA partners of ASEAN – China, Japan, South Korea, Australia, New Zealand and India, started the discussion by reinforcing Australia's commitment to developing a global trading system with greater openness and firmly opposing protectionism. 
"Australia has shown we can provide creative ways forward with a wide range of partners, and we are very keen to do so again," he said, pointing to Australia's achievements as an open economy since the 1970s. 
Regarding China's participation in the international trading system, Birmingham quoted his Chinese counterpart, Minister for Commerce Zhong Shan, that "China provides added impetus to the world economy."
In June 2018, a white paper entitled "China and the World Trade Organization" said that, since 2002, its annual contribution to global economic growth had approached 30% on average. China's services imports increased from $39.3 billion in 2001 to $467.6 billion in 2017, with an average annual growth of 16.7%, and accounting for nearly 10% of the world total. 
In addition to China's "economic miracle" over the past four decades, Birmingham also recognized its contribution to an open global economy, saying that, "China's economic reform and rise has not been a zero-sum game. It never is."
"As China has grown, Australia has benefitted, as has the U.S., and our entire region, and, as Zhong rightly notes, the world economy. That is why Australia stands firm in continuing to welcome China's economic growth."
The statement was based on the growth of two-way goods and services trade since the China-Australia Free Trade Agreement entered into force in December, 2015. Besides, the ongoing negotiation for RCEP also demonstrates the efforts being made by the two sides in promoting regional economic cooperation. 
Birmingham further put forward three areas ripe for cooperation with China in building a rule-based international trading system "fit for the future". This includes collaborating to achieve a healthy and effective dispute settlement system, updating WTO rules, and working together to boost the participation of all economies in the global trading system. 
During the discussion session, Birmingham responded to a question about a new development of U.S.-China trade friction in which Trump threatened new tariffs on Chinese imports. 
"We urge that dialogue continue, and we discourage the escalation of trade measures that can hurt global economic growth," he said. "There might be short- or medium-term trade opportunities [for Australia] created as a result of tariff escalation, but, overall, we need to view the bigger picture and take a longer-term approach regarding trade barriers and protectionism."
The discussion is hosted by the Center for China and Globalization (CCG). Other issues such as the future of regional free trade regimes, notably Comprehensive and Progressive Agreement for Trans-Pacific Partnership (CPTPP), were also addressed.
Keyword