【Global Times】Europe dominates as China's outbound investment destination
December 06 , 2018
---
 Chinese outbound investment has shifted from North America to Europe and Asia from 2017 to 2018, centering the manufacturing sector, according to a report released by Beijing-based think tank the Center for China and Globalization (CCG). 

The report also proposed several measures to actively handle the US-China trade dispute, including allowing the US to take part in the "Made in China 2025" initiative and reaching a new deal on intellectual property rights (IPR) protection, which are a major concern of Washington. 

Against a backdrop of rising protectionist sentiment in the Trump administration, Chinese companies invested in 67 projects in 2017 in the US, totaling $20.13 billion, and these represented a decline of 57 percent and 76 percent from 2016, respectively, CCG said in the Blue Book of Chinese Enterprise Globalization released on Monday. 

In 2017, 39 percent of Chinese outbound investment was in Europe, followed by 23 percent in Asia and 23 percent in North America. 

While private firms were made most investments, Chinese State-owned enterprises had significant advantages in investment value. Private companies invested in 248 overseas projects in 2017, accounting for 73.8 percent of total outbound investment. 

The report also suggested 10 ways the US and China could tackle their trade spat. For instance, the US government has rising concerns over China's "Made in China 2025." However, China's push to upgrade its industries will bring benefits to US companies through increased exports of machinery and equipment.  

Meanwhile, China and US should accelerate structural reforms and continue to ease the environment for foreign investment.
From Glboal Times Business,2018-12-4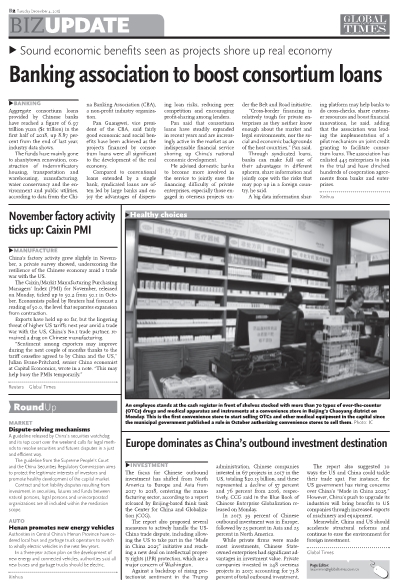 Keyword