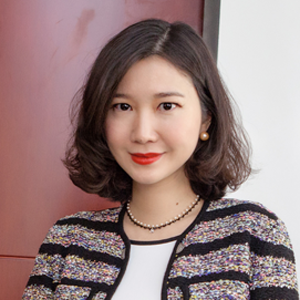 Mabel Lu MIAO
Co-founder & Secretary-General
---
Dr. Mabel Lu MIAO is the Co-founder and Secretary-General of the Center for China and Globalization (CCG), a leading Chinese non-government think tank ranking in 64th place globally in the authoritative 2020 Global Go To Think Tank Index(GGTTI) released by the University of Pennsylvania and the only think tank in China granted "Special Consultative Status" at the United Nations Economic and Social Council (ECOSOC); Over the years under the leadership of Dr. Miao, CCG has gained wide international recognition and grown into a significant think tank with global impact that promotes China's globalization process. CCG is the only non-governmental think tank with the qualification for independent establishment of post-doctoral research workstations issued by government.
Dr. MIAO also serves as Founder and Secretary General of Global Young Leaders Dialogue (GYLD) program, Deputy Director General of the Alliance of Global Talent Organizations (AGTO), Secretary General of China Global Talent Society, Secretary General of Policy Advisory Committee of Western Returned Scholars Association (WRSA) and Deputy Director-General of the International Writing Center of Beijing Normal University.
Dr. MIAO is an experienced public speaker, having delivered keynote speeches, participated and moderated numerous panels at home and abroad. In 2016, she was met by the King of Belgium at his palace as one of seven representatives of young global leaders from Northeast Asia, has been invited to speak at Doha Forum in 2018 and 2019 and at Paris Peace Forum for four consecutive years. In 2020, she was selected as Young Leader for Munich Security Conference (MSC) from China. In 2021, as the only Chinese participant, she posted the first question to United Nations Secretary-General António Guterres at the Munich Security Conference Special Edition 2021; at the same year she was also appointed as Co-Chairman of Think20 (G20 Summit 2021 Think Tank) Task Force 8. Youth representatives of GYLD (Global Young Leaders Dialogue) program received a reply from President Xi Jinping in August.
With China and Globalization, globalization of enterprises, global migration, talents mobility, overseas Chinese, think tank etc. as her major field of study, she has participated in a number of research projects entrusted by national ministries and local government departments and published monographs, edited volumes, and journal articles in both Chinese and English including: The Globalization of Chinese Enterprises Trends and Characteristics (2020), Handbook on China and Globalization (2019), China's Domestic and International Migration Development (Springer 2019), International Migration of China: Status, Policy and Social Responses to the Globalization of Migration (Springer 2018), State Immigration Administration: Building a Competitive Immigration System for China (2018), China Goes Global: The Impact of Chinese Overseas Investment on Transforming Business Enterprises (2016) and Blue Book of Talent series: Annual Report of the Development of Chinese Returnees, Annual Report on Chinese International Migration etc.
Dr. MIAO holds a Ph.D degree in Modern and Contemporary Chinese Studies from Beijing Normal University. She was also a visiting fellow at New York University and Harvard University, a post-doctoral fellow of the Hong Kong University of Science and Technology (HKUS), and a Lien Fellow at Nanyang Technological University (NTU), Singapore.